Former Vice President Namadi Sambo Visits Osinbajo In Abuja
On Wednesday, Ex-Vice President, Namadi Sambo paid a familiarization visit to Vice President Yemi Osinbajo.
Alhaji Sambo and Acting President Osinbajo both held private discussions at the villa.
The Ex-Vice President disclosed that his visit was a usual familiarization.
READ ALSO: Bala Mohammed: Former FCT Minister Remanded In Kuje Prison
Speaking to newsmen after the visit, the former Vice Present stated:
"I have come to visit Mr Vice President and the Acting President as a usual familiarization visit.
"As you know, former presidents visit Mr President and former vice presidents visit incumbent vice president.''
Sambo revealed that he was happy to meet his former staffers during the visit and appreciated them for the warm reception accorded him.
The former Vice President further disclosed:
"I am happy to see all of you our old colleagues here and I want to thank you very much for this very good reception.''
Ex-VP Namadi Sambo Visits Acting President Osinbajo
Sambo when asked what the subject of his conversations with Acting President Osinbajo, the Ex-VP declined commenting, saying it was private.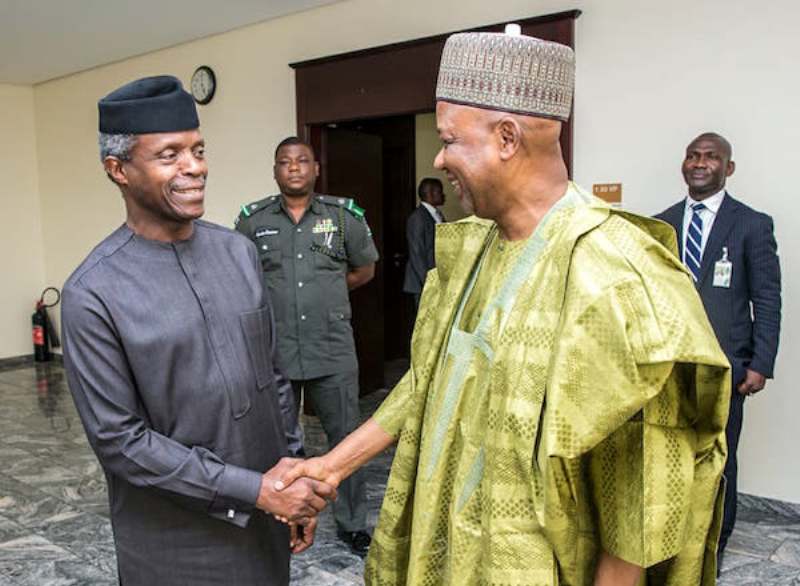 Acting President Osinbajo came out to receive Ex-Vp Namadi Sambo as he walked up the staircase to approach the office of the Acting President.
Sambo was then led from the corridor into the Villa.
Alhaji Namadi Sambo served as Vice President to former President Goodluck Jonathan between 2009 and 2015.
READ ALSO:  FG Should Force Out Girls Insisting On Staying With Boko Haram – Chibok Leaders
who handed over power to President Muhammadu Buhari on May 29, 2015.
Meanwhile, the Federal Government has addressed the furore being generated by President Muhammadu Buhari's letter to the National Assembly.
The Buhari-led Federal Government has described the buzz making the rounds as President Buhari addressed Vice President Yemi Osinbajo as the "coordinator" of activities of the federal government in his absence as a needless distraction.