On Wednesday, Ex-Vice President, Namadi Sambo paid a familiarization visit to Vice President, Yemi Osinbajo.
Alhaji Sambo and Acting President Osinbajo both held private discussions at the villa behind closed doors and lasted for an hour.
He said the visit was usual familiarization visit but wouldn't disclose what they discussed. When asked what the subject of his conversations with Acting President Osinbajo, the Ex-VP declined to comment, saying it was private.
"I have come to visit Mr Vice President and the Acting President as a usual familiarization visit.
"As you know, former presidents visit Mr President and former vice presidents visit incumbent vice presidents.''
Sambo, however, revealed that he was happy to meet his former staffers during the visit and appreciated them for the warm reception accorded him.
The former Vice President said: "I am happy to see all of you our old colleagues here and I want to thank you very much for this very good reception.''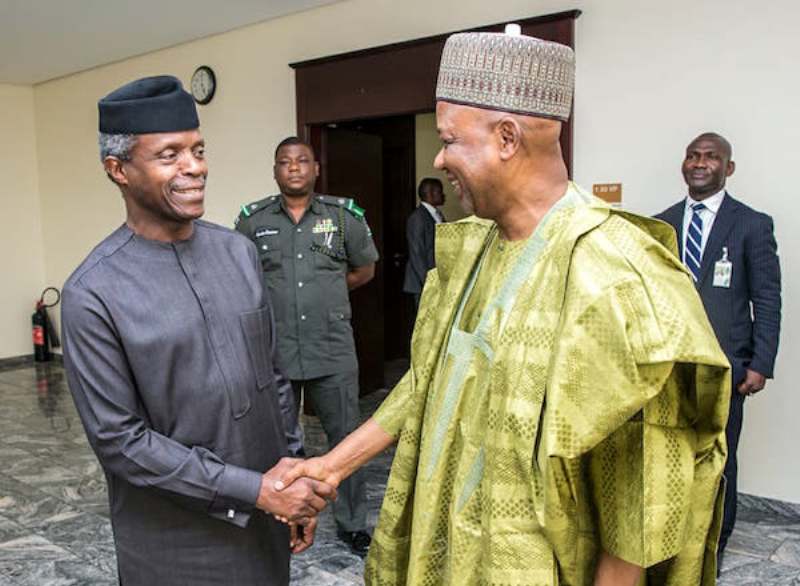 Acting President Osinbajo came out to receive Ex-VP Namadi Sambo as he walked up the staircase to approach the office of the Acting President.
Sambo was then led from the corridor into the Villa.
Meanwhile, the Federal Government has addressed the furore being generated by President Muhammadu Buhari's letter to the National Assembly.
READ ALSO: Henry Oseloka Obaze Bio: Facts About PDP Candidate For Anambra Governorship Polls
The Buhari-led Federal Government has described the buzz making the rounds as President Buhari addressed Vice President Yemi Osinbajo as the "coordinator" of activities of the federal government in his absence as a needless distraction.
Alhaji Namadi Sambo served as Vice President to former President Goodluck Jonathan between 2009 and 2015.
GEJ handed power over to President Muhammadu Buhari on May 29, 2015, after the general elections.
Quick Facts About Former Vice President Namadi Sambo
Namadi Sambo was born on August 2, 1954, in Zaria, Kaduna State, Nigeria.
He grew up in Kaduna and is an architect by training
He attended Baptist Primary School in Kakuri, Kaduna before attending Kobi Primary school in Bauchi and Towns School No.1 in Zaria.  From 1967-71, Sambo attended Government Secondary School (now Alhuda-Huda College, Zaria), then the School of Basic Studies at the Ahmadu Bello University, Zaria.
In 1976, the former vice president bagged a BSC and MSC in  Architecture from Ahmadu Bello University Zaria.
After graduation, he served with the Oyo State Ministry of Works and Housing for the as a Youth Corper.
Namadi Sambo became Commissioner for Works, Transport and Housing, Kaduna In 1988.  After two years, he left the service of Kaduna State Government and went back to private practice.
He was the governor of Kaduna state from May 2007 to May 2010.
When Goodluck Jonathan became the President of Nigeria after the death of Late President Umaru Yar'Adua,  he nominated Sambo as Vice President and in two days, later National Assembly approved his candidacy for the position of Vice President and was sworn in officially on 19 May 2010.
He is married to Hajiya Amina Namadi Sambo and has six children.