In this generation, sports is not only fun and entertaining, it also rewards people with keen interest in gambling with financial gains. This particular group of people is actually those who bet online or in betting shops, including on Naijabet, with the hope of making money from predicted scores.
In Nigeria, for instance, betting has become a popular source of income for many people. The country, today, has many betting websites, where people invest a huge sum of money in races, virtual games, online casinos, and all kinds of sports
There are several betting firms in Nigeria, including but not limited to Naija Bet, Sure Bet 24, Bet 9ja, Merry Bet, Winners Golden Bet, Lions Bet, Access Bet and many others. In this article, we will basically focus only on NaijaBet, exploring how to register, log in, play and also win on the platform.
Naijabet Registration Process
NaijaBet is one of the popular Nigerian sports betting services used by many Nigerians, especially sports fanatics and those who follow up sporting events.
Registration on NaijaBet is only open to those who are 18 years and above. Interestingly, registration is free of charge as customers are not charged for opening accounts on the site.
Here's how to navigate the registration process:
Go to www.naijabet.com
Move to the right corner of the page and click "Join Now"
Complete the form provided in the section by filling in your personal details.
Go through your form and ensure you verify your age. You must be over 18 years of age.
Click on submit.
Once you've completed the aforementioned steps, you are now eligible to log into your account with your password and access your account as well.
It is imperative to note that customers are only allowed to operate and make transactions with one account as multiple accounts are not allowed on Naijabet. If for any reason you can't access your account, kindly reset your password or contact Naijabet customer care.
After opening an account, the next step is to fund it. This is to allow you to make bets successfully. The smallest amount you can bet on Naijabet is ₦100 and there are no charges for deposits.
Funding your account takes places in more than one way. If you are a GT Bank customer, you can use GT Collection or simply dial *737*50*the amount you want to transfer to your account *46# from the phone number you have used in your GT bank collection service.
You can equally use your debit/credit card information using Fidelity paygate portal or Gtpay right there on Naijabet website. If both means aren't convenient for you, you can simply transfer funds to one of Naijabet's bank accounts through bank transfer and then mention your username in the comments or remarks.
How To Login On Naijabet
To log in to your Naijabet account, simply visit http://naijabet.com. Move to the 'Log in' button and input your username and password. If you want to change your account password, log in and click on 'lost password'. Then input your username on the next page and click 'next'. You will be automatically directed to create a new password which would be sent to your E-mail address.
Once you log in with your newly generated password, you will be asked to reset your password. You can now reset it to a preferred one you can easily remember.
How To Play On Naijabet
Before we tell you how to play and win on naijaBet, you need to know that there are two ways you can place your bets on the site. They can either place your bet in a betting shop or online.
Steps on how to play on NaijaBet online:
1. Visit Naijabet.com
Visiting the aforementioned site will ensure you gain access to all the games available and the numerous betting markets to make money from.
2. Select your games
Once you are on the site, you'll see various options to choose from. It features sports like football, tennis, baseball, to 'In-Play', virtuals, casino and many more.
If you are betting on football, click on 'Football and you will see a drop-down menu by the left side of your desktop screen. Choose the country of your choice, having in mind that the country you choose depends on the league you want to bet on. For instance, if you want to place your bet on the Premier League, you'll need to click on 'England' and then 'Premier League'.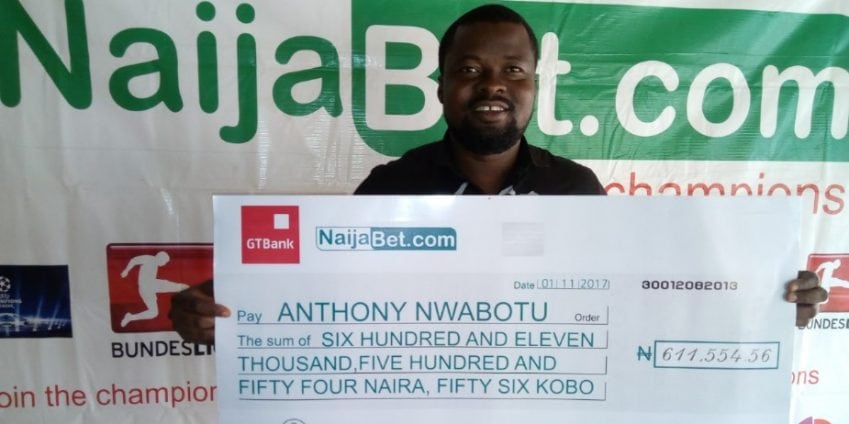 3. Input your stake and place your bet
After selecting your game, the next move is to input the amount you want to stake and then click on 'Place Bet' and your bet will be automatically placed.
Note: If you wish to use the betting shop, simply click on the 'Get Bet Code' button to create a code which you will hand over to the attendants in the betting shop. Doing this ensures smooth navigation in placing your bet.
Betting on Naijabet requires extreme carefulness as you are not allowed to cancel your bet once it has been confirmed.
Check Out: Betting With Bet9ja: Everything You Should Know
Tips On How To Increase Your Chances Of Winning On Naijabet
1. Be a specialist in one sport: You need to have an extensive idea about the sport you are investing your money on. So get to know more about it before dipping your hands into your pocket.
2. Have a strategy. In addition to a strategy, also have a 'betting plan'. The two will go a long way in saving cost and helping you win.
3. Put aside your personal preferences: No matter how much you adore a team or player, always go for their opponent if they are better than your favorite player or team. Do not allow your love for a particular player or team influence your decision.
4. Get to know other bettors and betting communities: There are forums where people discuss and predict scores. Get to meet them, find a friend or a fellow punter and share your thoughts with him. He might be of help.
5. Learn to adapt: If you find out that your strategy is not working any longer, shake things up. You might need to change your favorite team, analysis of games, sports choice, and plan.