Mike Adenuga, the second richest man in Nigeria, has a jaw-dropping net worth estimated at $6.1 billion. The Glo telecommunications network owner lives a lavish lifestyle that includes a good number of plush cars and lavish mansions scattered all over the country and beyond.
Mike Adenuga's House in Banana Island
With a fortune calculated in excess of $6 billion, it goes without saying that Mike Adenuga lives high on the hog. The award-winning billionaire lives life to the fullest and this is evident in his kind of residential home. Mike Adenuga's house is located on Banana Island in the city of Lagos, an area that has become home to most of the expensive residents in Nigeria. The abode is more than just a house but an estate.
Perhaps, the chairman of Conoil and owner of Globacom has other houses in the country but the one that takes the honor is his Banana Island estate. The palatial mansions seated on a massive 3 hectares of land are a collection of nine opulent duplexes; this makes it not just luxurious but also one of the biggest homes in terms of landmass. This house has been rightly mentioned as the most expensive private residence in Nigeria.
According to records, it costs Mike Adenuga a fortune of over N8 billion to erect the estate. He uses one as his personal residence including a home office, while the eight others accommodate his family and a large number of guests and visitors.
The multi-billion naira estate is reported to have been built by Julius Berger and Cappa & D'Alberto. Near the center of the house is a massive round building made with glass and concrete. The structure is largely covered with golden reflects and glasses that are clearly visible from the streets.
Within the domicile, you will find a mosque, church, meeting hall for 200 sitting capacity, helipad, indoor swimming pool, spacious car park, a private berth for his yachts and boats, and two watchtowers for security surveillance. What's more, Mike Adenuga has made a bizarre acquisition by acquiring a Disney vault (burial tomb) located in Ikoyi, Lagos. The property is reportedly worth a whopping ₦200 million.
Mike Adenuga Towers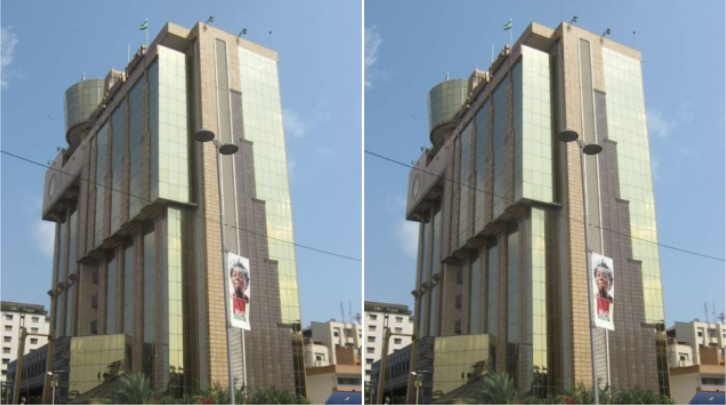 Mike Adenuga Towers is a magnificent building located on plot 1, Mike Adenuga Close, Off Adeola Odeku Street, Victoria Island, Lagos Nigeria. The tower which is the headquarters of the telecommunications giant, Globacom was completed and unveiled on the 30th of August 2004 and named after the founder of the company. The building is a center of attraction as it hastily catches the attention of everyone passing.
Described as the most magnificent building in Lagos, the tower is a 13-story tower that covers about 11,482 square meters of office space. It has a gold-plated bull sculpture in front, a unique gold-colored glass canopy coated with galvanized cast iron, and a helicopter landing pad. It is said that the tower took 13 solid years to be completed; from its dream to the date of commissioning. Mike Adenuga's net worth running in trillions of naira gives him everything luxury.
Mike Adenuga Owns the Best of Cars
When it comes to cars, the second richest man in Nigeria has a very high taste for posh rides. He has four (4) known exotic cars in his collection. Although his garage is sure adorned with more than four rides, these are the most popular of them. Nevertheless, he keeps acquiring more to add to his collection that is already teaming with a good number.
Armored Bentley Mulsanne
Mike Adenuga purchased this ride at the price of ₦110.5 million. The car is a limited brand exclusively designed for celebrities, high-profile individuals, diplomats, and definitely people who love the lavish lifestyle. It comes with some notable features like;
A sedan with 4 – 5 seats
State-of-the-art cabin
2 trims available with 3 configurations
Horsepower; 505, 6.8-liter V-8
Airline-style reclining seat
Top-notch infotainment system
Mercedes-Maybach S-Class
Worth over ₦72.1 million, Mike Adenuga's Mercedes-Maybach S-Class represents truly what luxury feels like. It comes with a Burmester audio system with which you can listen to your favorite jam while relaxing on the comfortable rear seats with luxury massaging leather recliners. Some of its distinguishing features include;
Four-door sedan
S650 – 621-hp, 6.0-liter V-12
S560 – 463-hp, 4.0-liter V-8
Massaging front seats
The cabin has a fragrance system
4-5 passengers accommodation space
Mercedes Benz AMG C63
The billionaire oil mogul acquired this baby at the price of ₦24.3 million. The car is a four-door compact grandeur ride that is available as a sedan, coupe, and convertible. The special features among others are;
Horsepower: 469, 4.0-liter V-8
2 trim levels available with 6 configurations
4-5 passengers accomadation space
Optional offer of AMG Performance seats that can be ventilated
Features SiriusXM satellite radio with a six-month trial
Also offers Bluetooth audio streaming, Android Auto, Apple CarPlay
Rolls-Royce Phantom
Another fantastic automobile the billionaire businessman owns is Rolls-Royce Phantom which is known to be the most expensive car in his garage. Purchasing this car at a stupendous ₦151.6 million simply will tell you that it is meant for only those with fat bank accounts. All you need to do is relax on its rear seat and enjoy the tranquility this high-end luxury sedan has to offer. Below are some of its outstanding features;
Four-door sedan
Horsepower: 563, 6.8-liter V-12
1 trim level with 2 configurations
5 passengers accommodation space
Power-adjustable massage seats
The infotainment system comes with remote controls
Standard features are Lane-departure warning and forward collision
Mike Adenuga Owns Two Private Jet
With the magnitude of his wealth, it is not surprising that Mike Adenuga owns a private jet. He reportedly has at least two private jets that ease his global jamboree. They include a ₦16.6 billion worth Bombardier Global 5000 and a Dassault Falcon 7x that is worth a whopping ₦19.6 billion.
All that said, it is evident that the Globacom owner enjoys the full luxury that comes with his wealth. From his lavish acquisitions, it is very clear and easy to tell that the multi-billionaire makes enough money from his business interest which majorly includes Globacom, Conoil, some stakes with Equitorial Trust Bank, now Sterling Bank, and other endeavors.
Worthy to note also is the fact that Mike Adenuga engages in a lot of philanthropic activities through the Mike Adenuga Foundation. Through the foundation, he largely reaches out to the less privileged not only in Nigeria but also in other parts of Africa.