Sonia Ighalo is a Nigerian celebrity and estranged wife of Odion Ighalo, the Nigerian professional footballer. Sonia became known and popular for being the wife of Odion Ighalo.
The name Ighalo is not strange, especially to those that love football and most especially to Manchester United FC fans. Odion currently plays for ManUnited in England. However, not many people know much about Sonia Ighalo, which makes the reason you should read this article to the end. All had long gone wrong in the Ighalo family as we have witnessed a series of scandals and drama from the couple.
Sonia Ighalo's Bio
Full name: Sonia Adesuwa Ighalo
Gender: Female
Ethnicity: Yoruba
Nationality: Nigeria  
Sexual Orientation: Straight
Religion: Christian
Marital Status: Separated
Sonia Ighalo's Husband: Odion Ighalo
Sonia Ighalo's Children: 3
Siblings: Mary Atole
Sonia Ighalo's Height in Inches: 5 feet 8 inches
Sonia Ighalo's Height in Centimetres: 172 cm
Famous for: Being Odion Ighalo's wife
Sonia Ighalo was Born and Raised in London
Sonia Adesuwa Ighalo's exact date of birth is not known. Originally a Nigerian, Sonia was born and raised in London, the United Kingdom. None of Sonia's family identity is known to the public, so we can't say specifically the state she is from.
The reason for this is not farfetched, as we have already mentioned that she only came to the spotlight after she married the celebrity footballer. However, from her maiden name Adesua, one can correctly guess that she is from the western part of Nigeria (Yoruba). Her only known family member was her sister Mary Atole who died in December 2019.
Sonia and Odion Ighalo Met in 2009
The former Super Eagles forward, Odion Ighalo, and Sonia met sometime in 2009 in Italy. It was not long after they became friends that they fell in love and then decided to take the relationship to the next level by walking down the aisle in a private wedding ceremony. Details of their dating history and the kind of ceremony they had are not known, whether it is a grand or a simple one.
In 2018, the couple celebrated their 9th wedding anniversary in a lavish dinner party which was attended by several celebrities; actors, musicians, and comedians. Both Odion and Sonia took to their social media pages to share their after-party loved-up photos. In December same year, the Manchester United striker celebrated Christmas with his family, accompanied by the grand launch of his mansion.
Also, on the same occasion, he gifted his wife Sonia a brand new Range Rover Sport, and she went online to share photos and videos of the house and car gift. Mrs. Sonia Ighalo praised her husband and asked for God's abundant blessings on his behalf.
It was exciting and notable that Odion and his wife Sonia were giving their fans couple goals back to back, catching the eyes of the internet and always shutting down Instagram with their loved-up photos at every celebration around the year.
Their Marriage Faced Trouble in Paradise in 2019
In 2019, fans began to notice that the lovely couple had refused to celebrate their anniversary nor share any of their family photos. It didn't waste time for rumors of them having a turbulent marriage to start making rounds all over the internet.
The couple themselves somehow gave credence to the speculation by deleting pictures they took together from their various social media pages. By this, many no longer needed further evidence to believe that their marriage is facing hard times because if a couple who were fond of showering praises on each other online could suddenly begin to delete photos, it could only mean one thing.
Later in 2019, when Sonai was asked about the challenges she experienced as the wife of a famous footballer, the mother of three responded that it had never been easy because the public would always believe that all was well. They are happy, but it takes only the grace of God for things to keep working. She also added that she always wishes her husband well and prays for him whenever he is out to play a game.
Sonia and Odion are Not Yet Officially Divorced
Even though not yet officially divorced, the seasoned football player and his estranged wife are separated and do not live together anymore as husband and wife. After 2019, none shared their anniversary photos online or celebrated any achievement together.
In 2020, the couple seemingly proved all the claims that their marriage was in serious crisis after they deleted each other's photos from their Instagram pages. In the same year, Sonia threw some shade on her Instastory, accusing Odion of throwing a party barely one week after her sister's demise.
She felt that her sister's children, who are now orphans, were still going through a lot of pain, and instead of him visiting chose to throw parties outside. More so, Sonia Ighalo has been public about the troubles in her marriage and called out Odion for fathering several children outside their marriage.
She also shaded reality TV star Uriel for going out and sleeping with her husband. Although there have been rumors that Sonia and Odion have divorced, there is no proof to support it. According to Sonia, she has received her divorce papers but is yet to finalize the process.
Sonia Ighalo Has 3 Children with Odion
Sonia's marriage with Odion Ighalo produced three children; 2 boys and a girl, and their names are Samuel, Daniel, and Bernice. Neither Sonia nor Odion shares personal information about their kids with the public. However, from indications, they would still be receiving their basic education in one of the prestigious schools in London.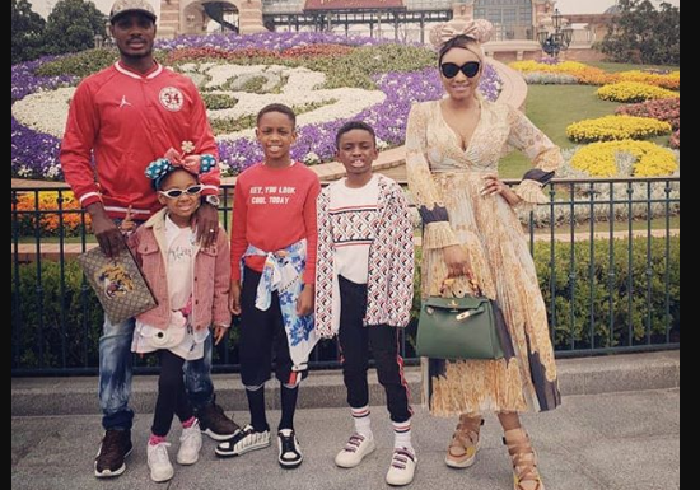 All the while, the children live with their mother in the United Kingdom, and their father used to visit them whenever he was on break. But, since the trouble began in paradise, his wife has accused him of abandoning his fatherly duties. She also alleged that he no longer sends child support to his children.
Social Media Presence
Before her marriage crisis, Sonia Ighalo is a very active social media person and goes with the Instagram handle @sjighalo24. But, since their messy separation, it seems the celebrity wife now has a private handle that is unknown by the public as she cannot be found via any active Instagram page.
Also, she does not have any official account on any other social media platform, except the ones with hashtags or fan pages which we know she is not the one operating. On the other news, Sonia has once mentioned that there is nothing much she does for a living behind the scene but ensures that she gives her husband a lot of encouragement whenever he goes out to play.