Priscilla Ajoke Ojo (born 13 March 2001; Age: 22 years old) is a Nigerian actress, model, entrepreneur, and brand influencer, who's best known as Iyabo Ojo's daughter.
She has been featured in the Nollywood movies, Beyond Disability, Victims (2017), and Silence (2016). Much of Priscilla's fame is due to her mother's thriving career as an actress, director, and producer since 1998. Iyabo is notable for her roles in Alakada Reloaded (2018), Real Housewives of Lagos (2022), and Divorce Not Allowed (2018). However, this article isn't about her, but about her daughter, Priscilla.
 Summary of Priscilla Ajoke Ojo's Biography 
Full Name: Priscilla Ajoke Mary Ojo
Nickname: Priscy
Gender: Female
Date of Birth: 13 March 2001
Priscilla Ajoke Ojo's Age: 22 years old
Ethnicity: Yoruba
Nationality: Nigerian
Zodiac Sign: Pisces
Sexual Orientation: Straight
Religion: Christianity
Marital Status: Single
Priscilla Ajoke Ojo's Parents: Ademidun Ojo (Father), Iyabo Ojo Ogunro (Mother)
Siblings: Festus Oladunjoye Ojo
Priscilla Ajoke Ojo's Height: Above 5 feet
Priscilla Ajoke Ojo's Net worth: $100,000 (estimated)
Famous for: only daughter of Iyabo Ojo
Priscilla Ajoke Ojo's Instagram: @its.priscy
Twitter: @priscillaojo
Facebook: Priscilla Ojo Ajoke
Education: Babcock University (B.A.Theatre Arts)
Priscilla is 22 Years Old
Born on March 13, 2001, Priscilla Ajoke Ojo hails from Abeokuta, Ogun State. She is a product of Iyabo Ojo's short-lived marriage to Ademidun Ojo, a clearing and forwarding agent.
Her parents were married in 1999 when the former was 21 years old. The union ended shortly after the birth of Priscilla. According to Iyabo Ojo, the marriage did not end because she was young, but because she rushed into it.
Whatever the case, the separation of the former couple left Iyabo to care for Priscilla and her older brother, Festus. It also led to her being becoming depressed and anxious.
Away from her parents, Priscilla Ojo's only sibling is Festus Oladunjoye Ojo. He was born on June 21, 1999, and is a graduate of Altinbas University, Istanbul Turkey, formerly called Istanbul Kemerburgaz University. He owns a clothing business in Lagos State called Fedel Wears.
What to Know About Priscilla's Father and Their Relationship
Ademidun Ojo is Priscialla Ojo's father. He is currently residing in Lindenwold, New Jersey, with his family. The actress' father attended Anglican Grammar School Ilaro and Jones International University. Following the end of his marriage to Pricilla's mother, he remarried to Olawunmi Ayadi and together they have two sons.
Priscilla and her father do not seem to share a close relationship nor was he present in her formative years. For six years until 2018, the influencer had no contact with her father. She and her brother shared their experience about meeting their dad after several years.
Since then, it has not been made public how close they've been over the years. However, the younger Ojo has acknowledged that her mother has been serving in the place of a father for a long time and she hardly misses her father's presence.
Schools Priscilla Ojo Attended
Pricilla started her academic journey in the early 2000s before heading to secondary school and graduating in 2017. Continuing her education, she enrolled in Babcock University, a private university owned by the Seventh-Day Adventist Church in Ogun State, Nigeria. She studied Theatre Arts and graduated in 2021.
Some other notable celebrities to have passed through Babcock University are Davido, Yewande Adekoya, Beverly Osu, Buju (now BNXN), Chioma Avril Rowland, Alex Usifo, and Olumide Oworu.
Priscilla Ojo's Career Path
Priscilla may have risen to stardom as the daughter of a  Nollywood celebrity, but she has several career paths. She is involved in several businesses, acting, and brand influencing. Here's a breakdown of the younger Ojo's career.
Her Acting Career
At 14, Priscilla Ojo became a teen celebrity and actress when she acted in the movie Beyond Disability. Thanks to her amazing potrayal of her character, she earned her first award for Best of Nollywood Award Child Actress. She has also played roles in other films such as Silence (2016) and Victims (2017).
Despite her fast rise in the movie industry, she had to take a step back  from acting to concentrate on her studies.
At the time of this writing, she has not been featured in any movie since her graduation in 2021. Yet, it will not be out of place for her to play roles or work in the movie industry since she studied theatre arts and her mother is one of the most acclaimed Nollywood stars.
She Owns A Real Estate Agency
Rather than focusing only on entertainment, Iyabo Ojo's daughter is into one of the most lucrative businesses in Nigeria – real estate!
She launched the estate business in November 2022, a few months after her 21st birthday. Her company, Priscy Homes, deals in the consultation and sales of Land and homes. It also deals with sales of home furniture.
Priscilla Ojo Owns a Bag and Clothing Line
Priscys Closet and Luxe are respectively clothing and bag brands owned by Pricilla Ojo. Both brands have a good number of followership on social media and seem to be thriving.
Additionally, the young entrepreneur runs another brand, a waist trainer product for all sizes, in partnership with her friend Rachael "Racilla Obsessed".
She is a Brand Influencer and Has Signed a Number of Endorsement Deals
Priscilla Ajoke Ojo has influenced brands on social media and has partnered with several top brands. Some of these brands are Maggi, My Rocket App, Cindy Total Weight Loss, Tecno Mobile Nigeria, House of Sweeter Things, Viskit, Sunglasses, and moore.
Who Is Priscilla Ajoke Ojo Dating?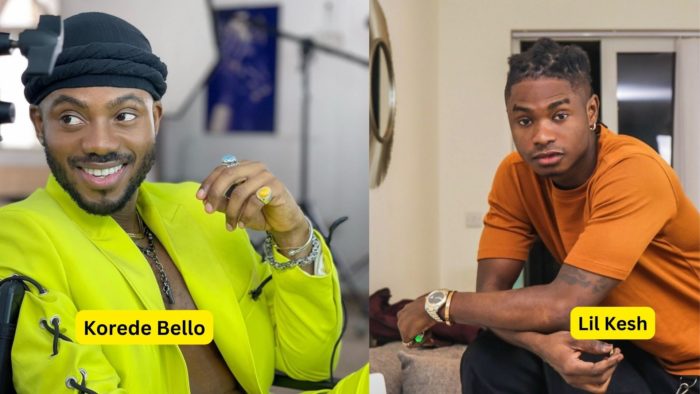 The actress cum businesswoman has been linked to a number of men in the entertainment industry. Among them are Lil Kesh, Korede Bello, and Kizz Daniel.
Still, according to rumors, she may have been engaged in 2022 but has kept it private and only flaunted an engagement ring on Instagram.
Her Rumored Relationship with Lil Kesh
Priscilla was first romantically linked to singer Lil Kesh in 2019, the same year she featured as a vixen in the music video of his song Nkan Be. The speculations continued and ran through to 2021. They have been seen severally escorting each other to events and on one occasion, Lil Kesh had kissed Priscilla Ojo on her cheek.
Also, in 2021, the younger Ojo featured in Lil Kesh and Fire Boy's music video, Love Like This. To some, it was a confirmation of what was already suspected and to others, it may have nothing to do with dating.
Kesh, one of the most celebrated Nigerian rappers, has not come out to accept nor refute the claim. However, Priscilla claims that they are just friends.
She's Been Rumored To Be Korede Bello's Girlfriend
Korede Bello, a Nigerian musician was also reported to be dating the influencer. Amidst the rumor, she shared an Instagram video of herself and the singer promoting his Mr Vendor song in 2019.
On one occasion, Korede Bello was questioned about the claimed relationship between him and Pricilla, but he took offense because, according to him, Priscilla was not addressed in a respectful manner. As a result, he refused to address the suspicions and claims. Priscilla Ojo, on the other hand, claimed that the singer was only her friend and a great person.
As a result of the rumors between the two, Pricilla's mother, Iyabo, has often been called Korede's mother-in-law.
She Has Also Been Linked to Kizz Daniel
In 2022, Buga music crooner Kizz Daniel was rumored to be dating Priscilla Ojo. According to the report, Priscilla was vacationing in Dubai but joined Kizz on his Manchester show in UK. The rumor further alleged that they were spotted at different locations in the UK and also attended the show in the singer's Bentley. Iyabo Ojo was furious about the allegations and was quick to rain curses on the reporter.
While the truth of their relationship still hangs, it is known that details about the women Kizz Daniel has dated has been kept under wraps. Yet, there have been rumors of love affair with a number of women, including Chidinma.
Shortly after the report, Priscilla flaunted what seemed to be an engagement ring on Instagram. Fans were quick to wonder if she was telling them that she was having an affair with the singer or that she was engaged to someone else. Others also thought that she was probably only catching cruise with the ring.