Patience Ozokwor had three children with her late husband and adopted five, making it eight children. Although they may not have attained the same fame as the veteran multi-award-winning actress in the Nigerian entertainment industry, they remain a significant part of her life and have careers in industries such as sports, evangelism, and the entertainment industry, to mention a few.
Patience Ozokwor, also famous as Mama G, is one of Nigeria's most emblematic actors. Her career has survived since the 1990s, and she currently boasts of more than 200 films and recording awards, including Ukwa (1995), Asunder (2006), Chief Daddy (2018), The Ghost, and the Tout Too (2021).
Meet Patience Ozokwor's Three Children With Her Late Husband
Uchendu Ozokwor is into Entertainment
Full Name: Uchendu Chukwunonso Ugwuanuarua Uzuevuegbe Ozokwor
Nickname: Uche
Date of Birth: July 8
Sex: Male
Religion: Christianity
Nationality: Nigerian
Marital Status: Married
Wife: Gloria Nweze
Famous For: The son of Patience Ozokwo and actor
Instagram: @zokwor
Facebook: @Uchendu Nonso Ozokwo
Uchendu is the first child and son of Patience Ozokwor with her late husband. The year of his birth has not been recorded, but the child of the veteran Nollywood actress was born on July 8. Following his earliest educational pursuit and graduating from Senior Secondary School, Ihe-Agwu, Uchendu headed to Enugu State University of Science and Technology, where he studied engineering.
He would later attend the University of Sussex, where he obtained a master's in Corruption and Governance. Uche later headed to the University of Greenwich, where he obtained a Master of Science in Public Administration. Nonetheless, he had laid his hands in the Nigerian film industry, wearing the same hat as an actor like his mother.
He would become the only child of Mama G to feature with her in a film, Why Marry? (2016). Although he has not recorded many films, he still works as a moviemaker, and he may also be an entrepreneur engaged in wholesale and retailing, as his Instagram bio suggests. On the part of his private life, Uchendu is said to be married to a woman named Gloria Nweze on May 25, 2013, in London. The couple is parents to a son and a daughter.
Chioma Ozokwor-Ani is into Music
Full Name: Chioma Nnenna Lameya Ozokwor Ani
Nickname: Chiom Chiom
Date of Birth: December 17, 1980s
Sex: Female
Religion: Christianity
Nationality: Nigerian
Marital Status: Married
Husband: Emeka Ani
Famous For: only daughter of Patience Ozokwor
Facebook: @Chioma Ozokwo Ani
Chioma Ani is the second biological child and the only daughter of Mama G. Like her older brother, the year of her birth has not been revealed, but she celebrates her birthday every December 17.
Chioma, unlike her mother, has not ventured into acting, but as per reports, she has an interest in music and art. Despite that, she may not have released her works to the public as of this writing.
The only daughter among Patience Ozokwor's children is the only of the siblings who do not bear Ozokwor. This is a result of her being married to Emeka Ani in Enugu in 2010, and according to reports, she resides in London with her husband and three children.
Nduka Ozokwor is a Football Player
Full Name: Ndukaku Morrison Ozokwo
Nickname: Nduka
Age: 34 years old
Date of Birth: December 25, 1988
Sex: Male
Religion: Christianity
Nationality: Nigerian
Marital Status: Married
Wife: Mary Ozokwo
Famous For: footballer, last son of Patience Ozokwo
Height: 180 cm
Weight: 71kg
The last of the Patience Ozokwor's children is Nduka Ozokwor took a career as a professional football player at about the age of 18 with Enugu rangers as a midfield attacker.
In 2007, the December 25, 1988-born participated in the 2020 FIFA World Cup, where he wore the No.9 jersey as a midfielder and played four matches. At the tournament, which began on June 27 and ended on July 30, 2007, Nigeria was ranked the 8th, reaching the quarter-finals and topping the African country, while Argentina went home with the cup.
Following that, he played for teams such as:
MKE Ankaragücü (2017-2020, Turkey)
FC Wil 1900 (2016-2017, Switzerland)
Adanaspor (2015-2016, Turkey)
Mersin Idmanyurdu (2011-2014, Turkey)
Boluspor (2010, Turkey)
Gateway FC (2009, Nigeria)
OGC Nice (2007-2009, France)
Patience Ozokwor Adopted 5 Children But Lost 1
The award-winning actress adopted five children, and she gave them not only her love but also her name. According to the actress, there is barely any information about them, but one of the adopted children is a pastor.
Also, she lost one in 2016 due to a blood infection. In addition to this, Patience Ozokwor, at a point in an interview, said she would give 2 of them to her sister, who would also be capable of giving them the same love.
Who is Patience Ozokwor's Husband, and What Happened to Him?
Around 1977 when Patience Ozokwo was 19, she became married to Mr. Ozokwor. The marriage was an arranged one, and although the actress had many suitors and a different man she wanted as a husband, her parents wanted Mr. Ozokwor.
According to her, it was one thing she regretted even though she had a good marriage with him and described him as a loving husband and father. Together they had three children. However, neither the marriage nor the birth of their children stopped the veteran 65-years-old actress from pursuing the acting career she had nurtured since childhood.
In 2000 while she was on set, her husband died after a long battle with a terminal ailment. She remains a widow for 35 years, raising her children alone. This does not mean she never nurtured the thoughts of getting married again until her children prevented her. The actress had been rumored to be dating Delta politician Michael Ejele. However, the actress denied the allegation.
Patience Ozokwor Has 14 Grandchildren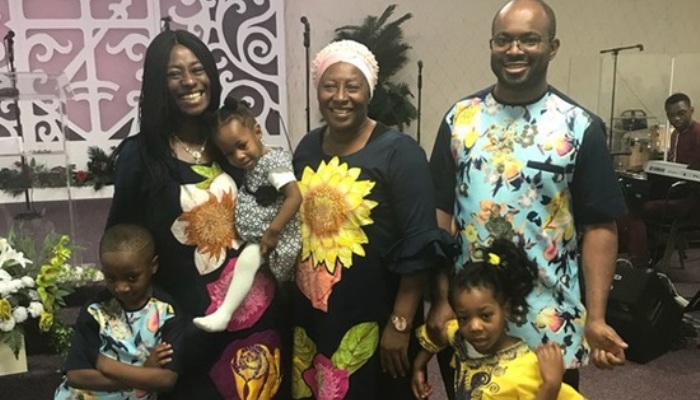 Through Patience Ozokwor's children and grandchildren, the actress has 14 grandchildren. Through her first son Uche, she is the grandmother of 3. Her only daughter also added to the number of the actress' grandchildren as a mother of 3, and her last child, Nduka, is a father of 2.
As a result, she is the grandmother of her biological children's eight children. On the other hand, her adopted children have her additional six grandchildren, which amounts to 14 grandchildren.
There Is A Conspiracy Theory that Patience Ozokwor is the Mother of Tonto Dikeh and the Aneke Twin Girls
Tonto Dikeh is believed to be one of the children of Mama G. This conclusion started in the early career of controversial actress Tonto when she featured in Patience's music video, Iyo Ngwo Ngwo, in the early 2000s. However, the two women are not related. While Ozokwor hails from Enugu, Tonto hails from Rivers State and is the daughter of Veronica Dikeh, who died when the actress was three years old.
In the same light, Patience is rumored to be the mother of twin girls – the Aneke twins. The identical twins are Nollywood actresses Chidinma Aneke and Chidiebere Aneke. Patience is not their mother but shares a close relationship with the twin actresses. They also hail from the same State, Enugu State, in the Eastern part of Nigeria.