Popular Nigerian singer Flavour is blessed with three children named Gabrielle, Sophia, and Kaima Okoli, from his two baby mamas. He also has an adopted son named Semah G. Weifur.
The Nigerian singer, songwriter, and multi-talented instrumentalist, whose real name is Chinedu Izuchukwu Okoli, are loved for his unique music style that mainly comprises a blend of Igbo highlife gospel. He sings, composes, and plays many musical instruments – the drums, guitar, and piano, among other musicals – but above all, his love for kids has also earned him a place on the list of famous baby daddies in the country.
To satisfy his hunger, he's been able to raise a few kids with some women largely referred to as his baby mamas. Below are facts about Flavour's children and baby mamas that may interest you.
Meet Flavour's Children
39-year-old Flavour may not be officially married to any woman, but he sure is a doting father who never compromises his time with his lovely children. The celebrated singer is gracefully blessed with four children, which consist of his three biological daughters and an adopted son.
Like many Nigerian celebrity daddies like Davido and Timaya, Flavour is fond of flaunting his children on the media and never fails to seize every opportunity to talk about his kids. Below are some interesting facts you would like to know about Flavour's children.
Gabrielle Okoli is Flavour's First Child
Full Name: Gabrielle Munachimso Okoli
Date of Birth: September 29, 2014
Age: 8 years old
State of Origin: Anambra State, Nigeria
Gabrielle Okoli's parents: Chinedu Okoli (aka Flavour), Sandra Okagbue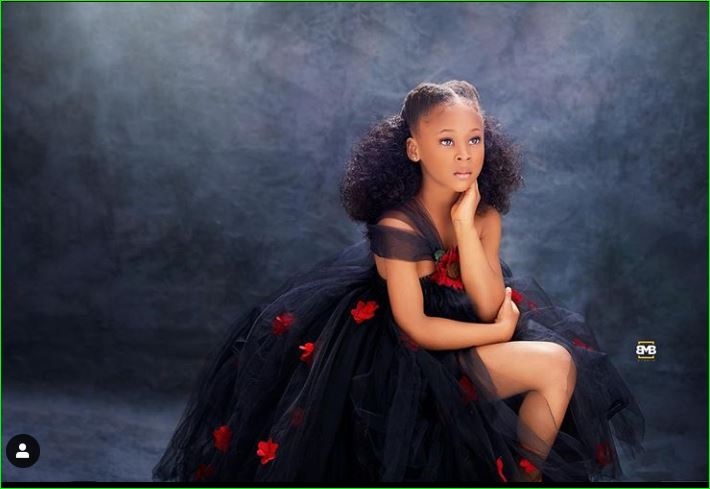 Born on September 29, 2014, Gabrielle is Flavour's first child and daughter. The beautiful angel was born to the Adaada crooner by his first baby mama Sandra Okagbue. While not much is known about Gabrielle's education and a possible choice of career path, there is no doubt that she is growing into a very beautiful damsel.
Some media reports have even suggested that she would become a great asset in the Nigerian entertainment industry, even if not in the line of her father's profession. Gabrielle marked her fifth birthday in 2019, and as expected, Flavour took to his Instagram page to celebrate his beloved daughter, after which a birthday party was thrown for her.
Flavour's Second Daughter Sophia Okoli is a Year Younger than Gabrielle
Full Name: Sophia Okoli
Date of Birth: August 1, 2015
Age: 8 years old
State of Origin: Anambra State, Nigeria
Sophia Okoli's parents: Chinedu Okoli (Aka Flavour), Anna Ebiere
Flavour's second daughter Sophia Chinedu Okoli was born on August 1, 2015, following his intimate relationship with his estranged girlfriend named, Anna Ebiere. The Adaada crooner appears to be quite fond of his second daughter Sophia as he often posts videos and pictures of her on his timelines.
Sophia's educational background has not been revealed, but the young girl appears to be quite smart and may be interested in music like her father. During Flavour's recent birthday celebrations, he posted a video of his daughter playing the violin for him.
When she turned seven in August 2022, he shared a compiled video of the beautiful memories of himself and his daughter spending quality time together with him.
Kaima Okoli
Full Name: Chikaima Okoli
Date of Birth: November 23, 2018
Age: 4 years old
State of Origin: Anambra State, Nigeria
Sophia Okoli's parents: Chinedu Okoli (Aka Flavour), Sandra Okagbue
Kaima Okoli is Flavour's fourth child, born to him in November 2018. Kaima is Sandra Okagbue's second child and daughter, and so is the direct younger sister of  Gabrielle.
Not much is known about the little kid as she is just a child and is yet to make much social media buzz like the rest of her siblings. However, she appears to be the singer's lookalike, and she shares the same birthday with her father, who was born on November 23.
Flavour has an Adopted son Named Semah
Semah may not be Flavour's biological son, but he now shares all the benefits the rest of the singer's children have. Semah, who is Liberia-born, became one of Flavour's children when Flavour discovered him in Liberia in March 2017 after he watched him perform at an event in 2017.
The young Liberian was born visually impaired and survived with the help of Monrovia-based NGO, Christian Association of the Blind (CAB). Semah was born into a low-income family, and though details of his parents and siblings have not been revealed, they are assumed to be still alive and living in their home country.
Not much is also known about Semah's educational background, but he appears to be strongly drawn to gospel music, and his dreams of being a music star got fulfilled after meeting Flavour, whom he idolizes. Semah and Flavour met each other for the first time through a veteran Liberian musician, Queen Juli Endee, who, in 2016, collaborated with Flavor on her single "Atulaylay."
During a peace crusade at CAB, Semah, who at the time was just eleven years old, performed one of her songs, "No Shaking," and left her in awe. Months later, Flavour visited Monrovia for a concert. As fate would have it, Flavour got interested in the young singer after watching several of his song sung by the Semah.
Desiring to give the poor Liberian wings to fly, Flavour met with Semah on March 21, 2017, at an event where the highlife icon was also conferred with the title of Chief Zanzan of Liberia to recognize his 'immense contribution' to Africa through music. Semah has since been living with Flavour in his luxury home, and the highlife singer has not failed to let his adopted son live up to his dreams.
They have released a couple of songs together, they include a gospel duet "Most High" contained in Flavour's fifth studio album, Ijele – The Traveler, and a joint gospel EP titled Divine and produced by MasterKraft. Semah may not have achieved so much in his music career, but like the rest of Flavour's children, he has all it takes to reach his dreams.
Who Are Flavour's Baby Mamas?
Chinedu Okoli, popularly known as Flavour, is notably one of Nigeria's most celebrated music icons whose love life has been very controversial. While he may not be classified among celebrities who are notorious womanizers, the singer admits to having a flair for beautiful women and that, as an African man, he ensures that he goes for the best of them.
This is not far from the truth, as seen in the type and class of women Flavour has been linked with. Interestingly, he has succeeded in making some of them mothers of his three lovely kids. Below are interesting facts about the mothers of Flavour's children.
 Sandra Okagbue
Sandra is Flavour's first known baby mama. She is the mother of two Flavour's children. She met the celebrity singer in early 2014, and they probably started dating shortly afterward. However, the public started becoming fond of the relationship pair's love story after she gave birth to the singer's first daughter later in the same year.
In 2015, rumors about the two being legally married began to spread across various social media platforms. In response to the rumor, the Adaada crooner was quick to debunk the rumor, insisting that he was still very single and had no plans of walking down the aisle with any of his baby mamas.
In 2017, rumors of Flavour's breakup with Sandra started making rounds on the internet, but just then, Sandra was spotted with Flavour's name, "Chinedu," tattoed across her arms, and it somewhat made the rumor die down. The following year, she gave birth to the singer's third daughter Kaima.
Before her known relationship with Flavour, Sandra was also known to have dated former Super Eagles captain and ex-Chelsea midfielder Mikel Obi. The two were known to be a couple for a long time, and based on the information provided by some sources, it appears that they originally planned to stay together for the rest of their lives.
Until they fell apart, several news magazines and online media outlets published dozens of articles about their marriage. Also an Anambra indigene, Sandra is currently doubling as an entrepreneur and model. She is the eldest of six children in her family, and she hails from Ogechukwu Clara Okagbue of Onitsha Kingdom.
Her siblings include Christopher, Bella, Christabel, Jane, and Christian Okugbue. One of her siblings, Christopher, was the brand ambassador of Orange D.r.u.g.s. Limited and Passion Energy Drinks. He also appeared in TV commercials for Multinational Companies, like Cadbury PLC., Airtel, MTN, LG, and e.t.c.
While further details about her real age and educational background, we can gather that she is the CEO of Borderline Business Solutions Limited. She was part of the once popular Miss Delta Soap Pageant contest, where she became the winner of the contest in 2010, which was by Orange D.r.u.g.s. Limited. Consequently, she became a face of Delta Soap, gracing television, billboards, handbills, newspapers, and calendars.
Anna Banner
Anna Ebiere Banner is Flavour's second baby mama and the mother of one of Flavour's children. The two started a relationship in 2014, after which she became pregnant with his daughter Sofia Okoli on August 1, 2015.
While further facts relating to how Anna and Flavour met have not been revealed, Anna disclosed that although she became pregnant after the singer's critically acclaimed "Golibe" music video, which featured her, she never intended to be Flavour's baby mama and that having a child out of wedlock was as a result of her "careless act, not necessarily because she wanted to hook up with the famous singer.
Anna Banner further explained that she was already 4 weeks gone when she found out she was pregnant and was scared of abortion, so she kept the baby. Following her discovery of being pregnant, Anna dropped out of Middlesex University, UAE, as she couldn't cope with studying and being a mother at the young age of nineteen. Her decision also severed her relationship with her parents, who were equally disappointed in her for throwing away her future plans.
Anna's relationship with Flavour was initially controversial as the singer was at the time rumored to also be dating a fellow Music star Chidinma Ekile. This rumor became more intense following the release of their romantically electrifying song 'Ololufe.' However, Anna Banner, at the time, assured fans that Flavour had eyes for only her and that she was the only woman in his life.
Issues between the two turned sour as Anna later discovered that Flavour was already fathering a child with Sandra Okagbue and was reluctant to announce the arrival of his child with her. However, the arrival of the little princess seemed to play a role in uniting the two, even though the chances of them being a couple was already jeopardized.
After the initial distancing from his daughter, Flavour accepted Sofia into his family. Recently, Anna Banner stated that she maintains a healthy, friendly relationship with Flavour. The model expressed her gratitude to the musician on numerous occasions, stating that he plays an important part in the upbringing of their daughter.
Anna is a popular figure in Nigerian society, professionally recognized as a Nigerian pageant winner and actress. She became popular after she was crowned the Most Beautiful Girl in Nigeria in 2013, and the same year, she represented Nigeria at the 2013 Miss World pageant held at Bali Nusa Dua International Convention Center, South Kuta Bali, Indonesia.
Following her new social status, she was, in 2014, appointed as the Special Assistant on Culture and Tourism to then Governor of Bayelsa state, Henry Dickson. she made her acting debut in Super Story –  a Popular Nigerian Anthology produced by Wale Adenuga – where she played a role in the show's "Too Blind to See."
While none of Flavour's baby mamas is currently married to anyone as a husband, they share a very cordial relationship free from public scandals. However,  there are reports about Anna Banner being currently hooked up with a man named Ahmed. While not much is known about their new relationship, it is said that Ahmed, who appears to be a wealthy businessman, was spotted with the famous model at a birthday party in Dubai.