Chris Attoh is currently married to Nigerian-born US-based businesswoman, realtor, and film investor Chinecherem Eze. His ex-wives are Nigerian actress Damilola Adegbite and Ghanaian-born Bettie Jennifer who was murdered barely one year after they got married.
Chris is a popular Ghanaian actor, film director, producer, on-air personality, and TV presenter. He is famous for playing the character of Kwame Mensah on the Nigerian soap opera Tinsel. When it comes to celebrity marriage scandals, Attoh is one of the actors who has faced a lot of drama. The Ghanaian star has been married three times and divorced once. None of his first two marriages lasted for a good number of years; the first one ended in divorce after two years and the second one ended in disaster after some months. Chris Attoh is currently in his third marriage.
Marriage and Relationship Timeline
| Year | Event |
| --- | --- |
| 2005 | Chris Attoh began his career in entertainment, notably on Ghanaian television. |
| 2015 | Married Nigerian actress Damilola Adegbite. This marriage brought significant media attention. |
| 2016 | The couple welcomed a son, Brian Attoh. |
| 2017 | Chris Attoh and Damilola Adegbite announced their divorce. |
| 2018 | Married Bettie Jennifer, an American citizen. |
| 2019 | Tragically, Bettie Jennifer was shot and killed in Maryland, USA. |
| 2021 | Married Chinecherem Eze, his current wife |
| Ongoing | Continues to be active in his career in the entertainment industry. |
Chris Attoh is Currently in His Third Marriage with Chinecherem Eze
Christ Attoh is currently married to Chinecherem Eze, a Nigerian-American entrepreneur, actress, and film producer born on March 7, 1992. Chinecherem was born and brought up in Nsukka Enugu State, Nigeria until she completed her secondary education. She moved to the United States to further her studies and pursue her career as an actress.
The actor found love again after the disastrous end of his second marriage. According to reports, Chris tied the knot for the third time with his investor girlfriend in a secret court wedding ceremony two years after his second wife died. They first had a court wedding on April 28, 2021, and a traditional marriage on May 1 in Nsukka, Enugu State, Nigeria.
The wedding was said to have followed after a secret proposal that the couple's close friends attended. Their union has yet to produce a child, and the couple has since been keeping their marriage private; hence, there is not much information about how the union is coming along.
Meanwhile, while many reports have it that the actor tied the knot with Chinecherem, an Instagram user Michelle Chica made a post claiming that the marriage never happened for real. According to her, the wedding photos that circulated were only scenes from the set of a movie the duo featured in titled Till Dawn. There has been no evidence to prove this news, and neither Chinecherem nor Chris has come out to debunk nor affirm it.
Summary of Chris Attoh's Wife, Chinecherem Eze's Bio
Full name: Chinecherem Eze
Date of birth: March 7, 1992
Age: 31 years old
Nationality: Nigerian-American
Religion: Christian
Marital Status: Married to Chris Attoh (2021- date)
Education: University of California, Los Angeles
Instagram: Chinecherem Eze
Who is Chris Attoh's Third Wife?
Her name is Chinecherem Eze. She was born on 7th March 1992 and is 31 years old in 2023. Her zodiac sign is Pisces. Eze is a Nigerian-American entrepreneur, actress, and film producer in Nsukka, Enugu State. She studied Political Science and Theatre Arts at the University of California, Los Angeles.
Chinecherem currently serves in the United States Army Reserve and is the founder and CEO of Hissbox, a fast-growing film distribution app and streaming company. She is also the founder of Adaora Beauty, a retail beauty store, and Adaora.com, a multi-vendor online marketplace. Her beauty store has become a household name with franchises across the nation.
Besides her businesses, Chinecherem has a fast-growing acting career. She has starred in and produced several short films and TV shows, some of which include Dead Weight, Kill Them All, Stoned Sex Cinema, Winners, and others. Also, she starred in Ellen DeGeneres's Game of Games Season on NBC.
Chris Attoh's Second Wife Was Bettie Jennifer, and The Marriage Was Shortlived
Barely one year after Chis Attoh's first marriage hit the rocks, the Ghanaian actor found for himself another love in paradise. He got married to a Ghanaian US-based businesswoman, Bettie Jennifer, on October 6, 2018. Unfortunately, the marriage was short-lived as Bettie was murdered just a few months after they got wedded.
Betty Jennifer's Biography
Full name: Bettie Jennifer
Date of birth: 1975
Age at death: 44 years old
Nationality: Ghanaian
Religion: Christian
Marital Status: Married to Chris Attoh (2018-2019)
Education: Temple University, Philadelphia, USA
Bettie Jennifer was born in 1975 to a wealthy Caribbean woman. She was 44 years old at the time of her death. Bettie graduated with a Bachelor of Science degree from Temple University and an MBA in Business Administration and Management from Walden University in the US. Before her death, she was a regional director based in Bowie, Maryland, USA.
Chris Attoh's Second Wife was Shot Dead at Her Workplace in the US
Bettie met her untimely death seven months after her wedding to Chris when she was fatally shot in America. Following her death, many eyewitnesses attest that the shot was not a random shooting, but she was the target. According to them, Bettie promptly realized the presence of a man with a gun immediately after she gained access to the parking lot.
To save her life, she took to her heels, but the shooter, who was already on her heels, released two bullets which instantly left her lifeless on the spot. The incident happened on May 10, 2019, at around 5:00 pm in Maryland. Jennifer called it a day at her office located 6300 blocks away from Ivy Lane in Maryland and headed to the parking lot where she was killed in cold blood.
The police have since launched an investigation panel to look into the incident. Even though we have not yet been furnished with information on the investigation results, the police have been relentless in their efforts to ensure the apprehension of the assailant.
The shooter was described to be a well-built black man with black hair. Again, he was said to have worn a black shirt and pants and immediately fled the scene in an unidentified car just as he accomplished his mission, reported by the Greenbelt Police Department.
Was Chris Attoh Charged For His Wife's Murder?
No. However, the news of Bettie's death came like a bomb to Chris Attoh. At that time, he was shooting a movie in Los Angeles. The Ghanaian actor quickly had to abandon all he was doing and flew to Maryland to confirm the news. Following Bettie's death, rumors began to peddle that she was murdered by her husband, Chris.
For a while, Chris was paraded as a suspect and was invited for a series of questioning by the US police. Attoh was said to have made a rather suspicious post on his social media page a few hours before his wife was murdered. However, he was later confirmed to be innocent after much investigation and questioning.
Since Bettie's death, Chris Attoh kept a low profile in the media until he married his third wife. Also, Chris lost his father some months after Bettie's death. It was tough for the Ghanaian actor. Hence, he chose to take a break for himself the public and the media.
Facts from Investigations on Bettie Jennifer's Murder Case
Following the gruesome incident that claimed the life of Chris Attoh's second wife, the police went on to dig up some information about the deceased life. According to the reports, Bettie was married before she met and married Chris Attoh. Her first husband is identified as Kendrick Jenifer, a kingpin of a drug cartel based in Baltimore.
Kendrick is serving a 20-year jail term in the US for importing cocaine to Baltimore from Texas. The US District Attorney accused Kedrick Jenifer of distributing over 450 kilograms of cocaine in Woodbridge, Virginia, and Baltimore. He lived a lavish lifestyle in his heydays as a drug kingpin but is now in prison for a couple of decades. Even though he was in jail, accusing fingers started pointing at the drug baron after Bettie was murdered.
Rumors began to make rounds that Bettie did not tell Chris Attoh that she was still married before tying the knot with him. Then, after her marriage to Chris, and Kedrick, seeing their photos all over the internet started sending her threats. Reports also narrated how Bettie revealed everything to Chris out of fear, and the couple decided to put down all their wedding photos on Instagram and claimed that their marriage had hit the rocks.
Another report from the investigations was that Bettie and Chris were already having a serious marriage crisis before the death of the former. This rumor sprang from the cryptic post made by the actor on Twitter which reads, "When it comes to marriage, remaining faithful is not an option but a priority, loyalty is ever…"
The rather suggestive tweet was made a few hours before the horrific incident. Further investigations by George Mathew-a Greenbelt police spokesperson said that they have been investigating many things, especially on Chris' ambiguous tweet.
Chris Attoh's First Wife Was Damilola Adegbite
Full name: Damilola Adegbite
Date of birth: May 18, 1985
Age: 38 years old
Nationality: Nigerian
Religion: Christian
Marital Status: Married to Chris Attoh (2015- 2017)
Education: Bowen University
Famous for: Tinsel
Instagram: Damilola Adegbita
Chris Attoh began his journey into marriage with Damilola Adegbite. She is a Nigerian actress, model, and TV personality who first became famous for playing Thelema Duke in the soap opera Tinsel and Kemi Williams in the film Flower Girl. Damilola was born in Lagos to Nigerian parents on May 18, 1985.
She grew up in Lagos and attended Queen's College in Yaba, Lagos State. She proceeded to Bowen University in Iwo, Osun State, where she studied Business Administration. Her acting debut after graduation was Tinsel, and she has also starred in many other TV commercials and hosted several programs on TV.
The Couple Met in 2014 and Got Married in 2015
Chris and Dami met in 2014 on the set of the soap opera Tinsel- a show that brought Damilola to the limelight and was her acting debut. Chris boasted of how he was able and lucky to find a beautiful and hot Nigerian woman.
He said that one of the major attractions between them is that both of them are almost birthday mates. While Chris's birthday is on May 17, Damilola's falls on May 18. The new lovers dated for a while and officially got engaged in August 2014.
Six months after their engagement, the celebrity couple decided to take their relationship to the next level. Chris Attoh and Damilola Adegbita got wedded in a private ceremony in February 2015 in the groom's home country in Accra, Ghana. According to reports, their marriage was comparable to a fairytale from the outset.
Their Marriage Hit the Rocks After Two Years in 2017
Unfortunately, all the spark and butterflies that made them husband and wife disappeared too quickly. Trouble began in paradise when news about their intended divorce was all over the media in 2016. But, they both vehemently denied the rumors when asked about their relationship status.
However, it took only a short while before the actor revealed in an interview with Bellanaija that they were no longer together. He stated that his marriage with Damilola had ended. Their divorce reports further gained prominence on February 14, 2017, when Chris posted photos of his wife on social media, wishing her a happy wedding anniversary.
But, Dami did not respond nor post any photos. Their divorce was later made official in August 2017. Even though the couple did not state the actual reason that led to their divorce, Chris, in an interview, jokingly told the media that all his sisters never supported the marriage from the beginning. Furthermore, there were rumors of infidelity, but Chris was quick to debunk them.
Chris Attoh and Damilola Are Still in Good Terms
Chris Attoh and his ex-wife Damilola Adegbita have remained in a cordial relationship and living their lives separately. This was proven on their birthdays in May 2018 when both of them exchanged wishes for each other, even though their fans speculated that there was tension behind the supposed good wishes.
The Ghanaian movie star never misses an opportunity to speak nicely of the mother of his child. Regardless of their divorce, he likes that they made a baby together. He gives her credit for being a wonderful and amazing mother, maintaining that they will continue to be friends despite their differences.
Damilola, on her part, expressed her thoughts via an Instagram post. According to the Nigerian actress, She is eternally grateful amidst her troubles and everything that happened as her real identity became crystal clear to her. Finally, she said that she is determined to stay cheerful, believing that the law of karma will sort out everything with time.
Chris Attoh Has One Male Child From His First Marriage
Chris Attoh and Dami are parents to a child. One month after their official engagement, in September 2014, Chris Attoh and Damilola welcomed their only child, a baby boy named Brian Nii Ayitteh Olaferomi Attoh. The couple is trying their best to co-parent their son. According to Chris, the differences that led to their divorce never stopped them from working together to effortlessly raise their child.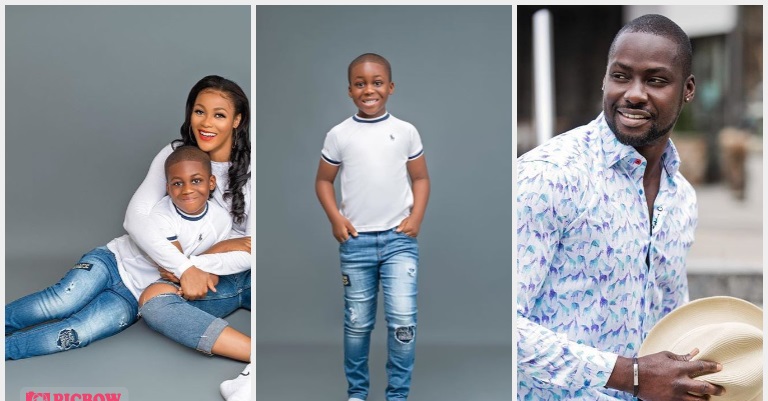 The actor is very close to his son and usually speaks passionately about him. Brian, who is currently 9 years old, is under her mother's custody, and her father makes time to see him and vice versa.
There is limited information about Brian's personal life as he is still very young. Still, we know that he is doing well and might follow in his father's flourishing career path. After his first marriage with Adegbita ended, Chris Attoh has not had any other child apart from Brian.
Frequently Asked Questions
Does Chris Attoh Have a New Wife?
Chris Attoh has a new wife named Chinecherem Eze. She is a US-based film investor, realtor, and businesswoman. The duo had a proxy traditional marriage in Nsukka, Enugu State, Nigeria, a court wedding in California in April 2023, and a private wedding in the US.
What Happened between Chris Attoh and Damilola Adegbite?
Chris Attoh and Damilola Adegbite got divorced in 2017. They got engaged in August 2014, tied the knot in February 2015, welcomed their son, Brian, a month later, and divorced two years later. The duo met in the entertainment industry while filming the TV series Tinsel and subsequently fell in love.
Is Yvonne Nelson Married to Chris Attoh?
Yvonne Nelson and Chris are not married. However, in 2002, the two were rumoured to have secretly tied the knot after pictures of Chris and Yvonne exchanging vows were posted online. It was eventually revealed that the images were taken from a movie scene, causing the rumours to dissipate.