Wealth-X, a company that conducts research on the super-wealthy has ranked heiress Alice Walton as the wealthiest woman on the list of the 50 richest people on earth. Alice is a member of one of the richest families in the world with a net worth of $33.2 billion. Her billionaire older brothers Jim and Rob also graced the list with a combined net worth of $101.5 billion, owing primarily to their stake in retail giant Walmart.
Walton is one of just four women to make the list of the 50 richest people on earth, and each inherited their fortune. The next wealthiest woman is Liliane Bettencourt, the French heiress to the L'Oreal fortune, with a net worth of $29 billion.
Biography
Alice Louise Walton was born on October 7, 1949, in Newport, Arkansas, United States, as the daughter of Wal-Mart founder, Sam Walton and Helen Walton. She grew up as the only daughter among three brothers, S. Robson, Jim and the late John T. Walton. During the middle-class years, the Walton family's vacations were spent camping in America's national parks. Alice and her mother Helen set up easels side by side, painting watercolours of Yosemite's mountain vistas and Yellowstone's lush canyons.
With a degree in economics and finance she acquired from Trinity University in San Antonio, Texas, one has to give her credit for expanding her inherited wealth.
Walton worked briefly as a buyer at Walmart after graduation. She soon decamped to New Orleans, where she became a fixture in the French Quarter social whirl. While she clearly didn't need to work, she began managing millions of dollars as an E.F. Hutton broker.
Alice Walton Networth 
Alice is a member of one of the richest families in the world with a net worth of $41.3 billion as of March 2018, making her the wealthiest woman in the world and the 18th-richest person in the world right now. It was reported that Alice owns shares worth over US$11 billion in Walmart.
House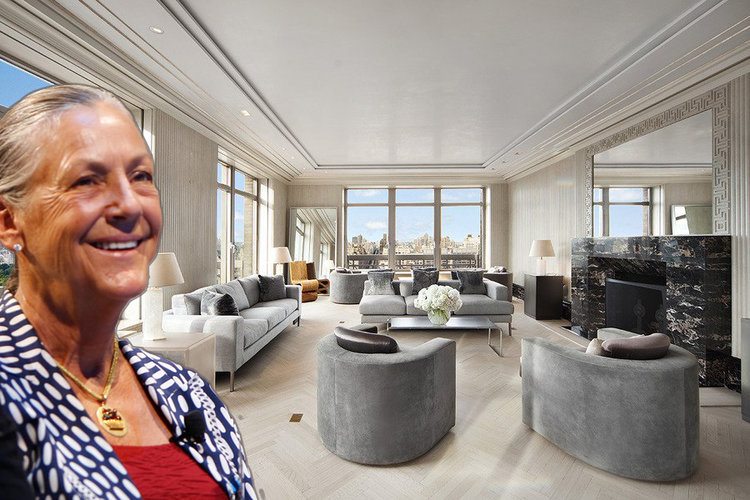 Besides her Rocky W Ranch in Texas, Alice has quite a number of houses to her investment portfolio. In 2014, she reportedly purchased a purchased a $25 million condo in New York City, located on the 30th and 31st floors of 515 Park Avenue. The 6,286 square feet luxurious condo has 52 oversized windows with an aerial view both the city and park. Features of the house include a large media room, a library, and a one bedroom guest apartment large enough to serve as two separate staff suites.
Facts About The Richest Woman
Alice Walton's fortune stems from her stake in mega-retailer Wal-Mart, which her father Sam Walton founded back in 1962. Unlike her siblings Rob and Jim, Alice hasn't taken an active role in the company, instead focusing on collecting and curating art.
Interest in Art
Instead of spending time at Walmart, Walton became a patron of the arts at a young age. When she was just 10 years old, Walton saved up her allowance to buy her first piece of art, a reproduction of Picasso's "Blue Nude" she got from her father's Ben Franklin Dime-Store.
She began buying watercolour pieces in the 1970s and adorning the walls of her Rocking W Ranch with them. From there she moved on to more serious original works, particularly those by classic American artists; her immense personal collection now includes pieces from Andy Warhol, Norman Rockwell, and Georgia O'Keefe, among others.
Her work culminated in the opening of the Crystal Bridges Art Museum in her hometown of Bentonville, Ark, in November 2011, which is a premier venue for a national art institution dedicated to American art and artists, and a place of learning and community.
Her other art collections include works from the likes of Andy Warhol, Norman Rockwell and Georgia O'Keeffe. Some of the pieces in the museum she donated from her personal collection, which is valued in the hundreds of millions of dollars.
Before delving into the art realm, Walton made a brief career as an equity analyst and even founded her own investment bank, Llama Company, in 1988. The company closed about 10 years later, shortly after Walton was arrested for driving under the influence of alcohol not for the first time.
Marital Status
Twice divorced with no children, Walton was first married in 1974 at age 24, to a prominent Louisiana investment banker, but the two were divorced two and a half years later. Shortly thereafter she married the contractor who built her swimming pool, but they too, quickly divorced
Favourite Hobby
Walton is also a lover of horses, which she breeds at Rocking W Ranch, located in Texas, and rides competitively. The 1,456-acre ranch, however, is currently for sale for nearly $20 million. She put her Texas ranch, a 1,432-acre estate along the Brazos River near Fort Worth, up for sale at $48 million.
Political Stance 
She's also dabbled in political donations, mostly to the Republican party. In 2014, she donated $25,000 to establish a political super-PAC supporting a U.S. presidential bid by Hillary Clinton. Together Alice, her two brothers siblings and their sister-in-law Christy (widow of their brother John, who died in a plane crash) own 51% of Wal-Mart, with 11,000 stores.
Strict Private Life
Despite her active philanthropy and controversial issues, Alice Walton has managed to keep her persona mostly private. Without being too public, Alice has been able to mostly live her life of privilege and wealth under the radar. Although many have criticized her use of her wealth to get out of certain situations. Like the incident when she struck and killed 50-year-old Oleta Hardin but no charges were filed.
Nevertheless, Alice Walton remains a key factor in the Walton family's philanthropic ventures which supports education, economics and the environment.