Ever heard the phrase "a prophet is always without honour in his own country?" This phrase has always played out rather well in Nigeria. Although the reasons for this may stem from familiarity or the simple fact that they are not doing enough to move the country forward, despite their success (by the citizen's assessment). But the truth remains that these successful men and women have carved niches for themselves in their respective fields. They might be underrated a bit in Nigeria but their worth is recognized beyond the shores of this country and they have been able to garner attention for themselves globally. Meet 11 notable Nigerians who are more appreciated and respected abroad than at home.
1. Olusegun Obasanjo
Olusegun Aremu Obasanjo or "Baba" as he is popularly known, is a former Nigerian President. Born in Ogun State on the 5th of March, 1937, Obasanjo was a career soldier before serving twice as Nigeria's head of state, as a military ruler from 13th February 1976 to 1st October 1979 and as a democratically elected president from 29th May 1999 to 29th May 2007. He might be so loved abroad, but in Nigeria, he is seen as a corrupt leader who is clever enough to cover this tracks. This can be seen by his appointments into various international organizations around the world. Recently, the InterAction Council of Former Heads of State and Government appointed him co-chair of the Council and in that process, he became the first African member to assume the chairmanship.
2. Ben Okri
Ben Okri was born on 15 March 1959. He is a Nigerian poet and novelist. Okri is considered one of the foremost African authors in the post-modern and post-colonial traditions and has been compared favorably to authors such as Salman Rushdie and Gabriel García Márquez. He is sought after and has outshone the shores of the country and also has numerous international awards to show for it.
3. Goodluck Ebele Jonathan
Even though not everyone in the country will agree with this, former president, Goodluck Ebele Jonathan is a darling of the international community. His glorious act of conceding defeat to the current president, Muhammad Buhari, wowed the global community. Several world leaders hailed Nigeria and President Goodluck Jonathan for conducting successful and peaceful general elections and also for his show of sportsmanship in conceding defeat to Buhari, a development, which they said has put the country on the good books of the comity of nations. The US President, Barack Obama, was quoted to have said after the elections that "President Jonathan has placed his country's interests first by conceding the election and congratulating president-elect, Buhari, on his victory."
4. Asa
Born Bukola Elemide in Paris, France, Asa is a Nigerian French singer-songwriter. She came to limelight with her first single "Eyé Adaba," and she proved she was not just another flash in the pan with "Jailer." The lead single "Be My Man" from her second album, "Beautiful Imperfection" was released in October 2010 and was a smashing success. She released her third album in 2014 titled "Bed of Stone'. Her first album "Asa" won her the prestigious French Constantin Award in 2008, where she was voted best fresh talent of 10 singers or groups by a jury of 19 music-industry specialists in Paris while in 2011, she was nominated under the Female Artiste of the Year category at the French Music Awards. Asa's brand of music was good enough for France, but Nigerians still prefer their darling Tiwa Savage.
5. Chimamanda Ngozi Adichie
A prolific Nigerian writer, Chimamanda Adichie was born on September 15, 1977, in Enugu. She studied medicine and pharmacy at the University of Nigeria for a year and a half before leaving Nigeria for the United States to study communications and political science at Drexel University. She is popular for great books like "Purple Hibiscus," "Half of a Yellow Sun," "The Thing Around Your Neck" and "Americannah." Her first novel Purple Hibiscus won the Commonwealth Writer's Prize for Best First Book in 2005 while in 2007 "Half of a Yellow Sun" picked up the Orange Prize for Fiction. In 2010, she was among the authors listed by The New Yorker's "20 Under 40" Fiction Issue and 2014 saw her being named as one of the 39 writers aged under 40 in the Hay Festival and Rainbow Book Club Project. She has many other awards to her name for her short stories and other works. However, her talent seems to have won her more insult than respect in Nigeria as people end up criticizing rather than supporting her.
See Also: President Muhammadu Buhari Biography, Children, Wife, Age, Health, Dead or Alive?
6. Wole Soyinka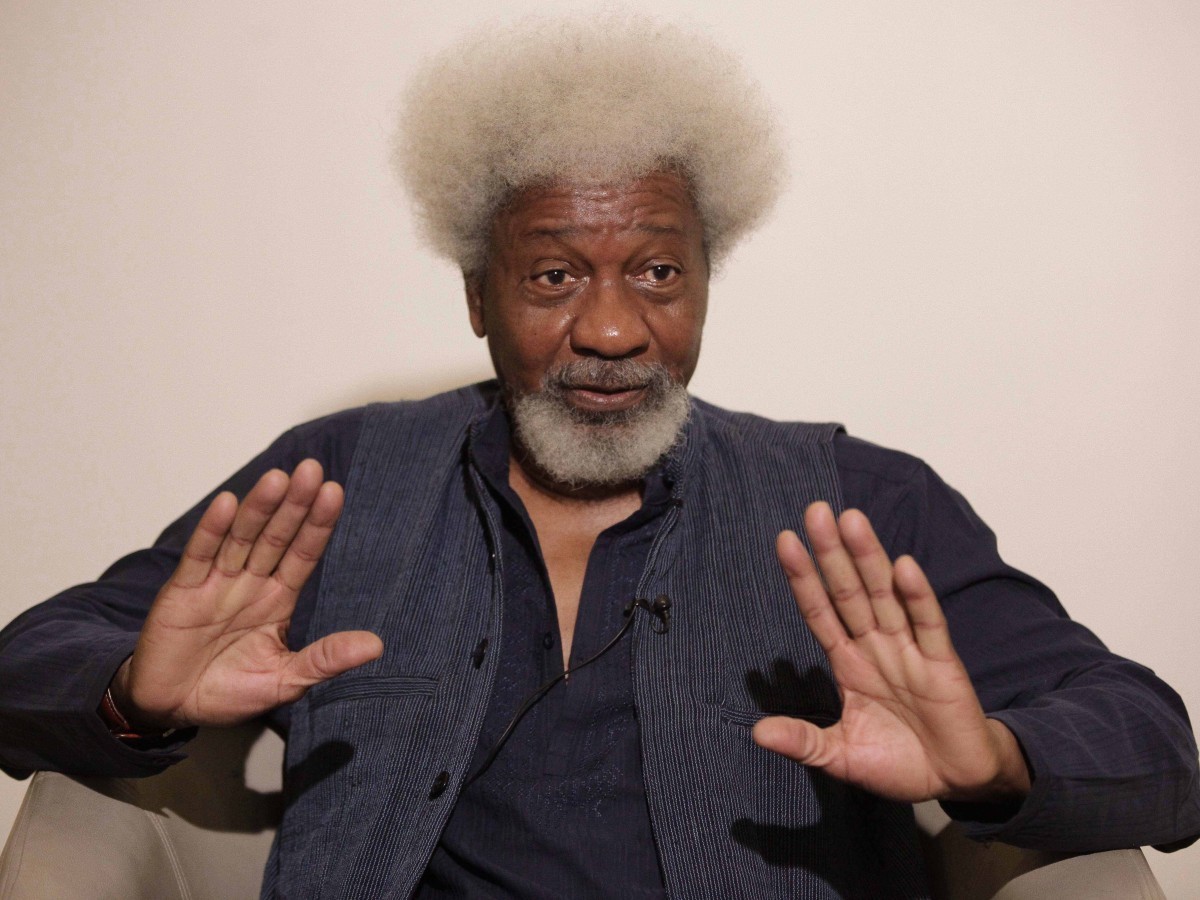 Nobel laureate winner Wole Soyinka is no doubt a literary icon in any part of the world. Born Akinwande Oluwole Soyinka in 1934, he won the Nobel Prize in Literature back in 1986 becoming the first African to be so honored. He has taught in top-notch universities abroad like Oxford, Harvard, and Yale as well as Cornwell University and Emory University both in Atlanta. Asides being a successful playwright and poet, he took an active role in Nigeria's political history and the struggle for independence. He is a strong critic of the government on policies and actions believed not to be for the good of the general public. Some of his writings are directed towards criticism of government's actions and inactions, which has given him less popularity in the country.
7. Oluchi Orlandi
Oluchi Orlandi (née Onweagba) is a Nigerian model who is married to Italian fashion designer Luca Orlandi. Growing up in Lagos, Nigeria, the proud mother of two boys decided to compete in the inaugural edition of the Face of Africa competition in 1998  (now called the Nokia Face of Africa) at the age of 17. She won the pageant, which was the first-ever continent-wide model competition, organized by the South African channel M-Net in collaboration with Elite Model Management, thanks to the support of her family and friends. As a model, she has graced the covers of several international magazines such as Italian Vogue, i-D, Pop, ELLE, Untold, and Surface; she also was featured in Nylon, Marie Claire, Allure, and other national editions of Vogue around the world.  Oluchi's runway experience has been with John Galliano, Christian Dior, Costume National, Chanel, and Giorgio Armani, amongst others, in London, Milan, Tokyo, and Paris. She is a force to be reckoned with in the world of modeling but is relatively unknown in her country. Some attribute this to the fact that Nigerians say she feels too big to work with Nigerian Magazines and artists.
8. Nneka Lucia Egbuna
Nneka is a German-Nigerian singer, songwriter and actress who sings in both Igbo and English. From Warri, Nigeria, she is a popular name beyond the shores of Nigeria as she had her open act performing with dancehall reggae star Sean Paul back in 2004 at Hamburg Stadtpark. Her first album "Victim of Truth" which was released in 2005 was released in Germany, England, France, Netherlands, Japan as well as Nigeria which brought her instant positive raves. Taking a look into Nigeria's problems, she released her second album in 2008 titled 'No Longer at Ease" which is taken from the novel of the same name of literary legend Chinua Achebe. In 2009, the lead single from the album 'Heartbeat" entered the UK Singles Chart at number twenty while it became her first song to break into the German Top 50. She won the Best African Act at the 2009 MOBO while in 2010 won the reggae category of the Museke Online Africa Music Award 2010 with her hit song, "Africans". Her track "Kangpe" is also featured as a soundtrack on the EA Sports FIFA 2010 video game.
9. Sound Sultan
Regarded as one of the pacesetters of modern hip hop music in Nigeria, Sound Sultan has been in the music industry for close to two decades now. His courtship with showbiz started back in the 90s and he was MC at the talent shows that discovered music twin sensations Peter and Paul of P Square. His first song, "Jagbajantis" which was released in 2000 is a classic Nigerian hit song. In 2012, Sound sultan was made a UN ambassador for Peace because of his exemplary lifestyle and career. In 2014, the Queen of England invited the veteran singer to dine with her alongside other UN youth ambassadors. As famous as he is abroad, Nigerian youngsters don't even know his real name.
10. Helen Folasade Adu
Born in the city of Ibadan, Sade is a British Nigerian songwriter, composer and record producer. Her first claim to fame was back in 1980 as the frontwoman and lead vocalist for the band Sade. The group won a Grammy in 1986 for Best New Artist. In recognition for her services to music, Prince Charles bestowed upon her the Officer of the Order of the British Empire. She has also been nominated six times for the Brit Awards under the Best British Female category. Her albums usually top the charts in many countries and in 2010, The Sunday Times named her the most successful solo British female artist in history.
11. Hakeem Seriki (Chamillionaire)
Chamillionaire was born in born November 28, 1979 to a Muslim father from Oyo State, Nigeria and an African-American Christian mother. He is an American rapper and entrepreneur from Houston, Texas. He is the CEO of Chamillitary Entertainment. Chamillionaire was also the founder and an original member of The Color Changin' Click until the group split in 2005. In 2007, he won a Grammy Award for Best Rap Performance by a Duo or Group for "Ridin." In addition to being a musician, Chamillionaire has established himself as an entrepreneur by venturing into investing in a Houston-based auto dealer; Fly Rydes, specializing in customizing cars in 2013.