Mark Angel's net worth is estimated at $1.25 million. The famous YouTube comedian has surely made a name for himself in the Nigerian comedy industry.
At the time he launched his career, rather than compete with some of the already established stand-up comedians like AY, Basketmouth, and others, Mark Angel was creative enough to start with comic video skits, an arm of comedy that began to flourish at that time. Today, he has literally taken over the airwaves with his extremely hilarious videos and has as well made impressive wealth and fame for himself.
How Mark Angel's Net Worth of $1.25 Million Came About
Mark Angel is one of the richest comedians in Nigeria. Currently, he has a net worth estimated at $1.25 million which he made majorly from his comedy series, and then, YouTubing, scriptwriting, video production, and other endeavors. His impressive net worth has ranked him among the richest comedians in the country.
Meanwhile, unlike most movies or other TV shows where characters adopt a different name besides their real name, Mark Angel's real name is also Mark Angel. He decided to do a different thing by retaining his actual name in his video skits.
Comedy Wasn't Part of Mark Angel's Career Goals at the Beginning
Mark Angel actually gained admission to study Medicine and Surgery at Obafemi Awolowo University. But, he did not continue as his uncle, who was his financial sponsor, died just a few months after he got the admission. As a result, he had to drop out of the university and relocate to Lagos where he stayed with a friend.
While in Lagos, Mark was able to save up some money from the little businesses he engaged himself with, and after a while, traveled to India. In India, he studied Cinematography for six months and was largely involved in stage dramas, and comedy with a theatre group called Gingertainment.
Mark Angel returned to Nigeria after six months to practice his newly acquired profession. Thus, he joined Nollywood in 2010, becoming a movie editor and professional director of photography. Two years later, he had to quit working in Nollywood given that he was paid little or nothing and so couldn't make ends meet.
His Comedy Career Took Off in 2013
In 2013, together with one of his friends Dennison Igwe, Mark Angel delved into film production. The two worked hand-in-hand and launched a film production company called Mechanic Pictures. Unfortunately, their efforts to produce film were all unsuccessful.
Shortly after, in the same year, Mark finally came up with the Mark Angel Comedy and on 29th June 2013, he launched the YouTube page, MarkAngelComedy. He began posting comedy series on the channel on a weekly basis.
The Mark Angel Comedy series features a number of people from Mark's family and neighborhood in Port Harcourt. With the emergence of Mark Angel Comedy, the Nigerian comedy industry has made a lot of positive improvements in the recent past.
Without a doubt, Mark Angel's comedy has taken the business to the next level and he has found his feet among the topmost established Nigerian comedians. He termed his comedy style "freestyle comedy."
He Got His Big Breaks with the Skit, Am Not Around
Before he finally got his breakthrough with the skit titled Am Not Around, Mark uploaded a lot of video skits that made little or no relevance to the public. In his breakthrough skit, Mark played the character of a man whose house rent was overdue. Because he did not have money to pay up, he was hiding from his landlord and on one of the occasions, he asked Emmanuella to cover him up whenever the landlord is coming by telling him that he (Mark) is not around.
So, when the landlord came, Emmanuella told him "My uncle is not around, he just told me to tell you"
Am Not Around went viral and remained the icebreaker that shot Mark Angel into the world of fame. The 1-minute and 29-second long video gathered millions of views on YouTube and got numerous positive reviews from the public and fans.
Introduction of Emmanuella to His Comedy Contributed to His Fame
It is difficult to discuss Mark Angel's comedy without a notable mention of Emmanuella. In 2015, Mark Angel started featuring the popular child comedian Emmanuella and among all the comedians he features in his videos, Emmanuella is the longest-appearing character.
Mark wasted no time in permanently recruiting her in his skits after she acted in an 18-hour-long video shoot above all other children. Even though her parents initially disapproved of it, Mark did all he could to convince them to allow her to join his comedy crew which they finally agreed to.
Emmanuella's presence in Mark Angel Comedy has indeed brought huge traffic to the channel. She could unarguably be said to have contributed massively to the growth and popularity of the Mark Angel YouTube channel. Emmanuella has since risen to prominence and is described as Africa's youngest YouTube award winner. She has won comedy awards in Nigeria and Australia based on her excellent performances in the Mark Angel comedy.
Some of Mark Angel's Popular Comedy Series
Below are some of Mark Angel's popular comedy series
Am Not Around
Maths teacher
Pot of soup
Valentine
Vegetable soup
Ice cream
My real face
Roasted Yam
Pregnancy
White Spirit
True love
Head Mistress
Vision 2020
Academic quiz
Take me out
Stingy Uncle
The journey
Emmanuella in school
Don't mind him
Emmanuellla and the mumu uncle
Mark Angel Has Won a Couple of Awards
Given his effort and contribution to the Nigerian comedy scene, Mark Angel has won a number of comedy awards, both in Nigeria and on the international scene. In 2019, the comedy crew won the international best-streamed skit in Europe, Africa, and the Middle East. This award ceremony was held in Los Angeles, California, USA.
Emmanuella also has a number of awards to her name. Below is a list of all the recognitions they have received.
In 2016, Mark Angel comedy was awarded the Top Subscribed Creator award during the year's inaugural ceremony of the Sub-Saharan African YouTube Awards.
Mark Angel's YouTube channel was the first African comedy channel to hit one million subscribers
In 2021, Emmanuella won the Favourite African Social Media Star at Nickelodeon Kids Choice Awards and was named the Comedienne and Princess of Comedy.
She won the G-Influence Naija Delta Special Talent Award
In 2017, Mark Angel won The Future Awards Africa Nigeria Prize for Comedy
Other Sources of Mark Angel's Net Worth
There is no doubt that the bulk of Mark Angel's net worth comes from comedy. However, the celebrity skit maker has over time expanded his horizon into other money-making endeavors. Below are other known sources of Mark Angel's net worth
YouTubing
YouTube is one of the major ways Mark Angel makes money and he is very consistent in dropping skits on his official YouTube channel. Mark Angel's YouTube channel was the first African comedy channel to hit one million subscribers. The video with the highest views on the channel is Maths Teacher and it currently has more than 32 million views.
In 2019, Menta Music, a music record label endorsed Mark Angel's comedy for winning the International: Europe, Middle East, and Africa 9th Annual YouTube Streamy Awards. Mark Angel is currently one of the top 10 most followed Nigerian YouTubers with over 8 million subscribers. His comedy skits are known to be child-friendly and often hilarious.
Over time, his YouTube channel has accumulated more than 60 million views which reportedly earns him $16,000 monthly, and the number keeps increasing every day. It is no longer news that YouTube pays its users for uploading videos online. The online streaming platform makes money by displaying ads in users' videos and each time someone clicks on the video and watches the ad, he gets paid. Based on an average estimate, YouTube pays $0.003 to $0.005 per view, so when a person gets millions of views, then, he makes a lot of money.
Scriptwriting
In addition to being a talented comedian, Mark Angel is also a scriptwriter. He writes comedy scripts for authors that are ready to pay him. According to records, in Nigeria, an experienced scriptwriter earns between N80,000 and N500,000 per screenplay. This could be termed as another decent contribution to his income.
Video Production
Recall the film company, Mechanic Pictures that Mark Angel founded together with his friend. Mechanic Pictures is now an established production house that produces photos and videos for skits. As a video producer, Mark does not only make creations for Mark Angel's TV channel, but also for other comedy skit makers. He is with no doubt earning a keep from the video production company.
Shows/Concerts
You may not have known, but Mark Angel is one of the top paid and sought-after comedians in Nigeria. Mark increases his fees as his fame and popularity grow in the comedy industry. Nevertheless, exactly what he charges to perform in a show is not disclosed. But, we know that he has surely found his feet as a successful comedian in Nigeria. In 2019, Mark Angel Comedy performed in a concert in Uganda.
Endorsement Contracts Contributed to Mark Angel's Net Worth
After he was shot into the limelight, Mark Angel began to bag mouthwatering deals with top brands who are looking for ways to promote their brands, where he earns significantly from. The internationally acclaimed comedian has endorsement contracts with Fresh Yo, Dabor toothpaste, Slim tea, Menta Music, 1xBet, and others. In 2021, he signed an ambassadorial contract with 1xBet, a popular online gambling company.
Normally, Mark Angel's comedy comprises Emanuella and Mark Angel, so they sometimes bag a deal together. With her, Mark is able to bag more deals and they work together using one YouTube channel. Even though we could not say exactly how much they earn from these deals, we know that they surely make millions of naira from them. All these endeavors round up Mark Angel's net worth to the tune of $1.5 million.
Slim tea
Menta Music
Blue Boat Fresh Yo
Dabor toothpaste
1xBet, an online gambling company
Social Media Presence
Mark Angel has millions of followers on all his social media platforms. Having been recognized in and outside the country, his social media following has massively grown over the years. He has more than 20 million followers on his official Facebook page and 1.6 million followers on Instagram. On YouTube, he has over 8 million followers, and on Twitter, 94.2k followers.
It will suffice to say that Mark Angel's success didn't just happen overnight but through hard work and consistency. His comedy has experienced massive growth and success since its launch in 2013.
Mark Angel's Net Worth Affords Him Decent Cars and House
Mark Angel does the most in keeping his private life out of the public eye. Unlike many celebrities, he is not used to flaunting his acquisitions on social media, hence, it is known whether he has a house of his own. The comedian does most of his videos in poor neighborhoods of Port Harcourt and Lagos, so, it is possible that he has bought a personal house in one of those locations.
Even though he tries to keep his personal life totally out of the media, Mark Angel has been spotted with a couple of cars. Some of the collections in his garage include;
Mercedes Benz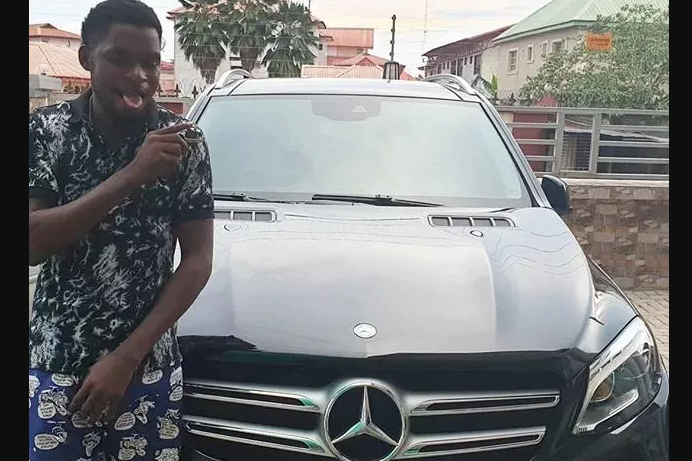 The comedian shared a photo where he was seen posing beside a Mercedez Benz. As expected, fans began to throw in their congratulatory messages to him and some even went to the extent of hyping the car. Mark Angel, in response to their messages, wrote that he hopes for the car to get him a well-paying job since people are hyping it, else, he will have a serious fight with the person that started the hype.
According to the comedian, he literally spent all his savings to buy the car because people said if he is not driving Benz, clients will consider him not worth a good pay, hence, he had to make the acquisition to measure up to the standard he wants to be in. Even though this sounds more like one of his comedies, it is apparent that a Mercedez Benz is sitting pretty in his garage.
Jeep Wrangler
In 2021, Mark posted a Jeep Wrangler with the caption: Now that God has blessed him, he can walk into where rich men park their cars and snap photos with them. Even though the caption was suggestive, he did not outrightly say he purchased the car.
Toyota Landcruiser Prado
With his Toyota Landcruiser Prado, it is apparent that Mark Angel has a good taste for luxury cars. The car which has gained a spot in the comedian's garage has a more modern design, luxurious cabin, and updated technology. It is powered by a 5.7-liter V-8 engine with an eight-speed automatic transmission and generates 381 horsepower and 401 lb-ft of torque.
Toyota Sienna and Toyota Highlander SUV
In most of his video skits, Mark Angel has been seen driving a Toyota Sienna and Toyota Highlander SUV. The cars have since been linked to being his own