Linda Ikeji is the second of the Ikeji's children. She has six siblings comprising of 5 sisters and a brother. Linda Ikeji's siblings are Sandra Ikeji, Laura Ikeji, Vera Ikeji, Peks Ikeji, Edna Ikeji, and Benita Ikeji 
Linda Ikeji is perhaps the most popular Nigerian blogger who has been in the spotlight for many years. She grew up in a pretty large family that included seven children. The famous blogger has five sisters and one brother.
As one of the most influential and wealthiest personalities in the Nigerian media industry, it doesn't come as a surprise to find out that Linda Ikeji's siblings live a fabulous lifestyle, with some being residents in the United States. Here is a look at all the family members and how successful each of them is.
Meet Linda Ikeji's Siblings
One thing that has remained obvious about Linda Ikeji's siblings is that they are close-knit. The blogger is the second among the Ikeji children and she has always received praise from her siblings for carrying everyone along with her influence and wealth. The other children in the Ikeji family are Sandra Ikeji, Laura Ikeji, Vera Ikeji, Peks Ikeji, Edna Ikeji, and Benita Ikeji
1. Vera Ikeji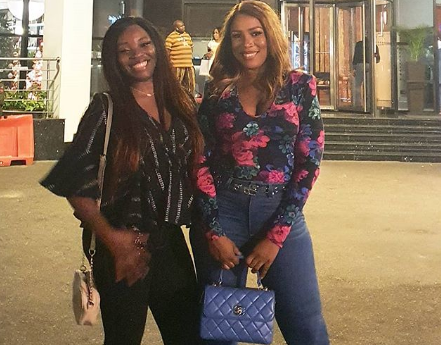 Among all of Linda Ikeji's siblings, Vera is one of the very quiet ones who lives under the radar. She is said to be the oldest among the siblings, though her actual date of birth has not been revealed. She resides in San Antonio, Texas, in the United States of America with her husband and two kids. She also runs a beauty salon in the US and this was revealed by Linda who shared her sister's progress online.
2. Sandra Ikeji
Beyond being known as Linda Ikeji's sister, Sandra is a fashion entrepreneur and her success in the industry has grown exponentially. She is an executive in the Nigerian fashion industry with Blackdove Models under her name. The modeling agency is one of the leading modeling outfits in the country.
Sandra is currently married to Arinze who she dated for a while. During her fabulous birthday celebration in 2016, Arinze gifted her a Porsche Carrera 911 4S to mark the age milestone. The car is just one of the many exotic cars she drives around.
Growing up with Linda has been rewarding for both sisters. Linda credits Sandra as one of her biggest supporters who believed in her in the early years of her blogging career. Sandra would accompany her sister to work on her free days and has never stopped encouraging her.
3. Laura Ikeji
Definitely the most outspoken among Linda Ikeji's siblings, Laura Ikeji is often referred to as the mouthpiece of the Ikejis as she doesn't waste time in countering any nasty comment targetted at her family, especially Linda. This is perhaps one of the reasons she is the most popular among her siblings after Linda. Looking at her relationship with Linda, Laura is perhaps her biggest supporter when you come to the internet space. She has always praised Linda for taking care of the whole family by sharing her wealth and wisdom with them, thus, giving her credit for making them all rich.
Beyond that, Laura is a boss lady herself. She is a blogger like her sister but her major focus is on fashion. Her blog is called Hey! Laura and she has other engagements as a fashion entrepreneur.
Laura is married to Christopher Kanu, a Nigerian footballer who is also the brother of legendary Nigerian football player Kanu Nwankwo. They got married in 2017 to heavy media publicity and are now parents to a son named Ryan Kanu and a daughter.
4. Peks Ikeji
The only man born among six women, Peks is Linda Ikeji's only brother. Though his Instagram profile says he is an actor and comedian, he is not so visible in the limelight like Laura and Linda.
Just like his other siblings, Peks has also enjoyed the benefits of having the highest-paid blogger in Nigeria as a sister. For his birthday in 2016, Linda presented a Honda Accord to him to mark the event. He also gifted himself a white Benz to celebrate his birthday in 2021.
5. Edna Ikeji
Her only claim to fame is being Linda Ikeji's sister. Edna gained public attention when fans of the blogger mistook her husband to be Linda's spouse but this didn't push her out of her hiding place. Edna has remained one of the lesser-known siblings of Linda Ikeji.
6. Benita Ikeji
The baby of the house, Benita is the last of Linda Ikeji's siblings. While she is also one of the less popular ones, she made the headlines upon her engagement. The reason for the fuss created about her engagement was the fact that she is the youngest in the family and had found her missing rib before her big sister Linda.
Inside the Fabulous Life of Linda Ikeji's Family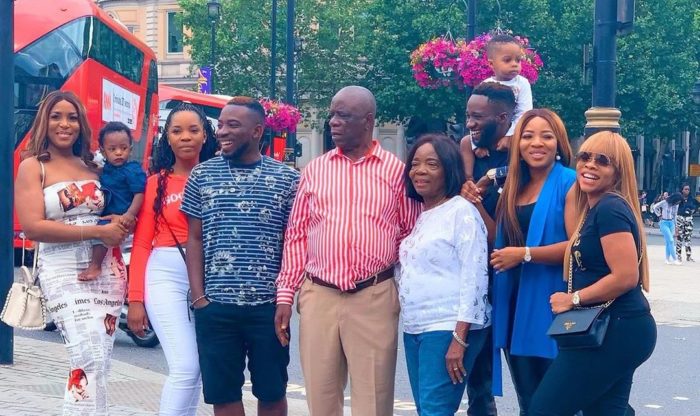 Tracing her origin, it can be said that Linda Ikeji didn't live life on a bed of roses while growing up. In fact, training seven children under the harsh economy of Nigeria wasn't easy for her parents who struggled to raise their kids. As a result, Linda has dedicated herself to giving her family the best life has to offer.
Mr. and Mrs. Ikeji now live in a 6-bedroom duplex which took Linda six months to complete. Additionally, Linda showers her parents with gifts of cars and luxurious vacations to different places in the world. Lind Ikeji's siblings are not left out of the luxury life. Her wealth has really circulated through the family and her siblings have never shied away from showering her with praises for being the best sister.
Apart from Edna and a few others who prefer to fly under the radar, Linda Ikeji's siblings are known to flaunt their wealth on social media.
On many occasions, Linda has presented luxury gifts to her siblings, especially exotic cars to mark their milestones or just to show some love. Overall, the Ikeji family is living the good life and it is mostly thanks to Linda Ikeji's influence.
How Many Siblings Does Linda Ikeji Have?
Linda Ikeji has six siblings. They are Sandra Ikeji, Laura Ikeji, Vera Ikeji, Peks Ikeji, Edna Ikeji, and Benita Ikeji
How Old Is Laura Ikeji?
Laura Ikeji is 35 years old in 2023
Who is Laura Ikeji's Husband?
Laura Ikeji's Husaband is Christopher Kanu, Nwankwo Kanu's brother
What is Laura Ikeji's Net Worth?
Laura Ikeji has an estimated net worth of $5 Million as of 2023