Kunle Iyiola Afod (born November 16, 2005) is a 49-year-old Nollywood actor, film producer, and director famous for his roles in Yoruba movies. Some of his best movies include Ori Eiye, Igbako, Nkan agba, Pitan, Òkú tee sin Orindola, Ade Ferrari, Odi ada, ofin kokanla, among others.
Many people might not be well conversant with the name Kunle Afod, but the actor has been in the industry for some time. He is mostly known in Yoruba movies and has since remained relevant in the industry. Read on as we give scintillating details about the actor and his best movies.
Summary of Kunle Afod's Bio
Full name: Kunle Iyiola Afod
Gender: Male
Date of birth: October 24, 1973
Kunle Afod's Age: 49 years old
Ethnicity: Yoruba
Nationality: Nigerian
Sexual Orientation: Straight
Religion: Christian
Marital Status: Married
Kunle Afod's Wife: Desola Afod
Kunle Afod's Children:
Siblings: 3 (Lanre Afod, Olayiwola Afod, and Adenike Afod)
Kunle Afod's Height in Inches:  
Kunle Afod's Height in Centimetres:
Famous for: Acting
Kunle Afod's Net worth: $1.3 million
Kunle Afod's Instagram:@kunleafod
Twitter: @kunleafod
Kunle Afod is a Native of Oyo State
Despite being commonly known as Kunle Afo, the entertainer was born Kunle Iyiola Afod on October 24, 1973, in Lagos, Nigeria. But, he originally hails from Ibadan in Oyo state, the southwestern part of Nigeria. Kunle is the first child of his parents, born in a Christian family of four children. Details about his parents and siblings and what they do for a living are not public knowledge.
Kunle started his primary school at Festac in Lagos and completed it at Owo in Ondo State. Then, he moved to Command secondary school, Jos, where he received his secondary education and obtained the Senior School Certificate Examination (SSCE). No record shows whether Kunle Afod is a university graduate or not.
At the Age of 49, Kunle Afod is an Established Nollywood Actor
Kunle Afod is and today has become one of the most influential actors in the Yoruba movie industry. He is notable for his abilities and versatility in interpreting movie roles. Kunle can fit into any character assigned to him and has won the hearts of his viewers through his unique acting skills.
He Started Acting in Secondary School
Kunle is one of those actors that grew a passion for acting right from a younger age. He also had an interest in music but ended up choosing acting over singing. As a child, he listened to fuji stars like Alhaji Wasiu Pasuma and K1 De Ultimate music.
He took off his acting career back in his secondary school days under the tutelage of the famous actor Jide Ogungbade. The actor, who is now late, served as Kunle's mentor for a period of seven years. Other notable figures in the field that gave him helped him perfect his acting skills are Jahman Anikulapo and Ben Tomoloju.
Kunlealso joined Adebayo Salami, popularly known as Oga Bello's film group at Awada Kerikeri Theatre Group, where the famed actor and movie director helped him more in honing his acting skills. Today, Kunle is one of the successful actors in the Nollywood Yoruba movie industry.
Some of Kunle Afod's Best Movies That Made Him Famous Include:
Kunle Afod has featured in hundreds of Nollywood films. However, some of the movies which contributed largely to his fame and popularity include Ewe Koko (2006), Esuru (2006), Igbako (2020), Odi ada (2005), etc. Ewa Koko is a comedy-drama movie starring Ayo Badmus, Soji Taiwo, Yemi Solade, Lola Alao, and of course, Kunle Afod.
The movie is a definition of what a comedy movie should be and even more. It is one of the movies that established him in the industry. Another popular movie of the actor is Esuru which he also directed. The movie, which came out in 2006, has its top cast as Ibrahim Chatta, Olumide Bakare, Ronke Ojo, and Funso Adeolu, among others.
The movie produced by Isolak Films has Kunle as one of the lead characters. Further, Kunle's 2020 movie Gboko also gave him fame and popularity. It got exceptional reviews with a successful box office and consequently bolstered Kunle's prominence in the Yoruba movie industry.
He is also a Movie Director
Alongside being a talented actor, Kunle Afod is also a skilled film director. His career as a movie director has as well been a successful one. He made his debut as a film director in 2019 when he directed the film Ori Eiye which featured actress Kiitan Bukola. Other movies he has directed include Igbako, Ika Kefa, Pami nku, Ofin kokanla 1&2, Esuru, Ewe Koko, etc.
List of Kunle Afod's Best Movies
Odi Ade
Nkan Agba
Pitan
Orindola
Ade Ferrari
lmado
Omo University
Iya Igbo
lka Kefa
Pami Nku
Wura Ati Fadaka
Awolu Ati Awawu
Orindola
Ijewuru
Irepodun
Omoboriowo
Pitan
Ofin kokanla
Jenrayo
Wura ati Fadaka
Awolu Ati Awawu
His Achievements and Recognition
Unsurprisingly, talented actors like Kunle Afod will be recognized for their successful work in the entertainment industry. Over the course of his career, the actor has won a couple of awards and got nominated for his successful works and contribution to the growth of Nollywood.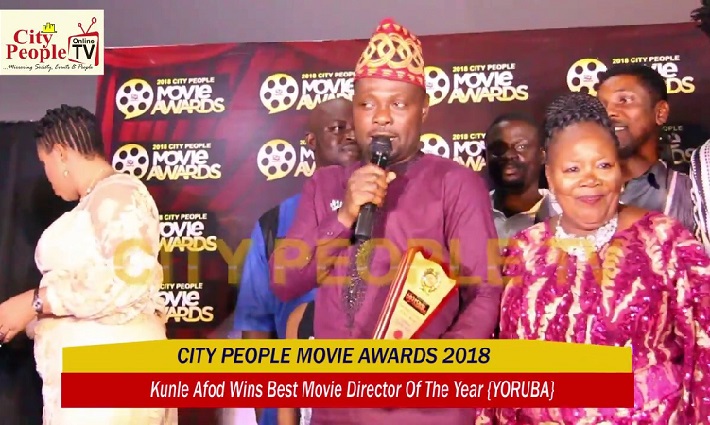 2015 – Nominated for the Best Actor of the Year, City People Entertainment Award
2018 – He won Best Movie Director of the Year (Yoruba), City People Movie Awards
He received an award at Eagle Studio in Istanbul, Turkey
One of his movies received nominations for the EKAA City Award for the Best Soap Opera in Africa
More so, Kunle is a brand ambassador. He has been enjoying endorsements from top brands who want him to represent them as an ambassador, given the level of fame and popularity he has gathered. Among other companies he represents, Kunle is a brand ambassador for a leading real estate and project management company in Lagos, Boundless Service.
Who Is Kunle Afod's Wife, Desola?
Kunle Afod and his wife Desola married in a white wedding ceremony sometime in 2003. Details about how and where the couple met are not revealed. Desola Afod is said to be a civil servant and an entrepreneur. The couple has been together for almost two decades and is living happily without any scandals, which are commonly attached to most celebrity marriages.
Via her Instagram page, Desola Afod constantly professes her love for Kunle and showers him praises in every slightest opportunity she has.
Kunle Afod Has Five Children, Four Sons and a Daughter
Kunle Afod's union with his wife Desola is blessed with four lovely children – all boys. Nothing much is known about the kids other than their pictures which their mother often flaunt on her social media pages.
Meanwhile, the actor has a daughter whom he had with a different woman before he got married to Desola. The name of the girl is Angel Oyinkansola Afod, and she is the first child of actor Kunle Afod. Angela is a member of the US Airforce/Navy. She celebrates her birthday every December 30.