Joselyn Dumas (born on 31st August 1980) is a 43 year-old Ghanaian TV host and actress. Some of her best movies are Silver Rain, Glamour Girls, Northern Affair, Love or Something Like That, Bed of Roses, Adam's Apple, Potato Potahto, etc.
Ghana's film industry has rapidly expanded and its success can be attributed to the individual contributions of the industry's talented actors and actresses. One of these talented actors, Joselyn, became a Ghallywood household name in 2011, thanks to Sparrow's ten-chapter movie series, Adam's Apple, wherein she performed the role of Jennifer.
Joselyn Dumas has since then featured in a lot of successful movies and hosted several TV shows. Her witty humor and personality earned her quick growth and fame in the Ghanaian entertainment industry. She has quite made decent contributions to the growth of the industry.
Summary of Joselyn Dumas' Biography
Full name: Joselyn Canfor Dumas
Gender: Female
Date of birth: 31st August 1980
Joselyn Dumas' Age: 43 years old
Ethnicity: Black
Nationality: Ghanaian
Zodiac Sign: Virgo
Sexual Orientation: Straight
Religion: Christianity
Marital Status: Divorced (single)
Joselyn Dumas' ex-Husband: N/A
Joselyn Dumas' Children: 1
Joselyn Dumas' Parents: Mrs. Bridget
Joselyn Dumas' Height in Inches: 5 feet 7 inches
Joselyn Dumas' Height in Centimetres: 170 cm
Joselyn Dumas' Weight: 57 kg (125 lbs)
Body measurements in inches: 34-23-34 inches
Body measurements in centimeters: 86-58-86 cm
Joselyn Dumas' Net worth: $1.5 Million
Famous for: TV host, actress
Joselyn Dumas' Instagram: @joselyn_dumas
Twitter: @Joselyn_Dumas
Facebook: @JoselynDumas
How Old is Joselyn Dumas and Where is She From?
Joselyn was born on the 31st day of August 1980 to the families of Mr. and Mrs. Canfor Dumas in Accra, Ghana. She also originates from Ghana's Ga tribe. The Ga people are from the southeast coast of Ghana, and they speak the Kwa dialect of the Niger-Congo language family.
Joselyn spent her early years in Ghana and was raised singlehandedly by her mother. It was reported that her parents got divorced when she was still at a tender age.
Joselyn does not say much about her father whom she said is now with another woman. According to the actress, there was no form of relationship between her and her father, but she shares a very close bond with her mother. The name of her mother is Bridget, and Joselyn talks about her very often. She always expresses how much she adores her mother and endlessly thanks her for contributing largely to who she has become today.
She Studied Law in the US
Growing up, Joselyn Dumas attended Morning Star School for her basic education and then moved to Archbishop Porter Girls High School, where she obtained her West African Examination Certificate, all in Accra, Ghana. Notably, in her high school days, she was the Entertainment Prefect during her set, and this helped her to develop some entertainment skills and talents.
After graduating from high school, she moved to the United States of America to pursue higher education. In the US, Joselyn studied for eight years and earned a Degree in Administrative Law. The name of the Law school she attended in the US is not disclosed.
Joselyn Dumas Worked as a Legal Practitioner in the USA
After graduating from law school, Joselyn worked with a Law firm as a Paralegal for a few years and then returned to her home country Ghana in 2008. Upon her return, the young lawyer had plans to further her studies by enrolling for a one-year study in a law school, after which she would be called to the bar.
But, instead of that, she was drawn by the interest she had nursed from childhood in media. Despite her discipline, Joselyn decided to follow her passion as a television personality in the Ghana entertainment industry.
Joselyn Dumas Ventured Into Media as a TV Host in 2008
Joselyn totally abandoned her legal profession in 2008 after she came in contact with a family friend named Kofi Okyere Darko (KOD), who is a long-serving radio presenter. Kofi took her to Charterhouse, where she was privileged to meet with top media personalities.
Consequently, she landed her first TV appearance by anchoring Charter House's Rhythmz, an entertainment show where she interviewed several high-ranking celebrities. In the same year, she started co-producing Miss Malaika, a reality TV beauty contest on GTV. It lasted for a period of two years, from 2008 to 2010.
Simultaneously, she worked as a Rhythmz producer for a year. Then, in 2010, Joselyn was handpicked by one of Ghana's biggest TV networks, the now defunct ViaSat 1, to host its debut flagship talk show titled The One Show.
The One Show was a feminine TV talk show that dealt with issues regarding health, beauty, entertainment, fashion, social issues, and personal interviews. It aired for a period of four years, between 2010 to 2014. Currently, Joselyn hosts a number of TV shows, including @Home with Joselyn Dumas, which airs on DSTV's Africa Magic channel, Keeping it Real with Joselyn Dumas, etc.
The shows aired across African countries and various parts of Europe. Specifically, they covered 46 African countries and are viewed by over ten million homes in the UK. In @Home with Joselyn Dumas, the screen queen speaks to VIP guests who take their time to share their passion and success stories in various aspects of their lives as well as their failures.
Climbing the ladder of success in her TV career, Joselyn Dumas started her own reality talk show, First Lady. She also hosts an online show, Pillows Talk, a comedy-drama series. Alongside famous comedian Ayo Makun, Joselyn Dumas was a cohost at the 2018 Golden Movie Awards Africa held on June 2, 2018, at the Movenpick Ambassador Hotel in Accra, Ghana.
In the Course of Her Burgeoning TV Career, Joselyn Diversified Into Acting
Joselyn Dumas is way more than just a pretty face with trendy body features, she is a treasure in the Ghana entertainment industry. In the middle of her thriving TV career, the lawyer turned media personality decided to add acting to her portfolio.  Meanwhile, it is already common knowledge that TV presenters most times venture into acting and as well become very successful in it, and Joselyn is not an exception.
According to the Ghanaian star, "one needs to be a good actor in order to be a good presenter," as the two go hand in hand. Joselyn had her acting debut with the movies, A Perfect Picture, Sparrow Productions, and A Sting In a Tale. But, her big breaks in the film industry came in 2011 after she featured as Jeniffer Adams in Adam's Apple, Shirley Frimpong-Manso's ten-chapter movie series.
Joselyn Dumas Best Movies
In 2012, Joselyn appeared in a starring role in Leila Djansi's movie, A Northern Affair. The lead role she played in the movie earned her an award for Best Supporting Actress at the 2013 Ghana Movie Awards, a nomination for the Best Actress category at the 2014 Africa Movie Academy Awards (AMAA), and significantly, a role in several TV series such as Lekki Wives Season 2 and 3.
In July 2022, Glamour Girls hit No 3 on Netflix worldwide most watched film. Her recent movie, Love or Something Like That, starring John Dumelo and O. C. Ukeje, made a big success at the cinema and earned her Best Actress awards at the 2015 Africa Magic Viewers Choice Awards.
Joselyn Duma's witty personality has made her stand out both in her TV and acting career. She is in no doubt one of famous Africa's media personalities and as well one of the most admired and respected Ghanaian celebrities.
One of her most recent productions is Potato Potahto, a 2017 comedy series where she played the character of Lulu. Joselyn has really blossomed into one of Ghana's most influential showbiz entertainers and rose beyond just being a TV host into acting. Her debut TV role wrote her name in the history book as one of the significant personalities in the TV hosting world.
She is renowned in both Ghallywood and Nollywood and has made several appearances in numerous Ghanaian and Nigerian movies. She has over 80 Nollywood and Ghallywood acting credits and has starred alongside some of Nollywood and Ghanaian best actors like Majid Micheal, John Dumelo, Jim Iyke, Yvonne Nelson, O.C Ukeje, and others. Below are some of the prominent movies she has played key roles in
List of Joselyn Dumas Movies and TV Shows
Cold Feet
Perfect Picture
A Sting in a Tale
Adams Apples
Bed of Roses
Peep
A Northern Affair
Lekki Wives (season 2 & 3)
Love or Something Like That
V Republic
Silver Rain
Shampaign
Potato Potahto
The Cartel Agent
Perfect Picture – Ten Years Later
Joselyn Dumas Awards and Other Career Achievements
2018- IARA UK Best Actress
2013- 4syte TV Hottest, Ghanaian Celebrity
2015- GN Bank Awards, Best Actress
2013- Ghana Movie Awards (GMA), Best Supporting Actress
2016- Golden Movie Awards, Best Actress TV Series
2015- Blog Ghana Awards, Best Instagram Page
2016- Ghana Make-Up Awards, Most Glamorous Celebrity
2014- All Africa Media Networks, Outstanding Personality in Creative Entrepreneurship
2014- Ghana Movie Awards, Best Actress in a Lead Role
2016- She was shortlisted among Africa's Top 3 women in Entertainment
2013- City People Entertainment Awards, Stellar Contribution to the Movie & Media Industry in Africa Tremendous Growth in the Movie Industry
2012- Radio and Television Personality Awards (RTP) for Best Entertainment Host of the Year
Other Endeavors That Contribute to Joselyn Dumas Net Worth of $1.5 Million
Joselyn Dumas has shown that she is gifted with a shrewd business mind that is a little above average. She ventured into the business world and is a co-producer of Ghallywood films. Moreso, the Perfect Picture star utilized her entrepreneurship skills to found a production firm, Virgo Sun Company Limited, where she is also the chief executive officer.
With her at the helm of affairs, the company coproduced its first movie, Love or Something Like That, a film that has the endorsement of UNAID. She has since coproduced and invested in a couple of other movies and TV programs, including the edgy TV series, the V Republic, in collaboration with Sparrow Productions.
Now, besides acting and TV roles, Joselyn Dumas has built and established a successful brand for herself. Through the brands, she is able to attract many organizations and businesses to identify with her, thereby enjoying not only more fame and popularity but also more cash in her pocket.
The Ghanaian celebrity has also made it to a top magazine cover. In 2017 and for its second edition, the Lifestyle Issue of chick Magazine featured Joselyn Dumas as its cover girl.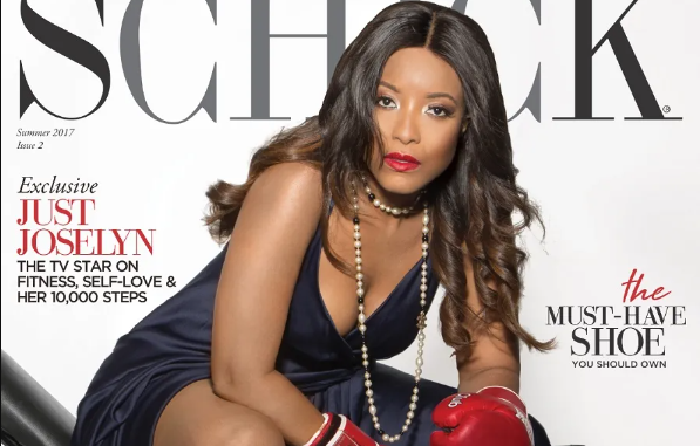 Joselyn Dumas is simply an all-around entertainer. Her versatility in the big world of entertainment saw her perform in a hit music video Fine Lady by Lynxx featuring Wizkid, Nigeria's famous musician. In the music video, she was featured as Lynxx's bride and it added another level of fame to the one she already enjoys
Brand Ambassador/Endorsement
Joselyn has endorsement contracts with a couple of companies. She is currently a brand ambassador of Jobberman Ghana, a jobs advertisement entity, and Range Rover Evoque Ghana. She also has something going on with Samsung as she occasionally tags them in some of her pictures on social media.
Joselyn Dumas Height, Weight, and Body Measurements
Joselyn Dumas is a very attractive and appealing woman with sexy curves. She stands at an impressive height of 5 feet 7 inches and weighs about 60 kg. Her body measurements include breast, waist, and hip size, which are 34-26-36 inches, respectively.
Her ravishing look is glorified with black eyes, brown skin, and black hair. Joselyn wears a shoe size of 5 (US) and a dress size of 6 (US).
Meanwhile, rumors once circulated that the TV star went through liposuction. The rumors made rounds when her before and after photos were compared, and many didn't believe she naturally grew into the curvaceous actress we know today. However, Joselyn actively embarks on a weight loss journey which made some other people believe resulted in her enviable shape.
She Has an Active Social Media Presence
Joselyn has a decent presence across several social media platforms. Having gained massive recognition both within and across the country, the TV star cum actress uses her social media platforms to promote her works, movies, and TV shows, then market her brands and as well share a part of her personal life with her fans.
She has millions of followers across her platforms, and her following has continued to grow by the day. Below is a list of her active social media handles
Instagram: joselyn_dumas
Facebook: JoselynDumas
Twitter: Joselyn_Dumas
YouTube: Joselyn Dumas Channel
Philanthropy
Interesting to note is that Joselyn Dumas' love for movies and TV does not end only in front of the cameras. The curvaceous actress has a passion for giving back to society, and so she set up a nonprofit organization called Joselyn Canfor-Dumas Foundation (JCDF).
JCDF caters to the well-being of vulnerable children in Ghana across all backgrounds and regions. The foundation recently undertook a project which focused on Autism. To celebrate her 34th birthday in 2014, Joselyn Dumas visited Autistic children at Autism Awareness Care and Training Centre in Kokomlemle, Ghana.