One of the finest African leading online markets of this generation, Jiji Nigeria took a leap into the technology world through buying and selling online in 2014. It grew with time and, at present, has turned itself into a big Nigerian free online classifieds website with an advanced security system.
Jiji's history began with Anton Wolyansky, who also acts as the company's CEO, and Vladimir Mnogoletniy, who also serves as a board member. In less than a decade of its existence, it has expanded to other African countries like Kenya, Uganda, Tanzania, and Ghana; and has met over 10 million unique visitors every month and is worth ads of over $10 billion.
Coming down to Jiji Nigeria, also known as Jiji ng, the website lets people of Nigerian origin register, add products, sell, and buy products that can be delivered to them. While this is said, one may wonder how to sell products using the online marketplace and the right products to sell. One important thing with Jiji is its ability to segment products into categories. These products also come with descriptions that will help a buyer understand the features and characteristics of whatever they want to buy from a seller. Here's a detailed way to buy and sell on Jiji Nigeria.
How Do I Sell on Jiji in Nigeria?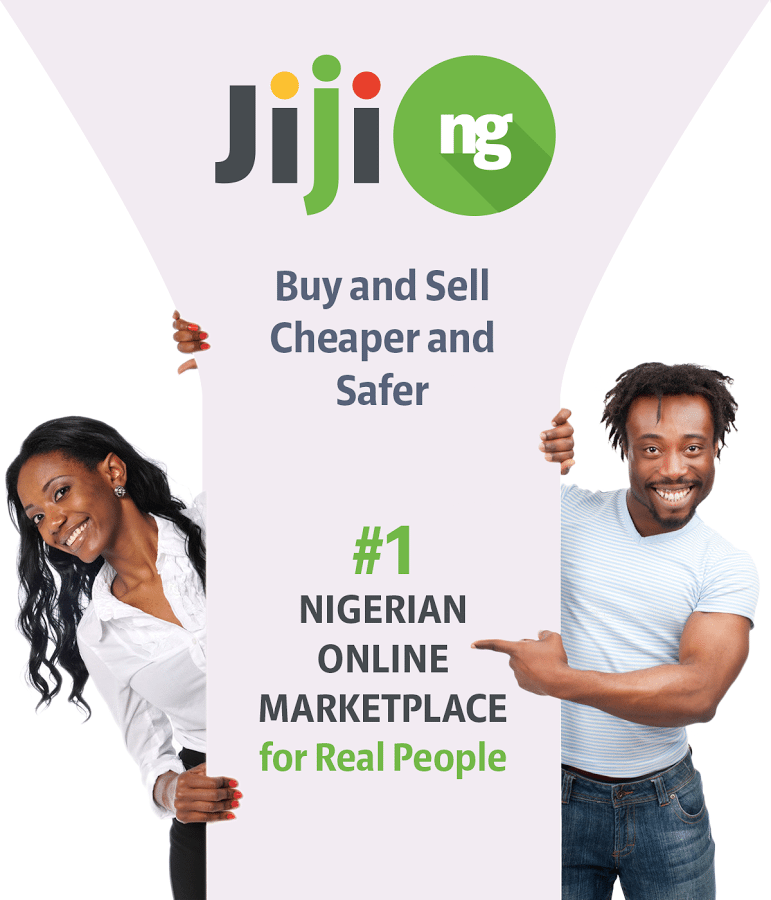 One cannot sell on Jiji Nigeria except following different steps that include creating an account. As a Seller, you can:
Post free Ads with images;
Update, move your ad to Top position to get maximum efficiency from selling;
Get calls and messages only from real people because every user must register.
All of these can be achieved through the following steps:
Step 1: Visit The Official Website of Jiji Nigeria
Using any device with an internet connection, visit the website of Jiji through the link. On the dashboard, you'll notice pictures that represent different categories. If you intend to buy a product, you can select from any of the categories, or at the top right side of the page, you can click on register to start selling.
Step 2: Create An Account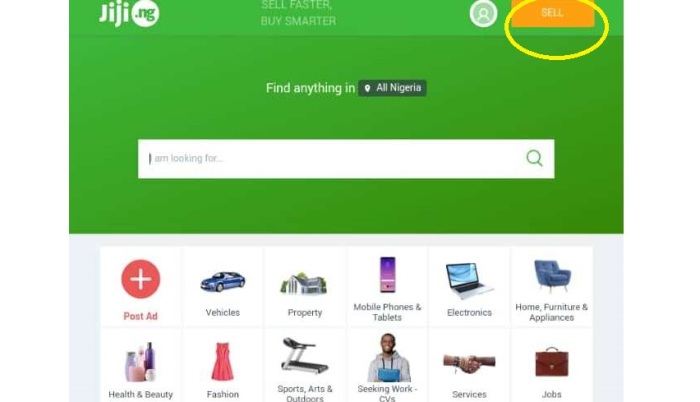 There are two ways to create an account on Jiji Ng. First, click on registration, or at the bottom of the page, click on sell. This will take you to a page where you can register using your Google account, Facebook, e-mail, or phone. Click on your preferred registration platform and enter your details.
Step 3: Fill a Registration Form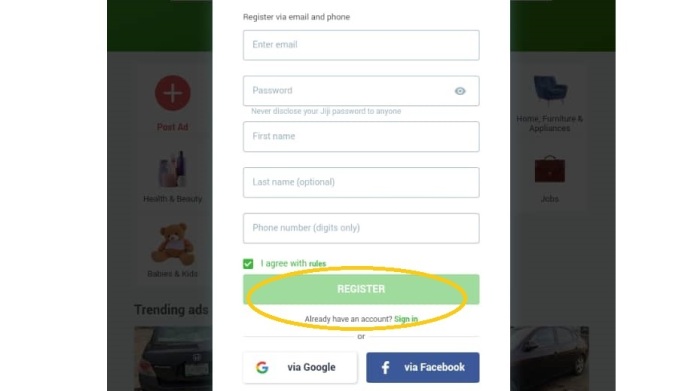 When you click on the preferred platform you wish to register your Jiji account, you'll need to fill a registration form where you'll be required to fill in your name, and phone number, and other details and click on register.
Step 4: Confirm Your Email Address
If you go for the option of social media when you're registering on the online market, there won't be a need to confirm your email address. However, if you choose to work with a google account or email address, you're be required to verify your email address to gain access to sell on Jiji.
Step 5: Upload Your Picture
Once you're logged in, go to the left-hand side of the dashboard and click on the picture logo. Preferably upload a picture that will show your real face.
Step 6: Post Ad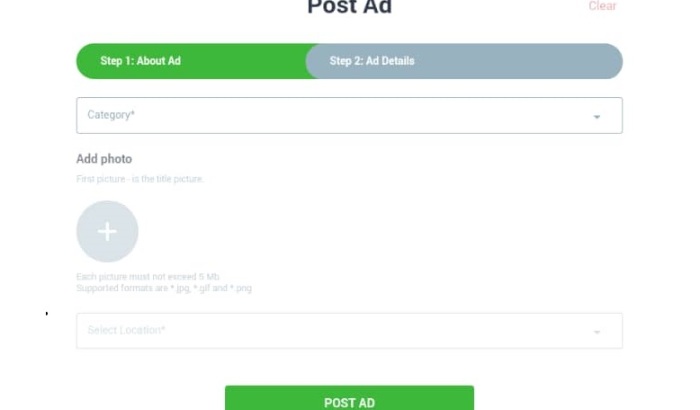 These are the steps to post an ad on Jiji
Choose your category. The categories include:

Agriculture & food
Fashion
Health & Beauty
Electronics
Services
Home, Furniture & Appliance
Cars
Step 7: Upload The Image of Your Product
Get at least two clear images of your products. These pictures must not exceed 5 Mb, and Jiji Nigeria only allows the image formats of jpg, gif, and png.
Step 8: Select Your Location
Your location is essential when it comes to selling on Jiji. Click on the select location button and scroll to get your region. Click on it to automatically update.
Step 9: Complete Product Update
This product update entails the entry of the following:
Title
Gender
Brand
Colour and style of product
Type, size, and condition of your product
Select whether your product is made in Nigeria or not
Step 10: Describe Your Product
Give a vivid and correct description of your product to help you attract customers. This can be done using from 1-1000 words.
Step 11: Click on Post Ad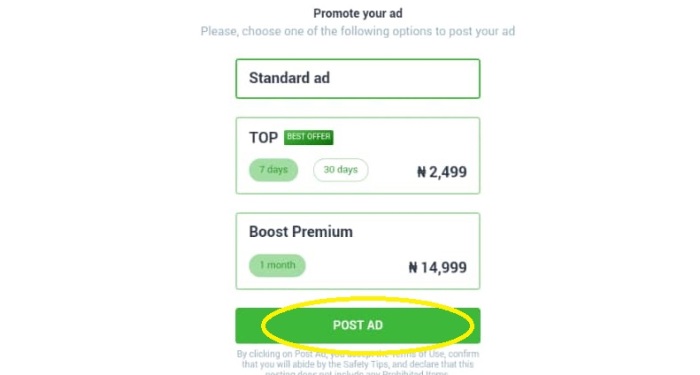 If you choose to promote your ad, select on ad or boost premium and follow the instructions. Otherwise, click on Post Ad to complete the process of selling your product.
Interesting Tips To Know Before You Sell on Jiji
Quick response raises your chances of getting sellers.
Avoid meeting your buyers in private places.
Never give out your financial information. This includes bank account details, eBay/PayPal info, and any other information that could be misused.
Avoid transfers as much as you can and deliver items at the appropriate time and place. Good feedbacks will raise your chances of getting more customers.
If you can, deliver items within your region. Traveling to deliver goods may be of security risk.
Steps on How To Buy on Jiji Nigeria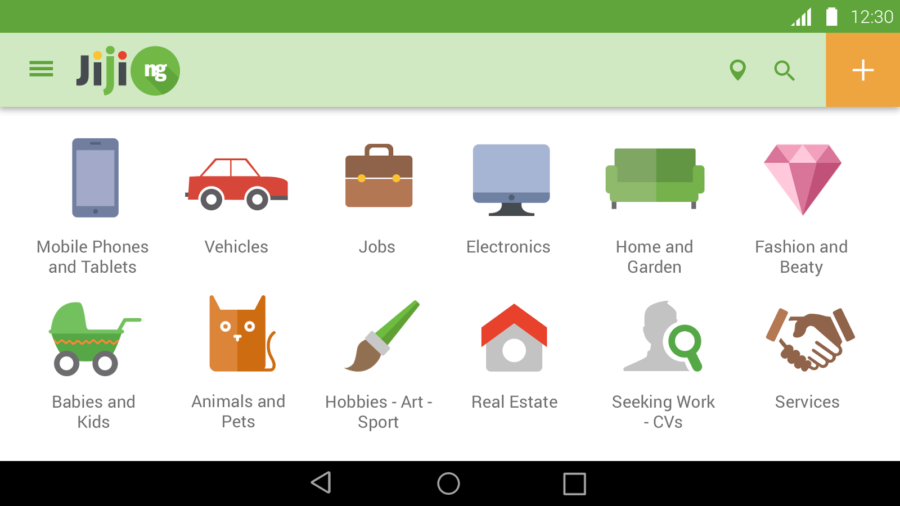 Step1: Search for the item of your choice using the same link that lets you sell products
Step 2: Contact a seller using Jiji chat or by calling them via their displayed phone number
Step 3: Discuss and negotiate the price of the product as found on the online shopping store.
Step 4: Get your items delivered to you. It is advisable that you meet your sellers in a public space.
Step 5: Pay on delivery
Step 6: Leave feedback about your seller on their platform
Other Tips To Help You Buy on Jiji
Keep things local. Meet the seller in person, check the item and make sure you are satisfied with it before making payment.
Exchange item and payment at the same time. DO NOT make any payments before receiving an item.
Avoid anything that appears too good to be true, such as unrealistically low prices, promises of quick money, offer to pay for releasing product from customs, or whatever else.
Popular Categories on Jiji You Can Sell or Buy Products
Vehicles: This category will allow you to buy or sell cars, buses, vehicle parts, motorcycles, and trucks, among others. All you need to do is visit the website and click on Vehicles. Select product and model to start buying or selling.
Phones: Phones are also easy to find in Jiji Nigeria. The platform gives access to more than 44,000 ads and still counting. This category allows you to sell used or brand-new products on phones.
Electronics: This category includes laptops and computers, audio & music equipment, Tv and DVD equipment, security & surveillance, camera, video games, hard and software, to mention a few. The platform gives access to thousands of products at different negotiable prices.
Property: If you wish to get or sell a property, rent, or lease, Jiji can make it easier with properties sparsed across different regions of Nigeria.
Other Categories
Home, furniture & appliances
Seeking work – CVs
Animals & Pets
Services
Health and Beauty
Fashion
Sports, Arts & Outdoors
Commercial Equipment & Tools
Repair & Construction
What Makes Jiji Different From All Other Online Marketplaces?
Jiji has a huge range of products to choose from, and these ranges are constantly updated. To see the products, all you need is a computer or smartphone.
Advert placement for products is free, meaning no fee is charged or surcharged. Another thing that makes Jiji different from many other online markets is the ability to obtain a discount. The price is not fixed, so buyers can bargain with sellers.
Goods are paid for only when the seller and the buyer meet; thus, it is possible to be sure that the product is serviceable and has a presentable appearance.
Jiji is also highly focused on security and able to resolve any issues in the short term. A buyer may leave a review after an agreement for a transaction with a seller is concluded.
A buyer may report problems with an ad, and Jiji will check the seller.
Scams and Frauds to Watch Out For
Beware of fake payment services – note JiJi.ng does not offer any form of payment scheme or protection, so let them know if someone provides such services.
Also, beware of fake information requests. JiJi.ng will never send you emails requesting your personal details. If you receive an email asking you to provide your personal information to them, do not open any links, report the email and delete it.
Fake fee requests – Avoid anyone who asks for fees to buy or sell an item or service as  JiJi.ng will never request any pre-payments from buyers and doesn't allow items not located in Nigeria, so import and brokerage fees should never be required.
DO NOT accept requests to use money transfer services such as the Western Union or MoneyGram. These services are meant for transactions between people who know each other well, not for anyone, and many scams are run through them. Avoid requests to use these services.
If you happen to have any further questions or clarification, send an email to [email protected]. Or visit this page to see the platforms already tackled questions.