Genevieve Nnaji is not married but there were rumors in 2017 that she was married to a European, AJ Cham in Portugal.
44-year-old Genevieve had a child at the age of 17 before attracting fame in 1998. However, she has found a way to shield this part of her life and the other relationships she may have found herself in. Despite that, the
Lionheart
and
Blood Sisters
actress could not have stopped the public from linking her to several love interests. She has been linked to famous people in Nollywood, the music industry, and the political sphere of Nigeria. She has equally been called out as a lesbian and linked to women in Nigeria and the Republic of Benin. In spite of all that, here's what we know about the romantic life of Genevieve Nnaji.
What to Know About Genevieve Nnaji's Supposed Marriage to a White Man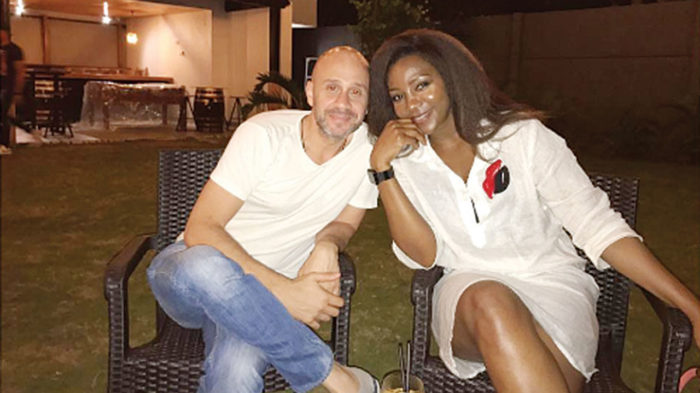 Genevieve raised a rumor in 2017 when she displayed the image of a white man believed to be named AJ Cham on her Instagram. Many congratulatory messages flowed and people believed she married him in Portugal in a secret ceremony.
In later reports, it was revealed that he had already been married at the time but has had a close friendship with the actress since 2014. In addition, he is reportedly a friend to Peter Okoye "Mr. P".
Cham although reportedly resides in California, in the United States of America, he makes frequent visits to Nigeria. He is a tourist and a promoter.
Subsequent to the post, Genevieve shared another image of a man that many believed could be the real man in her life. It would later be discovered that the man is her brother.
Her Catholic Background and The Fear of Divorce Are Why Genevieve Nnaji is Not Married
The Lionheart director cum actress definitely believes in love and has had the opportunity to be married; and would love to tie the knot. Nevertheless, being born and raised a Catholic has made her conscious of divorce.
Genevieve further established that if she'd opt for marriage, then she would stay married. Her intention is to be intentional about it, and find love in a person that is genuine, is her soul mate, and whom she can easily forgive.
All the Men Rumored to Have Dated Genevieve Nnaji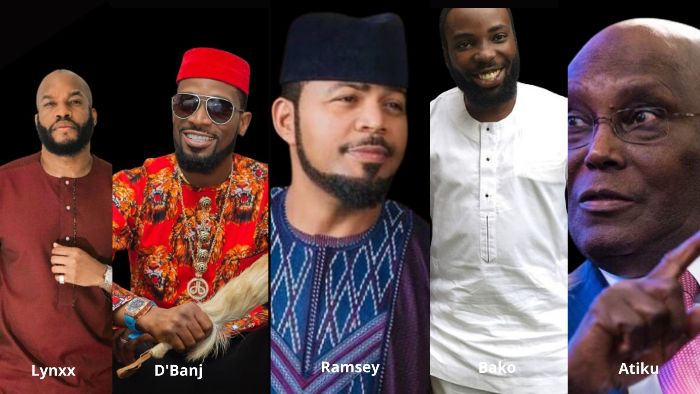 The Actress Has Been Linked to D'Banj But What Happened to Them?
In 2010, rumors rallied around that Genevieve was having a romantic relationship with D'Banj. The affair was said to have started in 2009 after they met at an airport but was kept a secret. A little after the rumor first began, the actress was featured in the music video of the singer's hit song, Fall in Love. 
While there was a debate as to whether there was truly a love story, a source claimed to have been granted an interview by D'Banj who attested to having an affair with the actress. In spite of that, the report was countered with an interview granted by the singer who opened up about not having a love affair with Nnaji but said they were friends.
On her own part, Genevieve said D'Banj was a good man but dating him could only be suggested by the media. In any case, D'Banj married Didi Lineo Kilgrow in 2016. They have welcomed a daughter.
The 44-Years-Old Actress Reportedly Dated Atiku Abubakar
Atiku, married to 4 women, has supposedly dated Genevieve Nnaji. It became a widespread rumor that lasted for years. While not much has been heard from the Nigerian former vice president as regards the relationship, Genevieve denied the allegation through the Tuju Babyface show in 2010.
Genevieve Nnaji Was Said to be in a Romantic Affair with Lynxx
After pictures and a video of Genevieve and singer Lynxx surfaced on the internet in 2019, there was a circulation that they were having an affair. Before the report started to rally around, the Fine Lady singer, Lynxx was said to have revealed to have a crush on the actress.
There has been limited information about the said relationship. However, it would later be made known that the affair supposedly ended as a result of the rapper's cheating scandal.
What Happened Between Genevieve and Ramsey Nouah?
Ramsey, one of the richest Nollywood actors was rumored to have been in a love bond with Genevieve. The rumor may have been a result of the two appearing in many Nigerian films as a couple.
Based on a report, it has been made known that Ramsey refuted the claim that he ever had a love life with the actress in real life but on TV. In addition, the popular actor married Emilia Philips-Nouah in 2002 and shares 3 children with her.
Genevieve Nnaji Purportedly Planned a Wedding with Alhaji Ishaya Bako
Alhaji Ishaya Bako is a screenwriter and director who was born in Kaduna. Even though he worked on several high-ranking films in Nigeria, including Genevieve's Road to Yesterday; he also caught the public's eye when he was rumored to have been in a relationship with the mother of 1.
In 2016, there were reports that the celebrities were heading for a wedding at the end of the same year. Clearly, there was no wedding, no detail about ending the relationship, or if they truly had an affair.
She Was Also Accused of Being a Lesbian
She Was Accused of Being the Partner of Olamide Agunloye
The Imo State native has been accused of causing the end of the marriage of fashion icon Olamide Agunloye and her ex-husband Dare Ajayi. According to the story, Olamide is a bisexual and was having a romantic relationship with Genevieve.
Like in the many other tales of Genevieve's love affair rumors, she never gave an insight into what transpired. Regardless, Olamide told the public her own side of the story as regards her marriage with Dare. She opened up that the marriage that produced children was filled with violence from Ibidunni Ajayi Ighodalo's brother, Dare. As a result, she opted for a divorce and not because of the accusation of being bisexual that the media may have reported.
The Actress Reportedly Had a Relationship with Beninoise Actress Ella Martin
Around 2013, Genevieve was accused of being a lesbian and partner of Ella Martin, a Beninoise actress, and singer. The scuttlebutt began after a picture of Genevieve and Ella kissing surfaced on the internet.
Ella has claimed that the kissing was just a casual gesture as friends. Yet, it did not stop the news from flowing and neither did it stop her from being called Genny's wife in her home country.
Whatever the story, there are indications that the Akarayibo singer was married to a German when she was 14 and later wanted a divorce. She is also said to have dated powerful men, including a president and Fally Ipupa.
How Genevieve Got Pregnant and Who the Father of Her Daughter is
It was when the actress was 17 that she became pregnant and subsequently had her daughter, Theodora Chimebuka Nnaji. The father of the child has been kept out of the lens of the public but from what is known, the daughter was raised by Genevieve and bears the name of the actress.
There are suggestions that the daughter of the Ije actress was married in 2016. It would further be made public that Genevieve became a grandmother in 2018 after the said daughter gave birth to a son.
In spite of the details given by the media as regards Theodora, it has also been claimed that the details belong to the sister of the No More singer. According to some outlets, Theodora "Dora" is the sister of Genevieve and not her daughter. Also, the said daughter has also dubbed the Nollywood Julia Roberts as "sis" on Instagram. Other sources suggest that the only child of the actress has been kept at the far end of the public reach.