Bisola Aiyeola is not married and there is no concrete information as to whether or not she is in a relationship. She has a daughter named Leyla who she had through a previous relationship with Olanrewaju Malcolm, an artiste manager,  and promoter based in Nigeria.
Bisola Aiyeola is a Nigerian actress, singer, and ex-Big Brother Naija Housemate who finished as the first-runner up on the second season of the reality TV show in 2017. She is also popular for winning the AMVCA Trailblazer Award at the 2018 Africa Magic Viewers Choice Awards. On the personal front, Bisola got involved with Malcolm Olanrewaju while she was still trying to build her career in acting, and the relationship produced a baby girl. It was quite a scandal when news went around that Malcolm, her baby daddy, abandoned her on the altar on their supposed wedding day. We take a look at other truths about the actress's love life.
The Actress Prioritizes Her Career Over Marriage
Bisola Aiyeola is not married and there has not been any concrete information of a steady boyfriend. While it is relatively hard to keep track of all the men she has dated or is currently dating, she has been linked to a few men whom she supposedly dated in the past. Besides, the actress has categorically made it clear that she is more focused on her career and believes that a relationship will come when the time is right. She has also made it quite clear that she doesn't bother herself about dating but her only driving force is to be successful and take care of her family.
Following her part on the BBNaija show, Bisola caught the attention of some men who would like to date her but the actress maintained her grounds on not focusing on anything relationship until it is the right time for her. Don't get it twisted, she still believes so much in love as she divulged in an interview with Punch stating that successful people still find love but it's something that might take a slow process.
Bisola Aiyeola Had Her Daughter At The Age Of 23
In June 2009, at the age of 23, Bisola Aiyeola gave birth to a daughter named Leyla. The daughter is a product of Bisola's relationship with her ex-boyfriend, Olanrewaju Malcolm – a Nigeria-based veteran artiste manager and promoter. Sadly, the man passed away on 24th August 2018 at Model Specialist Hospital, Surulere, Lagos. He died after a protracted struggle with a yet to be disclosed sickness. Olanrewaju, who once shared an Instagram photo of his efforts on weight loss, was alleged to have died out of lack of money to fund his drugs and medical bills.
However, the actress cherishes her daughter so much and would always wish that her father was around to see how his daughter is growing so fast. Bisola in her words has promised to make Nigeria a better place for her daughter. In an interview, the actress said that her daughter is already showing interest in acting despite her young age. Hence, it won't be any surprise if we find her on our screens.
Truths About The Rumour That Her Baby Daddy Didn't Show Up On Their Wedding Day
Bisola's baby daddy, Olanrewaju Malcolm, allegedly abandoned her while she was carrying their baby and getting ready for their wedding. The rumor mill even went ahead to allege that she had already come to the wedding venue when she realized that all his phone lines were turned off. He eventually did not show up for the wedding and after a series of calls to get through to him, everyone went back home and every other thing became history.
Meanwhile, Olanrewaju debunked this rumor on his social media space before his death. According to him, there's no truth to the claim that he dumped Bisola at the altar. He further described the claims as malicious. He explained that the major reason behind their breakup was their personality traits that don't complement each other.
From the foregoing, we do not have any reason or basis to believe that Bisola was dumped since the actress has also debunked the rumor.
Her Alleged Love Affair With Jeff Akoh
Like some celebrities who are usually involved in one romantic scandal or the other, Bisola was, in 2017, caught up in a rumor that she is dating one Nigerian upcoming singer, Jeff Akoh. The actress was basically dragged for it because she is older than the singer who at the time was reportedly 21 years old while she was 31. The actress took to her Twitter page to profess her love for the singer as she believes that age shouldn't be a barrier in their supposed relationship.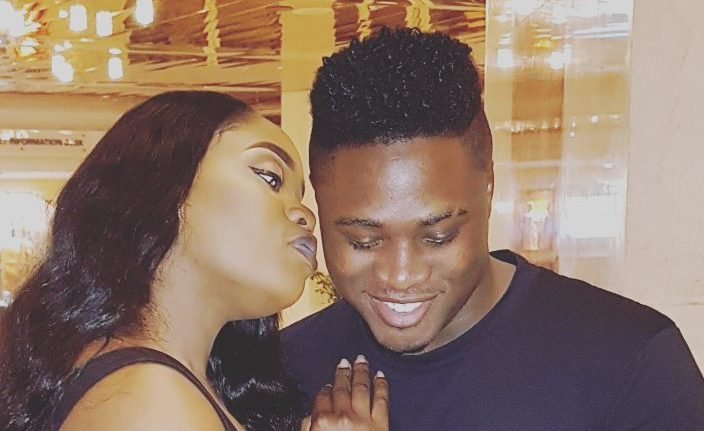 A couple of hours after she made the tweet, she came back with another message, saying that the previous one she made was only a joke which she wanted to use to draw public attention. Before then, people had already started calling her out about the first tweet.
In an attempt to clear the dust that had already been raised, Jeff on his own part said that Bisola is much older than him and so could not be in any romantic strings with her. He further made it clear that they are not dating, even though he can date someone older than him but not with a 10-year gap. However, he did note the fact that Bisola is a good friend of his as she would always put her life on the line for him.
She Was Romantically Involved With Thin Tall Tony
Thin Tall Tony is a married ex-housemate of the second season of Big Brother Naija. Bisola and Thin Tall Tony only met in the BBNaija house and were romantically linked to each other while the show lasted. At the time the two got acquainted, Thin Tall Tony was already a married man. However, according to Bisola, she only got romantically involved with him because he didn't reveal to her that he was married with two kids. The actress later found out the truth at the end of the show and called it all off with him.
Be it as it may, the former BBN housemate and actress divulged in an interview that she is currently single and not dating anyone. She has decided to keep to herself for now to get the peace of mind she desires.