There are only a handful of celebrities whose love lives remains private despite their illustrious career. Those whose relationship continues to hit the timeline are either celebrated or criticized for some obvious reasons. Runtown's love story is one of such stories we all admire on our television screens. Runtown and his girlfriend Adut Akech are nothing less than a relationship goal to some of his fans and celebrities alike.
What started as a joke on the singer's comments section has finally transformed into a serious relationship. The couple has both fallen head over heels for each other and can't stop expressing their love for each other as they continue to share PDA moments of themselves on their separate Instagram pages. As a result, this has sparked many questions as fans want to know more about the pair's love life and how far they plan to remain together. If you are also keen to know more about Runtown's love story with his foreign girlfriend, these interesting facts may be of help.
How Runtown's Love Story with Adut Akech Began
Runtown's love story cannot be complete without mentioning his relationship with his popular girlfriend, Adut Akech. What appears to be a major topic on various tabloids began in 2019 when the Nigerian singer-songwriter and producer Douglas Jack Agu (aka Runtown) and Adut were seen together in a viral video. The relationship between the two was not made official for several months until a question and answer session hosted by the artist had a curious fan asking him about his girlfriend.
In his reply, Runtown said she is from South Sudan. This automatically confirmed the rumor about Runtown and Adut being in a relationship. Talking about how the two met, it appears that the South Sudanese-born model made the first move that sparked off their relationship. In one of Runtown's comments sections on Instagram, Adut requested the singer's mobile number. Apparently, the Nigerian artist forwarded his number.
Soon after what seemed like just a flirty move by both parties, photos of the pair together began to flood the internet, and it generated questions of if the couples were an item? They both dropped pieces of clues and hints for their fans to pick up to show they were in a relationship as they regularly posted pictures and videos of themselves publicly displaying their affection for each other but still not coming out to confirm their relationship. 
What we Know About Runtown's Girlfriend Adut Akech
Though not as popular as her Nigerian boyfriend, Adut had a strong following on social media, which indicates that she has relevance in showbiz. However, it is true that her relationship with Runtown further brought her to the limelight.
Born on December 25, 1999, Adut is the second of five children born to her South Sudanese parents, who relocated to Kenya shortly after her birth. Adut's elder sister is Kim Akech, while her younger siblings are Alakiir Akech, Yar Akech, Bior Akech, and Akoul Akech. She lived with her family in a refugee camp in Kakuma before relocating to Adelaide, Australia as a South Sudanese refugee. At the time of their relocation to Australia, Adut was already 7 years old.
Adut used a different name in Australia because the school teachers found it difficult to pronounce her birth name. She went by her mother's name Mary. However, she reverted to her original name when she kicked off her career as a model. At 16, she was signed to Chadwick Models, a modeling agency run by her mother. She made her first appearance on the runway at a local fashion show hosted by her aunt.
Adut has had a lucrative career as a model and has grown into an A-list model. She claimed the crown of Model of the Year at the British Fashion Awards in 2019 and appeared on the cover of the British Vogue September 2019 edition. Adut is also a two-time winner of Model of the Year by Model.com.
How Often Were the Pair Seen together?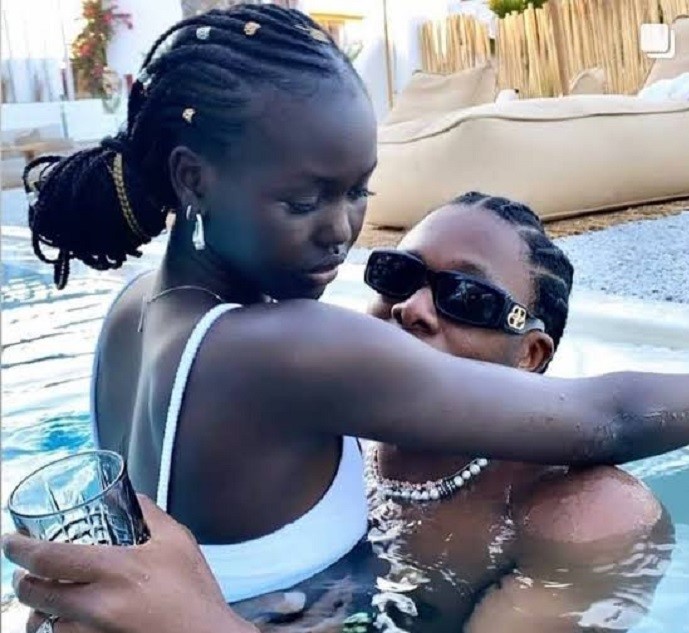 Couples like Runtown and Adut cannot avoid being stalked by fans who are eager to have the smallest clue about their affairs. On their part, the couple never shied away from feeding their fans with content that would interest them. The pair are often seen enjoying constant baecations in several luxurious places around the world from Paris to London to California and a host of other top go-to spots.
During one of their many trips to France, Runtown offered his model girlfriend a promise ring that officially sparked their relationship. During the artist's 31st birthday in 2020, they were also seen spending quality time together in Greece. Aside from their romantic trips, Adut has featured in a couple of Runtown's songs. When the video of Runtown's single Kini Issue dropped, she was featured in it as the singer's main vixen.
Has the Couple Been in Any Scandal?
It is not often unusual to have celebrity couples getting involved in scandals, and while many survive it, some are merely lucky to escape. For the likes of Runtown and Adut Akech, they've rarely been mentioned to be involved in any known controversy. The two might be quite public with their relationships, but even so, they tend to settle their scores privately to avoid any public scandals.
As far as criticism goes, a few thought their relationship wouldn't last this long as they judged based on the fact that most celebrity couples don't last long together. Many also feared the two wouldn't last long together following the huge age gap between them. There is a 10 years age gap between Runtown and Adut Akech. Runtown would be 33 later this year while Adut will clock 23 this year.
Meanwhile, the only known scandal involving the music artist was with the Nigerian UK-based model, Abdul-Kareem Jamila. The romance scandal has Jamila accusing Runtown of not picking her call since he abandoned her in the United Kingdom after his birthday celebration. Also attached to her message was the ultrasound scan of what she described as their three-month-old baby.
Runtown and Adut Akech Were Never Engaged
There have been many rumors about Runtown and Adut Akech being engaged since Adut made a video she shared on her Instagram story of her and her friends screaming joyfully with a huge diamond ring on her finger. The video fueled the speculations about a possible union between the two.
Speculations grew further when Runtown shared a picture of the pair with Adut wearing the same diamond ring. However, Runtown's management quickly debunked the rumor by claiming that the ring the singer and his girlfriend shared was nothing but a promise ring.
Their Relationship Ended Sometime in 2021
Like many other celebrity relationships that were quick to hit the rock while it just began, Runtown's love story with Adut Akech never stood the test of time as many would expect. In July 2021, the South Sudanese model revealed that her relationship with the Nigerian singer has ended. Adut said so while responding to questions from her fans on Instagram. When asked if she was in a relationship, the 23-year-old popular supermodel said she's now single and ready to mingle.
A Peek Into Runtown's Past Relationships
Before meeting Adut, Runtown was involved in a relationship with a couple of women, some of whom we are familiar with. A good example of these women is Selina Leath. Selina is a model and actress based in the United States. Selena is older than Runtown by two years. During the course of their relationship, they welcomed a son named Zamar.
Before Runtown's relationship with the US-based model Selina, he was rumored to be dating a co-music star, Cynthia Morgan. The rumor about them being an item went viral when the two were caught together at an undisclosed eatery. However, the two were quick to debunk the rumor.