The life of Iretiola 'Ireti' Doyle as regards career is a true modern success story, opening herself to working in different sectors ranging from being an actress, a writer, TV presenter, public speaker, and entrepreneur. The beginning of her career that saw her to fame and playing roles in blockbusters such as Tinsel, Merry Men, and Wedding Party is neatly interwoven in her relationship with Patrick Doyle, whom she met at an audition while still an upcoming actress. Patrick Doyle, at that time, was already an experienced producer, director, broadcaster, and actor who would later be married to Ireti and have 6 children.
Ireti's marriage to Doyle was a picture-perfect one for a long time. However, in 2017, there was news of them falling apart and leaving away from each other. This later resulted in an alleged divorce. While there may be many stories circulating about the actress and her marriage, here's a complete breakdown of Ireti's marriage to Patrick Doyle and what has become of it.
Ireti Married Patrick Doyle After The Death of His First Wife
Before Ireti became the wife of Patrick Doyle, he was married but lost his first wife to the cold hands of death. Before their marriage and when they met, Iretiola was a student at the University of Jos, where she studied theatre arts. In her third year, during a strike period, she headed for Lagos to try her hands on acting. Then she met Patrick at an audition where he was the producer and director of a play.
Following the auditions, Ireti Doyle maintained a cordial relationship with Patrick, who was her boss while she was working with him as ad-hoc staff. Working for him for about 2 to 3 years resulted in a romantic relationship, followed by a wedding on December 21. However, the exact year they were married is unknown as some sources claim the marriage started in 1999, with others reporting it to be in 2000.
The Actress Had A Grown-Up Daughter Before Marrying Patrick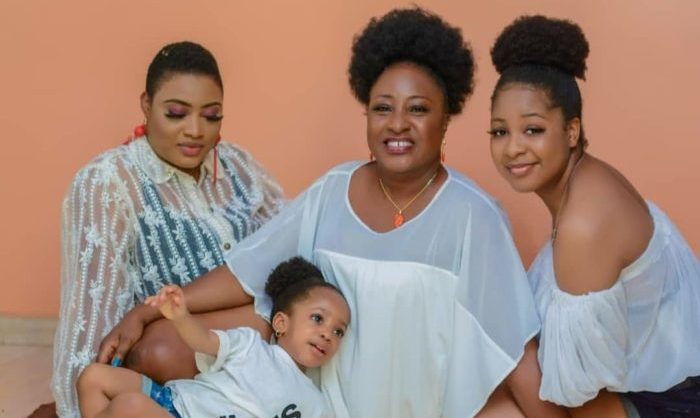 At 17, one of the beautiful Nigerian actresses, Ireti Doyle, became pregnant and gave birth to Ngozikachi Abimbola Ozofor, a daughter who is now in her 30s. However, the birth of Ngozi did not stop her from dreaming and achieving big in her career, and neither did it affect her relationship with Patrick, who accepted Ngozi as his child.
Although there hasn't been any detail about the father of Ngozi, Ireti's husband, Patrick, stood in as a father figure to her even at her wedding on July 12, 2014. Presently, Ngozikachi is a mother, a consultant at Ruff n Tumble clothing store, and Kachi beauty products and wig manufacturing store owner.
Even though Kachi is relatively a private person, controversies arose about her in 2020 when she was dragged on the internet and called a fraudster many times. People claimed that through her beauty products store 'Kachi' on Instagram, she collected money from people, never delivers, and does not refund. Similarly, Ireti has been bullied on social media by people claiming that she supports her daughter in the course. But then, the actress took to Instagram to disassociate herself from Kachi's beauty products with the intention to take legal action.
Ireti And Patrick Doyle Have Six Children
Between Ireti and her husband, they have 6 children but lost one to sickle cell anemia. There is less to no detail available for the remaining five, except for her daughter Oritshejemiyotan Doyle who was born on May 25, 2004. Currently 19 years old, she is famous following her mother's posts on Instagram about her.
Although a successful woman, Ireti's duties at home change from being a celebrity to a mother and wife. At home, she reminds herself that her family is a priority and has to sacrifice and juggle between being a mother and a career woman and celebrity. To strike a balance between her job and raising her children, Ireti wakes up by 4 am, sets her kids for school, and still makes it to work. With all her work at home and work, it is safe to say she a prosperous woman at home and at work where she has received multiple awards that include Actress of the Year at the 2016 Late Ambassador Segun Olusola NBMA awards, among others.
In addition to raising her kids and her job at home as a wife and how much she has achieved in her home, Ireti also has Patrick Doyle to be thankful for. According to her, he has been a supportive man who contributes towards raising their children and taking care of things at home.
Is Ireti Doyle Divorced From Her Husband?
Since Ireti Doyle revealed her husband contributes to raising their children and their home, it is only natural to think that their marriage was all rosy. Hence the question, 'what went wrong?'
It all began with the rumors of separation in 2017 when people claimed they were no longer seen in the company of each other in public. In her defense, she said they were both busy people who get invited to many functions, and when they need to attend or most of the function, it is only wise that they split and attend several individually. According to sources, Patrick made several attempts to save their marriage and went as far as withdrawing from the spotlight just for the sake of it.
Also, other sources claim that Ireti, on her own part, fixed her attention on her career, which has been sailing so well in recent years. Even with the hurdles met by their marriage, Patrick went on social media to publicly apologize to Ireti Doyle for the times he failed. In his now-deleted post, he took the blame for what had happened in the marriage.
Have I taken her love for granted? You bet I have. Why? Because like most men, I am prone to being a jerk. I cannot count how many times she had had to pick up the slack when I failed in my duties as a husband and father. 'She has a great sense of responsibility, the rock of our family.
After the post, several stories came up; some claim Ireti never acknowledged it, while others claimed they were back together in 2020. Nevertheless, neither of them has uttered a word to the media about their marriage. Others subsequently claimed they opted for divorce amicably.