Sola Sobowale has been married to Oludotun Sobowale for decades now. Some sources have it that she has 5 children while others claim that her children are 4 in number. However, we only know four of her children, a son named Oyeyemi Olugboyega Ajiboye, and three daughters named Olamide Sobowale, Kehinde Sobowale, and Taiwo Sobowale.
With all its demands and intrigues, some actresses seemingly have it all in the entertainment industry. Elizabeth Olusola Sobowale, famously known as Sola Sobowale, is one of those who have succeeded on and off the camera. Coming into the industry as a young woman, Sola, who is now 59 years old, has overcome several norms to establish herself in Nollywood and have an admirable family as well. She is married to Oludotun Sobowale. Together, they are blessed with children, including twin girls who are into movies and another daughter who is a YouTuber, blogger, and chef.
Sola Sobowale's success has come at a price the actress willingly paid, and today in all smiles as she continues to grace the scenes with spelling roles as noted in characters she portrays. Before stardom, she appeared in the series Mirror in the Sun and The Village Headmaster. However, the premier edition of popular Nigerian TV drama Super Story: Oh Father Oh Daughter, where she starred as Toyin Tomato in 2001, ushered her into the limelight.
She has made other appearances in movies such as Diamond Ring (1998), Dangerous Twins (2004), and in more recent times, Wedding Party 1 & 2 (2016 & 2017), King of Boys (2018), Gold Statue (2019), and In Case of Incasity (2020), among many others. In her time in the industry, she had ventured into screenwriting, directing, and producing.
Sola Sobowale Has Been Married to Oludotun Sobowale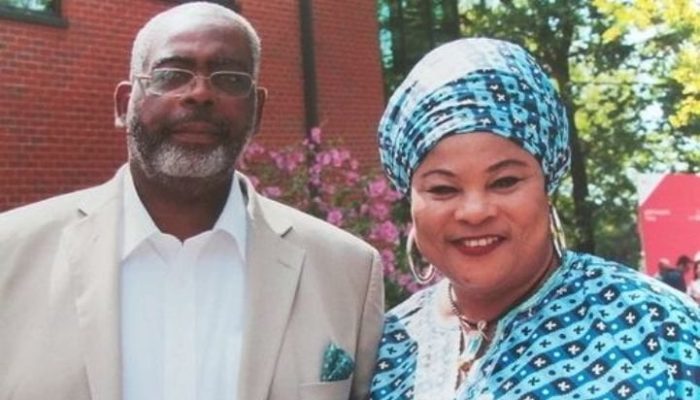 While it is not known when the celebrated female actor Sola met and married Oludotun Sobowale, the duo has been together for years of her acting career. Her husband has chosen the life of privacy even with a famous wife. However, it is gathered that Mr. Oludotun is the former corporate executive director of EKO Hospital and Healthcare in Lagos before relocating to the United Kingdom.
Before she brought her husband to the public, there were speculations that the actress did not have a husband and wrote the film Ohun Oko Somida, based on her personal experience. However, the actress revealed there is no truth in that. She is a happy mother, and her family is so dear to her.
Sola and Oludotun Sobowale Have Four Lovely Children
The actual number of the children of the award-winning actress has been a thing of debate. While there are sources that claim that the actress has 5 children, others claim she has 4 children. Nevertheless, she has twins who have also been involved in the scriptwriting and production of the TV series, Nectar.
Her First Son, Oyeyemi Olugboyega Ajiboye, is an Engineer
Also known as Gboyega, Oyeyemi is popular as the Nollywood veteran actress's first son. However, what is not known is whether she is the biological mother of Gboyega or her husband Oludotun Sobawale is his father since he bears a different second name.
Gboyega is an engineer who worked with Etisalat Communications. Although there is sketchy information about Gboyega, it is known that he married Fidelia Unoju, a Medical Laboratory Scientist from Delta State. The wedding, which was held at the NECA Hall on Olowopopo Drive close to the Marwa Gardens in Ikeja, Lagos, on November 1, 2014, was graced by many celebrities, among other notable people.
Taiwo Sobowale is a Twin and Pursues a Career in Acting
Aged 32, Taiwo was born as a twin on August 3, 1990. She is a graduate of Public Relations and Advertising from Northampton University. She is also a lady of many hats who works in many sectors, including the corporate and entertainment worlds. As an entertainer, she started as a child actress who starred in the series, Everyday People before featuring in Sola Sobowale's 2010 production Ohun Oko Somida as an actress.
She was part of the movie alongside notable actors, including Mercy Aigbe, Adebayo Salami, and Fathia Balogun. In the corporate sector, she specializes in recruitment coordination and also works at the core of Ember Searches in operations. Her role demands high organization and self-control skills.
Kehinde Sobowale, the second-half of the twins, is an Accountant
The second of the Sobowale twins, Kehinde is 32 years old. She is a trained accountant and a graduate of the University of Northampton, where she got a degree in Accounting and Finance in February 2014. She is an ACCA (Part Qualified) and presently the Financial Controller/Accountant of Ariadne Capital, an investment firm founded in London, United Kingdom, in 2000.
In 2017, she was engaged by Ideas Concepts and Products (ICP Media) to work as the Business Development Manager for the company's new project IPRAID (Improving Public Relations for Africans in Diaspora) – a project aimed at recognizing and appreciating organizations and individuals, who promote and enhance diversity in public relations in Diaspora via Improving Public Relations for Africans living in foreign countries.
Olamide Sobowale is a Makeup Artist, YouTuber, and Blogger
Popularly known as Mimi Sobowale and Jane of All Trades, Olamide is the most renowned of the children of Sola. She is a versatile woman who builds herself in many aspects of life regarding her career. Mimi is a London-based YouTuber, blogger, digital creator, and makeup artist. She is also responsible for the sketches Sola Sobowale made while maintaining her clothing line, with Eucharia Anunobi modeling some of the clothes. Olamide studied Business Information System and graduated in June 2014 from the Middlesex University.
Sola Sobowale Took a Hiatus From Acting to Focus on Her Family
Even though she made a name for herself, appearing in several films and TV shows, and also became popular as Toyin Tomato, the star actress took a break from acting. Before her break, she tried to manage being in Nigeria and traveling abroad to be with her family. This is largely so she could focus on her family and enable her children to get a better education than what was obtainable in Nigeria. She chose education for her children over her career because, to her, that is the best legacy for any parent to leave for their children.
Many years later, her children suggested that she returned to Nigeria to continue with her acting career. Upon her return, she played several roles in many movies, including The Wedding Party 1 & 2 (2016, 2017), Christmas is Coming (2017), The Men's Club (2018-2020), Wives on Strike: The Revolusion (2019), and Gold Statue (2019), among others.
Since Her Comeback, The Actress Has Won Several Awards
The talented actress has recorded several awards in her name since her comeback to the acting industry. Some of her awards include the following:
An inductee into the 2018 Hall of Fame, Naija FM Comedy Awards.
Actress of the year, New Telegraph Awards (2019)
Best Actress in a Leading Role "King of Boys" Africa Movie Academy Awards (AMAA, 2019)
Lifetime Achievement Award, New Vision International Film Festival (NVIEF, 2019)
Best Actress Award at the Ghana Naija Showbiz Awards (2018)
Best Actress in Comedy, Africa Magic Viewers' Choice Awards (2017)