Chinedu Ikedieze, also known by his movie name Aki, is one of Nollywood's most talented and outstanding actors. The multiple award-winning star got married in 2011 to his lovely wife, Nneoma. His marriage to Nneoma has generated divergent reactions from people, especially what informed the lady's decision to marry the diminutive but wealthy actor. However, a sneak-peek into Chinedu Ikedieze's family life below will reveal things you never knew about them.
Chinedu Ikedieze and Nneoma Met in 2008 and Tied The Knot in 2011
The comic actor has only been married once and is still married to his lovely wife. Chinedu met Nneoma Nwaijah on the set of a movie in Lagos State, where she was the costume director. At first, they started as friends and then moved to lovers who dated for three years before they finally tied the knot. When asked in an interview about how he asked his wife out, the film star and businessman stated that he met her how every other man met their woman and asked her out in a normal way.
The duo has over the years proven that love is blind by being joined in conjugal bliss and has remained married for many years now. The couple had their traditional wedding on November 26, 2011, and it was held at Obolo, Isala Mbano in Imo State, Nneoma's hometown. The arena of the wedding was the field of St. Theresa's Catholic Church.
They Had a Memorable Traditional and White Wedding
The well-lavished event had no less than an estimated 20,000 persons in attendance, most of which were actors, actresses, and prominent members of the Nollywood movie industry and, of course, villagers. Sources had it that three prominent then governors of the Southeast had indicated interest to grace the occasion with their presence. Theodore Orji of Abia State, Owelle Rochas Okoroocha of Imo State, and Peter Obi of Anambra State had shown interest in attending the wedding.
Sequel to their traditional marriage ceremony, their white wedding, on the other hand, took place in Lagos State on December 9, 2011. The event was earlier scheduled for the 10th of December but was rescheduled for the 9th at the last minute. There was also a venue change. The film star and his soon-to-be wife opted for a private wedding. They were joined as husband and wife at the Abundant Grace Parish of the Redeemed Christian Church of God at Ogba, Ikeja, Lagos.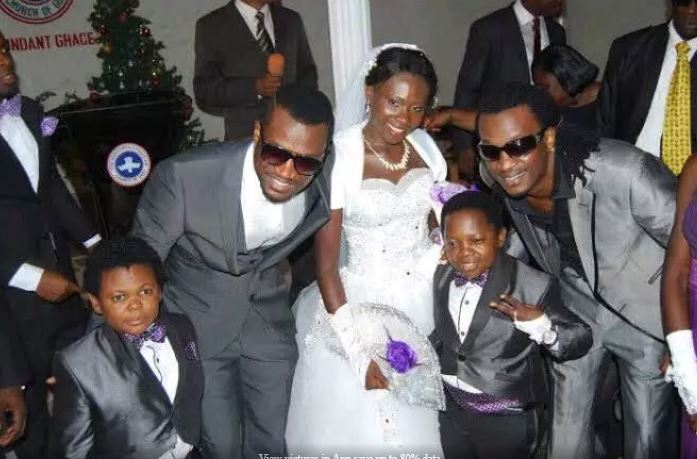 As a result of the sudden change, the marital event was graced by a few Nollywood celebrities and other important figures outside the Nigerian Entertainment industry. Some of these Nigerian celebrity heavyweights include Emeka Enyiocha, Mike Ezuruonye, Kanayo O. Kanayo, Kcee, P-Square, and Uche Jumbo. Before their marriage, it was rumored that the then Grand Commander of the Federal Republic, Goodluck Ebele Jonathan, had indicated an interest in attending the epoch-making conjugal event. Aki's on-screen twin brother, Osita Iheme, also known as Pawpaw, was not found wanting at the event. He was his best man during the white wedding.
Similarly, the reception, which took place at the Clear Essence Resort and Spa, Alexander Road, was like a celebrity get-together. The reception is regarded as one of the loudest ever in the industry as many stars from the entertainment industry graced the occasion. The then governor of Abia State was also in attendance. Kcee and his colleague Presh, a Nigerian music duo formerly known as Kcee Presh, utilized the reception not only to sort out their differences but also to reconcile.
Meet Nneoma Ikedieze, Chinedu Ikedieze's Wife
The wife of the comic actor is Nneoma Nwaijah, now Nneoma Ikedieze. She is from Mbano in Imo State, South-East Nigeria. Our findings revealed she has a degree in Mass Communication from Enugu State University of Science and Technology, ESUT. However, it is not known when she graduated from the university or what degree she bagged after her tertiary studies.
She began pursuing a career as a fashion designer to make ends meet after her university graduation. It was in the course of this that she met her would-be husband. When Nneoma and Chinedu met, we have a good record that she was carrying out her duties diligently as a costume director that Nneoma met her present husband. One thing led to the other, and the duo got talking and later began a relationship.
Accusation on why Nneoma Married Chinedu
Though their marriage has been relatively scandal-free, at least for the much we know, they have not been entirely immune to harsh criticisms from people and, by extension, the media, which cook up stories about celebrity marriages. Nneoma has been accused of marrying the diminutive ace actor solely because of his wealth and not for love as they would have wanted.
It is easy to see why some naysayers disagreed with the couple's marriage, even though they have no contribution to make to it. All these can be traced to the huge height difference between the couple. The small-sized actor who got famous for his child roles in movies stands at 1.29 meters, which is approximately 4 feet 3 inches. His height is below the average height of 5 feet 5.3 inches, which is typical of Nigerian men. Be that as it may, the actor cannot be termed as a dwarf. Hence, people with such height and stature are referred to more respectfully with little people or midgets, which is often derogatory.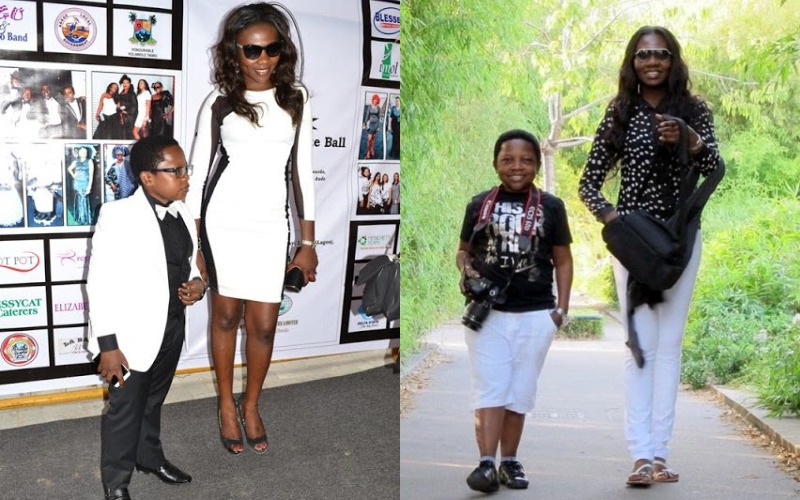 Though Nneoma's actual height is not yet known, she is believed to stand at no less than 5 feet 1.3 inches, which is the typical average height of Nigerian women. Speaking about his height, the actor mentioned that people could be funny as they sometimes taunt him about his stature. According to him, people tend to forget that the Aki is different from Chinedu Ikedieze.
The beautiful Nneoma, on the other hand, made it known that she got married to him because she genuinely loved him. She also noted that the star is smart and intelligent.
Is Their Marriage at the Brink of Falling?
Rumors went around that the actor's marriage was no longer rosy as it used to be initially. It was alleged that Chinedu had divorced his wife, but he didn't waste time debunking the rumor when it got within his earshot. Chinedu Ikedieze stated that it was the media carrying fake news.
Rumors about his failed marriage rekindled during his appearance at the African Movie Academy Awards (AMAA) in 2012. At the time, the actor, who is known to make public appearances with his wife, was seen among ladies, and none of them looked like his wife. It got lots of tongues wagging and set the media on fire. Lots of media houses and platforms interpreted it as the actor moving away from his wife. However, a friend stood up for him, stating that Nneoma Ikedieze was naturally introverted. Hence, she wasn't a fan of going out for occasions.
The Couple Don't Have Kids Yet
The Nollywood actor and his lovely wife have been married for over a decade without a child as of this writing. Early on in his marriage, Aki noted that he and his wife were more focused on growing their career to a desirable height. The couple also affirmed that having children or not doesn't bother them. Many years have passed since then, and the couple is still not with a child. Perhaps, when they mentioned that having children isn't their priority, they meant it.
While it is a known fact that Nneoma and Chinedu Ikedieze's family is yet to experience the cry of a newborn baby, some reports had gone round in the past that the famous actor had a child a year after his wedding in 2012. However, who the mother of this supposed child is, the gender of the child, and the circumstances that led to the child's birth are all unknown.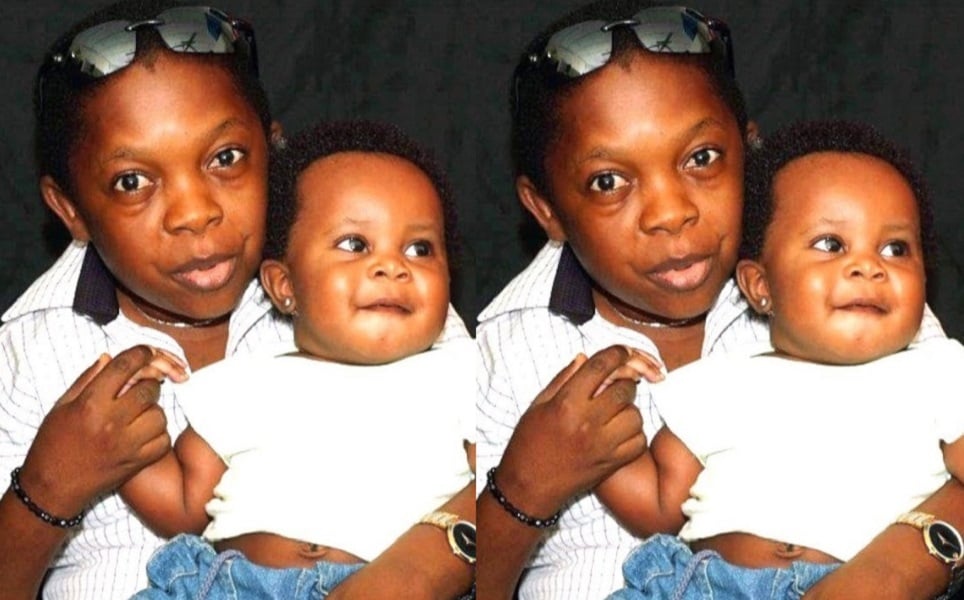 A few years later, in 2017, the famous actor was seen in a picture holding a baby girl. This made his fans and well-wishers immediately assume that the child was his, hence another rumor that he has a daughter. Chinedu Ikedieze, however, debunked the rumor saying that the cutie was his niece. The actor mentioned that he and his wife are hoping to have three gorgeous children.
As per reports available to us, the award-winning actor is currently under pressure from his family over their childlessness. The couple who has been married for almost 10 years is yet to have a fruit, and their family, especially Chinedu Ikedieze's family, seems to be more worried than the couple. Sources have it that her husband's family has summoned Nneoma to ascertain what the problem is. It was rumored that she bluntly told them that she and her husband are focused on building their career at the moment and weren't ready to have children.
What Could Be the Reason for the Ikedieze's Childlessness? 
Apparently, some people opine that the couple's childlessness could be attributed to Chinedu's height, which might come with other yet to be disclosed health challenges. But this is a mere assumption as there is no medical evidence backing this up, neither has the actor revealed that it is why they are yet to have a child.
However, medical records show that people like Chinedu Ikedieze can procreate, especially when his wife is a normal-sized woman. This effectively rules out the condition that his childlessness can be attributed to his small stature. There is no known medical defect he suffers from, neither have there been reports attributing his small stature to his inability to have a child. In fact, people with more severe forms of dwarfism end up having children talk more of someone like Chinedu, who has what can be accurately termed a mild form of dwarfism.
Also, he is not known to suffer from any known medical condition associated with joints and bones, which is typical of people who are born dwarfs. Whenever the actor is seen, he is usually bubbling and full of smiles; this alone has endeared him to many people, and with this same cheerful attitude, he has embraced his present childless predicament.
Unlike what is typical in many Nigerian homes, Chinedu isn't looking at getting a second wife to try his chances of having a baby from the much we know. He is still happily married to his wife, as they are both enjoying blossoming careers in the entertainment industry. Perhaps, at the right time, Chinedu Ikedieze's family will celebrate the birth of a newborn baby, not just one but 3, as Chinedu had earlier hinted.
What Nneoma and Chinedu Ikedieze's Family Life Looks Like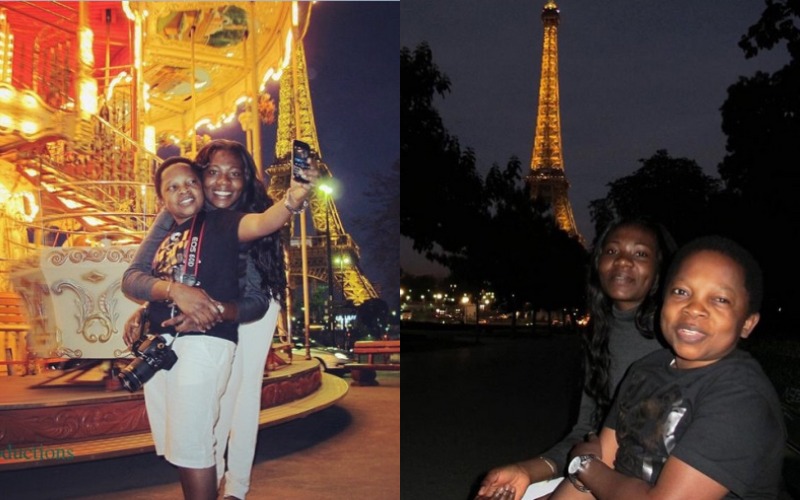 Few years after their wedding, Chinedu Ikedieze's family was spotted on vacation in Paris, France. Also, the actor opined that his wife was deserving of such treatment. He also affirmed that it's like compensation for all the time they have invested in their business. When asked if he had felt lucky to have his marriage last over three years, Aki told his interviewer that the foundation of their union was built on God.
Chinedu Ikedieze does not delight in sharing every detail of his family life with the media. It has been observed that he rarely makes social media posts about what goes on between him and his wife; he also rarely mentions Nneoma on his social media posts, nor has he been seen expressing his love for her on social media like it is common with many other celebrities and even non-celebrities.
Be that as it may, it shouldn't be taken to mean that the couple is not on good terms, as it has been severally rumored. Instead, from what we gathered, Nneoma abhors media publicity. Perhaps, keeping their family affairs out of social media and not frequently making posts about her on social media is one way to respect her decision on avoiding social media. Thus, not much has been gleaned about the Chinedu Ikedieze's family and marital life with his heartthrob Nneoma Ikedieze.