Nigerian actress Ini Edo's net worth is estimated at $4 million, making her one of the richest actresses in the country. The Nollywood actress accumulated her wealth through various sources. However, much of her wealth comes from her acting and political career.
Ini Edo is no ordinary personality in the Nigerian movie industry. With over two decades of career in the movie world, she is no less an icon to be reckoned with among the train of veteran stars still trending in the Nollywood Industry. By veterans, we mean the likes of Joke Silva, Genevieve Nnaji, Richard Mofe Damijo (RMD), and Pete Edochie. Below is a breakdown of how the actress built her net worth.
A Large Chunk of Ini Edo's Net Worth of $4 Million Came From Her Acting Career
Acting has always been part of Ini Edo's dreams since childhood, but it became a reality for her in 2003, and today, she has featured in more than 100 movies. This 41-year-old beautiful actress began her journey towards acting during her diploma years at the University of Uyo's Theatre Arts department.
After some years of acting training, she decided to gain more educational qualifications at the University of Calabar, where she studied English. Ini eventually got her first start as an actress in 2003 after being discovered by a producer at the audition she attended. Her debut movie was Thick Madam, featuring stars like Endurance Ugo Egems, Bruno Iwuoha, and Eucharia Anunobi.
Being so impressed by her performance in her debut film, the film's producer encouraged her to relocate to Lagos State, where she would gain more acting opportunities. Relocating to Lagos marked a huge step towards huge success for Ini Edo, whose breakthrough came in 2004 when she acted in World Apart, sharing the screen with the likes of Kenneth Okonkwo, Hilda Dokubo, and Liz Benson.
With over two decades of acting experience, Ini Edo began to build the wealth she now enjoys. The list of movies Ini Edo has featured has continued to increase over the years, with some of her best movies including the following:
The Begotten
The Bank Manager
Desperate Housegirls
The Bet
Cold War
Crying Angel
While You Slept
Desperate Need
Emotional Blackmail
Weekend Getaway
I Want My Money
Last Picnic
Living in Tears
Living Without You
Men Do Cry
My Precious Son
One God, One Nation
Lonely Hearts
Desperate Billionaire
Married to the Enemy
Games Men Play
Most Wanted Bachelor
Reloaded
Ghetto Queen
Caro The Iron Bender
Ass on Fire
Knocking on Heaven's Door
The Patient
Chief Daddy
Citation
How Much is Ini Edo Paid Per Movie?
Ini Edo is believed to be paid between an estimated N800,000 and N1.5 million per movie script. Having gained so much experience in the movie industry, the actress now stands among the highest-paid actors in Nollywood. She now rubs shoulders with the likes of Genevieve Nnaji and Omotola Jalade, who are believed to be the highest-paid actresses in Nollywood.
In addition to being a talented actress, Ini Edo is also a scriptwriter. Although there are no details of how and when she began scriptwriting, it is said that she has written many movie scripts submitted to different producers and directors. It is also unknown how much she makes per movie script she wrote, but from what we gathered, an experienced scriptwriter makes between N80,000 and N500,000 per screenplay. This could be termed as another massive addition to her income.
Highlights of all Awards the Actress has Received So far
2009 Best of Nollywood Awards for Best Actress Leading Role category
2011 Zulu African Film Academy Awards for Best Actress Indigenous category
2012 Golden Icons Academy Movie Honorarium Appreciation Award
2013: Golden Icons Academy Movie Awards as female viewers' choice
2013: Cross River Movie Award as best act female
2013: Nafca award for best supporting actress
2015: Ghana Movie awards for being the best actress- African collaboration
2018: ZAFAA Global awards as the best actress
 Other Sources of Ini Edo's Net Worth
Acting may have formed the foundation of Ini Edo's current net worth, but it was not the only career that made her what she is today. Generally speaking, the actress is multi-talented and has tried her hands at various money-driven opportunities. Below are some of the other known sources of Ini Edo's net worth.
Her Appointment as UN-Habitat Youth Ambassador
In 2011, sIni Edo was appointed by the United Nations Habitat as a youth ambassador. She received the appointment alongside co-actor Ramsey Nouah and another star from Bollywood, Vikram Vinod. As one of its ambassadors, Ini Edo was mandated to participate in the organization's work for a better urban future.
As a Special Youth Envoy for the UN, she would help the UN body improve the lives of youths worldwide by promoting socially and environmentally sustainable towns and cities to provide adequate shelter for all in Nigeria and Africa as a whole.
On April 23 of the same year, she carried out her first assignment at the LOTS Foundation office at the Dustbin Estate, Apapa Lago. Although details of how much she earned from the job were not clearly stated, it is believed to be huge enough to mark a huge change in her financial life.
Ini Edo Was a Judge for the 2013 Miss Black Africa UK Pageant
In 2013, Ini was announced as one of the judges for the 2013 edition of the Miss Black Africa UK competition. The beauty pageant, which at the time was one of the UK's largest ethnic pageants, had the Nollywood star seated as a judge for the event that took place at the Royal Regency, London, UK.
She was joined by Jones Adebayo, Sporah Njau, Charles Ven, Justina Mutale, and Jenni Steele, who were also announced as judges. In addition to the whopping sum she is believed to have received at the end of the event, Ini was also celebrated for pushing her limits beyond the shores of Nigeria.
Ini's Role As Special Assistant to Akwa Ibom State Governor
The Nollywood Star Ini Edo is one of those few Nollywood stars who try to find their way into politics despite how demanding their career as actors are. The actress eventually landed herself her very first political appointment in 2016, when she was appointed The Special Assistant to the Akwa Ibom State Governor on Culture and Tourism.
As an indigene of the state, Ini was appointed alongside Imeh Bishop, popularly known as Okon, and her duties included managing various special assignments on Culture and Tourism as directed by the Governor.
Following how successfully she carried out her job, she was reappointed by the Governor Udom Emmanuel of Akwa Ibom State in July 2020. While her salary is not disclosed, it is largely believed that it is huge enough to influence her change in financial status.
She was appointed as NDI Ambassador for Women Empowerment
While she is still busy building her acting career, Ini Edo also bagged an appointment with the National Democratic Institute (NDI) in 2020. The non-profit organization, which works with partners in developing countries to increase the effectiveness of democratic institutions, unveiled Ini Edo as its Women's Empowerment Ambassador.
Part of her ambassadorial duties is to create awareness of the challenges women encounter that limit their participation in democracy and the electoral process. She would also support citizens throughout Nigeria to join the cause for increased participation of women in electoral and democratic processes.
The star actress noted that she would be working with influential Nigerians like former women heads of state and other NGOs to fulfill this task. Ini Edo did not reveal her details of what she would be earning from her new job, but it is also believed to be worthy enough to influence her net worth.
In February 2022, she was said to have featured alongside Speaker of the House of Representatives, Femi Gbajabiamila; iconic singer Innocent '2Baba' Idibia; in a political documentary film released by the National Democratic Institute (NDI). The movie "Crossroads" gives a fascinating narrative of stories of the political journey of female Nigerian Lawmakers and how their tenure in office contributed to meeting Nigeria's socio-economic needs.
 She Also Owns a Beauty Line
Growing into a very resourceful entrepreneur, Ini Edo launched her beauty line in 2021. "Beauty Secrets of April," as she named it, has a set of beauty products that moisturize and revitalize every skin type. According to the actress, her beauty skincare products are not gender-base and its therefore perfect for all dark skins
Endorsement Deals Also Contribute to Ini Edo's Net Worth
Endorsement deals are some of the notable areas celebrities like Ini Edo make more money for themselves. As one of the most beautiful and resourceful stars, Ini Edo has signed some endorsements that have earned her a fortune that is big enough to contribute to the jaw-dropping net worth she currently enjoys.
One of her most recently signed deals happened in July 2021 when she pledged her support and endorsement for Ned Nwoko's malaria project. She promised to support the Billionaire Philanthropist and Antarctica explorer in the area of advocacy and creating Awareness. Other juicy deals the actress has signed so far include the following:
She was GLO brand ambassador for 10 Years, from 2006 to 2016
Ini Edo is undoubtedly one of the many Nollywood stars who have enjoyed ambassadorial benefits from information communication and technology solutions provider, Globacom. In 2006, the actress signed her first endorsement deal with the network provider, and it was continuously renewed for 10 years until it elapsed in 2016. Although details of how much she was paid each of the years, it is believed t be huge enough to keep her financial account smiling for ten years.
She was Brand Ambassador for Noble Hair, Slimtea Nigeria, and @MrTaxi_NG
While Ini Edo was ill-signed with Globacom, she bagged yet another deal with hair brand Noble Hair. In 2016, when her deal with Glo ended, she bagged another deal with Slimtea Nigeria. In 2019 she was signed as an ambassador for the @MrTaxi_NG brand, a transportation company.
Another notable deal she recently signed was with hair brand, Wholesale Naija. The actress announced this herself in February 2020, expressing how excited she was for the new deal.
Highlights of Brands Ini Edo has so far Endorsed include:
Globacom
Noble Hair,
Slim tea Nigeria
MrTaxi_NG
Wholesale Naija
Properties Ini Edo Owns
Real estate is one of the top areas many invest their monies, and our star actress Ini Edo has not excluded herself from this bid. Ini owns a couple of properties in one of the most expensive areas around Lagos State.
One of her biggest investments is her property in Lekki, which was worth 70 million Naira in 2016 when she bought it, but today the said mansion is believed to cost more than N80 million. The mansion was bought shortly after she ended her six-year marriage to her ex-husband Philip Ehiagwina. There are also reports that she owns a few more houses in the area.
Her Nightclub in Lekki Phase 1
Well, as one with so much insight on how to make money for herself, it won't be surprising to know that this actress has a good number of businesses that generate a lot of income for her, but as someone who rarely speaks of her acquisitions, nothing much has been said on that.
However, we are aware of a nightclub in Lekki Phase 1 reportedly owned by the Nollywood star. Mimz Lounge, as it is called, boasts of a well-furnished guest house, a roof-top lounge, exotic drinks, plus an array of African and Continental dishes at its restaurant.
The lounge kicked off operation in September 2015, after the actress officially launched it on Wednesday, September 30, 2015. Ini Edo's Mimz Lounge is located on Durosinmi Etti drive, opposite Carol Court before Dowen College or 52a Omorinre Johnson Street, Lekki Phase 1.
Ini Edo's Car Collection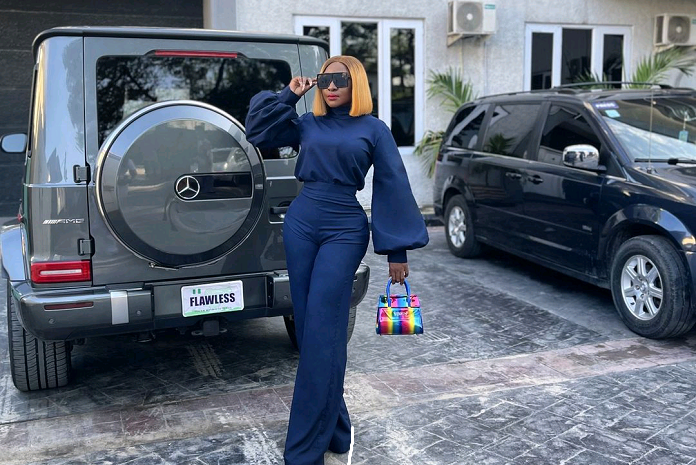 As someone with quite a taste for luxuries, Ini Edo also has fleets of exotic cars lined up in her apartment in Lekki. Her love for exotic cars has seen her purchasing at least three super expensive cars like the brand new Mercedes G-Wagon, Range Rover SUV, and BMW X5. Her car collection, therefore, includes the following:
2010 Toyota Venza
Toyota Camry
Mercedes 4matic GLS 450
Lexus 570
Mercedes c300
Mercedes G65
A range rover sport
Toyota corolla
Golf Cart