Infinix Hot 3 was launched in 2016 and it follows behind the AndroidOne-powered Hot 2, but unlike the Hot 2, it drops AndroidOn and seems built to appeal to selfie takers. Additionally, it comes with a more powerful battery, features a bigger display and is available with 1GB RAM. 
Today I caught myself with the Infinix Hot 3 which although launched in 2016, is still making its way with many more people.
It has enjoyed some success in the Nigerian market, and if I will drop my money, I will still give it a couple of years in the limelight.  That is the most generous time you can give any phone considering how fast companies are spinning out new ones at the speed of light.
The phone came in to add something to the Hotline of Infinix to take the place of the Infinx Hot 2 which to me wasn't just the best of phones, but still manages to pull through for people who want something affordable.
With the Hot 3, you still get that affordability, and decently more. Let's have a complete look at the phone.
Build quality and design
Sound quality
Camera
Memory and storage
Processor and Software
Battery 
Quick Specs
Pros
Cons
Verdict
Price
Build quality and design of the Infinix Hot 3
I wish I could tell you that this is the strongest phone in the market, but it is not. Still, for the price it asks, there should be no murmuring. In the mid-range, there are hardly any phones that would beat its quality. This is even as it is not the finest on the queue.
The hot 3 is built with a plastic body which is well-polished and doesn't look cheap. You can have the battery removed and changed as the phone has a back that can be opened.
It comes with a 5.5-inch full HD screen with 720 x 1280 pixels display. With that, it is obvious that the phone is not the smallest, and should even full a medium-large hand. It is bigger than the Infinix Hot 2 which makes it the choice of people who love video streaming, movie watching and gaming.
The screen has clarity and vividness that is not found in many that are in the same line. It doesn't, however, have what I can call the fastest touchscreen response. It is good, quite right, but it won't compete with more expensive phones. Hardly will you find one in the midrange that would.
There is one thing that Infinix didn't get very right with this. As it is with most phones, once you have a dropped call or a message, you don't need to check the phone to know you have such. Once you look, you will see a notification light blinking.
With the Hot 3, you do not get that light as such it can be inconvenient that you have to keep checking.

Sound Quality
I am one of those people that can hate a phone completely because it fails in audio quality. That is what you get from anyone that is having a constant romance with music and earsets.
With the Hot 3, I did not have any serious grudges, even though I wouldn't fault myself if I become the Oliver Twist this one time and ask for more.
Understandably, it is a mono speakerphone, which I have never really liked. Nevertheless, it still has a lot for me to appreciate from, most especially how it doesn't get the sound exaggerated to a point of annoyance. I'm sure you know what I mean.
Overall, there is balance and details to the speaker, but it just didn't get the five stars. Maybe four.
The compensation is that the earphones it comes with have lived up to my high expectations. Again, they are not Beats or Corsairs or any of the big guys, but they serve very well in both strength of volume and sound quality.
More so, it comes with a very intelligent microphone that cancels any kind of external noise, meaning that your calls are extra clear when you make calls. I appreciate that with the phone, and I think everyone should.

Camera
The phone doesn't have the seller camera, as it basically has what you can get from many others when you look at the Mega Pixels of the camera. It is equipped with 8MP back camera and 2MP front camera.
But the deal is that even as it gives the same MP as most, it still has special camera features that give it the age when you place it head to head against others.
For example, with a back camera that gives a resolution of 3840 x 2160 pixel, it is massively featured with things including autofocus lens, touch focus option, different modes (HDR, Beautician, Panorama and Night), and other Pro camera functions.
With the 2MP front camera, which is designed with a soft lighting, the quality of the picture is as well enhanced. The camera also has intelligent features including Voice/Gesture capture recognition and timed photos.
The camera quality is good enough for a wise bet.

Memory and storage
The Infinix Hot 3 features a 1GB RAM, leaving some of us asking for more even though what is given should be able to give a good run. Nevertheless, it is no more 2015 than 1GB RAM should be enough.
The bad news, however, is that most in the category of the Hot 3 come with the same RAM. The good news is for a much higher price, you can get the Infinix Hot 3 Pro which comes with a 2GB RAM.
With a Gigabyte RAM, the phone comes with a built-in storage of up to 16GB. Normally because now files are much larger than they have ever been and Android apps are taking more space, if the 16GB internal storage is not enough, you can have it expanded with a card that is as high as 32GB.

Processor and Software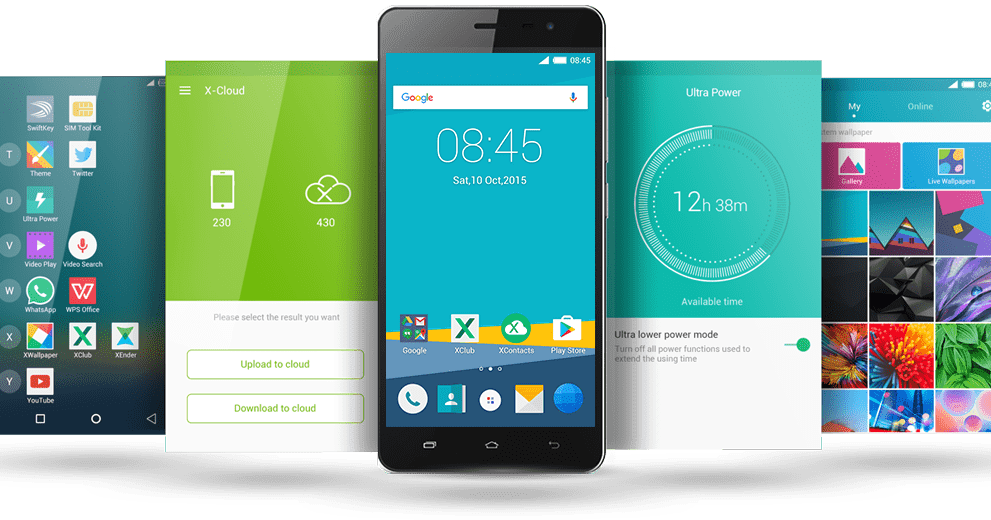 Designed with a 1.3 GHz MediaTek Quad-core processor, you will be able to have good processing speed and have a nice gaming experience and even other multimedia activities. Nevertheless, when the game gets very heavy, you should expect that there may be some feet dragging.
It comes with the Andriod Lollipop 5.1 and the Infinix User Interface (XUI).

See Also: Tecno L8 Lite Specification and Price in Nigeria 
Battery Life
Infinix promises up to 20 hours of talk time, 9hr of web browsing using the 3G network (naturally), and 33hr of music. As I was able to find out, this is mostly true, and in fact, you will get better than all these stated time when you decide to save your charge.
Nevertheless, for the battery life of 9 hours when browsing, I can assure you to expect a minimum of 30 minutes less than promised, but not more than an hour 30 minutes maximum. That to me is still a big bite.
Even as it doesn't angrily drain your charge unnecessarily, it charges quite very fast. Although I have come across reviews that indicated that they got the battery fully charged in 6 hours. Nevertheless, I found it to go much lower than that as it got filled at 3 hours.
Overall, I will say one of the advantages of the still, the Infinix hot 3 is the 3,000 mAh battery it features. That being said, the battery is not a killer, but for an average user, one cannot complain.
Did I add that the Phone supports OTG? With this, you can connect modems, wired mouse, keyboards and other USB dongles on the phone.

Infinix Hot 3 Specifications
Screen Size: 5.5-inch Display, 720 x 1280 pixels
Colours: White, Gold, Pink, Blue, and Black.
Body: Plastic build
Memory: 1GB
Storage: 16GB Internal and MicroSD card of up to 32GB.
OS: Android v 5.1
Camera: 8MP and 2MP front cameras with LED flash
Battery:   3000 mAh Li-Po
Pros
The Camera is well designed with good features
Very decent battery life
It is very affordable
The Phone supports OTG connectivity
Even though it is plastic, it is still quite durable.
Cons
The RAM it features is not the best it could give.
Verdict
The Hot 3 is a phone that while not the one to bring the change (not in the political sense), still emerges as a very good contender for people who do not want to spend heaven and earth on a phone. It is a perfect one for those who need a spare phone or those who are on a low budget but want great battery life and good camera most especially.

What Is Infinix Hot 3 Price in Nigeria?
Before now, the Infinix Hot 3 sold for about 30,000 Naira on some online stores. Offline, you may get it at almost the same price range. You will, however, get the best price for this phone on Jumia.
When you buy the phone, you will get an earpiece that gives good sound, a charger, USB cord, and a user manual.
Check the Price of Infinix Hot 3 on Jumia and  Buy Now