Zubby Michael is a Nigerian actor, movie producer, and entrepreneur with an estimated net worth of $800,000. 
A talented actor, Zubby Michael is an all-around entertainer. He started acting as a child and his fame skyrocketed with his first lead role in a 2016 movie that was a hit. From there, Zubby has been absolutely everywhere. All the while, his net worth, and star power keep rising consistently. Adding to the pile of Zubby's income are endorsement deals, personal appearance fees, a lucrative real estate portfolio, and various investments.
Zubby Michael's Net Worth Runs In Millions Of Naira
Given his long-running and impressively consistent career as a Nollywood movie star, it's no surprise that  Zubby Michael's net worth soars as high as $800,000 (about N300 million). The Nollywood star made most of his money not just from acting but also modeling, scriptwriting, directing, producing, and TV appearances. He also recently joined Nigerian politics and is currently serving as a special adviser to the governor of his state, Anambra.
Zubby's Acting Career Earns Him Over Half A Million For Each Appearance He Makes In A Movie
The bulk of Zubby's net worth is derived from his acting career given how active he is in the industry. He reportedly receives nothing less than N500,000 for each movie he performs in. However, long before now, the same wouldn't be said for the actor who started with mainly making small appearances in films.
His first gig in the acting industry then was Missing Rib in which two individuals destined to be a couple had to date other people until fate brought them together. At the time, the actor had just obtained his bachelor's degree and returned to Yola, Adamawa State. He then proceeded to appear in a number of films including Settle Me, The Struggle, and  Settle Me.
Once he got his role in The Three Widows as a lead actor alongside Oge Okoye in 2016 Zubby's career was off and running. From there, he has starred in many movies where fans of Nollywood fell in love with his bold attitude in films. He also announced himself as a major movie talent when he appeared in Ozoemena Ozubulu in which he played the lead character of Ozoemena. The film became another outstanding career achievement for him and it paved the way for a string of notable performances in more notable movies such as;
Princess Rihanna
The Generals
Royal storm
Implication
Stolen love
The killer.
Okada 50
The Promise
Identical Twins
Bad Omen
OmoGhetto
Seed of Greatness
Audio Money
Yahoo King
Shameless Sisters
His Works Behind The Scenes Also Speak Volume
Beyond acting, Zubby also rakes in money from producing and directing movies. He has produced and directed quite a good number of movies. So far, the actor has about 150 movies in his portfolio and still counting as the actor is still active in the show biz industry.
He Gets Insane Payouts From Endorsement Deals
In addition to making money from his lead roles, Zubby has some lucrative endorsement deals, appearance fees, and partnerships with top brands. Some of his famous deals are with;
He signed a deal with a Bitters herbal drinks company in Lagos alongside Ayo Makun of Ay comedy and Nedu Wazobia FM. Though the exact amount he earned from the deal was not made open, reports show that he was paid handsomely.
He is also the brand ambassador for Splendid Furniture and has also shot commercials for the brand where he earned over N10 million.
His Partnerships Are Topnotch;
Zubby has a substantial social media presence and this has come in handy in promoting products and services of brands for compensation. Some of the brands the actor has promoted via his social media accounts include;
itel mobile phone
Nollywood Namaste TV,( a movie app)
Meridian Ponche Liquor Rum
E&E cosmetics.
Castle Majestic Hotel
He Also Makes Money From Special Guest Appearances
Zubby additionally receives payment to make appearances at events as a special guest of honor. Some of the events he attended on this ground include;
The grand finale of faceofFeliDvic
A night show in Casa De Pokaz Night Club in collaboration with Hennessy,
Cubana Owerri, which allegedly earned him a cool amount.
He Is Also A Celebrity Politician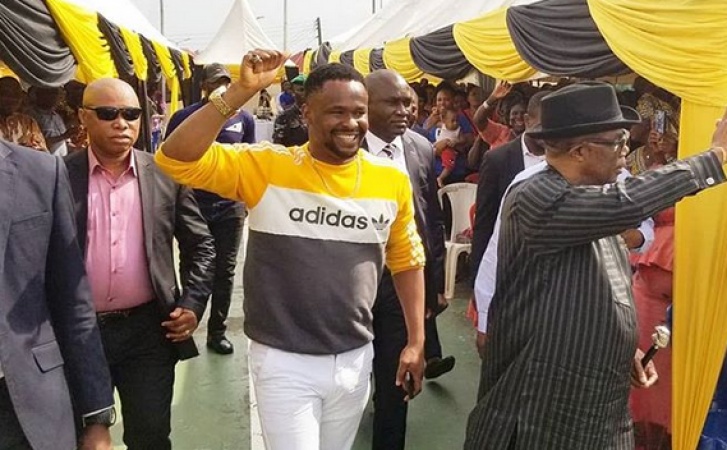 Zubby Michael is among the Nigerian celebrities who enjoy a unique advantage in politics without having to put much effort all thanks to his stardom as a notable entertainer.
The Nollywood star evolved from just being a Nollywood actor to becoming a senior special assistant (SSA) to His Excellency Governor Willie Obiano of Anambra State, Nigeria on media matters without having held a lesser office.
With this appointment which happened in 2019, Zubby divides his time between acting, producing, brand influencing, and politics. Fortunately, he isn't doing bad at juggling these roles and has successfully crafted a public persona that earned him the nickname "doings" which signifies a man of action.
Recently, he earned a certificate of recognition to acknowledge his role towards the youth empowerment initiative of the City Radio 89.7 FM in Anambra State. And of course, this role doesn't come for free as there are benefits (mostly financial) that come with it. Put it all together and you get one serious pile of cash to play with. That begs the question: how does the actor spend his millions?
Zubby Michael's Cars Are Proof Of His Wealth
After hitting it big in the film industry, The Three Widow's actor purchased a Toyota Camry to make mobility easy for him. But as his career continued to rise, his love of automobiles came to the fore. According to reports, he sticks to luxury cars and reportedly owns;
a Mercedes-Benz 4matic
a Range Rover Sport
G-Wagon
a Black SUV
He Lives In A N600 Million Apartment in Lekki Lagos
Obviously, Zubby doesn't let his fortune go to waste. As most of the rich and famous do, the filmmaker has invested his money in multiple properties, from his personal estate in Lagos to his mansion located in the Delta State capital Asaba and others that he hasn't probably shared with his fans.
A Glimpse of His Zubby Michael's Lekki Mansion
Zubby reportedly spent 600 million Naira on just his property in Lekki. Boasting of soft bright grass, large bright lights placed strategically at the entrance, beautiful giant trees, the home certainly looks like a comfortable place to live. While the actor has refused to give fans a complete glimpse of the interior of his apartment, it's not hard to imagine the actor in this elegant mansion. Other luxury touches include titled floors and awesome furniture sets.
Zubby Michael's Asaba Mansion Is Also Worth Millions
His house in Asaba is also worth millions of naira in market value. The phenomenal mansion also features everything in line with modern luxury trends with every bit as extravagant as you might expect including sleek tile flooring, bright lighting, large glass windows, a large sitting room – perfect for hosting star-studded parties.
He Has Been Nominated For A Good Number Of Awards And Has Won One 
As well as huge net worth, the talented actor has seen a good number of award nominations in his career. Notable among them are; in 2018, Zubby won South East Entertainment Award as the Movie Icon of the year.
Before his win, he had been nominated for City People Movie Awards three times. He was also been nominated for the Best of Nollywood Award, Nigerian Entertainment Award.
Zubby Michael's People Movie Awards 
Nominee for Best Actor of the Year (Igbo), 2019
Nominee for Best Actor of the Year (English), 2019
Nominee for Best Actor Of The Year, (English) 2018
Nominee for Best Supporting Actor of the Year (English), 2015
Nominee for Best New Actor of the Year (English), 2014
Nominee for Best Igbo Movie of the Year for Eze Ndi Ala, 2019.
Other Awards Include;
He was nominated for Best Lead Actor of the Year (English) at the Nigeria Achievers Awards in 2019
Also in 2019, he became a nominee for the Male Actor of the Year at the South-South Achievers Awards
In 2018, South East Entertainment Award named him the winner in the category of Movie icon of the year
2015 was when he became a nominee for Actor of the Year (Indigenous Movies) at the Nigerian Entertainment Award
He was nominated as the Most Promising Male Act at the Best Of Nollywood Awards
In 2018, Zubby Michael became Nollywood Personality of the Year at the Nigerian MSMEs & Achievers Awards
He was named Best Celebrity Politician of the Year in 2020 by the South-East Beauty Pageant Organization.