There has been the need to have faster and more reliable broadband internet and services in a modern technology world. To help with this, Spectranet maintains a position of being one of the fastest and leading companies in Nigeria. While this has been established, there's every need to login into a Spectranet account to enjoy the benefits that come with the Internet Service Provider (ISP).
The company boasts of being the first to launch 4G LTE in Nigeria and it also has existed for more than a decade while giving its customers 24 hours internet services daily. To enjoy these services, however, there is a need to purchase a Spectranet internet broadband device, log in to an account, and purchase data. Wondering how to gain access to your Spectranet account and check your data balance, here's an in-depth way.
What You Should Know About Spectranet Before Having an Account
If one is nursing the thoughts of having a sustainable internet service in Nigeria, a company such as Spectranet may come in handy. Interestingly, the company sets itself not only for individuals but also for companies.
Its reliability has been at the forefront of its reviews. In addition, Spectranet 4G-LTE data has proven beneficial to users of large bandwidth in everyday activities ranging from browsing, downloading, making video and audio calls through the internet among other advantages.
Although the services may be great, it currently operates in a few major cities in Nigeria, including Abuja, Port Harcourt, Lagos, and Ibadan. For one to gain access to enjoy the benefits of the services, having an account is vital. The question that would often come up nonetheless is how can one have an account on Spectranet or how to log in where an account has already been created. Here's every available detail.
How to log Into Spectranet Account and The Services to Enjoy
Step-By-Step Login Guide For New Users
The devices of Spectranet often come with a default WiFi key. Nonetheless, one is expected to change the details to reduce the risk of unwanted users tapping from your data. Here's how to change the password as a new user:
Use a browsable device to connect to the MiFi, WiFi, Flyt, modem, or any Spectranet device
Go to the preferred browser on your device
In the address space, type the IP address 192.168.8.1 and proceed
On the portal, click on settings
Where you see a login box, fill in your credentials
Click on Wi-Fi basic setting and create another SSID
Create a new Wi-Fi password that you can easily remember
How Already Existing Users Can log into the Internet Service Provider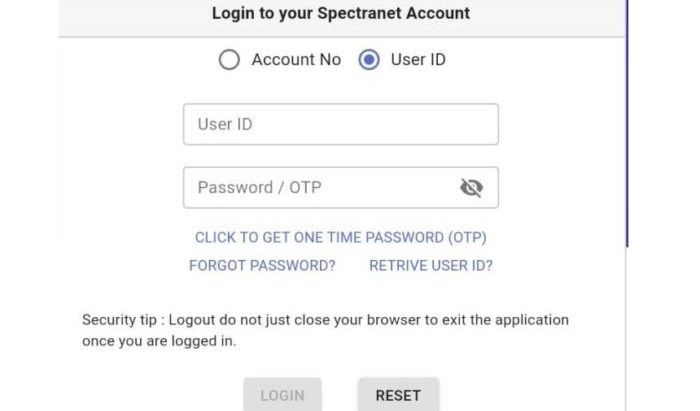 Secure a Spectranet device
Visit the service provider's self-care website
Login details will appear on the dashboard
Click on "Account No" or "User ID" to select a mode of login
If you click on the "Account No" option, fill in your Account Number on the space provided and fill in the password/OTP space
If you select "User ID" as your mode of login, correctly fill in the "User ID" space as provided on the dashboard followed by the Password/OTP
What to Do if You Forget Your Spectranet Password or User ID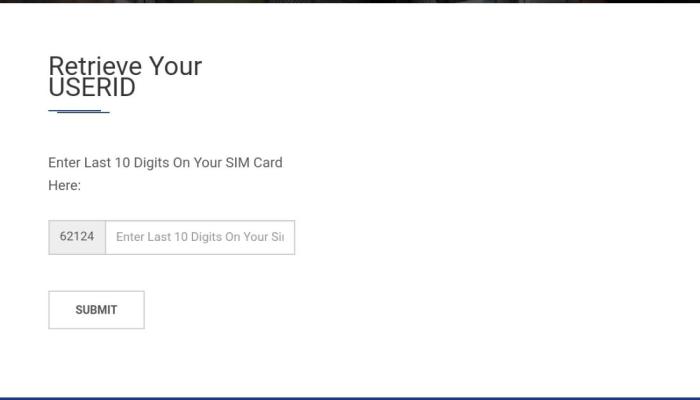 Whenever you forget the login details of the internet broadband service provider, you can follow the steps below:
On the same login platform of the self-care page, click on forgot password
Enter your USER ID
An OTP will be sent to the email you used to register the account
Use the OTP to login
If you don't remember your user ID, click on retrieve User ID
Enter your Sim card No. in a space provided
Click on "retrieve" and continue
Things You Can Do When You Log Into Spectranet Account
Get Access To Data Plans
Check the summary of your account
Change password of SSID and WiFi
Make easy payments
Get access to manage profile
How To Check Spectranet Data Balance
Check Data Balance Online
Go to the webpage of the Internet service provider
Go to self-care
Enter your login details
On your dashboard, go to the data balance option
The data balance often comes with colons such as 50:123:28 to mean 50GB, 123MB, and 28KB
How to Check Spectranet Data Balance Through Customer Care
The customer support of the internet service provider can give access to the data balance
Get the customer support line from the website of Spectranet under "Contact Us"
Call the customer care representatives and give details that will prove you are the owner of the account
Ask for your data balance
Why it is Important to Check Your Data Balance and Know The Price Range of Data Plans
Checking the Spectranet data balance helps one to set internet consumption limits. It also helps one to work on a budget, and not go out of data without prior knowledge. Apart from the fact that it is important to know how much internet data one consumes as an individual or in relation to a company.
In order to top data, there are numerous ways Spectranet has made available. Below are available data plans and how much they cost:
Kulele Plans

Price range: ₦3,999 for 12GB to ₦15,999 for 80GB monthly

 Kulele+ Plans

₦8,999 for 32GB to ₦27,999 for 200GB every month

doMORE Plans

Price range: ₦3,250 for 8GB to ₦60,000, for 300GB monthly

Always on Plans

Price range: 125GB at ₦18,999 per month

Smart Choice Plans

Price range: ₦8,999 for 32GB to ₦27,999 for 200GB a month

Smart Value Plans

Price range: ₦16,500 for 42GB to ₦73,000 for 216GB monthly

Bumpa Value Plans

Price range: ₦31,300 for 84GB to ₦27,999 for 200GB monthly

Data Boosters-Top Ups

Price range: ₦500 for 32GB to ₦400 for 10GB per month

Mini Plans

Price range: ₦1,500 for 6GB to ₦4,500 for 20GB monthly
The data plans of Spectranet usually come with bonuses that include an unlimited night plan. While data can be rolled over, bonuses cannot be rolled. One can buy data through a bank using things such as USSD and bank applications among other methods.
To round this up, Spectranet has proven to be of assistance in terms of internet connectivity with advantages such as reliable connectivity, WAN management, dedicated IP, cloud VAS solutions, security management, and dedicated internet link among others. But to enjoy this entails going having an account, getting to know how to log in and having active internet data.