Sterling Bank remains one of the leading banks in the Nigerian banking sector. The bank started in 1960 as NAL Bank until 2006 when it merged with several other banks and adopted the name Sterling Bank. Over the years, it has faced many transitions and the use of technology has been vital to the bank. For this reason, checking your Sterling Bank account balance has been made easy in many ways.
Sterling Bank, otherwise known as the one customer bank has devised ways through which its customers can access many banking services, including checking account balances from anywhere in the world without any issue about the type of mobile device one should use. This account balance checking can be achieved through the use of the USSD code *822*1#, Sterling Bank OneBank mobile app, WhatsApp, ATM, customer service center, or a visit to the bank.
How To Check Sterling Bank Account Balance Using USSD
Dial *822#
Press 6 and send (option for checking your account balance)
Enter your 4 digit USSD PIN and send
Your account number will automatically display on your screen together with your BVN
Alternatively, you can:
Dial *822*6#
Enter your 4 digit USSD code
Note: This method will only work when you use the mobile number that is linked to your account. Also, you have to register your line to be able to enjoy the use of the Sterling Bank USSD code.
How To Register Your Number To Use Sterling Bank USSD
Dial *822*
Enter 1 and send (option for registration)
Enter your correct account number
Create a 4 digit PIN
Or
Dial *822*1#
Enter account number
Create transaction PIN
You Can Check Your Sterling Account Balance On WhatsApp
Using the Sterling Bank 24 hours WhatsApp banking, you can make many transactions that include balance inquiry, transfer of funds, buy airtime, pay bills; BVN inquiry, and statement generation.
Once you're on the WhatsApp platform, follow the steps below:
Step 1: Initiate a conversion with the bank (Kiki)
Step 2: Kiki (Sterling bank) will respond with a list of services
Step 3: you can type Bal or Balance for balance inquiry
Step 4: Kiki will respond with your account balance
How To Get Started On Sterling Bank WhatsApp Banking
Save the Sterling Bank WhatsApp number – +2349060006449 on your mobile device
You can start a conversation with Kiki (Sterling) with a hi or hey
You will receive a response to agree to the terms and conditions of the bank
Send I AGREE – space – Account number (e.g I AGREE 0123456789)
An OTP will be sent to your mobile phone
Enter the OTP (it expires in 5 minutes)
A link will be sent to you to complete the process
Click on the link and fill the form
In the form, you'll need to enter your card number, card expiry, card PIN, and password
If you do not have a card, click on OnePay or USSD Credentials to continue.
Using the Sterling WhatsApp platform, you can not only check your current account balance but go as far as generating an account statement by initiating a conversation and typing "statement". This will automatically provide you with details of the last 5 transactions on the account.
How To Check Your Account Balance Using Sterling Bank OneBank Mobile App
Download the OneBank App from browsing enabled mobile device from a Google Play Store or Apple Store
Launch the App
Click on Login and enter your login details
Click on Sign Up if you are a new user and follow the instructions
Once you log in, your account balance automatically appear with your name on the dashboard
Visit Any Branch of The Bank or Contact Customer Care Service To Check Your Account Balance
There are over 100 branches of Sterling Bank across the 36 states in Nigeria. You can choose to visit any of the branches close to you to check your account balance.
Unlike the use of USSD and internet banking, visiting any of the branches of Sterling Bank is not something that would be available 24 hours and only operate on weekdays.
Instead of visiting the bank, however, you can contact the bank's customer care service center from anywhere. Here are ways to contact customer service:
Call the following numbers
017003270
+2347008220000
01-4484481
01-8888822
Email at
Note: When you contact the customer care service center of Sterling Bank for your account balance, you have to provide important information such as your account name and number among other things you may be required to enter.
Can I Check My Account Balance At An ATM?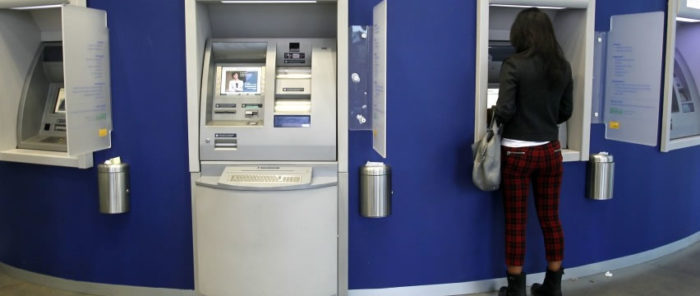 You can use your ATM card to check your Sterling Bank account balance by following these steps:
Step 1: Visit any ATM
Step 2: Insert your ATM card
Step 3: Enter your ATM transaction PIN
Step 4: Select Balance from the menu
Step 5: Your account number will display on the screen
Step 6: Select another transaction to continue or end the process
Frequently Asked Questions (FAQs) About How To Check Your Sterling Bank Account Balance
Do I need to have airtime to check my account balance using USSD?
You do not need to have airtime in your phone line before you can gain access to use the USSD to check your account balance.
Is checking your account balance free?
There is a charge of 10.05 Naira (VAT inclusive) whenever you check your account balance using the USSD code.
Also, you will be charged a call fee if you decide to call the bank's customer center for your account balance. For WhatsApp, you will need to have data and internet connectivity
Can I check my Sterling Bank balance by SMS?
Your account balance can be sent to your registered number as an alert when your account is debited or credited.
Can I check my previous account balance?
Yes, this is called the statement of account. However, the USSD and ATM do not give the luxury of having this service. Regardless, by contacting customer care, using WhatsApp, the OneBank app, or visiting the bank, you can gain access to your previous account balance or statement of account.
Can I use my phone to check my account balance?
You can use any mobile device to check your account balance. For USSD or calling any of the customer service numbers, you do not need a phone that has internet connectivity. For checking your account balance online, you need a phone that has access to the internet.