You can check the JAMB matriculation list by visiting the JAMB Matriculation Portal and following the instructions.
JAMB matriculation list is a new initiative by the examination body, to authenticate a candidate's admission by all institutions in Nigeria. This will help to solve or curb the widespread of fake students with fake certifications. So, if you are hoping to participate in the NYSC exercise and do not know how to check your JAMB registration list, here are steps to guide you through it.
What is JAMB Matriculation List?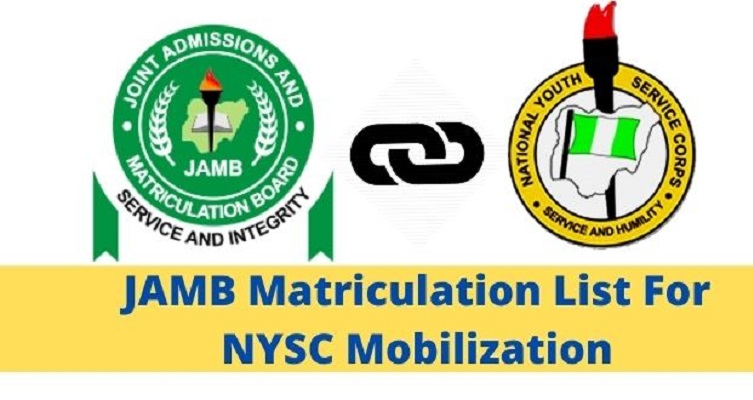 A jamb matriculation list is a compilation of the names of candidates whose academic records are in order. This list is brought about through the collaboration between the Joint Admission and Matriculation Board (JAMB), your school, and the National Youth Service Corps (NYSC).
This list which is mostly required by candidates seeking to participate in the one-year compulsory youth service corps program contains the candidates' full names, university attended, and course of study. So, if you are wondering why is it necessary for you to check your name on the list, then you should know that besides helping you know your eligibility of participating in the compulsory NYSC exercise, checking your status on the JAMB Matriculation List will also help you know if your admission is recognized by jamb.
JAMB Matriculation List Portal
The jamb matriculation list portal is www.jamb.org.ng/efacility/checkmatriculationlist. This portal is the link where you can access your status on the JAMB matriculation list. It is the only portal the examination body introduced for anticipating NYSC candidates to go for the authentication and eligibility for the service.
JAMB Matriculation List Requirements
This includes all the necessary things you need to provide before your name is included on the list.
To qualify to be on the Matriculation List, You WIll Need:
A printout of your Admission Letter
A printout of your result slip Online
Verification of the two documents with the admission officer in your Institution
Note: You can easily print out your admission letter and result slip online from the JAMB e-Facility website. Visit the platform by typing https://portal.jamb.gov.ng/ or you can simply click here to take you to the website.
Printing your admission list is not free. You will need to pay the sum of ₦1000 either online, using your ATM, Cash at the Bank, or Quickteller. You will also need a transaction ID which will be sent to your email when you request it.
How to Check your Name on JAMB Matriculation List
To check the JAMB Matriculation list to authenticate your status, simply follow the guidelines below.
Visit the JAMB matriculation list Portal at https://portal.jamb.gov.ng/efacility/checkmatriculationlist
Select your examination year and input your JAMB registration number
Click on "fetch my details"
Once you are done with that, you will be informed whether your name is on the JAMB matriculation list or not. If you are on the list, you will find your status to include your institution name and course
Note: In case you forgot or misplaced your jamb registration number, you can easily retrieve it by visiting the JAMB e-facility platform. It will cost you the sum of ₦1000 to print your registration number online.
What Does it Mean If Your Name is Not on the JAMB Matriculation List?
As earlier noted, only candidates whose names appear on the JAMB Matriculation list are recognized as bonafide students from the various accredited institutions and are, therefore, eligible to participate in the compulsory NYSC exercise.
Thus, if by any means your name is not on that list, it then means that JAMB did not recognize your admission into the university you studied at. It also means that your application to the NYSC scheme for the one-year national service will be declined.
What to do if Your Name is Not on JAMB Matriculation List
If in any case, your name did not appear on the list, then you have to go back and perform a late jamb registration application. This is also called JAMB regularization. It is a platform where candidates whose names do not appear on the jamb matriculation list register their names by providing all the necessary information required. To perform your jamb regularization, you will need to follow the steps below.
First, you will need to visit the jamb e-facility platform here and begin by creating a jamb profile by providing necessary information like;

 Your valid email address
surname
First name
Mobile Number
State and LGA of Origin
password, then click on the Sign-Up button

Once that is done, you can lunch your browser and log in to your JAMB profile
Locate and click on the "Late (Retroactive) Application" on the sidebar
Select "Application for Admission Letter"
This will automatically generate a Transaction ID which will be displayed on the confirmation page screen
Review the details that appeared on the Confirmation Page. See if your names are well-spelled and if there are any errors needed to be corrected
Click on the Continue button to pay for the late admission application
If you wish to make payment with your card immediately you can do so by following the instruction you see on the platform. You can also use other payment channels like ATM, cash at the bank or Quickteller
On the Interswitch payment platform, you will be required to enter your card details and click on the Pay button
Your payment status will be displayed in the "My Payment Section" You will also be sent an SMS as well as an email containing your unique Transaction Identification and payment status
Once received, you can go ahead and click on the Continue button
Once payment is completed, you will be asked to provide the following:

Year of Exam and
JAMB Registration Number

After entering the information correctly, the application form will be displayed. You are to fill out the application form online taking note of the mandatory fields
Click Submit to complete your application to print out an Indemnity Form will be displayed for printing
You can take the printout to your institution for approval and resubmission to the JAMB state office
Once received, the approved form will be uploaded to your profile. You will receive a notification when this is done.
JAMB will now process your application. If Approved, your details will be changed as requested
Note: Payment for the JAMB late administration form costs ₦5000 and whichever way you desire to make your payment, you will also be required to provide your transaction ID which was earlier displayed to you and sent to your email account.