You can borrow data from Glo by dialing *321# and following the menu options. You can also subscribe to Glo "borrow me data" on the Glo website.
Glo data plan remains one of the cheapest and most accessible data plans you can find in Nigeria and with the introduction of the new Borrow Me Data campaign, Globacom claims to have the answer to its subscribers' endless cry for more data.
Glo's Borrow Me Data plan allows subscribers to borrow data credit of up to 2GB whenever they run out of data bundles and have no airtime balance to recharge their data plan. This is a perfect solution to keep subscribers online to enjoy their favorite events on various social media platforms. In case you are not sure of how to go about borrowing data as a Glo subscriber, this article provides you with all the guidelines you need to follow to borrow data and pay later.
What is Glo Borrow Me Data All About?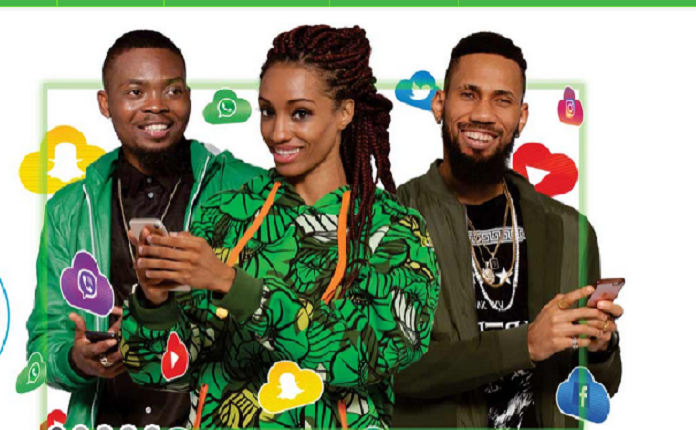 Glo Unlimited Borrow Me Data is a service introduced by Nigeria's third-largest network service, Gobacom, allowing eligible customers to ask for data credit when their data bundles are exhausted, and they are out of airtime to purchase a new data bundle or in case of unsuccessful subscription bundle activation due to low balance
How Can I Qualify For Glo Borrow Me Data?
To enjoy this service, you need to be a loyal and consistent Glo subscriber for at least three months and have a good usage history. This means that your level of consistency in your subscriptions will determine whether or not you can be allowed to access the data-borrowing package. Additionally, your average monthly usage must be above ₦200, and you must be a prepaid customer. In summary, your ability to borrow data depends on these conditions:
You should be a Glo subscriber for at least 3 to 4 months
Your account with Glo has to be activated and active
You have to keep a very positive usage history with the Glo network
 You should have no unpaid loans, otherwise, you cannot use the service again
Code to Borrow Data From Glo
The code for Glo Borrow Me Data is *321#. This short USSD code links you to a platform where you can choose a data package suitable for you. Interestingly, eligible subscribers have access to as much as 5GB worth of data to borrow and pay later. Below is a guideline on how you can successfully borrow data from Glo network using the *321# code.
Dial *321# and follow the menu options
Once this is done, you will receive a list of options asking you to either borrow data or Airtime
For this scope, enter the corresponding option for borrowing data
If you have entered this correctly, the next thing you will see is a list of the data amount you qualify for
Select that which suits your needs and send
In no time, you will receive an SMS from the network informing you of the Glo data credit and you are ready to begin internet surfing yet again
Note; Failure to pay the entire amount owed will deny you access to the service until you settle the debt. This can also adversely affect your credit rating which is important for qualifying for higher amounts in the future.
Glo Borrow Me Data Prices
50 Naira – you can borrow 30 MB of Glo data for 1 day for this price
100 Naira – You can possibly borrow 60 MB of mobile data from Glo for 1 day at this cost
200 Naira – you can enjoy 200 MB of data for 5 days if you pay this price
500 Naira – Gives you 1600 MB of Glo Mobile data from the Glo network for 7 days
1000 Naira – Gives you 3200 MB of data for the period of 30 days. So, enjoy Glo data subscription until you extend your data plan
2000 Naira –  Gives you a total of 5GB (4.4GB + 600MB Night*) worth of data for the period of 30 days
Note: There are charges attached to this new service. you will be charged 15% percent on top of your transaction price for each data borrowing loan.
The night plan bonus can be used between 12 am and 5 am.
How to Borrow Data From Glo Online
While the *321# USSD code remains the fastest and easiest method to borrow data from Glo, subscribers are also free to use the borrow me data package online. Use the Glo borrow me data online by following the processes below:
Visit the Glo network platform online at https://www.gloworld.com/ng
Locate the menu at the top right corner of the page
Select data from the list of menu options
Scroll down to locate the Borrow me data option and select it
You will be directed to Glo Borrow Me Data catalog
Select the data option that is most suitable for you
If you are eligible to borrow the data, you will receive an SMS informing you of the data credit and your data balance
Note: The data you borrow from Glo can only be used within the Glo network in Nigeria for browsing, web-surfing, and downloading mobile data. It cannot be used for phone calls within Glo, to other mobile networks, or to international operators.
Can I Borrow Data For Others?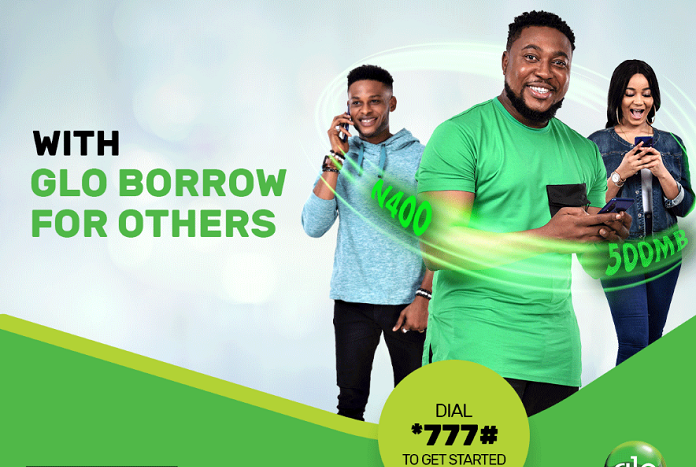 Yes! You can definitely borrow data for your close friends and loved ones if you choose not to share your data with anyone. This is another special package provided by Glo to its subscribers.
To use this package, simply dial the shortcode *777# or *321# and follow the menu options provided.
Frequently Asked Questions on Glo Borrow Me Data
What minimum balance should I have in my account to successfully apply for Borrow me data Service?
Glo subscribers can qualify for the borrow me data or borrow data for others with any balance in your main account as long as you meet the terms and conditions already discussed above.
Can I borrow more than once without repaying the first loan?
No, you can not use the Glo borrow me data again if you have not repaid the previous one you borrowed. You must first repay the first loan before being eligible for another.
What happens to my borrowed data in the event I replace my SIM card?
Your Glo Borrow me data service remains intact and will be accessible as soon as you restore your SIM card as long as the grace period has not expired, which is currently at 72 hours.