First Bank USSD Code is *894#, a banking service code that the bank made available to its customers for quick, easy, and convenient banking transactions. This code is used to perform numerous banking transactions which include payment of bills, money transfers, purchasing of airtime, checking of account balance, and a lot more.
The most interesting part is that it can be used at any time and anywhere, with any type of phone. This article is all about how to activate the code and use all the services it provides.
What is First Bank USSD Code?
The USSD code for First Bank of Nigeria is *894#.
According to Brett King, Banking is no longer somewhere you go but something you do. In a bid to make banking easier and more convenient for its customers, First Bank of Nigeria introduced USSD banking services, alternatively called Quick Banking. The *894# code affords registered First Bank customers an easy way of performing all types of banking transactions just with their phones.
Uses of First Bank USSD Code
It does not matter where you are, or at what time it is, you can always make use of the First Bank USSD code. The code is used for the following
Airtime top-ups
Money transfers
Balance checking
Mini statement deliveries
Payment of bills (electricity, cable TV, internet services, etc)
How to Activate the First Bank USSD Code
To activate the First Bank USSD code on your phone, here are the easy and simple steps to follow. It works with all kinds of phones and does not require airtime or internet access. Below are a few requirements you need to meet before the activation.
You must have an active account with First Bank
Your phone number must be linked to your First Bank account
You must have a debit card for the account
If you meet these requirements, then follow the simple steps below to activate your First Bank USSD code.
On your mobile phone, dial *894#
You will see a list of masked debit card numbers linked to your account displayed on your screen
Then, select your preferred debit card
Enter the four-digit PIN of your debit card that you selected
Now, its time to create a new 5-digit PIN, which is your First bank transfer pin
Confirm the new PIN and submit
You will promptly receive a message that reads "Congratulations! Your number has now been activated for First Bank USSD quick banking services…"
It is advisable that you use a pin that will be easy for you to remember.
How to Use First Bank USSD Code to Buy Airtime
Airtime recharge was actually the first type of transaction to become popular with the use of the USSD code. It has options for recharging for yourself and others. If you want to recharge airtime for yourself, simply dial *894*amount# and your line will be immediately credited. Then, to recharge for another line, dial *894*amount*the receiver's phone Number#.
How to Use First Bank USSD Code for Transfer
The First Bank Nigeria transfer codes offer seamless banking services that you may not have experienced anywhere. Not long after airtime recharge became popular with the USSD code, money transfer came on the scene. Since then, most people have literally left the banking hall for their mobile phones whenever they need to make a transfer.
To use your First Bank USSD code for money transfers, follow these easy steps
Dial *894*amount*recipient's account number#
Make sure to confirm the amount you are transferring, and then send
Enter your First Bank 5-digit PIN you created
Select your account to debit the money from
Submit
List of Shortcodes for Different Transactions Using the USSD Code
For registration: dial *894*0#
For transfer: dial *894*Amount*Account number#
For airtime recharge to your line: dial *894*Amount#
To recharge airtime for others: dial *894*Amount*Number#
To check your account balance: dial *894*00#
To get a mini-statement of account: dial *894*Account number#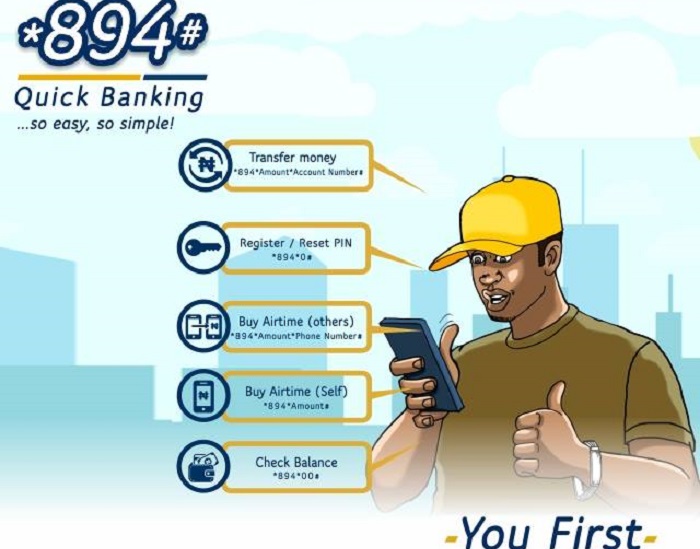 Can You Use First Bank USSD Code for Loan?
Do you need money urgently to solve a pressing need? First Bank is one of Nigeria's top banks that offer you a quick cash loan with low-interest rates and no collateral. Before you apply for the loan, here are some of the things you need to know about the loan before applying for it
Your salary account must be domiciled with First Bank

A loan amount of up to 50% of net monthly income is allowed.

The tenor for repayment is 30 days or the next payday (whichever comes first)

Maximum limit of N500,000.00

The interest rate at 2.5% flat is collected upfront

Management fee at 1.0% flat

Credit Life Insurance at 0.50% flat

The loan can be accessed up to three times a day, subject to the maximum eligible amount
Steps for the Loan Application
Dial *894# on your phone
Select option 3 which is "get a loan"
The next menu will display the amounts you are eligible to loan
From the options, select the desired amount you want to loan and send
The next menu will display the interest rate, insurance, and management fees
Input your 5-digit transaction PIN to accept the terms and conditions
After you have accepted the T&C's, the loan is disbursed into your account within some minutes

Immediately, your account will be debited for the interest rate, insurance, management fee, and VAT as upfront fees and charges

Upon receipt of salary or within 30 days (whichever comes first), repayments will be debited
How to Deactivate First Bank USSD Code
Dial *894*911# from any line and enter your phone number that is linked to the first bank account you want to deactivate. The USSD code will be deactivated immediately.
Given some kind of fraudulent activities that might occur sometimes, First Bank provided its customers full control of how to deactivate the USSD code on their mobile devices. There is a whole lot that can be done to your account through the USSD code if your phone got stolen or a fraudulent person gets hold of it. So, if you ever get your phone misplaced, the immediate thing you should do next is to block and deactivate your First Bank USSD code by dialing *894*911# from any line and entering your phone number that is linked to the first bank account.
Note: There is no code yet for reactivating a blocked USSD code. If, after you sort out the issue that made you deactivate the code, and you want to reactivate it, you have to visit a First Bank branch nearest to you for assistance.
It is in the news that more financial services will be made available in no distant time through the First Bank USSD code channel. Also, some other banks will shift from mortar offices to electronic channels wherein the USSD code will be the king.