The Nollywood movie industry can boast of some names that have not only become household names but also resonate with integrity and command respect even beyond the industry. One such name is Edochie. The name was made prominent by Pete Edochie, the patriarch of the Edochie family, who has about 6 children comprising of 5 sons and a girl. Among his five sons is Linc Edochie, and like his father, Linc is also a successful actor and filmmaker. But who is more successful among the Edochie brothers?
Linc Edochie Grew Up Alongside His Five Siblings
The filmmaker was born to the veteran and powerful actor Pete Edochie and his wife, Josephine Edochie, on 10th May 1977 in Lagos State, Nigeria, where he was also raised. He is the third son in a family of five boys and a girl. Linc is also the elder brother of one of Nollywood's finest actors Yul Edochie.  He attended Federal Government College Wukari from 1990 to 1994 and furthered his studies in Fine and Applied Art at Imo State University between 1994 to 1999.
The 46-year-old actor tied the knot of conjugal bliss with his sweetheart, Amaka Paula Linc Edochie, on 4th December 2010. Their marriage is blessed with two daughters named Janinah, born on 15th August 2011, and Giovanni Linc Edochie, born on 12th November 2014.
Linc is mostly known to play the humble character of a protagonist (unlike his father and sometimes, his brother) in the role of either a pastor or a priest in movies, which he portrays very well. Some of his movies include The Graduates, Scratched The Manipulator, The Principalities, Victim, Family Regardless, Ghost Lovers,  Royal Revenge, Royal Love, The Millions Men, etc.
Pete Edochie Influenced Linc's Acting Career
The movie producer is known to have started his acting while in school. He was approached by someone who told him a drama they were preparing for required the role of someone like him, and the person beckoned on Linc to feature in the drama. According to him, his acting was not fantastic, but it created room for him to improve his acting skills. However, growing up with a renowned actor as a father also hastened his answering the call of an actor. 
In an interview Linc gave, he recounted how his father, in his wisdom, had insisted that everybody completes their schooling before going into anything, and that includes him and his acting career. He also noted that his father would make them watch movies when they were growing up, especially those with a good message. He would also assign them roles and instruct them to explain to him what they had learned. This paved the way for them as adults, especially those who aspired to follow in their father's footsteps. 
As for how he got into movies and became famous, the movie director further recounted how his father had recommended him for a movie role that required a younger version of himself to play the role of an Igwe. His father didn't hesitate to recommend him, even though he was considered somewhat skinny. He only reminded him to remember all he had taught him and not fail to put them into practice. Since then, Linc had continued to feature in movies until he took his long break from the acting industry.  
When asked in the aforementioned interview if he could be referred to as an entertainer, he said no, because according to him, the world of entertainment is too broad. Therefore, streaming down what he does as entertainment will be reducing the quality of the title. 
He is also into Movie Scriptwriting and Owns a School
Aside from being an actor, Linc is also a scriptwriter, movie producer, and movie director. He is not just talented in the movies; his creative genes extend to master of ceremony and motivational speaking.
The actor didn't just stop there, as he is also a fitness enthusiast and consultant. In addition, he and his wife own and co-run the popular AGlow Baby Haven, a school comprising creche, pre-nursery, nursery, and primary school located in Abuja, where they reside. 
Who is More Famous Between Linc Edochie and Yul Edochie?
Fame has never been a strange word to the Edochie's. They are all famous for what they do. However, in the case of Lincoln and his younger brother, Yul Edochie, outrightly asserting that one is more famous than the other without looking at their different coming to limelight stories and how they have been since then would make it difficult. 
Being the first son of the veteran actor Pete Edochie who joined the movie industry, one can assert that he attained fame quite early. However, his fame seemed to have paused after taking a long break from acting to explore other lucrative skills he has. On the other hand, Yul came into the industry in 2005 and has won his place in the heart of his fans and audience. Even after his brother went on break, he moved up the ladder to become not just a regular face but an outstanding actor and multiple award winner.
 Is Linc as Successful as His Father and Brother?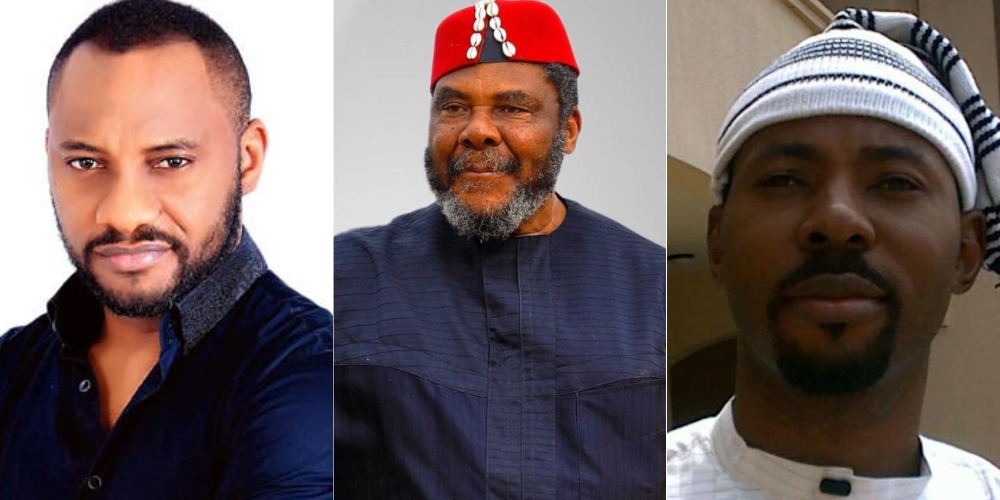 The Veteran actor Pete Edochie is one of the most influential and richest Nollywood actors who had worked his way to success and fame even before Nollywood grew big as it is now. With his houses, cars, and a net worth of $4 million, he ranks well among the most successful men of his generation.  
While Yul Edochie has a net worth estimated between $100 thousand and $1.8 million and multiple sources of income that foots his bills alongside his houses and cars, one can assert that he is more successful than Linc.
Linc Edochie is one of Nollywood's finest and highest-paid actors with a net worth of about $50,000, as evidenced by his career, business, cars, and mansion at a different location in Nigeria. Therefore, he can be considered successful though he falls below his father and brother in a wealth ranking.
However, following his return to the industry with a blockbuster, The Millions, where Linc played the character, Babs, he is beginning to win back his fans and walk his way back up to where he had been before his break. So, perhaps, we should expect to see his net worth skyrocket in the not-so-distant future.