Regina Daniels (born on 10th October 1998) is a 24-year-old Nigerian actress, film producer, brand influencer, and businesswoman. She is also famous for being the fifth wife of Ned Nwoko, a Nigerian lawyer and politician.
Regina Daniels has since become a household name in the Nigerian film industry. She gathered fame, first via her acting career, and then launched a higher level of fame after she got married to billionaire politician and businessman Ned Nwoko amidst all criticisms due to the age difference between them. Even though she is still in her 20s, Regina has become one of the most popular celebrities in the Nigerian entertainment industry.
Regina Daniels' Bio
AGE: 24 Years Old
BIRTHDAY: 10th October 1998
BIRTHPLACE: Lagos, Nigeria
BIRTH SIGN: Libra
ETHNICITY: Igbo
FATHER: Jude Ojegwu
MOTHER: Rita Daniels
SIBLINGS: 4; Emmanuel, Lawrence, Samuel, and Destiny
What Is Regina Daniels's Age Currently, and Where Was She Born?
Regina Daniels is currently 24 years old. She was born on 10th October 1998 into the family of Mr. Jude Ojegwu and Rita Daniels in Lagos, Nigeria. Though born in Lagos, Regina is originally a native of Azungwu, Ogwashi-Ukwu in Delta State.
She came from a middle-class family and is second out of five children. Regina was raised in Asaba, Delta State, alongside her four siblings, Emmanuel, Samuel, Lawrence, and Destiny.
She spent her formative years in Lagos, but her family later relocated to Asaba, and there, she received her primary and secondary education. Afterward, she studied Mass Communication at Igbinedion University, Benin City.
Regina's Real Age was Revealed Through Her Voter's Card
Over time, the general knowledge is that Regina Daniels was born on 10th October 2000. This was backed up by her claims and Wikipedia information, making fans believe she is 22 years old. But today, many people have come to the knowledge of what her actual age is.
This revelation was made in 2019 when she was campaigning for the Youth Coordinator of Atiku Abubarkar. The actress posted a photo of her PVC on social media and showed her birth date. Even though one of her fingers covered some part of the information, it was realized that her birth year started with '19', which is against the year 2000 on record.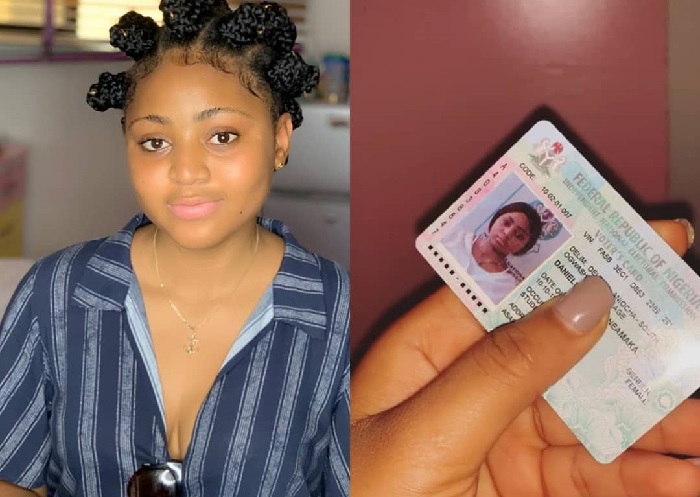 With the available details on her voter's card, a Nairaland fan took it upon himself to verify the information on the INEC website. The result showed that contrary to the widespread belief and her claims, she was born in 1998. This revelation sparked a minor controversy but shortly died off as there were heavier controversies surrounding the actress, like her marriage to the billionaire politician.
Regina Daniels Became Ned Nwoko's Wife at the age of 20
Regina's fame took to a different height, and her name made headlines with a news report in April 2019. It was reported that she is in a romantic relationship with Ned Nwoko, and he is the one funding her lavish lifestyle. At first, fans and the general public considered it the normal internet rumors and speculations against celebrities, especially actors. But, no, it eventually became a reality.
On 26th May 2019, while the news was still making rounds, the two had already gone on to get married in a traditional wedding ceremony at the actress's hometown in Anaocha LGA, Delta State. According to reports, actress Regina Daniels and Ned Nwoko met for the first time at his Mount Ned Nwoko Resort in Asaba when the actress visited with her family during a vacation. They reportedly got married barely three weeks after they met.
She Got Married to Ned Despite Their Huge Age Difference and all Criticisms
Regina continued making headlines following her marriage to the politician and literally became the talk of the town. People were all up with many negative reactions, specifically after realizing the age of the man she was marrying. Born on 21st December 1960, Ned Nwoko is 62 years old and is 38 years older than Regina.
In addition to the huge generational gap between them, fans criticized that she was barely an adult and that the man was already married to four wives with numerous children. However, fans concluded that Ned Nwoko's wealth is the sole reason she agreed to marry him and went on to call the politician out, accusing him of greed and sexual pervasion.
Meanwhile, while some believed that it is way better for the actress to marry the man legally than to be his side chick, others strongly disapproved of it. Alongside criticisms from her fans, Regina's father, Bar. Jude Ojegwu also was not in support of the marriage and openly kicked against it. According to her father, Regina is still a child and has no business marrying a man of such age. His disapproval of the marriage resulted in his exclusion from the whole marriage process.
Amidst all criticisms, Regina married Ned, and they have remained married. In one of the interviews she granted, the actress said that this is what she wants because it couldn't have worked with someone around her age, given that she is a very stubborn person. Besides that, the actress does her best to put all criticisms aside and focus on her marriage.
Regina Daniels Gave Birth to Her First Child at the Age of 21
All controversies over time have been quelled, and the actress's marriage has so far produced two children. Regina Daniels gave birth to her first child, Munir Neji Ned-Nwoko, with her husband on 29th June 2020. The news broke on the internet after one of her brothers posted it on Instagram.
Her fame grew yet again after the birth of his son. Notably, each milestone the actress made takes people back to criticizing and accusing her of marrying Ned because of financial exploitation. But, Regina lives her life to the fullest, and it has become obvious that she does not care a bit about people's opinions.
On 29th June 2022, exactly two years after the arrival of her first child, Regina and he husband welcomed their second child. She took to Instagram the same day to announce the news and posted a black and white maternity photo of herself in a long black tube dress. This is a remarkable event as Munir and her brother now share the same birth month.
Regina Daniels and her husband Ned have since remained a subject of a documentary, and their family regularly makes entertainment news. But more significantly, the couple has always expressed satisfaction with each other, and it appears all is just well in the Daniels-Nwoko family.