Naira Marley (born 10th May 1991, Age: 32 Years Old) is a Nigerian singer also known as the president of the controversial and eccentric fan base known as the Marlian Association of Nigeria (MAN).
His name sends ecstatic vibes down the spines of music lovers as he is one of the hottest and most popular musicians in Nigeria currently. The star sings in English, Pidgin English, and Yoruba; his genre is Afro Hip-hop fusion. With sensational melody and dance moves, no doubt, he has become a force to reckon with in the Nigerian music industry.
He is controversial as his life on camera is different from his day-to-day life. Contrary to the expectations of the uninformed, Naira Marley is well-educated and a responsible family man who lives according to the tenets of Islam. His popularity, fame, and controversies he has courted have begged the question of who is Naira Marley?
Profile Summary of Naira Marley
Full Name: Azeez Adesina  Fashola
Date of Birth: 10th May 1991
Age: 32 Years Old
State of Origin: Lagos State
Nationality: Nigerian
Marital Status: Married
Profession: Musician and Songwriter
Place of Birth: Agege, Lagos State
Net Worth: $1,000,000
Naira Marley was Born 32 Years Ago in Lagos State
Azeez Fashola, also known as Naira Marley, is a 32 years old Nigerian musician, record producer, and songwriter who has dazzled music fans with his melody and music fusion. He hails from Lagos State in South Western Nigeria and was born to Mr. and Mrs. Fashola on 10th May 1991. Marley is not the only child of his parents, as he has several siblings. He is a polygamous man with two wives and is the father of four lovely children (two boys and two girls), who are British citizens, all residing there.
At age 11, Naira Marly moved to Peckham, South London, England. This is where he spent most of his childhood. He attended Porlock Hall then proceeded to Walworth School in the United Kingdom, where he obtained his General Certificate of Secondary Education (GCSE). He went further to Peckham Academy, where he obtained a Distinction in Business. His drive for education made him enroll at Crossways College (Now known as Christ the Sixth Form College) and graduate from Business Law. Ironically the "las las school na scam crooner is a well-educated fellow," it is no wonder to be a senior Marlian, You have to be a graduate of any tertiary institution.
He Began His Music Career in 2014
While growing up, Naira Marley had a profound love for music; he always wanted to be a Master of Ceremonies (MC) and a voice-over artist. While he was at Peckham Academy, he managed the rap careers of his MC friends. As he discharged his managerial duties, he discovered his passion and talent for music. His talent did not go unnoticed by his friends, as when they had a song to produce, there was still room for another artist to sing. His friends encouraged him to fill the spot; he did, and it was the beginning of more recordings to come.
He released his first EP titled "Gotta Dance" in 2015 and began to gain a decent following. By December 2018, Naira Marley collaborated with Olamide and Lil Kesh and released the single titled "Issa Goal." The song became the official song for the Super Eagles (Nigerian Male National Football Team) during the 2018 FIFA World Cup. He continued singing, and on 16th June 2018, he released the Remix of Issa Goal featuring Falz, Simi, Slimcase, Lil Kesh, and Olamide. At this point, his name had become a household name in the music industry.
Naira Marley has further released hits like "Am I a Yahoo Boy" (a song that sent him to jail) and the smash hit "Soapy" (which topped the Nigerian charts for 10 weeks). In 2019, he released his second EP, "Lord of Lamba." His musical career has grown astronomically to the extent that he has a fanatic fan base called "Marlians." He has a record label Marlian Records, and has signed some upcoming artists to his label.
Popular Songs by Naira Marley include the following:
"Tesumole"
"Opotoyi"
"Koleyewon"
"Back to work"
"Why"
"Mafo"
"Puxa"
"Tingasa"
EXTENDED PLAY (EP)
"Gotta Dance" 2015
"Lord of Lamba" 2019
His young music career has also not been bereft of awards. At least he has an award to his name which is the:
Sound City MVP Awards for Viewer's Choice 2020
Meet Naira Marley's Father, Mr. Fashola Who is a Successful Businessman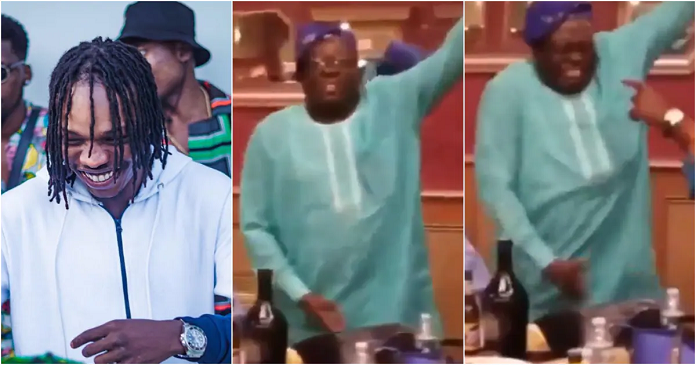 Not much is known about his family, as the musician is discreet when it comes to family. But we do know he comes from a large family, having a lot of siblings. Mr. Fashola is the father of Naira Marley. He is not a popular man, so very little is known about him. He attended the court hearing in 2019 when his son was charged with credit card fraud.
He is an ardent supporter of his son but not a social media person. It was gathered that he is a successful businessman who loves and cares for his family exceptionally. Mrs. Fashola is the mother of the prolific artist; like her husband, little is known about her too. She was always with her son in court while he had issues with the authorities.
Naira Marley Has Three Known Younger Siblings
Shubomi
Real name: Mariam Fashola
Date of Birth: 21st March 1998
Mariam Fashola is also known as Iyalode Gbogbo Marlian. The last child of the Fashola family, she is a Nigerian model and Instagram influencer. Mariam works closely with Marlian Records and sometimes appears in the labels video shoots. She currently resides with her elder brother in Lekki.
Shuddy Funds
Real name: Babatunde Moshood Fashola
Date of Birth: 24th September
Naira Marley's lookalike younger brother Babatunde Moshood Fashola, popularly known as Shuddy Funds, celebrates his birthday every 24th September. He was born and bred in Agege Lagos. Like his brother, he is an entertainer, talent manager, and hype man. He studied at Robbinsdale Cooper High School and Olabisi Onabanjo University (Engineering). Shuddy Funds became popular when his elder brother bought him a mansion; he is signed to Marlian Records, and his net worth is estimated to be $250,000.
Marley Jnr.
He is popularly known as Marley Jnr. He is another younger brother of Naira Marley. Idros was born and bred in Ikotun Lagos; he studied at Moshood Abiola University Abeokuta Ogun State, South-Western Nigeria but it is not yet known what course he studied. His hobbies are football, swimming, and snooker. Marley Jnr. made waves when he purchased a pendant worth N25M.
Other relatives include an uncle who is a car dealer, an elder sister who is a food vendor also in Lagos, but their names are unknown.