Bukky Wright (Full Name: Oluwabukola Sekinat Ajoke Wright, born 31st March 1967) is a 56-year-old Nigerian actress and businesswoman who became famous for her role in the popular Yoruba movie, Iyore.
She started her career in 1996 and has featured in many movies and TV shows, including Red Hot, Iyore, When Love Happens, Special Jollof, etc. Following her exceptional acting skills, Bukky features both in English and Yoruba movies, but she is most popular in Yoruba movies. Apart from her amazing acting career, the beautiful actress is also a politician and has contested to represent Ogun state in the Nigerian House of Representatives.
Biography and Profile Summary of Bukky Wright
Full name: Oluwabukola Sekinat Ajoke Wright
Date of Birth: 31st March 1967
Age: 56 years old
Place of Birth: Abeokuta, Ogun State
Ethnicity: Yoruba
Nationality: Nigerian
Marital Status: Married to Adewale Onitiri (2011)
Children: Eniola Amu-Wright, Olugbenga Jerry Amu-Wright
Education: University of Lagos, Nigeria
Occupation: Actress, Politician
Years Active:  1996-present
Bukky Wright Was Born to a Christian Father and Muslim Mother
Bukky was born Oluwabukola Sekinat Ajoke Wright on 31st March 1967 in Abeokuta, Ogun State, Nigeria. Though details of her early life and family are not on the public stage, it is known that her father is a Christian, while her mother is a Muslim. Bukky grew up with her parents as a Christian but later converted to Muslim sometime in her early 40s. We do not know whether she has any siblings nor where they are now.
The film star completed her primary and secondary schools in Abeokuta. Upon graduation, she proceeded to the University of Lagos, where she acquired a bachelor's degree in Economics. While in high school, Bukky would join the drama group in all of the stage plays and drama they acted. She participated actively and took up excellently the minor roles she was given.
She Started Acting Professionally At Age 29
Following her graduation, the actress no longer found the course she studied interesting and decided to go into acting full-time. This, we believe, was due to her passion for acting right from a young age. So, she joined the Nollywood industry in 1996. She first started with a minor role in her first movies, and the directors of the movies were highly impressed by her performance and subsequently started giving her major roles.
Since then, actress Bukky has remained active and relevant in the movie industry. She was once featured in Wale Adenuga's TV series, Super Story, which won the best television series at the Nigerian Broadcasters Merit Awards in 2016. Bukky is very imaginative and skillful and has utilized her talents to interpret several movie roles and fit into any character given to her.
Although she has starred in notable English movies, the actress is perhaps most famous for acting in Yoruba movies and her emotional roles. Adding to her acting career, Bukky owns a record label company called Wright Media International. The actress cum businesswoman has a clothing brand known as B Collections and a beaut spa, B Wright, and has signed multiple endorsements deals with high-ranking companies in Nigeria such as Chivita, Milo, etc
Talking about A-list actresses in the industry, the list will not be complete without mentioning Bukky Wright. She has directed, produced, and featured in several movies, including:
Saworo ide
Above Love
Abeni
Outkast
Omotara Johnson
Unforgivable
Afefe Alaafia
Dugbe Dugbe
Nkem Temi
Ago Meje
Habitat
Red Hot
Iyore
When Love Happens
Special Jollof
Highlights of Bukky Wrights Awards
Over the course of her career, the actress has won the following awards:
Best Supporting Actress at the Africa Movie Academic Awards
Most Promising Actress in Nigeria at the City People Entertainment Awards
Best Actress in a Television/Drama at the African Magic Viewer's Choice Awards
Besides Acting, Bukky Wright is also a Politician?
Aside from acting, popular Nollywood actress Bukky is also a politician. She began her political career in 2014 when she contested to represent Ogun State in the Federal House of Representatives under the Social Democratic Party (SDP). Sadly, she did not emerge the winner but was proud of herself for attempting. She lost the election to Joseph Sopade, the former aide of the state governor, Ibikunle Amosun.
During the campaign for the election, Bukky was mixed up in a controversy after her opponent accused her of not being the mother of her two sons, Eniola and Gbenga. However, she debunked this accusation, saying it was only an attempt to stop her political campaign. Her participation in the election undoubtedly contributed to her popularity and success at large. She mentioned that politics is a thing of interest to her and gives her fulfillment.
The Actress is Currently in Her Fifth Marriage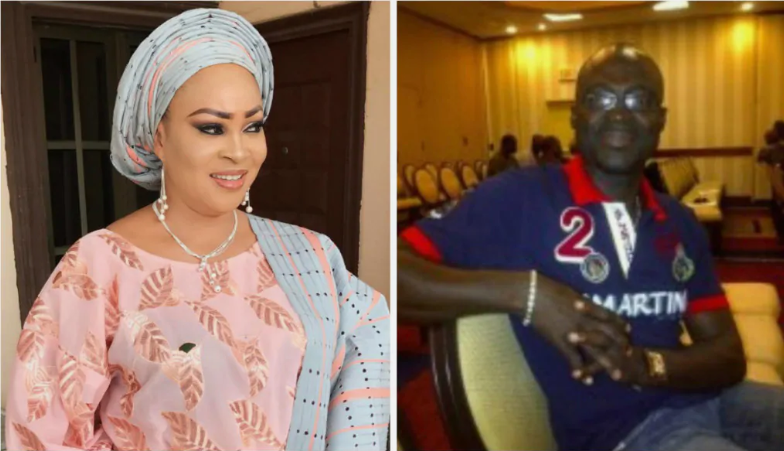 Given the scandals and rumors that live in the entertainment industry, most celebrities today prefer to keep sealed lips on their private lives, especially regarding love and relationships. Bukky Wright and US-based business mogul Adewale Onitiri got married in a private wedding ceremony in 2011. Currently, her fifth marriage, the wedding, whose attendance was strictly by invitation, was held in New Jersey, USA.
However, the couple automatically became quiet and secretive about their marriage just two years into their marriage. Rumors started peddling that the actress has gotten a new lover and has returned from the USA to Nigeria to focus on her acting career. As it stands now, there is no reliable information about Bukky's marriage to Adewale, whether they are still married or officially divorced.
A Look At Bukky Wright's Marriage History To Date
The beautiful Nollywood actress has loved many times, but it seems she is not lucky in that aspect. She has been married five times, and through her marriages, she is a mother to two children, sons named Eniola and Gbenga. Let's look at the men she has married below:
Gboyega Amu: This was Bukky's first husband, and while details about their union are not available in the public space, it is noteworthy that the marriage produced the two children she has now, Eniola and Gbenga.
Rotimi Makinde: Rotimi was Bukky's second husband and is now a Federal House of Representatives member. Nothing much is known about their union, including when how it started and ended.
Femi Davies: Bukky's third husband, Femi, is a popular Nigerian journalist. Like her other marriages, information about her union with Femi is nowhere to be found.
Bolaija Saheed: After her failed marriage with Femi, Bukky married a music promoter, Bolaija. Like her third marriage, this didn't last long before they went their separate ways.
Adewale Onitiri: This is her fifth husband, and there are rumors that the marriage has already crashed, yet there is no concrete nor official info on that account.
Meanwhile, there are no details on the public arena to know the reasons behind the actress's reoccurring marriage crash actually. However, Femi Davies released a video in 2019, where he revealed why his marriage with the actress didn't work out.