MC Oluomo's net worth is $1.2 million, which is no less than N411 million. This makes him one of the richest and most popular persons in Lagos State. He is an indigene of Lagos State and the current chairman of the National Union of Road Transport Workers (NURTW) Lagos State Chapter.
Take a look at how he was able to amass so much wealth and what he typically spends his money on.
MC Oluomo Has Made $1.2 Million From Being an Agbero 
The NURTW boss was a transporter in Lagos State. Through hard work, he became the head of the union's Lagos State branch. The amount he makes from being the head of the union is not public knowledge. However, with a net worth estimate of $1.2 million, he has become the richest agbero as people and the media casually refer to him. He is also an ardent supporter of one of Nigeria's most popular and ruling parties, the All Progressive Congress. He possibly earns money from the contracts he might be getting from the party, as typically seen in Nigeria's political space.
Like most transporters, MC Oluomo worked hard to get his daily bread and being a member of the union of the said transport workers. His hard work fetched him the position of Chairman of the Oshodi Branch of Lagos State NURTW. Also, at a point, he became the treasurer of the association in Lagos State.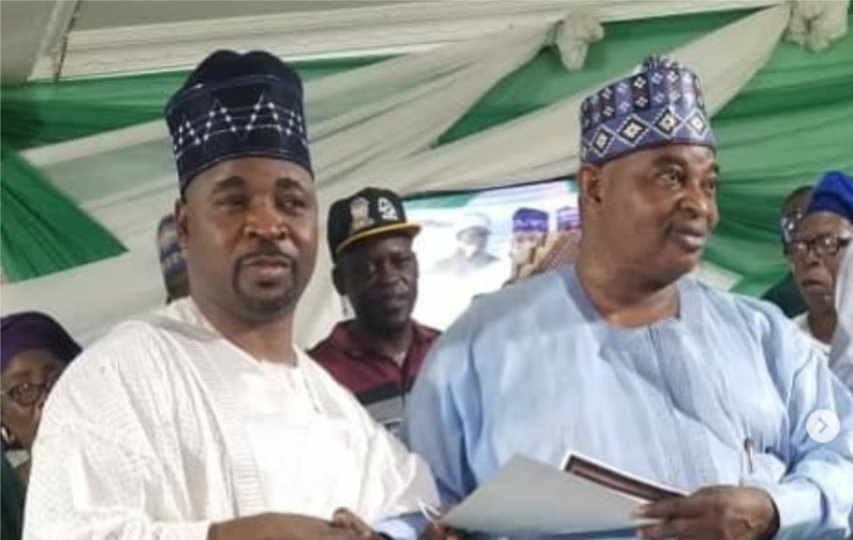 More so, before becoming the chairman of the famous union, MC Oluomo had been a member of various committees. It became almost certain that he'd end up as the chairman of the body someday. The former chairman of the union in Lagos, Tajudeen Agbede, was promoted to vice president at the national level; hence, he moved to Abuja. Also, the executive he worked with was dissolved, creating room for a new one. Following that development, an 18-man committee was set to form a caretaker committee to keep the body running smoothly in terms of management.
When MC Oluomo was appointed as one of the caretaker committee members, some of his colleagues registered their displeasure about him being a committee member. According to them, he'd use that opportunity to impose himself as the leader of the committee. True to their concerns, not long after his appointment, MC Oluomo became the new caretaker chairman of NURTW in Lagos State in September 2019. His inauguration took place the following month.
Despite MC Oluomo's Net Worth, He is Still Called a "Load Carrier"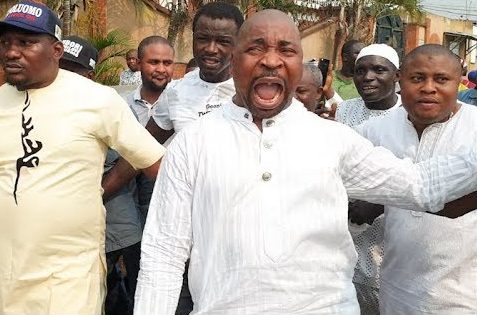 Agbero is a name that loosely translates to "load carrier," which would not be badly used on transport workers like drivers and, more especially, conductors. However, it has come to be used derogatorily to refer to area boys and ne'er-do-well in general.
Asides from being into the business of transportation, it is common knowledge that MC Oluomo has the loyalty of many area boys. These area boys popularly referred to as agbero, aside from their load carrying work in motor parks, are now usually used for dirty works, some of which are the hijacking of ballot boxes during elections, distracting an opponent's campaign, riots, etc. Oluomo has been rumored to organize these area boys and use them for these dirty jobs; hence, he is their boss. This could be why he is referred to as not just agbero but the richest of them all.
Furthermore, it is general knowledge that he has become a major stakeholder in the politics of Lagos State, where he is involved in determining who wins a poll. This activity is also said to not only enrich him but buy him political friendship.
From NURTW to APC – is MC Oluomo now a Politician?
The richest Agbero, as he is popularly called, is friends with the one-time governor of Lagos State and the chieftain of APC, Bola Ahmed Tinubu. He refers to Tinubu as his father, mentor, and leader.
Rumor mills once had it that the union leader was making plans to contest for a political office in Lagos State. This could be due to his closeness to Tinubu (the supposed kingmaker of Lagos State) and his unwavering support for the popular ruling party, APC. However, MC Oluomo, in a session of Public Eye with Funmi Ayanda, countered the narrative.
He noted that he was a full-time supporter of the political party, APC, but he wasn't interested in any political office. Although he has his constitutional right as a citizen to contest for political office, he still stood firm that he wasn't interested in contesting for any political office. Be that as it may, time will tell.
MC Oluomo is close to top Nigerian politicians, and he is also close to some Nollywood actresses. One can assert that his status as a No. 1 Celebrity Agbero and his money allow him to meet popular celebrities and live an extravagant lifestyle.
What Has MC Oluomo's Net Worth Afforded Him?
With MC Oluomo's net worth running into hundreds of millions of naira, he is one Nigerian celebrity who many people keep wondering how he can amass so much wealth being an agbero. His wealth is evident in his luxury lifestyle, which extends to his family members.
Though he is not one to flaunt his automobiles, several cars have been seen in the pictures he posts from his home in the USA to those in Nigeria. In the USA, he drives an Infiniti SUV valued at a starting price of$56,000, which is about N24 million.
Back home, he has a 2017 Toyota Corrolla, worth about $18,000 or N7 million. Also, he reportedly gifted one of his daughters, who graduated from the university, a Toyota Venza with a starting price of over $42,000 or about N17 million at the time.
As strange as it may seem, MC Oluomo gave out 5 SUVs worth about N100 million in early 2020 to mark his first 100 days in office as NURTW boss.
Luxury Homes and Real Estate
Aside from his cars, MC Oluomo has a luxury home in the Ejigbo Suburb of Lagos and another house in Ajao Estate. He also bought a mansion at Isolo at an address that is not public knowledge. Likewise, he owns several landed properties, lands, houses, and other investments that are not public knowledge.
With MC Oluomo's net worth, not only does he attend high-class parties, but he also hosts some. MC Oluomo once hosted a braless party in March 2016 to celebrate his birthday. The party was blessed with the presence of actresses and popular girls.
He Spends Heavily on his Family
The NURTW boss is a husband to three wives who live luxuriously in three different locations where he built them houses. MC Oluomo once shared a picture of a new house he built for one of his wives Alhaja Temitope Adunni Akinsanya, in January 2020. As of 2021, Oluomo was reported to be in a relationship with a Lagos socialite named Ehi Ogbebor.
Moreover, his three wives have birthed nine children so far, whom he lavishes his wealth on with reckless abandon. Most of them are abroad studying in American high schools and universities. He has been invited to the home of a US serving governor for dinners when had gone to one of children's graduation ceremony in the US.