With a net worth of $460,000, Olamilekan Agbeleshe (Laycon) who won the 2020 BBNaija reality TV show stands out as one of the richest winners to have emerged from the show.
Success, they say comes to those who are busy looking for it, Laycon has proven this saying to be true. He was someone constantly looking forward to achieving success while in the 2020 Big Brother Naija house. He won the reality TV show with a margin that many referred to as "observing social distancing", in line with the COVID-19 pandemic guideline. Following his win, multiple gifts, rewards, endorsements, and opportunities opened up for him and all these keep adding to his $460,000 net worth.
Laycon's Rise to Fame
Before joining the Big Brother Naija Season 5 show in 2020, Olamilekan Moshood Agbeleshe was known among his mates as a rapper and singer. He was born in Lagos state where he also grew up and had both his primary and secondary school education before proceeding to the University of Lagos for a degree in Philosophy.
Laycon as a graduate worked as a sales and business development staff in Bestman Games, Ikoyi. He then became the PA to the assistant director of welfare in the Administration and Human Resources which was under the Lagos State Ministry of Information and Strategy.
The 29 years old rapper started nurturing the idea of being a professional musician since childhood before finally emerging as one of the finest rappers in Nigeria. His rise to fame was greatly influenced by his participation in the BBNaija show which remains one of the biggest reality Tv shows in Africa. However, he had already made a good impression in the music world years before his eventual fame in 2020. He released many singles such as "No Know", "Elevate" and "I Lie" and had performed in the 2014 Coke Studio University of Lagos Music event. He was even one of the top ten finalists of the 2017 MTV base LSB challenge.
A year before joining the Big Brother house, Laycon signed with Fierce Nation Record Label and under the company, he released his song "Fierce" featuring Chinko Ekun and Reminisce; and "Senseless". While the former was from his record EP Who is LaYcon (2019), the latter dropped in August 2020. His impressive catalog of music helped him  win the heart of other top players in rap music including Chocolate City.
What has Laycon been Doing After His BBNAIJA 2020 Win?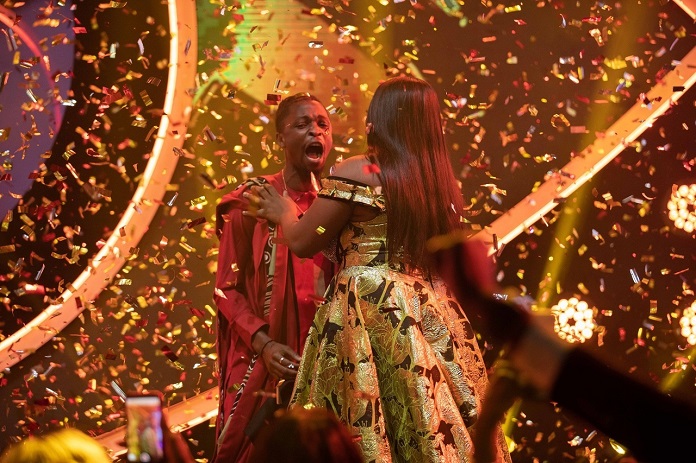 Laycon joined the Big Brother Naija house on July 19, 2020, and it didn't take time before he established himself as a fan favorite. During his stay at the house, he reportedly became the first housemate to be verified on Instagram. He also broke the record as the first housemate in the history of the show to reach one million followers on Instagram while in the house. He eventually emerged winner of the reality show on September 27, 2020, after taking over 60 percent of the total votes. Other things that aided his rise to fame include the following:
Cover and Featured Music Production
Before his singles, the iconic rapper has managed to cover music videos of Top Nigerian rap musicians. This act added more popularity to his music carrier as his name became one of the most searched on the internet. He also collaborated and featured other talented and popular artists such as Dj Neptune, Joeboy, Blaqbonez, and Terry Tha Rapman. Laycon is now one of Nigeria's finest artists in the rap game.
Making Freestyle Music
Amongst other collaborations and endeavors, Laycon sure knows how to amaze his fans with his bars of freestyles. One of his best freestyle was debuted on Jimmy's Jump Off Show by legendary Dj Jimmy Jatt. On the show, Laycon also rapped to Wizkid's 'No Stress' beat. While dressed in a cool-looking hoodie, a pair of glasses, he sometimes looked at his iPhone as he took the freestyle to another level. Laycon killed it halfway to the end of the rap and was commended by the Host, Dj Jimmy Jatt.
The Icon Show: I Am Laycon
Moving on with other endeavors to push his career further, Laycon succeeded in starting his reality show on Showmax. This is a big one for the star and also for his fans. The show, "I Am Laycon" is all about him, his struggle to the top, the things he has faced on the road to fame, and of course life as a celebrity. It also features cameos from the BBN Lockdown housemates such as Victoria Adaeyele, aka Vee, and Lili Aderogba.
"I Am Laycon" will be streaming across the UK, Australia, France, and 23 more countries thanks to Showmax bringing a world-class audience to the show. The show was launched on the 11th of February releasing a set of 5 episodes.
Social Media Influencing
It is a norm for young enthusiasts today and particularly Nigerians to turn to Social Media Influencers once they hit a score of followers on your social media.
Few days after Laycon entered the Big Brother house, speculations were all-around social media on who he might be outside the house. As these specultions went on, his fan base and followers increased. Laycon, with 3.2million followers on Instagram, is now a big Instagram Influencer promoting both his music carrier, his TV show, and other brands such as GoTv, Origin, and Jumia.
Brand Endorsements Laycon Earns Money From
With the fame that came with his emergence as the winner of the 2020 BBNaija Lockdown edition, Laycon has drawn admiration from many companies producing goods or services people need. To this end, the celebrity has been able to land a couple of rewarding endorsement deals which he now earns from.
Oppo Nigeria
Laycon signed an ambassadorship deal which reports being worth millions of naira with a top technology company, Oppo, in November 2020.
GOtv Nigeria
GOtv Nigeria unveiled Laycon as its newest brand ambassador in November 2020. Laycon's announcement as GOtv's brand ambassador was followed by a 5-city roadshow/musical tour to promote both his music and the GOtv brand.
Orijin
Still, in November 2020, the top Nigerian alcoholic beverage brand, Orijin Nigeria named Laycon and Neo Akpofure who was his co-finalist as their newest brand ambassadors.
Mentos Fresh
Nigerian candy brand, Mentos Nigeria, announced on November 20, 2020, that Laycon has joined their team as a brand ambassador. Laycon's Mentos deal is reportedly worth millions of naira.
Beautiful and Body NG
In December 2020, Laycon signed to be the brand ambassador for a skincare company, Beautiful and Body NG. The unveiling took place at the company's office under the watch of the company's representative, Babatunde Oyebode. The skincare company was founded in May 2020 from a mother company, Beautiful Body UK which has been in existence for years. Other celebrities that have signed a contract with Beautiful and Body NG are Mercy Eke, Wathoni Anyasi of BBNaija 2020, Priscilla Ojo, Iyabo Ojo's daughter, and Jemimah Erheriada a.k.a Crackhead Extra.
Ogun State Youth Ambassador
Just after being pronounced the winner of the 2020 BBNaija Lockdown Edition, the Ogun State Governor Dapo Abiodun hailed Laycon and also appointed him the Youth Ambassador of Ogun State.
Is Laycon the Richest 2020 BBN Housemate?
While in the House, part of the richest and most influential persons with rough estimates would include Kiddawaya ($100,000), Laycon ($50,000), Ozo ($45,000), and Nengi ($25,000). Before BBN Lockdown each of these individuals already had a means of livelihood and some even business ventures they were managing.
During and after the show, most of the housemates received gifts and rewards from the different companies and individuals but none compared to that of the winner, Laycon. Laycon is currently the richest BBN 2020 housemate with a rough estimation of his net worth at $460,000. The icon has an IVM G40 SUV which is worth N25 million and a Mercedes Benz e350 worth N12 million. He also owns a 2-bedroom apartment from Revolution Plus Estate Developers and another 3-bedroom apartment from Ogun State government.