It is normal for a pregnant woman to eagerly look forward to bringing forth her child and showering it with all the love and care a mother can offer. Unfortunately, the hope of a 28-year-old woman has been dashed after she delivered a premature baby which looks like a creature from another planet due to a genetic condition called Harlequin Ichthyosis.
The mother who refused to disclose her identity, could not hide her horror and disappointment refused to breastfeed her baby, dubbing it an 'alien' because the child was born with a hardened shell of skin and deformed features.
Few hours after the news of the birth of the 'bizarre' looking girl broke, scores of locals trooped to the government-owned hospital in Patna district of Bihar, eastern India, where the child was born to have a glimpse of her. As a result of the huge crowd gathered outside the medical centre, doctors were forced to intervene by moving them out.
Meanwhile, the young parents said they were traumatised by the birth, described the child as a curse and refused to accept her. When they brought her home, the mother refused to hold her in her arms and breastfeed her.
She said:
"I have no idea how this happened. I and my family are completely devastated. I am in shock as I was really looking forward to becoming a mother of a healthy child, be it a girl or a boy."
Doctors believe that the child would not survive for long considering the fact that none of her organs had developed properly and that the probability of survival of such cases is only one in 10 million.
Harlequin ichthyosis is an extremely rare form of ichthyosis and the most severe. The condition is a very rare severe genetic disorder that affects mainly the skin, causing it to be thick. Children with this disorder have most of their bodies encased in an 'armour' of very hard, thick white plates of skin, separated by deep cracks (fissures) which can pull at and distort facial features.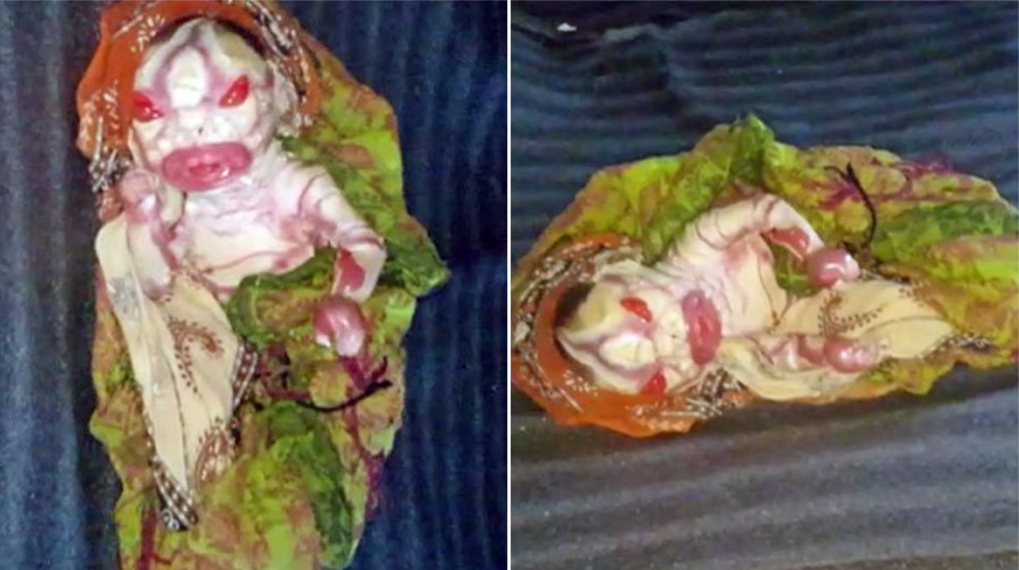 Signs and Symptoms of Harlequin Ichthyosis In Newborns
1. Thick skin that cracks and split apart. The tightness of the skin pulls around the eyes and the mouth, forcing the eyelids and lips to turn inside out, revealing the red inner linings. The chest and abdomen of the infant may be severely restricted by the tightness of the skin, making eating and breathing difficult.
2. Sufferers feature severe cranial and facial deformities.
3. The hands and feet may be small, swollen, and partially flexed.
4. The ears may appear to be misshapen or missing but are really fused to the head by the thick skin.
5. The nose may be very poorly developed or absent entirely.
6. The eyelids may be everted (ectropion), which leaves the eyes and the area around them very susceptible to infection.
7. Babies with this condition often bleed during birth.
8. Joints are sometimes, lacking in movement and may be smaller the normal size.
9. Sometimes, fingers may be incomplete or more than normal
10. Patients with this condition are extremely sensitive to changes in temperature due to their hard cracked skin, which prevents normal heat loss.
11. High risk of dehydration, as their plated skin is not well suited to retaining water.
12. Premature birth is typical, leaving infants at risk for complications from early delivery.
13. A constriction and swelling of the mouth may interfere with the suck response and infants may need tube feeding.
Due to the delicate nature of babies with the Harlequin ichthyosis disorder, there's need for them to be cared for in the neonatal intensive care unit immediately. A high, humidity environment in a heated incubator is necessary to help maintain body temperature and to prevent the skin from cracking.
In the past, the most common cause of death was a systemic infection and sufferers rarely survived the first few days of life. However, improved neonatal intensive care and early treatment with oral retinoids, such as the drug Isotretinoin (Isotrex), 1 mg./kg. body weight, harlequin infants can survive.
It has been discovered that early oral retinoid therapy softens scales and encourage peeling off of the skin. After as little as two weeks of daily oral isotretinoin, fissures in the skin can heal, and plate-like scales can nearly resolve. Improvement can also be seen in the eyelids and lips which were turned inside out in a matter of weeks.
As unpleasant as Harlequin ichthyosis makes its patients look, it is important to know that the condition is not contagious. The oldest known survivor is Nusrit "Nelly" Shaheen, who was born in 1984 and is in relatively good health as of May 2008.