GOtv Nigeria is a pay TV service offered in Africa by Multichoice Africa, owners of DSTV. It is a terrestrial digital TV service which does not require a satellite dish nor any ceremonial installation.
It uses the latest Digital Terrestrial Broadcast Technology, DVB-T2, which means that its services are deployed through TV masts and accessible only in locations with GOtv transmitter coverage. This also implies that GOtv is not easily affected by weather, unlike other pay TV satellite services.
GOtv is one of the most popular pay TV services in Africa which is available in select cities in Nigeria, Zambia, Uganda, Malawi, Namibia, Zimbabwe, Ghana and Kenya.
It is currently available in the following Nigerian cities and its environs: Lagos, Enugu, Ibadan, Abeokuta, Benin City, Owerri, Akwa Ibom and Port Harcourt.
The service was launched in Nigeria on October 11, 2011, at Ibadan, Oyo State which is the cradle of television broadcasting in Africa. It quickly spread to other parts of the country and has become the staple in many Nigerian homes.
GOtv Nigeria, which offers a maximum of 38 channels and a minimum of 11 channels can be purchased with as low as N6,900. The package cost includes a GOtv decoder, an antenna, and 1-month free GOtv Plus subscription.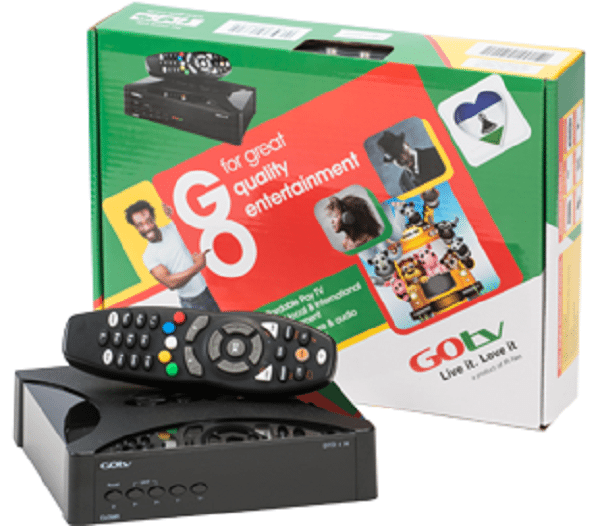 Subscription And Payment Methods
The bouquets are different and it comes with different prices. When you have purchased your GOtv set, you will need to select the plan you desire and proceed to make the corresponding payment.
Payments can be made in a number of ways with customer's convenience in mind.
The first method is through any bank: Walk into any bank nearest to you and request a teller for GOtv. When given, fill in the required details including the; the name, the IUC number, and the amount and submit it and it will be processed.
The second method is through designated vendors: go to any designated GOtv vendor and tell him or her the plan you would like to subscribe to and it will be done. You will also need to provide the required details such as the name registered with the decoder, IUC number, and of course, make payment.
The third method is through online payment: Now, this is basically the easiest method recently launched. It allows customers make payment for the subscription of their chosen bouquet plans from the comfort of their own space, usually with a mobile or any other device with internet connection. With the mobile phones, you could make payments through punching the right codes or using your bank's mobile app to make such payments. You can also make payment using your computer or laptop as long as it is internet connected.
Channels / Bouquet Plans
Plus Plan:
This bouquet plan has 38 general entertainment and 7 local channels and comes at the price of 1800 Naira. The channels in this package include;
Africa Magic Hausa
Africa Magic Yoruba
AfricaMagic Epic
AfricaMagic Family
AfricaMagic World
AIT
Al Jazeera
Arise News
BET2
Channel ED
Channels
CNN International
Disney Junior
Discovery Family
ED
E! Entertainment Television
e.TV Africa
Emmanuel TV
Fashion One
FAITH
GO Channel
Galaxy Tv
HIP TV
Islam Channel
JimJam
Lagos TV
Movies Zone
MiTV
M-Net Movies Zone
MTV Base
Nat Geo Wild
Nickelodeon
NTA+
One Gospel
ONTV Max
Planet TV
Silverbird
Sony
Sony Max
Soundcity
SuperSport 9
SuperSport Blitz
SuperSport Select 1
SuperSport Select 2
Trybe
Also Read: What You Need To Know About Remita Payment Systems
Value Plan:
This plan has 23 general entertainment 7 local channels and comes at the price of 1200 Naira. The Value plan channels include;
Africa Magic Hausa
Africa Magic Yoruba
AfricaMagic Epic
AfricaMagic World
AIT
Al Jazeera
Arise News
BET2
Channel
ED Channels
Discovery World
E! Entertainment Television
e.TV Africa
FAITH
GO Channel
Galaxi TV
Islam Channel
JimJam
Lagos TV
MiTV
Nickelodeon
NTA+
One Gospel
Planet TV
Silverbird
SONY Max
Trybe
Wazobia TV
See Also:  How To Make The Cheapest Orders On Payporte
Lite Plan:
GOtv Lite was introduced in appreciation of the current tough economic situation in the country as the most affordable bouquet on the pay-TV landscape. It offers subscribers a generous amount of flexibility at a subscription rate of N400 per month (approximately N13 per day); N1,050 quarterly and N3,100 yearly, making it the cheapest pay-TV bouquet in the country.
This plan has 11 general entertainment and 6 local channels. The channels in this package include;
WazobiaTV
Channels
FAITH
GO Channel
Islam Channel
TVC Entertainment
Galaxy TV
NTA
E-Africa
Silverbird Television
AIT
Mitv
Lagos Television
ONTV Max
JimJam
Islam Channel
Aljazeera
TVC New Nigeria
Afro Music
However, in May 2017, MultiChoice announced a five percent increase in subscription rates. GOtv Nigeria monthly subscription rates under the new price regime are as follows;
GOtv Plus – from ₦1,800 to ₦1,900
GOtv Value – from ₦1,200 to ₦1,300
GOtv Lite – from ₦400 to ₦450
Self Service
With Self Service you can use your use your Connect ID to do the following:
Fix errors
Update your profile and personal details
View your account balance and transaction history for the past three months
Reconnect once your payment has been made, and activate packages
GOtv Nigeria says it takes pride in Africa's local content and continues to reassure subscribers of more quality content and latest innovations that offer the best of digital TV experience. With the above detailed info your wonderful Gotv expereince is assured.