GOtv was founded in 2011 by MultiChoice, and it offers its esteemed subscribers flexible subscriptions for maximum television entertainment. The pay-TV service features captivating local and international content in the category of sports, news, movies, lifestyle, etc., for the viewing pleasure of customers. GOtv package comes with a decoder, an antenna popularly called 'GoTenna,' and a one-month free subscription. GOtv decoders cost between N9,000 and N9,500, depending on the place and period of purchase.
Different GOtv Packages and Their Prices
GOTV has a range of affordable subscription plans and packages that guarantees full-time entertainment so you can live it and love it. Each package comes with its unique content and price. Nevertheless, there is something for everyone on the GOtv platform – this simply means that regardless of the amount one pays to the company, they will get value for their money. These different GOtv packages include;
This is the highest subscription plan available on the GOTV service, and it offers 82 exciting channels with crystal clear pictures in High Definition HD. The plan is N5,500. Channel list includes 20 General Entertainment Channels, 6 movie channels, 4 documentary and lifestyle channels, 6 sports channels, 8 news and commerce channels, 8 kids and teen channels, 5 music channels, 21 local channels, 4 religious channels, and 2 audio channels.
This package offers viewers about 75 channels. The channels are specially designed for everyone,n which means everyone in the house has something to watch. The plan goes for N3,600 and has 3 music channels, 6 sports channels, four movie channels, and 63 channels from other genres.
The GOTV Jolli offers affordable entertainment with a wide range of channels for customer satisfaction. The Gotv Jolli is worth N2,460, and it provides about 16 general entertainment channels, 3 sports channels, 2 audio channels, and channels from other genres.
This subscription package includes about 38 channels. It has 1 music channel, 2 sports channels, 1 movie channel, 7 general education channels, 2 sports channels, and other channels. The package is N1,640 monthly. This subscription plan is suitable for children as there are programs designed for them.
This is the lowest subscription plan on the GOtv platform; it has 35 channels and goes for N800 monthly, N2, 100 quarterly (save 300), and N6,200 annually (save 3,400). This subscription plan offers crystal clear channels suitable for viewers who enjoy their favorite local channels. This package has 2 general entertainment channels, 5 news and commerce channels, 1 sports channel, 1 kids' channel.
How To Subscribe to GOtv Using The Mobile Phone App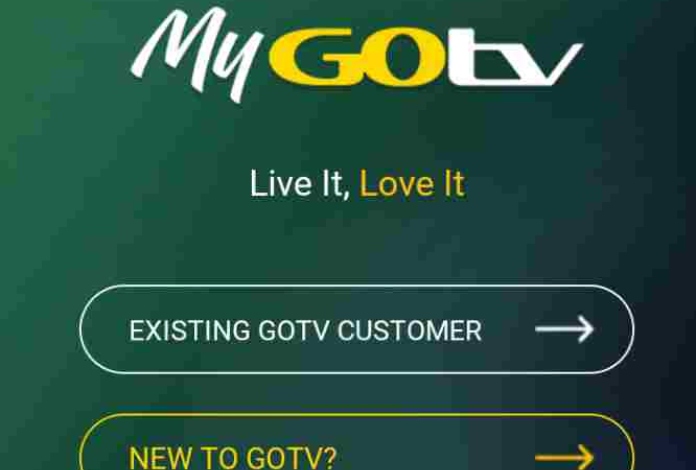 To ensure better accessibility and easy transaction, GOtv has gone mobile and now has an application called MyGOtv. To pay your subscription, download the MyGOtv app from Google Playstore for Android devices and the Apple store for IOS. Follow the following steps after downloading the app to make your payment.
Click on the app and enter your login details
Choose your preferred package
Click on Pay Now
Confirm details of payment
Click on continue
Select your preferred payment provider (Interswitch or PayU)
Select payment option (once-off payment or auto-renewal)
Choose payment method (Verve, Mastercard, Visa)
Enter payment details
Click Pay
An OTP will be sent to your registered on your bank account number. Enter the OTP pin, and press submit. Payment has been completed.
How To Pay GOtv Subscriptions Online
GOtv devised various online platforms to enable customers to make easy payments to enjoy an uninterrupted viewing experience. Customers can make through the following methods,
Visit the nearest MultiChoice office closet to you for all your payment options. However, if the nearest office is far from you, not to worry, GOtv got you covered.
Quick Teller: This is an online platform that facilitates payments of subscriptions. This platform interfaces with the Integrated billing system (IBS) and gives the subscriber immediate value by prompting an automatic re-connection of the disconnected service within 5 minutes from the comfort of your home.
It is fast, efficient, and easy to use. All you need is an internet-enabled electronic device that can access the web. Then follow these steps.
Visit quickteller.com/gotv.
Choose your preferred subscription plan.
Click Next to proceed.
Enter subscriber Name and IUC number.
Click Pay to proceed.
Input your debit card details, including debit card type, i.e., Interswitch, Verve, or MasterCard.
Insert other card details such as Card Number and Expiry Date as inscribed on your debit card, and then enter your 4 digit PIN.
Confirm OTP (One Time Password) and click Pay to continue.
After payment has been made, you will be automatically connected or reconnected if viewing was interrupted.
3. PAGA ePAY: This is another online payment option that is easy and reliable. To make an online payment for your GOtv subscription via Paga e-Pay, follow these steps
visit eazy.gotvafrica.com
log in your subscriber account details. You will be presented with a list of online payment methods that are available in your country.
Select Paga e-Pay and follow the instructions.
4. e Transact: This online payment option allows subscribers to make subscription payments directly from their bank account.
Dial *389*9*IUCcardnumber#, then follow the prompts.
Select eTranzact Payment Option and select BankIT.
Input Bank account number and select preferred Bank.
Generate a 6-digit passcode and submit details. On your phone, Dial *389*00# (Number linked to Bank account). An OTP will be sent to your phone.
Input the OTP in the space provided and click Pay. Confirmation will be sent with details of the transaction indicating the successful payment
5. GOtv Website: With an internet-enabled electronic device
Visit www.gotvafrica.com.ng
Click PAY to proceed to the Payment Subscription page.
Click on Pay Now
Input IUC number and subscriber details.
Click Pay to choose a payment option that includes card payment.
Input card details and click pay to proceed with payment.
6. Eazy Money: This Allows you to pay using your Eazy Money mobile wallet online. Visit eazy.gotvafrica.com/pay.
Enter mobile number and Easy money Pin. Should you not have an Eazy money wallet, you can register at a Zenith Bank branch.
Once logged in, select Bill Payment.
Select Bank or Eazy Money. Bank is for Zenith Bank Account holders who have linked their bank account to the mobile wallet, also known as Banked Customers. "Eazy Money" is for all Non-Zenith Bank account holders, and they are also known as Unbanked Customers.
Enter the smartcard number of your GOtv.
Enter the amount you want to pay and enter your four-digit PIN code. You will be sent an SMS to confirm whether your payment was successful or not.
7. KongaPay: To make payment using this platform, Download the Konga app or visit kongapay.com.
Register if you do not have an account, or log in if you have an existing account.
Go to "Bills and services" and choose "TV subscriptions."
Choose GOtv as your subscription type and enter your IUC number.
Input your GOtv details, and your dashboard will display.
Click on "Pay" to proceed to payment, or you can click on the bouquet drop-down Menu if you want to change your subscription plan and choose the new plan you want and then click on "Pay."
Enter your KongaPay pin, and the OTP will be sent to your phone.
Click on "Confirm" to complete the payment. Your GOtv account will be credited and activated immediately.
GOtv payment can also be made physically at any First City Monument Bank (FCMB) branch in Nigeria using the bank teller. All you need to do is pick up a teller at any FCMB Bank branch, fill in your name, phone number, and IUC number, and make your deposit at the designated deposit desk.
How To Subscribe to GOtv Using Bank USSD Codes
Service companies have generated USSD codes to help facilitate easy payment of subscriptions. GOtv, in association with some banks, came up with some USSD codes in a bid to make payment of subscriptions faster and easier for subscribers. We will be talking about various bank USSD codes used for paying. Different bank USSD codes include the following;
Stanbic IBTC: The USSD code for Stanbic is *909#. It is very fast and efficient. To use this code for payment, simply do the following
Dial *909# on your mobile phone
select next
select (1) My Bank
Select (4) Pay Bills
Input customer information required on each field and send. You can also pay using Stanbic Online. To make your payment, visit stanbicibtcbank.mobi on your phone browser. Choose "Mobile Money" and enter your number. Click on "Register" and provide the required details. You will then be directed to the GOtv page on Stanbic Mobile to complete your GOtv monthly subscription payment.
2. Guarantee Trust Bank GTB Mobile: It is easy to pay your bills using this transaction medium. All you require is to have a functional account with the Bank. Activate USSD services by;
Dialing *737# on your registered mobile phone.
After setting up of the service, dial *737*37*AMOUNT* GOTV CARD NUMBER#
confirm the details and click the Send button.
After input of password and payment is successful, notification will be sent confirming receipt of your payment. However, you can also make payments using the GTMobile application.
3. First Bank: To make payment using First Bank, simply Dial *894*AMOUNT*IUC NUMBER#.
Confirm the details you input, including IUC number, account name, and email, then press the SEND button.
A confirmation message will be sent notifying you of successful recharge. Another way to pay using First Bank is to dial *332*8888*amount*IUCnumber# and click send. Next is to input the password and click send. Note that in this method, customers' airtime will be used for the transaction to be successful, and the message must be sent from the number registered with the Bank account.
4. ZENITH BANK: Payment of GOtv can be made via Zenith Bank USSD code. Simply dial *996*7*amount*IUCnumber# and click on send. A message will request your password for the transaction to be successful. Note that the password is the one set when configuring USSD services using the registered telephone number.
5. FIDELITY BANK: Dial *770*1088*IUCnumber# to and click send to proceed. A message will appear displaying the various plans available for you; click on your choice and input your password to authenticate the transaction. A message will be sent giving details of your transaction and the status.
6. HERITAGE BANK: Dial *322*030*1088*AMOUNT# on your registered mobile phone; confirm the IUC number and password. Click send to confirm the transaction.
7. United Bank of Africa (UBA): To use UBA to recharge your GOtv, open your UBA bank U-mobile app, log into your account, insert your U-mobile pin, and confirm the transaction. You will be shown the amount that you'll pay, all you need to do is click ok, and payment will be done successfully provided you have available funds in your account.
8. Access Bank: Access bank provides an easy medium to pay bills. Note that since the merging of Diamond with Access Bank, the same method applies to how to recharge GOTV using Diamond Bank. So, the Access Bank GOTV payment code can be accessed through *901#.
How To Activate A New GOtv Account
To activate a new account, the customer must first buy a GOtv decoder from any GOtv branch office or any authorized dealer nationwide and Seek professional assistance for the proper installation process. After the installation is done, you will need to activate the GOtv account. The following steps should be followed for successful activation.
Using your phone, type the following: Accept*IUCNumber*surname*phone number*your location*gotvplus, and type the hashtag #.
For example, compose a text message  accept*2000123544*Yusuf*08036069027*Abuja*gotvplus#
Send to 4688. An SMS will be sent to the provided number confirming the activation of your decoder.
You can also activate a new GOtv account by visiting the website gotvafrica.com. Follow these steps once you're on the site.
Click on 'Activate'
Select your City
Enter Surname
Enter IUC Number (Your IUC number is located on the red sticker under your decoder)
Enter Phone Number
Enter Agent ID
Click on 'Activate Now'
You can also walk into any GOtv office for a guide on how to activate your account.
Note: After your GOTV has been installed, you can also tune into the free-to-air channel. This is channel 1, to be precise, and it provides esteemed customers the necessary information and step-by-step instructions on how to activate their decoders from the comfort of their homes, to enable them to enjoy premium television channels like CNN, Aljazeera, SuperSports, ESPN, National Geographic and other channels.