The Nigerian e-Passport is a document whose main purpose is to permit travel and entries into various countries of an individual's choice once they are granted a visa to those countries. The most likely reasons why most Nigerians haven't been able to solve their passport issues are;
a) Lack of knowledge that there are easy routes. That is, step by step methods to utilize and easy enough for a Nigerian to conduct on their own.
b) Lack of the right information about the Nigerian e-Passport,
c) And the delay or issues associated with time to receive information concerning the e-Passport.
Most Nigerians especially those living abroad have spent lots of cash or even experienced rip-offs from the touts and the corrupt immigration officials. As if it is not enough, they, after all that, still go through disappointments and wastage of their precious time especially at the passport office trying to find answers on how to obtain an emergency passport or renew the expired one. What if one can avoid all that? What if you can skip those frustrations and still get that passport? Isn't that a great idea?
How to obtain Nigerian (International) e-Passport without involving Agents or Touts:
The simplest way is applying online by visiting Nigerian Immigration Portal and following the instructions provided there step by step. It is easy and self-explanatory. The portal is www.portal.immigration.gov.ng. Let's now see what valuable information you need in order to understand all there is about the Nigerian e-Passport not only for your benefit but also for someone in need who would do with your aid in such times. The focus is necessary since it's the simplest things that are often ignored that cause the greatest impact.
The Nigerian e-Passport
Recently, the Nigerian government canceled the usage of the previous Nigerian travel passports. The passports were canceled they were susceptible to multiple security breaches; for example, an individual is able to exploit the system and possess more than one passport but the new e-Passport now contains several features including;
I. You cannot be able to exploit it, therefore, it's impossible to own more than one e-passport
II. You process 80% of personal details over the internet by filling, scanning, and uploading all the requirements in the immigration department's website.
III. One appears to the Immigration office on his or her interview date only to clear the remaining twenty percent whereby, a few days later he or she will be able to collect their complete passport.
E-Passports are of different types and so are their requirements.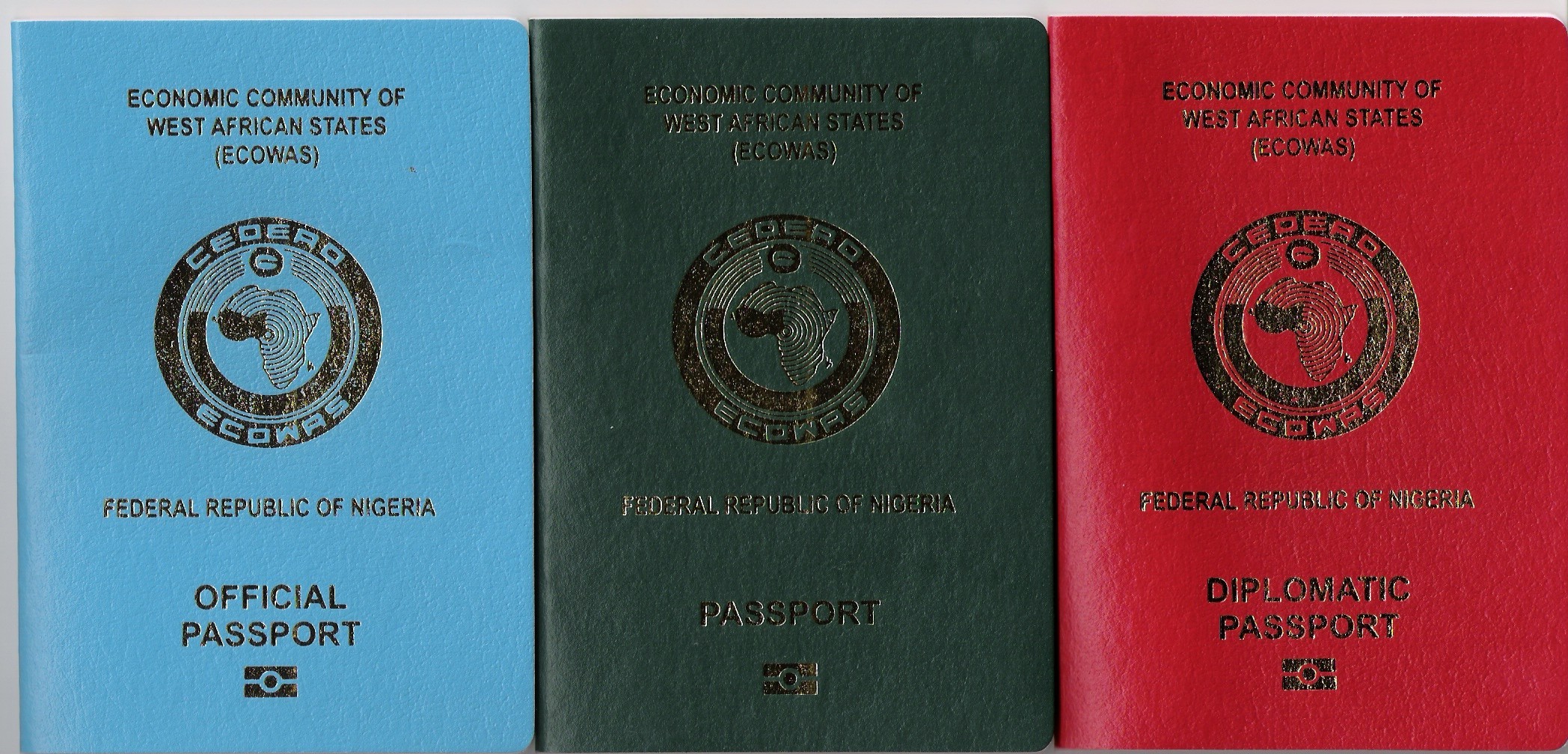 Different Types of Passports
1. Diplomatic Passports, they have a red cover.
2. Official Passports, they have a blue cover.
3. Standard Nigeria Passports, they have a green cover.
4. Pilgrims Passports, their colour varies from year to year.
5. Seaman's Books, that is Certificate of Identity, they have a maroon cover.
Common Requirements
A. Payment receipt and acknowledgement slip accompanied with two size recent photographs must be attached to all the types of passport applications.
B. A copy of timely and properly completed application form must be printed.
C. For further processing, printed and signed application forms must be taken either to; The High Commission, Passport office or even Embassy.
D. The below documents must be attached by the guarantor;
a. A National Identity Card or a Driver's License
b. A photocopy of Nigerian Standard Passport's Data page.
Qualification For an Official e-Passport
Official Passports are those for government officials only. Application of these Passports by any other individual is breaking the law and one can face serious consequences.
Requirements for the Application
1) Introduction Letter from the Federal Government, Appropriate State Government, Ministry or even Organization concerned.
2) If need be, Marriage Certificate.
3) In case of a lost passport, attach Police report.
4) The letter of the last promotion or simply the Letter of Appointment.
All the above should be submitted with the supporting documents to the necessary channels as described earlier.
Qualification for a Standard Nigerian e-Passport
Standard Nigerian e-Passport is the most common type of passport used to travel. They are for all Nigerians citizens either by birth, registration, or even Naturalization.
Requirements for the Application:
1) The Letter of Identification from the Local Government.
2) Age declaration or birth certificate.
3) Two recent passport-size photographs.
4) Letter of consent from parents for persons under the age of sixteen years.
5) Where applicable, Marriage Certificate, especially for married women, should be provided.
6) In case of a lost passport, attach Police report.
7) Guarantor's form must be sworn to either before the Magistrate, High Court Judge, or even The Commissioner of Oaths.
All the above should be submitted with the supporting documents to the necessary channels as described earlier
Recommended Reading: