Genevieve Nnaji's net worth is estimated at $10 million, making her one of the wealthiest actresses in Nigeria. The Nollywood onscreen goddess accrued a large part of her net worth through her acting gigs and other business ventures.
Genevieve Nnaji is a well-established actress who kicked off with her acting gig when she was 8 years old and, over time, grew to become a household name in Nigeria and other African countries. She also expanded her acting career across the shores of Nigeria and has appeared in several Hollywood movies. The actress is one of the driving forces and pioneers that contributed to the growth of the Nigerian Nollywood industry.
How Genevieve Nnaji's Net Worth Grew Over The Years
Genevieve Nnaji joined the Nollywood industry in 1987 when she was 8 years old and started interpreting roles effortlessly. She began with Ripples, a television soap opera that starred then. She didn't act professionally or gain popularity in the industry until she turned 19 and started auditioning for major roles in the industry. As of this time, she was already a student at the university. To date, she has starred in over 200 movies and counting.
She Made Her Professional Movie Debut in 1998 In The Movie Most Wanted
Though Genevieve Nnaji started her acting career as a child, she started bagging major roles in 1998 in the movie Most Wanted. Her effortless interpretation of roles paved the way for her to bag other roles in the industry. Between 1999 and 2001, she appeared in movies like Camouflage, Valentino, and Love Boat.
In 2002, her big break in the industry came in the movie Sharon Stone, where she starred as the titular character. The movie, which became a major hit and received positive reviews, made the spotlight shine on her. Since the actress rose to the spotlight, she has become one of the most sought-after actresses who interprets her role without stress.
Today, Genevieve Nnaji has appeared in over 200 movies and is still counting. She has also crossed the shores of Africa and featured in movies in other countries like the UK, Ireland, and the USA.
A Glance Into Genevieve Nnaji's Most Successful Movies
Ije: The Journey
This is one of her cinematic movie roles released in 2010 that became a blockbuster. The movie was shot in Nigeria (Jos) and the United States of America. Genevieve starred as Chioma Opara, who traveled from Nigeria to the US to help her sister Anya Opara after being charged with murder. She starred in the movie with top actors like Omotala Jalade Ekeinde (Anya), Larry Ulrich, etc.
LionHeart
Lionheart is one of her acting gigs that portrayed her prowess as an actress, producer, and director. The movie became a major hit on Netflix and earned her a whopping sum. She starred as Adaeze, the daughter of a businessman who is into the transport business.
Despite the stereotype about women in society, she took over her father's business when he became sick and took it to a greater height. The movie stars Nollywood stars like Pete Edochie, Nkem Owoh, Onyeka Onwenu, and Phyno (musician).
The actress has also starred in numerous blockbuster movies like Half Of A Yellow Sun, Tango With Me, Weekend Getaways, etc.
Some Of Her Other Successful Movie Credits
Blood Sister
Deadly Mistake
Passion and Pain
Sharon Stone In Abuja
Dangerous Sister
He Lives In Me
Treasure
Weekend Getaway
Unbreakable
Darkest Night
30 Days
Letters To a stranger
Silent Scandals
Tango With me
Mirror Boy
Doctor Bello
Road To yesterday
Farming
She Earns Well As An Actress
With many years of acting and perfect interpretation of movie roles, Genevieve Nnaji has gathered much experience as an actress. The on-screen goddess is believed to earn between N3 million and N4.5 million per movie script.
Though there are no details about how her earnings rose to such a robust amount, she is undoubtedly one of the most sought-after and highest-paid actresses in the Nigerian movie industry.
In addition, the actress expanded her portfolio to include movie production, which has immensely added to her net worth aside from acting. Some of her works uploaded on Netflix have subsequently earned her more money, which is another source of increasing her net worth.
Other Sources Of Genevieve Nnaji's Net Worth
Though the lion's share of Genevieve Nnaji's net worth came from her flourishing acting career, she also has other business ventures and engagements that also add to her net worth. Below are other sources that Genevieve Nnaji's net worth experienced significant growth:
She Earns As A Movie Director and Producer
There is no doubt that the talented actress is equally ambitious. Despite having a booming career as an actress, she expanded her portfolio by becoming a movie director and producer.
She made her debut in movie production in 2015 with the movie Road To Yesterday, under her entertainment company known as The Entertainment Network (TEN). The movie's production became a huge success and received positive reviews from critics and viewers. It also bagged an award for the Best Movie Overall-West Africa at the Africa Magic Viewers Awards in 2016.
The actress made her debut as a director with Lionheart and served as an executive producer. The film became a major hit on Netflix, and she was paid $3.8 million by the body to be granted a license for the film. On September 8, 2018, Lionheart premiered at the Toronto International Film Festival. It emerged as the first film from Nigeria that reached the Academy Awards for Best International Film consideration.
Music Career
Genevieve Nnaji, being a talented woman, also delved into making music in 2004 under the EKB Records of Ghana. She embarked on her music career with her debut album titled One Logologo Line. The 8-track album, which consists of the lead single, No More, was released in Accra, Ghana.
It contained other singles like Me Bre Wo ft. Obour, Thinking of You ft. Kojo Antwi, Native Doctor ft. Dede, One Logologo Line ft. VIP, Bumo it Up, Missing You, Genevieve. Her music career received much criticism from the public. Shortly after, she left her music career and focused more on her acting. Apart from making her music, she appeared as a video vixen in the song Fall in Love by D'banj in 2018.
Fashion
Genevieve Nnaji is a fashion enthusiast with excellent fashion taste. She launched St. Genevieve Wears in 2008, a clothing line that showcases and sells extraordinary female fashion wear. She collaborated with one of the major online retail agents, Jumia, in 2014 to release the latest collection of St. Genevieve Wears.
The sales generated through the online retail platform have contributed immensely to Genevieve Nnaji's net worth. She also launched a salon and supermarket known as Genevieve Supermarket and Salon. The business enterprise is located in the Federal capital territory Abuja. It has grown significantly, adding more cash to the actress's net worth.
Real Estate
Genevieve Nnaji has also entered the real estate business. She acquired lands in Apo Dutse, Abuja, where she built houses. The houses, which took her over N30 million to complete, were constructed by Stick and Stones Homes. It contains four-room terraced duplexes with boys' quarters and a centralized generator system.
Modeling
Genevieve Nnaji is one of the few actresses in Nollywood with a nice body structure that passes for a model. She has glowing ebony skin and has been able to cheat her age with her stunning body. Her flawless body has gained her spots as a model with top brands.
The actress bagged a N20 million deal to appear as the face of Lux, a fragrant bar soap, body wash, and shower gel, in 2004. She also built her profile as a model by appearing as the face of Make-Up Designatory (MUD) in 2010. Though the amount that she was paid isn't specified, she must have amassed a lot from the deal.
Endorsement Deals Contributed To Genevieve Nnaji's Net Worth
Over the years, endorsement deals have been a means by which many celebrities have increased their net worth significantly. Genevieve Nnaji, having carved a niche for herself as one of the most talented and pretty actresses with a large fan base, has been able to sign numerous robust deals with many companies.
In 2012, Genevive Nnaji signed a N40 million deal to become the SUV brand ambassador. She became the brand ambassador for Citron energy drink in 2012, which was signed at N50 million. In 2014, she signed a deal worth N30 million with the Nigerian Breweries Plc to become the brand ambassador for Amstel Malta.
Her ambassadorial deal with one of the leading telecommunication industries in Nigeria, Etisalat, was bagged in 2014 and was worth N100 million. In 2020, she bagged an ambassadorial deal worth N70 million with Polo, a fashion brand. Genevieve was also appointed the Toronto Film Festival ambassador in 2020.
Summary Of Her Endorsement Deals
SUV
Citron energy drink
Amstel Malta
Etisalat
Polo
Toronto Film Festival
Her Prowess In Acting Has Earned Her Numerous Awards
Genevieve Nnaji has bagged numerous awards throughout her flourishing acting career on national and international levels. Here is a list of the awards and honors she has bagged so far:
2001- Best Actress at the City People Entertainment Awards
2005- Best Actress In A Leading Role at the Africa Movie Academy Awards
2010- Best Actress at Ghana Movie Awards
2010- Best Actress In A TV Series at the Nigeria Entertainment Awards
2011- Best Actress at Zulu African Film Festival
2011- Best Kiss at Best of Nollywood Shows
2011- Member of the Order of the Federal Republic of Nigeria
2012-Viewers' Choice Female at the Nollywood Movie Awards
2013- Best Actress In A Leading Role at The Nollywood and African Film Critics Awards
2014- Best Actress Supporting in Nigeria Entertainment Awards
2016- Best Movie West Africa at the Africa Magic Viewers' Choice Awards
2019- Outstanding Foreign Film/World Cinema Motion Picture at Black Reel Awards
Genevieve Nnaji's Net Worth Affords Her An Elaborate Lifestyle
Having built a huge net worth, the on-screen goddess is seen living her life to the fullest. Below are the luxury that her net worth affords her:
A Look At The Opulent Houses Genevieve Nnaji's Net Worth Affords Her
Genevieve Nnaji has an impeccable taste for opulent houses and doesn't look back on splashing a huge amount of cash to acquire those houses. She is known to have three homes in high-brow areas in Ghana and Nigeria. She also acquired an estate in Abuja, Nigeria. Let us take a glance through her luxury homes:
Genevieve Nnaji's Lekki House
It was revealed that the actress purchased the house for her parents as a priceless gesture toward her. Her family resided in Egbeda on the Lagos Mainland before being surprised by the package. In addition, the house was purchased because Genevieve's father was sick, and she needed him close to be able to visit him regularly. Though the amount the house cost is unknown, it must have cost quite a fortune given its location.
Genevieve Nnaji's Ikoyi Mansion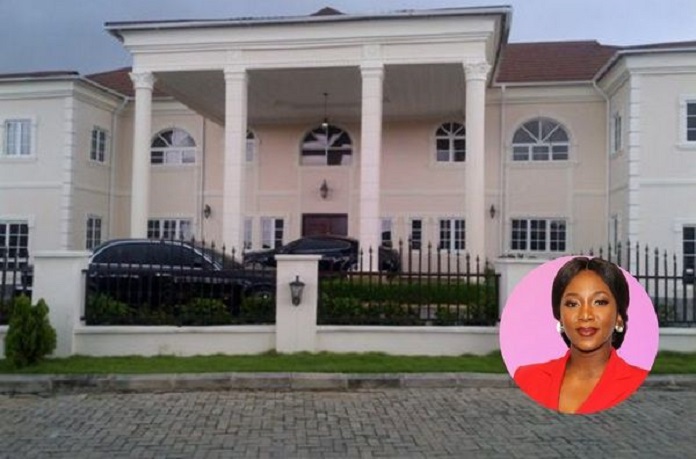 The Ikoyi building is one of the old houses purchased by Genevieve in 2013. The building, located at Park View Estate, costs a whopping sum of N220 million. This is where the actress resides in Lagos. There are no details regarding the house's features, but having cost a fortune, it is quite something to behold.
Genevieve Nnaji's Ghana Mansion
The actress does not only invest in houses within Nigeria but has extended her hands to Ghana, the Achimota area. Genevieve was undoubtedly wise in spending her money as she splashed a huge sum on the property. Information regarding the amount it was purchased and the house's features has been kept private. She also ventured into the real estate business with the purchase of these landed properties.
She Drives Deluxe Cars
Genevieve Nnaji is known to have good taste when it comes to cars. She owns a garage that overflows with exotic cars:
This particular car brand is unarguably one of the most expensive luxury brands one can keep in their collection. It has high security and makes use of three different locking modes. The car, which cost a minimum of N50 million when it was bought, has a horsepower of 416 to 577. She is normally spotted cruising in this car in Lagos.
Genevive Nnaji is known to be a brand ambassador for the car brand. With this, having the car as one of her collections shouldn't be a surprise. How she acquired that car and the amount that she got it for is unknown, but the minimum amount for purchasing the vehicle at that time was about N30 million.
It has exquisite features like lightweight materials for constructing the body, a stop-start system, biofuel capabilities, a removable carbon composite roof panel, regenerative breaks, etc.
Genevieve Nnaji Is Known To Give Back To The Society
Genevieve Nnaji is one of the Nigerian celebrities that loves giving back to society no matter what. She has engaged herself in the act of philanthropy to improve society. In 2013, she donated a few items to help the people of Delta State who were affected by the flood.
She leveraged her clothing line to participate in the 2009 Charity Runway event, which took place at the Expo Hall in Eko Hotels and Suites, Victoria Island. The event was hosted with the notion of raising funds for the orphans at Arrows of God Orphanage Home.
She donated the gains she got from showcasing her fashion collection from her clothing line. The actress has also extended her philanthropic deeds to other less privileged individuals.