According to recent findings, Nigeria is the second most religious country in the world. When you walk through the streets of Nigeria, one of the things you easily notice are the 'thoughtless' ways posters are being pasted on the walls, signposts, cars, and every available space, ranging from obituary posters, campaign posters, to church posters, etc.
Sincerely speaking, we don't have anything against any church but most times we are left helpless after seeing some funny captions on most church posters.
In Nigeria, most church programs like crusades, outreach, special services are usually given wider publicity than normal church services. So, in a bid to reach out to a large number of people, most churches print posters, flex banners, pamphlets, and whatnots.
While the caption on most posters on so many streets in Nigeria sounds more biblical, others seem very funny and confusing.
Funny enough, this trend is not exclusive to any particular city or state in the country, it's everywhere. We found out that apart from the images on these posters, some of the captions sound more like movie titles.
Talking about a theme like "Prison Break Season 1" (which you'll see below), the last time Prison Break Season 1 was used, it was a movie that involved a bunch of criminals escaping from the prison, and now seeing it as a church program can only leave the question of why?
Perhaps, by the time you go through these few church posters, we came across, then you will have a clear understanding of what we are talking about. Nevertheless, the good news is that whatever your problem is or looks like, you will definitely come across a poster that perfectly describes it.
Check out these funny church posters that make you laugh till you start crying.
1. Caption: Give Me A Spouse Or I Die
This is a perfect example of a program that preaches about a delay in marriage generally.
Don't Miss: 15 Funniest Photos of Nigeria Election Campaign You've Never Seen
2. Caption: Point and Kill
This one is about a war against the enemies – including witches and wizards (most Nigerian religious fanatics can relate to this).
3. Caption: How To Identify A Witch
This one is also aimed at the enemies.
4. Caption: Point and Kill the Witch with Catapult
Yes, you read well. It's a 'point and kill' program, a war-themed meeting.
5. Caption: Prison Break (Season 1)
Prison Break? This program promises to break curses and demonic covenants in the life of worshippers. I wonder why the organizers, of all captions, chose a movie title. But who am I to question them, after all, this is Nigeria!
6. Caption: Who Is Monitoring My Life, Leave Me And Let Me Drive My Car
Enemies of prosperity, especially those manipulating worshippers to keep moving about in public buses and other means of transportation are the target here.
7. Caption: No More Shit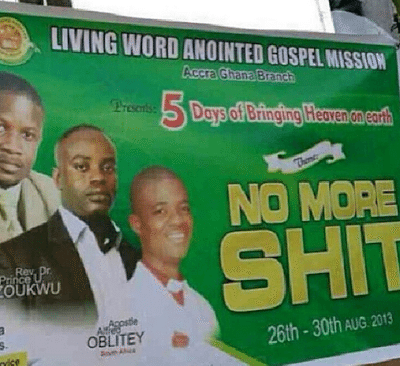 No more what? shit? This is perhaps, the funniest of them all. But wait, you've not seen it all.
8. Caption: NTA Channel Jesus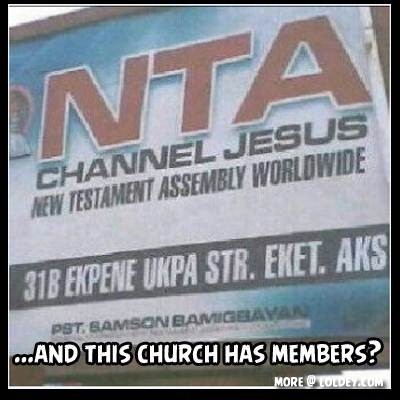 Unless there's another meaning of NTA, the only NTA Nigerians know is the country's broadcasting television network – Nigerian Television Authority (NTA). So what has a broadcasting television network got to do with a church?
9. Caption: My Garri Don – Done!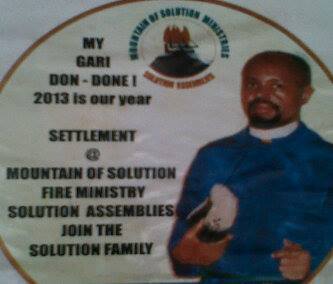 I don't know what to say about this poster. This is simply weird!
10. Caption: This Beautiful Sister Must Marry – By Force!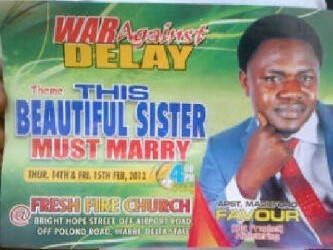 Really? Is marriage now by force? But wait, what happens to the ugly sisters then? They'll die as spinsters or probably experience delay in marriage, huh? I am laughing already.
11. Caption: I Smell America – Anointing To Travel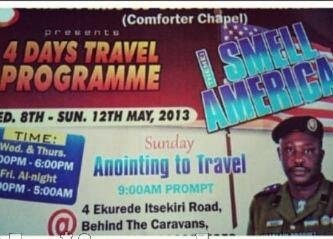 Everybody wants to travel to more desirable countries and destinations like the USA. This promises to release traveling anointing on willing worshippers.
12. Home Of Champions – Winners Chapel (Chelsea Branch)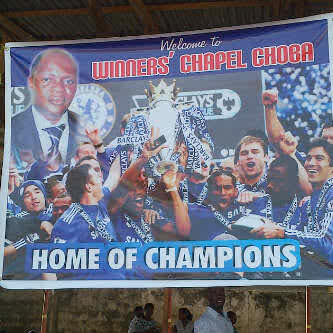 I wonder what Chelsea management will feel like after seeing this. Well, I think this will not go down well with Manchester United, Arsenal, and other rival clubs' fans worshipping in the same church.
13. Caption: Oh God, Na Like This We Go Dey?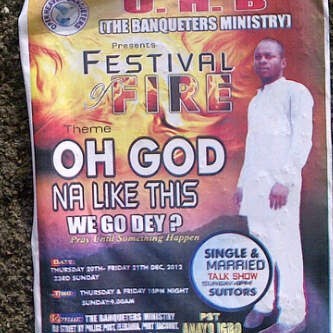 Speechless, that's how this makes me feel.
14: Caption: My Spouse Has Gone Mad Again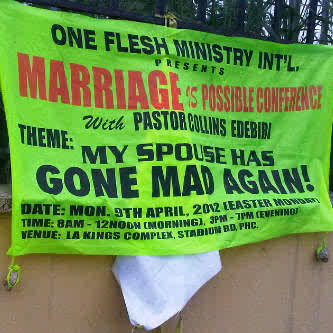 What? who has gone mad again? Nigerian singles are in for something bigger than them! Where do I start to talk about this so-called marriage conference? You can help me if you have any clue.
15. Caption: Aunty Wetin I Do You?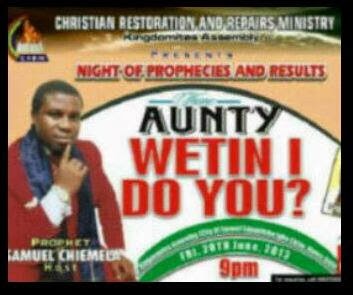 What a question! Is someone actually going to preach this?
16. All The Hot Girls In Lagos Attend Dr. Fireman's Church… Apart From You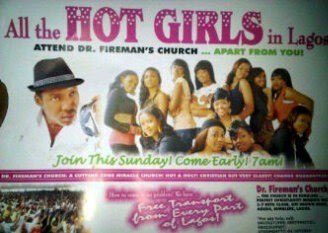 Apart from who? me or you? No, I'm not going to say a word about this.
17. Caption: I Don Taya For This Nonsense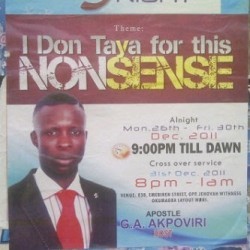 Yes, not just you. We all are tired of something. But I wonder how the speaker will go about this funny title.
18. Caption: I Will Not Leave Lagos Empty-Handed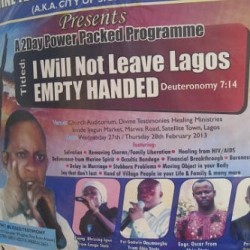 Yes, the villagers must hear this! Lagos, Nigeria's fastest-growing city, is for those who are ready to hustle and make money. So, it's always a shameful experience when most people hustle and have nothing to show. As funny as it sounds, leaving Lagos empty-handed is a blow to the face, trust me.
19. Caption: Tied Down in the Village but Needed in the City

Nigerian witches operate from everything, including from the village. This programme is aimed at clipping their wings and sending the oppressed to the city.
20: Run For Your Life – Normal Church Only On Sundays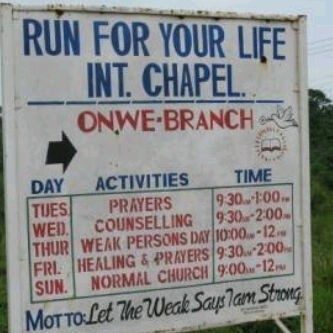 Funny! Thursdays are strictly for "weak persons". Everything about this signboard makes me laugh.
21. Pure Kukere Gospel Hits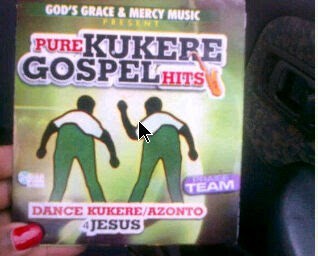 It's dancing time! Yes, Nigerians love dancing.
22. Caption: Come As You Are

Come as you are but bring a machete! This is not funny anymore. Do people really take this seriously?
23. Caption: Koboko Night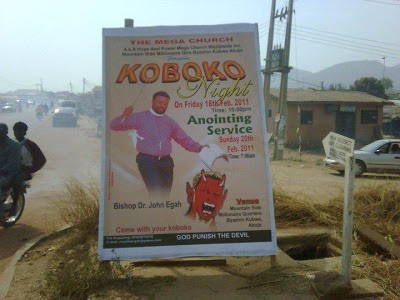 This got me thinking and laughing at the same time. Hope u know koboko, in Nigeria, means cane. The devil is really in trouble.
24. Caption: Uncle Wetin I Do You?
This is quite hilarious, I must confess!
25. Caption: Single's Bonanza – I Must Marry – Win A Spouse Bonanza!!
No comment.
26. Caption: The Burial Of Satan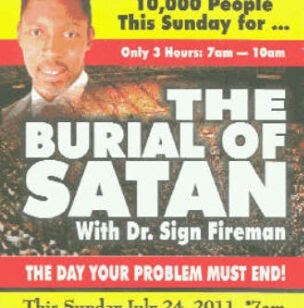 Jeez! The burial of Satan? Looks like I've seen it all.
27. Odeshi – Get Your Family Protection Now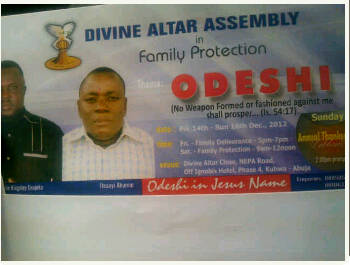 Odeshi! We all need protection or don't you?
28. Caption: 2go Death Is Not Mai Portion 
2go death? How? God of 2go? Tell me this is a joke.
29. Caption: Who Wake the Sleeping Lion?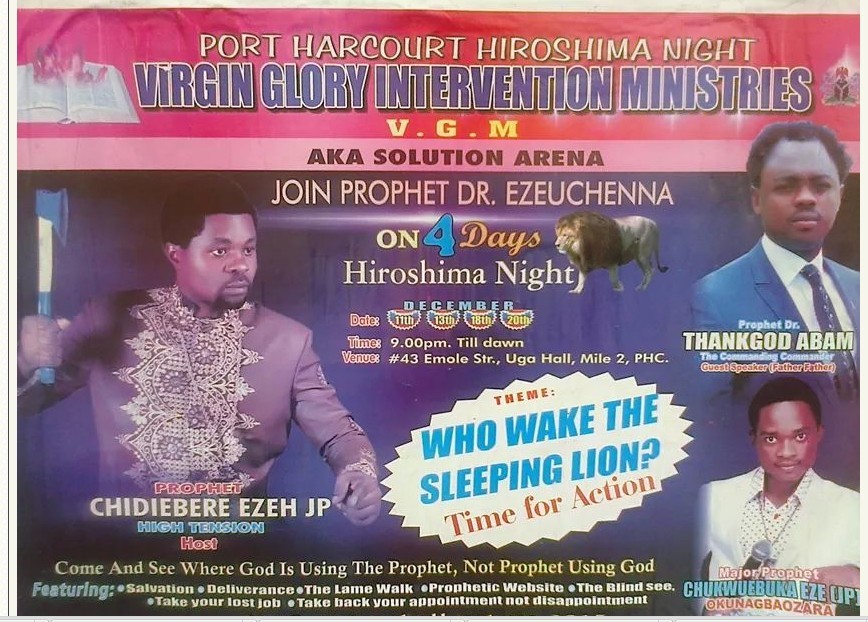 How can someone do this? Don't dare these men.
Meanwhile, na God talk this one?
If you are a pastor, you need to read this.