Popular Catholic priest Rev. Fr. Ejike Mbaka, has released prophecies for 2018 advising President Muhammadu Buhari against seeking re-election in 2019.
Mbaka who is the Spiritual Director of the Adoration Ministries, Enugu, spoke during a special New Year Eve service at the Adoration Ground, in Emene, warning President Muhammadu Buhari that Nigerians will 'change' him in 2019 if he does not change his style of leadership.
The priest warned that the President risks being 'blown away shamefully' by the wind of change which he set off when he defeated former President Goodluck Jonathan in 2015.
While stressing that Buhari would be totally disgraced if he takes a shot at the presidency after his current tenure, Mbaka berated the Buhari administration, saying it brought untold hardship upon the people. He added that the President must quickly find a solution to the numerous challenges in the country – economic hardship tops the list.
"He should change quickly or else Nigerians will change him in 2019," Mbaka said.
Mbaka advised the Northerners to look for another candidate in place of Buhari ahead of the 2019 election. He suggested Gombe State Governor, Ibrahim Dankwambo as a suitable replacement for Buhari, adding that the governor is performing very well in his state.
But the ruling All Progressives Congress (APC) has reacted saying the party is not bound by Fr. Mbaka's prophecies.
According to the party's National Publicity Secretary, Bolaji Abdullahi anyone who feels the prophecies are true was at liberty to believe but added that the APC will only act on what is politically correct not prophecies.
"We cannot run a political party by prophecy. Prophecy is a matter of personal conviction or personal belief.
"The party cannot act based on any kinds of prophecies because we are not operating on that. We only act based on what is politically correct. People are free to believe such prophecies but our party will not act or take critical decisions based on prophecies", Abdullahi said.
In the same vein, the Coalition of Gombe State Indigenes has faulted Fr. Mbaka's verdict that the state Governor, Ibrahim Dankwambo, has performed well.
In a statement on Wednesday, the group advised the priest to visit Gombe first before reaching such a conclusion, arguing that  Dankwambo has reversed the fortunes of the state rather than consolidate on the developmental strides of his predecessors.
According to the group, Mbaka was not correct in his assessment that Dankwambo, based on his performance in Gombe, would make a better President than President Muhammadu Buhari.
In the statement by Muhammad Jibrin, the Gombe indigenes rejected Mbaka's suggestion, saying if the priest knew Dankwambo well, he would not have made such a suggestion. Hear them:
"If the Rev. Fr. is well apprised of the state of affairs of Gombe State, he will certainly not recommend Governor Dankwambo as a worthy replacement for the great President Buhari. Perhaps, some examples will show Rev. Fr. Mbaka the extent of the damage that Governor Dankwambo has done to our state."
They argued that the governor had not only failed to ensure that the indigenes had access to potable water; he had also ruined the state's health, education, and aviation sectors.
The group said Mbaka's sudden disapproval of Buhari was suspicious as he had hitherto been known as one of Buhari's enthusiasts.
"Perhaps, Rev. Father Mbaka should come clean and tell Nigerians what his major motivation is in making this recommendation. We are aware he only received a handshake from the frugal President Muhammadu Buhari when he last visited Aso Villa.
"I advise Father Mbaka to travel to Gombe State and visit the state university, hospitals and water projects in Gombe town and all the other 10 local governments of Gombe State and tell Nigerians his findings," the statement read.
Former Aviation Minister, Femi Fani-Kayode, has also reacted to Fr. Mbaka's warning that Buhari would be totally disgraced if he takes a shot at the presidency after his current tenure.
In a series of tweets, the Peoples Democratic Party, PDP, chieftain stated that the Lord has rejected Buhari and declared that those who supported Buhari in 2015 will also be put to shame in 2019. He wrote:
"Not only has the Lord rejected Buhari, not only will he be disgraced out of office with shame and ignominy but there is also this: no individual that had a hand in bringing this unprecedented and unrepentant curse to power in 2015 shall ever lead or rule Nigeria in the future."
Rev. Fr. Ejike Mbaka, was hitherto one of Buhari's most vocal supporters, whose alliance with the President seemingly began at a similar forum in 2014, where he prophesied the defeat of the then incumbent President, Goodluck Jonathan in the 2015 general elections and his replacement by Buhari. The prophecy came to pass.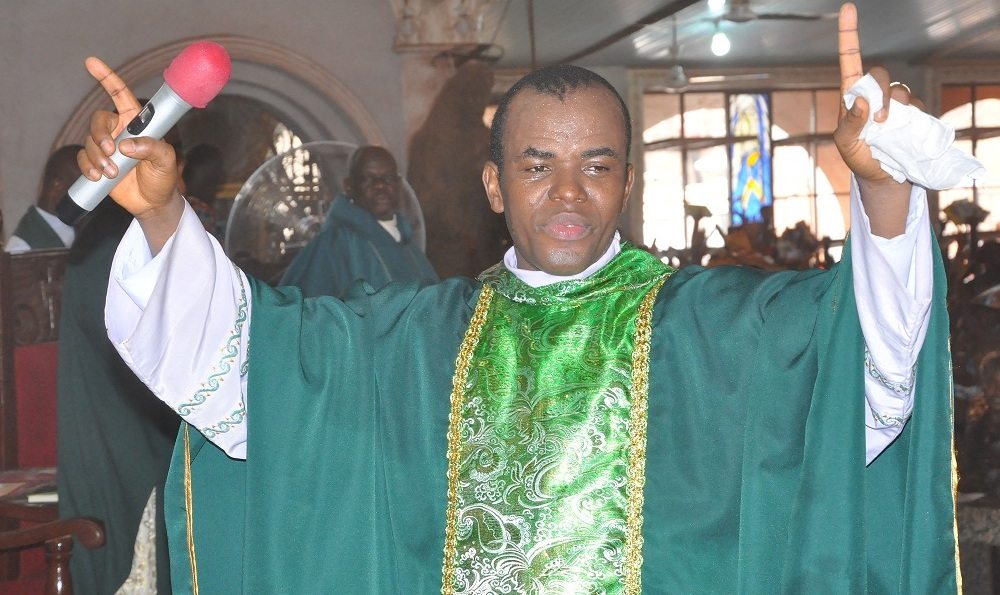 Mbaka's Full Prophecy
The fiery priest declared that if Buhari did not 'sit up,'another person would take his office. Expressing dissatisfaction with Buhari's leadership, the priest noted that 2017 was one of the most horrible years in Nigeria's history, and demanded that the President change his 'change agenda', which he described as questionable.
Mbaka, who had in the past faulted the President for not appointing the right people and listening to the wrong advice, said the hardship in the country was foisted on Nigerians by a cabal that had 'kidnapped' the President.
The cleric, who declared that Nigerians would soon be rescued from 'captivity,' urged Buhari, who, according to him, "is in trouble, to immediately do away with the wrong people" he surrounded himself with.
Noting that 'God forced him to speak out,' Mbaka said, "I had wanted to pray for you (Buhari) and go because I don't want anybody to attack me, I don't want the Bishop to invite me, I don't want politicians to attack me anywhere. But God forced me, you must say it.
"Listen to me – 2017 became one of the most horrible years in this country.
"The Lord says captive Nigerians, you will be speedily rescued. Things are very very difficult, hard and tough nowadays. The hardship is not from God, they are man-made.
"The wicked cabal and satanic agents in this country have wickedly kidnapped the goodwill and good intentions of Mr President, Muhammadu Buhari. His good intentions have been kidnapped.
"President Buhari must wake up and sit up immediately. Heaven demands Buhari, our President, to change all those who are holding and caging him in captivity. If he will not change them, he will be changed.
"Mr President, wake up, sit up. God said you are toying with the privilege given to you. There is no time. Nigerians are dying in your hands. People are not happy with your system.
"Change or you will be changed – God said that Buhari is in trouble. Buhari is hypnotised. Buhari is in a horrible bondage. Buhari's mantra has been cannibalised.
"Unless President Buhari quickly and strategically positions the right people and changes the former ones inaugurated by him, the wind of change, that he himself inaugurated, will blow him away shamefully.
"The wind will be too strong that Mr President and the cabal will be blown out of office shamefully.
"The wind will be irresistible for it will come like a hurricane. Buhari can handle this problem but his office, if he is not careful, another will take.
"Change or you will be changed; after all, you are the one who introduced change as your mantra."
The priest insisted that rather than the said cabal, Buhari should be blamed for the problems in the country.
"Mr President, you are to be blamed, not your cabal. You have your brooms, but the cabals have their bags; either you sweep them away or they throw you into the bag.
"Heaven cried that your methodology is not just archaic but too sluggish, very slow.
"The situation in Nigeria needs speed but you are too dull," he said.
Mbaka also faulted Buhari's anti-corruption campaign.
He said, "His (Buhari's) pattern of battling corruption is not just archaic and barbaric; it is a witch-hunt, terribly selective.
"Mr Buhari, as the President, why should you be picking and choosing those that you and your so-called EFCC man would want to arrest so that your party becomes a hideout for criminals so that any person who does not want to be arrested will become an APC person? Is that not corruption in itself?
"It is the same people that go to the APC, they drop their umbrella and pick the broom, but instead of using the broom to sweep away corruption, they are using it to sweep money into their pockets.
"Your change mantra is questionable. You are to change your change or you will be disgraced out of office."
Mbaka noted that Buhari's failure to check the excesses of the Fulani herdsmen had cast doubts over his agricultural development plan.
He said, "Why should you be talking about agriculture and you leave the Fulani herdsmen? Farmers don't have hope; don't you hear what is happening in the country? Can't you use your presidential mandate and help the less privileged?"
The priest declared that Buhari was not a President in the real sense of the word.
"The spirit of God says that Mr President is just President in the mouth – he is not the real President per say. He is a pseudo-President, people are running the government the way they like and giving him articles to sign.
"Mr President doesn't know what is happening in his government, what a pity," Mbaka said.
The priest urged Buhari to jettison plans for a second term in office.
Mbaka said Buhari had himself to blame for his problems, especially after failing to heed the advice of his wife, Aisha.
He said, " Mr President, as I was waiting on the Lord, I am asked to advise you, don't come out for a second tenure, after this, retire peacefully.
"Mr President, you are the cause of your own problem. God gave you an adviser, a wonderful mentor, a visionist, a matriarch, in the person of your wife, Aisha, but you don't want to listen to her; that woman is heartbroken because she understood that you are not yourself.
"Come back to yourself or you will cry by the time you will be sent out of office. Those who are encouraging you to come out and run again, they want to disgrace you shamefully and publicly."
Mbaka also noted that age was not on Buhari's side.
See Also: Top 5 Possible Candidates To Replace Buhari in 2019
Noting that the North ought to complete its tenure even without Buhari, Mbaka suggested Gombe State Governor, Ibrahim Dankwanbo, as an alternative.
According to him, although he does not know whether Dankwanbo was in the All Progressives Congress or the PDP, he knows that the man has what it takes to lead Nigeria.
"I am not campaigning for him (Dankwanbo) but I am talking about somebody who can lead us forward; somebody with vision; to change Nigeria is not difficult.
"Wherever such a person is, let his party make him available for Nigerians to see it," Mbaka said.
The priest added that it was not yet the turn of the Igbos to produce the President.