To transfer money from your Fidelity bank account to another bank account, you need to dial 770Account numberAmount#. With the transfer of Fidelity USSD code *770#, you can easily transfer money from your Fidelity bank account to another Fidelity bank accounts
With more than 400,000 distinctive shareholders, Fidelity Bank is respected as one of the leading financial institutions in the Nigerian banking sector. The bank was formed in 1988, it started as a merchant financial organization, but it had its big break in 1999 when it was upgraded to a commercial bank. In the same year, it became a Public Limited Company and was then re-branded to Fidelity Bank Plc. Since its establishment, the bank has adopted various technological means to serve its customers better. Some of these ways involve the introduction of a faster and more efficient transaction system.
There are two major ways Fidelity bank customers can maximize their bank services – internet banking and the bank transfer codes Transactions such as funds transfer to Fidelity banks or other bank accounts, airtime purchase, bulk payments, robust Bills Payment (e.g., DSTV, PHCN, Quickteller Merchants, Remita Billers, e.t.c.), self-transfer without token response, are what users gain without being physically present at the bank.
While performing internet banking would require you to visit the bank's online platform at https://online.fidelitybank.ng/ with your username and password, the introduction of the Fidelity Bank transfer code has equally helped to make instant bank transactions easier.
What is a Fidelity Bank Transfer Code?
As a fast-growing financial institution, Fidelity Bank has achieved a lot within the banking circle. One of the bank's most laudable feats is the Fidelity transfer code *770#. The platform is structured to allow clients to conveniently transfer money from their accounts to fidelity accounts and other banks. This 3-digit USSD pin gives the customer the right to conduct simple banking transactions on their mobile phones registered with the bank. Interestingly, these activities do not require internet service.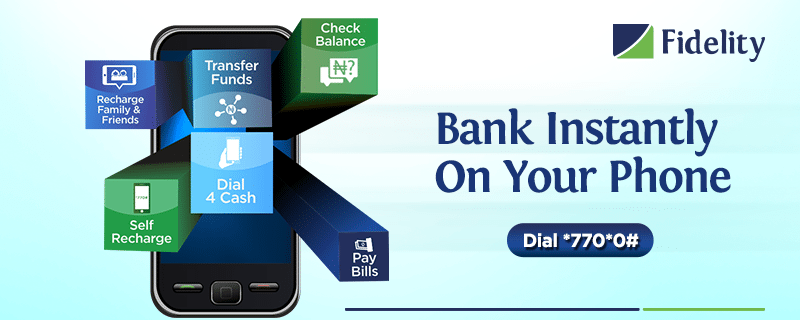 Besides its convenience, there are other amazing benefits customers enjoy on the platform. With the bank's transfer codes, it is straightforward to carry out different bank transactions and other bank-related activities such as:
BVN and email updates
Bills payment
Change your PIN
To block your stolen ATM cards
Money transfers
Airtime recharge
Check account balances
Benefits of Using Fidelity Bank Transfer Code
Using the Fidelity Bank transfer code comes with lots of benefits:
It is easy, simple, fast, and convenient
The code is compatible with all phone types
Mobile data is not required
Transaction process is less than 20 seconds
The Service is available 24 hours a day, 7 days a week.
The service is available to Airtel, 9mobile, GLO, and MTN subscribers
Requirements for Fidelity Bank Transfer Code Activation
Before you begin the code activation process, you would need to provide the basic requirements. These requirements include:
Have a Fidelity bank account number
have a phone number that is registered or linked to your account
Have a Fidelity bank ATM card
Prepare a four (4) digit unique pin you would need to replace the default pin.
How to Activate Fidelity Bank Transfer Code
To activate the Fidelity Bank transfer code, follow the steps:
Dial *770*00# on the phone number you use to open your Fidelity Bank Account.
Input the last 4 digits of your debit card (that is, your ATM Card number)
Create a 4-digit pin to enable you to authorize transactions.
How To Transfer Money With The Transfer Code
The Fidelity Bank transfer code allows you to transfer money either to another Fidelity bank account or to another bank account holder. Follow these steps to transfer money to another bank account holder:
Start by dialing *770*Account numberAmount#. Eg:dial *770*1234567890*10000# to transfer N10,000.
Go through the list of banks that pops up and select the beneficiary's bank name. E.g., Select Fidelity bank if the beneficiary's bank account is Fidelity.
The recipient's name, account number, and the bank will be displayed, and you will be required to validate the account details. (This helps you to verify that you're not sending money to the wrong account)
Confirm your transaction by typing your four (4) digit PIN and then click send.
Note: This process must be done in the space of seconds, or you stand the risk of beginning the transaction afresh.
How to Open a New Fidelity Bank Account Using Bank USSD Code
Open a Fidelity bank account using these simple steps:
Dial *770*01#
Select an account opening option (Select Option 1 if you have your BVN and Option 2 if you don't)
Enter your first name First Name
Enter your middle name or Press '0' if you don't have
Enter your last name
Select your gender
Enter your account officer code or press '0' if you don't have one
Enter your date of birth and press 1 to confirm your details and proceed
How to Buy or Send Airtime using the Bank USSD Code
To recharge your phone with airtime from any of the network services in the country, dial *770*Amount#. For instance, *770*2000# and send.
If it is a friend or a close family member you wish to top up their airtime, you dial *770*Phone number*Amount#
Note: You are allowed to only make a single transaction of N20,000 and a daily transaction of N100,000.
To Check Fidelity Bank Balance Using USSD Code
If, after performing a transaction, you want to know how much that's left in your account. The Fidelity shortcode of *770*0# is the answer.
Once you dial the shortcode *770*0#, your account balance will appear shortly after, and a service charge of N20 will be deducted from your account.
 How to Block Your ATM Card 
To block your car when you detect fraudulent activities going on with your card, quickly dial *770*991# or call Trueserve number 01-4485252.
To withdraw money from the ATM card without a debit card
In case you forgot or lost your debit card, you can make withdrawals using your fidelity shortcode. Simply dial *770*8*AMOUNT#. For instance, *770*8*10000#. After dialing the figures mentioned, follow the on-screen prompts, generate a one-time PIN (OTP) and then input your PIN to get a Paycode directly from your Fidelity account. It is this pay code that you will use to withdraw your money.
Once you reach the ATM, input your PIN, OTP, Phone number, Paycode, and amount to withdraw your cash.
Fidelity Bank Short Codes you can Use
To activate Fidelity bank transfer code – *770*00#
To transfer money to another account number – *770*Account*Amount#
To block your ATM card – *770*991#
To buy airtime from your bank account  – *770*Amount#
To top-up for a friend –  *770*Phone number*Amount#
To withdraw money from your debit card –*770*8*Amount#
To check your bank account balance – *770*0#