The Federal Civil Service Commission (FCSC) of Nigeria is the body in charge of making appointments, transferring, and exercising disciplinary actions over all Federal Civil Servants. A chairman and his commissioners oversee the affairs of the body. Excluding the aforementioned, all other FCSC staff are under the control of the office of the Head of Civil Service of the Federation.
The FCSC can be called the powerhouse of the civil service from which the different parastatals draw their strength. Although the productivity of the civil service does not solely depend on the FCSC, the fact that FCSC oversees the overall staffing and discipline of the service creates a huge sense of accountability among civil servants. This greatly emphasizes the importance of the Federal Civil Service Commission and its significance to the overall performance and portrayal of the civil service.
No appointment can be valid without the approval of FCSC. It is their duty to take note of any citizen with a criminal record. The service also serves as a watchdog to maintain law and order in the civil service. The Federal Civil Service Commission is further reported to be one of the highest paying establishments in Nigeria.
Responsibilities of The Federal Civil Service Commission
The Federal Civil Service Commission is charged with responsibilities that include the following:
Provide guidelines for the promotion, appointment, and discipline of personnel
A representative of the Civil Service Commissioners at Senior Staff meetings of ministries
Endorse the advancement of officers to high-ranking positions, including conducting promotion exams and interviews.
Analyzing the endorsements on corrective cases of civil officers
Review and approval of recommendations on disciplinary cases of senior officers
Hearing appeals on matters of appointment, promotion, and disciplines
Transferring civil servants from one department to another
Retiring civil servants and seeing to the payments of their pension and allowances.
The Office of the Head of Civil Service of the Federation (OHCSF) and the FCSC work closely together. While the former oversees structural operations, personnel matters, and conduct in the Federal Civil Service, the FCSC majorly oversees the employment of personnel in the service. This is why it is appropriate to say that the two departments are intertwined or interdependent.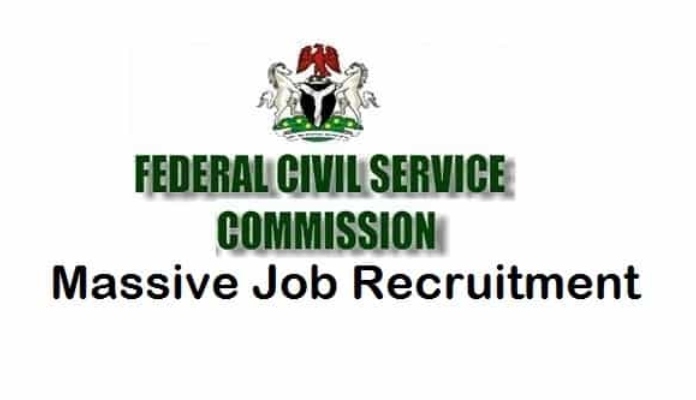 The Federal Civil Service Commission Recruits For Various Government Ministries
The FCSC is responsible for recruiting personnel in the Nigerian Federal Civil Service which includes government ministries such as:
Ministry of Communication
Ministry of Defence
Ministry of Agriculture and Water Resources
Ministry of Housing
Ministry of Education
Ministry of Environment
Ministry of Health
Ministry of Petroleum Resources
Ministry of Justice
Ministry of Lands & Urban Development
Ministry of Aviation
Ministry of Foreign Affairs
Ministry of Youth Development
And all the federal ministries under the civil service.
It also recruits, trains, and disciplines personnel in government agencies such as National Agency for Food Drug Administration and Control (NAFDAC), National Drug Law Enforcement Agency (NDLEA), and other government parastatals and departments. The FCSC has performed its responsibility of recruiting and training personnel of the Federal Civil Service efficiently which is why it is still the highest recruiter in Nigeria.
How Does The Federal Civil Service Commission Recruit Personnel?
The competency and effectiveness of a labor force are a result of well-articulated job analysis and recruitment exercises. This simply means that the FCSC has a lot to do in ensuring that the right and deserving candidates are recruited and that they meet expectations. The commission, therefore, has the responsibility of matching the civil service with competent and efficient staff as they in the long run will be determinants to the growth and effectiveness of their sectors.
By the provisions of the Civil Service (Reorganization) Decree, No 43 section 9 (1)of 1998, which states as follows: Each ministry will undertake the appointment; discipline and promotion of its staff under general and uniform guidelines to be provided by the Federal Civil Service Commission. This is subject to the fact that there must be vacancies and the need for filling such vacancies will always arise. There must also be adequate funds to pay those that may likely be recruited.
The criteria for eligible personnel to be recruited into the Civil Service are as follows;
Must be a citizen of Nigeria by birth or descent
Must be 18 years and above
Must have attained a certain educational level
Must be physically, mentally, and medically fit
Must have NYSC certificate of exemption or completion
Must be of good character and
Must have no criminal record
If the above conditions are met, the FCSC will proceed and carry out recruitment either physically or through the online platform. These two methods will be discussed respectively below.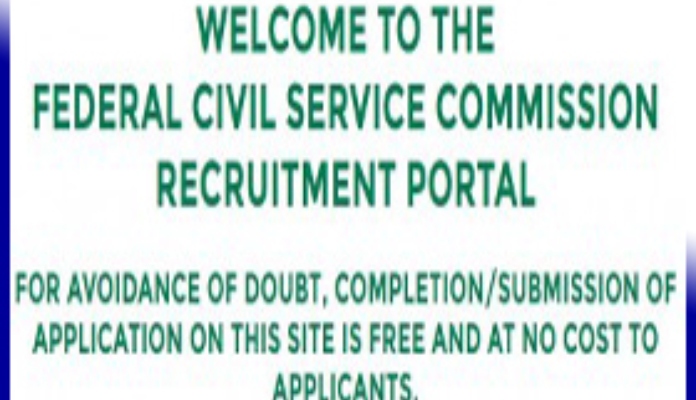 Physical Recruitment Method
Applicants who are qualified for vacancies within the Federal Civil Service will take their application letters, two recent passport photographs, and current Curriculum Vitae to the following address;
IPPIS Unit, Room 1
AAPSCOMS Building, Ground Floor,
Federal Civil Service Commission Headquarters,
4, Abidjan Street, Wuse Zone 3
Abuja – Federal Capital Territory
Application forms can be gotten from this address for those that reside in Abuja. Also, forms can be collected from the Chairperson of the States Civil Service Commissions in the following geo-political zones for free;
North-West (Kaduna)
North-East (Yola)
North-Central (Mabushi Abuja)
South-East (Owerri)
South-South (Port Harcourt)
South-West (Ibadan)
Most importantly, you have less than six weeks from the date the registration is announced, to submit your applications. Be sure to specify the ministry as well as the post you applied for on the envelope which is to be addressed to:
The Hon. Chairman,
Federal Civil Service Commission,
4 Abidjan Street,
Wuse Zone 3, Abuja.
The commission always makes it clear during recruitment that the forms come at no cost so that no one is misled by miscreants who may want to exploit them.
Online Recruitment Method
Other applicants who intend to submit their application online should have an internet-capable device with a good internet connection. They should follow the process below to apply
With your device browser log on to www.fedcivilservice.gov.ng
Click on the three stripe icon on the top left corner of the homepage
Click on VACANCIES
Read the requirements, method of application, and Click APPLY
Register your profile on the FCSC Portal
Fill the online application form
Upload the necessary documents
Review the filled form for clarity
Click Submit form
Printout acknowledgment for reference
Shortlisted candidates will be contacted by the commission to complete the recruitment process. All uploaded documents are to be genuine to avoid disqualification. Take time and review documents thoroughly before submitting them.
Federal Civil Service Commission Salary Structure
The FCSC is designed to cater to the needs of its staff. It is a well-known fact that most Nigerians are comfortable working with the service because of job security, allowances, and assured pension when they are retired. This has caused some citizens to go to the extent of lobbying for positions in the civil service. According to the National Wages and Salaries Commission (2006), this is the salary structure of Civil Service Staff:
Workers on Grade level 1 earn between N133,584 to N174,380 per annum
Workers on Grade level 2 earn between N135,754 to N189,094 per annum
Workers on Grade level 3 earn between N137,607 to N203,169 per annum
Workers on Grade level 4 earn between N144,143 to N222,907 per annum
Workers on Grade Level 5 earn between N163,329 to N254,833 per annum
Workers on Grade level 6 earn between N199,145 to N310,683 per annum
Workers on Grade level 7 earn between N330,681 to N501,859 per annum
Workers on Grade level 8 earn between N427,322 to N631,064 per annum
Workers on Grade level 9 earn between N501,960 to N744,538 per annum
Workers on Grade level 10 earn between N589,236 to N855,992 per annum
Workers on Grade level 12 earn between N679,669 to N975,219 per annum
Workers on Grade level 13 earn between N758,579 to N1,071,039 per annum
Workers on Grade level 14 earn between N837,855 to N1,174,235 per annum
Workers on Grade level 15 earn between N1,152,648 to N1,533,768 per annum
Workers on Grade level 16 earn between N1,425,883 to N1,883,923 per annum
Workers on Grade level 17 earn between N1,741,808 to N2,271,280 per annum
NB: High-ranking workers in the Federal Civil Service Commission enjoy some allowances that include transport and leave allowance. These, among others not mentioned, are not factored into their salaries.