Fans and Viewers of Nollywood home videos will be conversant with Fathia Balogun's name, but not so many will know who Fathia Williams is. Well, both names belong to the same person. Fathia Balogun went back to her maiden name Fathia Williams after her divorce from Saheed in 2014. Interestingly, six years after her marriage failed, the actress found love again. Although not yet married, she got engaged to her newfound love on her 51st birthday. Life indeed begins at forty, after all.
Fathia's Marriage to Saheed Balogun Seemed Happy at the Onset
Although there is no available detail about how they met, the couple got married on the 7th of September 2000. At that time, Fathia had just gotten into Nollywood and struggled to make her way to the top. Saheed, on the other hand, was already the proverbial old broom. He had been in the industry for 22 years and was naturally more famous than she was.
Their marriage was not the first for either of them. Saheed had a failed marriage with a woman named Sherifat, which produced two children Zinat and Jamal. Fathia equally had a previous marriage from which she had a son. For as long as the marriage lasted, Faithia Balogun and Saheed were a happy and peaceful couple. They lived together for six years, within which they were blessed with two children; Khalid, a boy, and Aaliyah, a girl.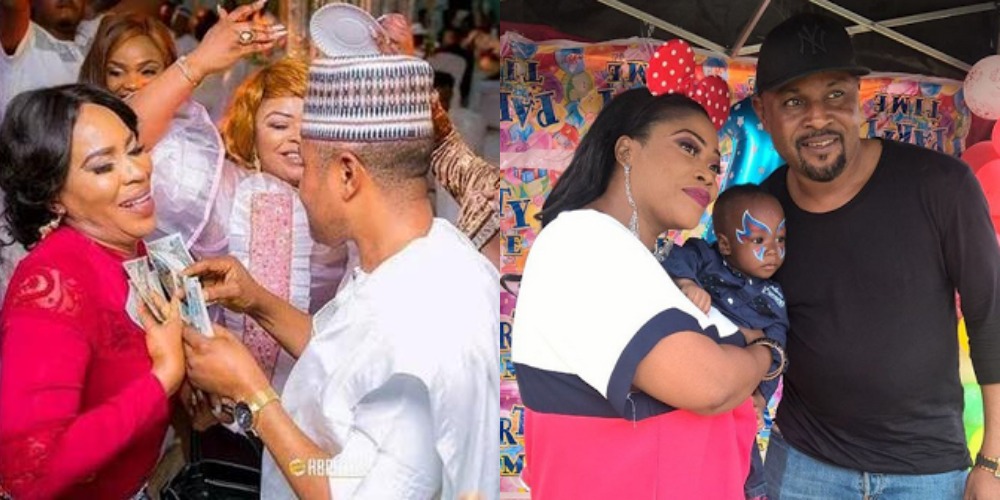 The Celebrity Couple Lost The Spark in 2006
There were speculations that the marriage ended because of infidelity on the part of the pretty actress. However, her husband never came out to say that publicly. Whatever happened had to be something they could not resolve, so their six-year-old marriage came crashing down. It started in 2006 when they separated and started living apart. They were not officially divorced until 2013, when they filed their divorce papers, and it was signed in 2014.
Their divorce was not very dramatic, although the news had it that the veteran actor had sued his wife for not dropping his name after their divorce. He later came out to deny this allegation. However, there was an undeniable story about Saheed's secret marriage to Funke Elegushi, the younger sister to Oba Saheed Elegushi. They got married before his official divorce from Fathia.
On the other hand, Fathia Balogun retained Saheed Balogun's name after the divorce. She refused to drop it despite the many controversies it caused, insisting that it was for her brand's sake. When she was finally ready in 2017, she decided to go back to her maiden name, Williams. When an interviewer enquired about her sudden change of mind, she said both names were hers, and it was not a big deal whichever one she chose to bear. During the same interview, when asked about the cause of her divorce, she said that she was not lucky with marriage, especially because it had failed for the second time. 
The Estranged Couple are Parents to Two Children
The private and reserved actress is a mother of three children. They are Oluwatosin Akanbi, who Fathia had with her first husband, and Khalid and Aaliyah Balogun, both of whom she has with her second husband, Saheed Balogun.
Khalid and Aaliyah Balogun
From her marriage with Saheed, the actress has two children. Her first child and son, Khalid Balogun, was born on the 11th of July 2002. Later on, on the 3rd of April 2005, she gave birth to a daughter Aaliyah Balogun. However, there is no information about her children because she keeps their life very private and only shares pictures of them whenever she is celebrating them for one reason or another. 
The photos she shares revealed that Khalid looks a lot like her while Aaliyah, on the other hand, takes after her father, Saheed. Similarly, a post made by her ex-husband on Facebook revealed that her son graduated from secondary school in July 2018. All other information about their children is kept private. Also, despite their divorce, both parents have access to the kids. But the children live with their mother.
Oluwatosin Akanbi
Another of Fathia's children is Tosin. She had him before her marriage to Saheed and has kept him even more private than her other two kids. Report says that the young man, now in his mid-twenties and married with two boys, resides in the United Kingdom. She gave birth to him during one of her visits to the UK, and when he was three years old, she left him with his father and returned to Nigeria.
What Fathia and Saheed Balogun Relationship Looks Like Now
After many years of staying away from each other's business, the couples finally decided to bury the hatchet and become friends. Although they are not back together as a couple, they have since maintained a friendly relationship.
Both of them featured in a Yoruba movie titled "Aje Ola" in 2019, a movie Fathia wrote. This raised many eyebrows, especially on social media, and some people concluded that they were back together. But it was just a movie, and they are just friends and nothing more.
Other Men Fathia has Dated Since Her Divorce
The actress, who seems to be aging like fine wine, celebrated her engagement in 2020 to a man whose identity was not revealed. The engagement took place in Istanbul, Turkey, on her 51st birthday and rocked the entire social media. However, there has been no further information about the man or a wedding ceremony. Maybe it's just one of the many parts of her life she likes to keep private and will only announce it when everything is in the perfect place.
Still, in her relationship with the opposite sex, Faithia once revealed through a social media post that a young man in his thirties was hitting on her during one of her visits to the USA. She said that even after telling him that her second son was about to enter the university, and her first is a grown man just like himself, the young man refused to budge. He told her that she was lying about her age. She added that although she did not maintain contact with the guy, she found him quite interesting and was impressed by his confidence.