Uju Okoli (born 26th April 1983, Age: 40 Years Old) is a fast-rising Nollywood actress who is also a model, television personality, and producer. She is also the daughter of the veteran actor and director Obi Okoli
She fondly calls herself "Nollywood Sweetheart." The actress was born in Ideato North LGA of Imo State, South Eastern Nigeria, under the care of her father the veteran actor and filmmaker Obi Okoli. Like many of her counterparts, the talented actress started her career with small movie roles and gradually rose to a notable star in Nollywood. She has featured alongside popular actors like Chinwetalu Agu, Mercy John Johnson, Yul Edochie, and many others.
Profile Summary of Uju Okoli
Name:

Uju Okoli

Date of Birth:

26

th

April 1983

Age: 40 Years Old
Place of Birth:

Ideato, Imo State

State of Origin:

Imo State

Ethnicity:

Igbo

Education:

Mass Communication

Alma mater:

Imo State University

Profession:

Actress and Model

Net Worth:

$400,000
Uju Okoli grew up in Warri, and Started Her Acting Career in Asaba, both in Delta State
Uju Okoli grew up in Warri, Delta State, where she got her First School Leaving Certificate (FSLC) and West African Senior Secondary Certificate Examination (WASSCE). She proceeded to the prestigious Imo State University Owerri (IMSU), where she obtained a degree in Mass Communication. Therefore, it will be right to say her course of study helped shape her for her future career. She loves art, music, and she is a devout Christian.
Uju started her career in music while in Delta State but later switched to full-time acting in 2014 when she relocated to Asaba. At her start, she got minor roles like maids/servants till she became a force to reckon with. Now, she often acts as a Princess or as an elite lady. Her breakthrough came when she starred in the TV series 'The Palace' in 2015. She has starred with big names like Liz Benson, Chinwetalu Agu, and others. Some of her acting credits are in these films:
'Echoes of Love',
'Another World',
'Designated Prince',
'Strength of Love',
'My Last Hope',
'Family of Enemies',
'Amazing Husband',
'Hard Way',
'Village Liars',
'Royal Struggle',
and 'Ring of Fate'.
Uju is a very beautiful and attractive lady; she has the capacity to interpret any role given to her by producers and directors in Nollywood. These skills have made her very popular in the Nigerian film industry. She is one of the actresses who have managed to come to the limelight without any controversy.
How much has the Nollywood Sweetheart made so Far?
Uju Okoli has amassed her $400,000 wealth majorly through acting, endorsement deals, and adverts she runs on her social media handles. No doubt, with more roles to come her way as she keeps climbing the ladder of success in Nollywood, the actress is sure to see her income and net worth keep rising.
She is the Daughter of Nollywood Veteran, Obi Okoli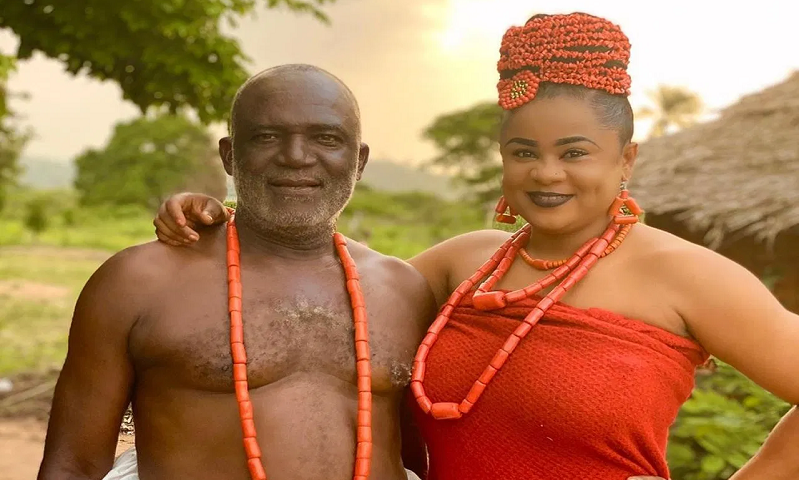 As stated above, Uju Okoli's father is no other than a veteran Nollywood pioneer actor, director, and filmmaker, Obi Okoli. He is also a University lecturer (at the University of Nigeria Nsukka where he teaches Theatre Arts and Film Studies) and a former broadcaster.
He was a cast in Chinua Achebe's "Things Fall Apart" in 1985 starring the likes of Pete Edochie. Mr. Okoli normally acts as a king, chief, and grandfather in films because of his age. He has featured in over two hundred films all through his career. Obi is the founder and Chief Executive Officer of Idejimbi Films, a film production company that has blockbusters on its list.
Uju has a cordial relationship with her father as they are seen on set together. Her persistent hard work helped her to diversify her career choice, although as she grew older she became close to her father and he helped groom her with the much-needed experience required to succeed in the film industry. Obviously, his work has paid off as Uju is one of the most sought out actresses in Nollywood today.
Rumors that Obi Okoli is not Uju's Real Father
There were had to dispute speculations that the Veteran actor Obi Okoli is not the biological father of Uju Okoli. The claim was that Obi is from Anambra State and not Imo State as his daughter. However, it is worthy to note that Obi Okoli was born and brought up in Ogboji Anambra State but as stated above he hails from the Akokwa in Ideato Local Government Area of Imo State. The allegations that Obi is not the biological father of Uju and Tony white is totally false.
Her Mother, Ajie Okoli, isn't as Popular as Her Father
Ajie Okoli is the mother of Actress Uju Okoli and wife of Obi Okoli. While growing up Uju was very close to her. Not much is known about her though, but, it is known that Agie is a devout Christian (Catholic) and Uju was brought up in the ways of the lord. She got her morality code from her mother who keeps a low profile below the prying eyes of the media. Ajie is happily married to Obi with six children.
Uju isn't the only Nollywood Star Among Her Siblings
Uju was born into a house of seven (7) children; however one of her siblings who was like a role model to Uju died in 2014. Because of the secretive nature of the family, the names of Uju's siblings are not readily available. However, Uju has an elder brother who is also a Nollywood star.
Tony White Okoli is a name to watch out for in Nollywood. He is a budding actor and elder brother to prolific actress Uju Okoli. He was born on 20th April 1980. He began his acting career in 2014 and has since then played a couple of roles.