Evelyn Joshua (born 17 December 1968) is a famous Nigerian pastor, media personality, and entrepreneur best known as the wife of late TB Joshua, who was a Nigerian prophet, televangelist, philanthropist, and founder of the Synagogue Church of All Nations.
While T.B. Joshua's fame and popularity relegated the presence of his wife to the background, his death has now tilted the media's beam on Evelyn Joshua.
Evelyn is a strong woman who, against all odds, succeeded her late husband as the general overseer of the Synagogue Church of All Nations (SCOAN). It is an accepted fact that the greatness and success of prophet TB Joshua would not be complete without the steadfast support and love of his wife, Evelyn.

Summary of Evelyn Joshua's Bio
Full Name: Evelyn Joshua
Gender: Female
Date of birth: December 17, 1968
Age: 54 years old
Zodiac: Sagittarius
Ethnicity: Delta-Igbo
Nationality: Nigerian
Sexual Orientation: straight
Religion: Christianity
Marital Status: Widowed
Husband: TB Joshua
Children: Promise, Serah, and Heart
Parents: Mr. & Mrs. Nicholas Akabude
Education: St Emecheta Primary School, Ezi Town, Orile Primary School in Oshodi, and Grammar School, Oshodi, Lagos.
Net Worth: $15 million
Evelyn Joshua Hails from Delta State, Nigeria
On December 17, 1968, Evelyn Joshua was born in Delta State to her parents, Mr. & Mrs. Nicholas Akobundo. She is a native of the Okala Okpumo community in Oshimili North, Local Government Area of Delta State. Evelyn's family is mainly of the Delta-Igbo-speaking tribe. She is the fifth child in a family of seven. Details about her siblings are unknown to the media. However, it is a fact that the wife of the late prophet had a deceased twin brother.
Evelyn grew up alongside her siblings in Okala Okpumo in Delta State. She had her primary education at St Emecheta Primary School, Ezi Town Delta State. She later completed her primary education at Orile Primary School in Oshodi after her family moved to Lagos in 1977. Evelyn proceeded to complete her secondary education at Grammar School, Oshodi.
Before Joining SCOAN, She Was A Private Worker
Information as to whether she attended university is unknown to the public. However, Evelyn worked with Nigerian Distilleries in Ota, Ogun State. This was the period she also met her husband. More so, she was not initially a member of SCOAN; apparently, Mrs. Joshua was a member of Assemblies of God church before her marriage to TB Joshua.
Evelyn Met T.B. Joshua in 1990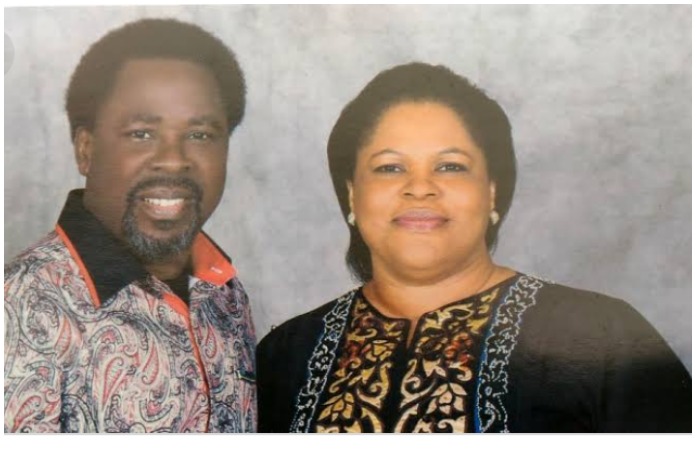 From our findings, it was gathered that Evelyn met the prophet during her visit to her sister at Ikotu Egbe in Lagos. On a fateful day during her short stay there, her path crossed with that of the prophet in a 45 minutes encounter that translated into a lifetime of conjugal bliss.
It all happened in 1990. Having heard of the miraculous activities of the prophet, TB Joshua, Evelyn became suddenly eager to meet him for some spiritual guidance and counseling. Even though she was attending Assemblies of God church, she still went to his church. After some efforts to see the man of God, which proved abortive, she later got the rare opportunity to meet with him.
She recalled that the moment TB Joshua saw her, he started telling her revelations about her personality, as he called her with her name, stating her age, occupation, and everything about her family even without Evelyn uttering a word in his presence. Evelyn was instantly swept off her feet by his charming personality and how he was able to know all of those details about her life.
The story later changed after he told her that he had a vision about her being his wife. TB Joshua soon asked her to marry him, and even though everything happened too fast, Evelyn said yes. This was because she had the conviction that it was all some sort of a divine arrangement. The two got engaged immediately, and the rest was history.
She Came into the Limelight Following Her Marriage to the Prophet
It is certain that before her encounter with the televangelist, and founder of SCOAN,  Evelyn had been keeping quite a low profile as she maintained her job at Nigerian Distilleries in Ota, Ogun State. It was her marriage to the prophet that thrust her into the limelight. Unlike most couples who would spend long years of courtship before tying the knots, Evelyn and Prophet TB Joshua's case was quite different.
After their first date, which led to their engagement, the duo tied the knot after some months within the same year in 1990. Evelyn was only 22 years old then, while her husband was 5 years older than her. Shortly after their wedding. Evelyn left Nigeria for Ghana, where she had enrolled in some management program; afterward, she came back to support her husband's ministry.
Evelyn Joshua was a strong loyalist of the prophet when he was alive. When quizzed about the negative speculations and rumors surrounding his ministry, she would always debunk them. Evelyn tells everyone that her husband is dedicated to his work and is not as mysterious as many accuse him of being.
Their marital bliss was blessed with three amazing daughters, and it lasted for 31 years before her husband's untimely demise truncated it. They had initially encountered some minor challenges in their marriage bordering on their ethnic differences. She was Delta-Igbo while he was Yoruba, which is not uncommon with most inter-ethnic marriages. But they were able to pass all the hurdles and storms together.
Evelyn And TB Joshua Had Three Daughters
Evelyn and her husband had three children, whose names are Sarah Joshua, Promise Joshua, and Heart Joshua. One lesson learned from the couple is that they were not hell-bent on getting a male child despite pressure from family. Their daughters seem to be doing quite well, having been trained under a strong Christian background.
Sarah Joshua, her first daughter, is a Barrister; she attended the London School of Economics, after which she came back to Nigeria and was called to bar in December 2015. She is now a practicing barrister. Whereas Promise Joshua, her second daughter, is currently studying International Relations and Politics in London. Nothing much is known about their last child Heart Joshua.
As expected, after the demise of her husband, Prophet TB Joshua, Evelyn now assumed the sole responsibility of catering for her daughters. As it seems, she has not been faulted in doing so as all of her daughters have remained on the right track of moral excellence.
The Death of TB Joshua Caused So Much Sorrow to the Family
The once happy family was plunged into so much sadness with the demise of their father and founder of SCOAN, Prophet TB Joshua. The unexpected news of his death broke on June 5, 2021, only a few days to his 58th birthday. There were several reports making waves that the prophet died after battling with stroke for a couple of months, but they were never verified.
Some reports suggested that the prophet knew he would die before the fateful day. These reports further made headlines when the public learned about what were said to be his last words and sermons. During the last church service, where he also said words like 'watch and pray,' the late prophet at some point started feeling uncomfortable and excused himself to his apartment.
Members had thought he only went to ease himself or take a little rest, but when he took longer than expected, some people went to search for him in his apartment. However, when they found him, he was already dead. He was buried within the premises of the SCOAN church on July 9, 2021, at Ikotun, Lagos.
Left to mourn him were his wife and his daughters. Evelyn was heavily grieved by the death of her husband TB Joshua, and the same went for his three lovely kids. But although the family mourned him privately, they shared every information about his funeral to the public through different press briefings.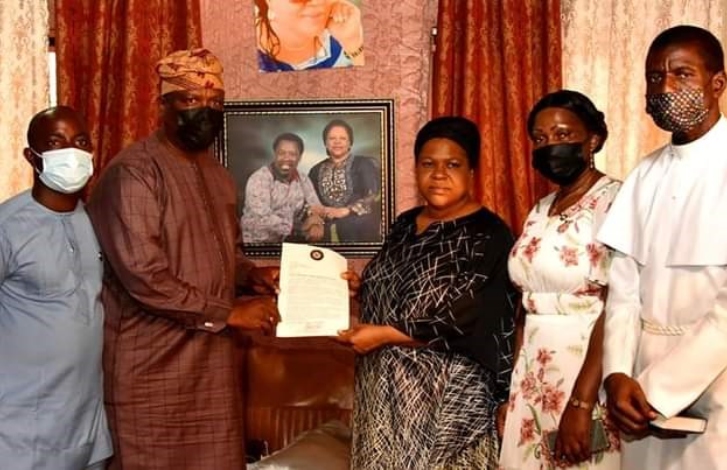 Is Evelyn Joshua the New Leader of T. B. Joshua's Church?
Yes. On September 11, 2021, the Synagogue church named late TB Joshua's wife as its new leader. The church made the announcement while calling for prayers for the new leader. However, the journey to becoming the new leader was not without hurdles for the prophet's widow. In the natural order of things, many would expect that after the demise of the general overseer of SCOAN international church, his wife would assume leadership of the church.
But on the contrary, the idea to make TB Joshua's wife the new leader sparked a lot of controversies from some factions of the church's leadership who are opposed to the idea. The situation became worse because when TB Joshua was alive, he worked closely with a group of disciples referred to as the 'wise men.' It was also argued that his wife was not deeply involved in leadership activities and was not also a member of the board of trustees.
Amid these controversies, the idea to go to court to obtain membership of the trustees for Evelyn was born. In the wake of the division and arguments regarding who succeeds the general overseer, some series of consultations were made.
It was then unanimously agreed that the wife of the late prophet should assume the mantle of leadership of the church. Afterward, the court granted an order to make TB Joshua's wife a member of SCOAN's incorporated trustees, which she earlier wasn't part of.
The shift has begun! The measure of a leader's success is in contribution not acquisition. Leaders often need to keep secrets and to make difficult decisions. Praying for wisdom for making decisions. Leaders need to care, value, empower people and be transparent… #EvelynJoshua pic.twitter.com/HXtqTxVuVj

— Pastor Mrs Evelyn™ Joshua (@Mama__Evelyn) September 13, 2021
How Evelyn Joshua Is Taking On Her New Title As General Overseer of SCOAN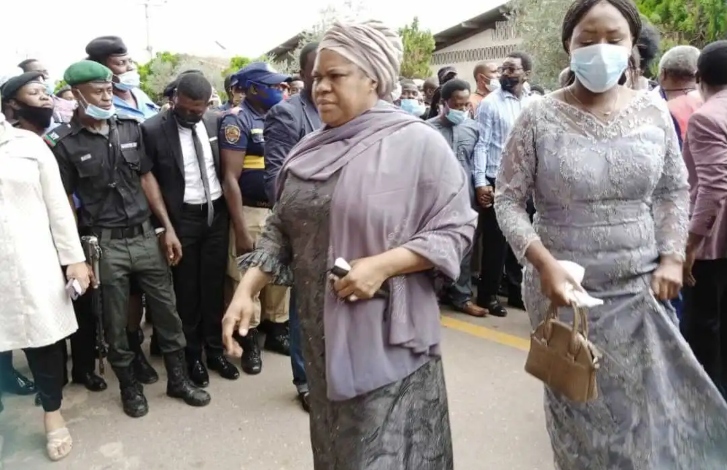 Evelyn has demonstrated firm resolve towards being the new leader of SCOAN. She is also working hard to ensure that her husband's legacies are upheld. Some other factions of the members, who are known as the Global Congress of SCOAN Members (GCSM), in collaboration with other senior members, of the church still bore a grudge against Evelyn's new appointment.
But all that did not count anymore as the woman leader who showed all readiness immediately took up the daunting task. Having attended different evangelical courses, which made her also an evangelist, added to the knowledge she got from her late husband, TB Joshua's wife seems to have garnered appreciable experience to stir the ministry's affairs and move it forward.
There were speculations that the leadership of Evelyn Joshua saw the swift sacking of some church members who were allegedly stealing from the church. Security was also beefed up in the church, and other measures essential for the protection and growth of the church were also taken.