Emmanuel Emenike (born 10 May 1987, Age: 36 years old) is a Nigerian former international striker who spent most of his career playing for Fenerbahçe in Turkey. 
Football has grown to remain the most famous sporting profession in the world today. Many Nigerian footballers have been afforded the opportunity to travel outside the country and get signed up by foreign football clubs and so are privileged to become famous. One of such individuals is Emmanuel Emenike. Worthy to note is that he played 35 times for the Super Eagles and scored 16 goals.
The Nigerian international, who can play anywhere across the frontline as a striker, has won trophies and gained acclamations at all the clubs he played for throughout his career. He spent four scary nights in a Turkish cell after being accused of match-fixing by faking an injury to deliberately miss a title-deciding game.
However, regardless of a lot of ups and downs he faced in his journey to fame, Emmanuel remained hardworking and resilient and today is one of the most celebrated footballers in the country and beyond.
Profile Summary of Emmanuel Emenike
Full Name: Emmanuel Chinenye Emenike
Date of Birth: 10th May 1987
Age: 36 years old
Place of Birth: Otuocha, Aguleri, Anambra state
Ethnicity: Igbo
State of Origin: Imo state
Nationality: Nigerian
Marital Status: Married to Iheoma (2018 to present)
Children: 2
Occupation: Footballer
Position: Striker
Years Active: 2007- 2019
Emmanuel Emenike Is A Native Of Imo State
Ememnike was born Emmanuel Chinenye Emmeniike on the 10th of May 1987 to his parents; Mr. and Mrs. Feix Emenike Ndukwu. His father passed on in May 2015. Even though he was born in Otuocha in Anambra state, Emmanuel originally hails from the village of Umuaka in Njaba Local Government Area of Imo State. There is no information regarding his formal education but it is recorded that he had a passion for football right from a young age. He spent his formative days with his family in Otuocha, Aguleri where he developed an interest in football.
His Footballing Career Took Off in 2007 with Delta Force
Emenike's humble beginnings were with Delta Force, a local football club in Nigeria. As a very young player, he would go on foot to the place of his training, which could take an hour and a half. Things were not so rosy for him as he was not getting paid at the time when the club was non-professional, in a low division, and was denied funding by the government. But despite the difficulties, Emenike did not deviate from his goals. He continued at the club until he moved to South Africa to play for Mpumalanga Black Aces.
Mpumalanga Black Aces and Cape Town FC in South Africa (2008-2009)
Emmanuel Emenike had his breakthrough when he moved to South Africa. He was paid his first salary as a player when he began playing for the South African National First Division team, Mpumalanga Black Aces, in January 2008. Emenike did not hesitate to blow the trumpets of his talents when he scored his first goal with the team in his debut match.
During his time at Black Aces, he made seven appearances and scored three goals. A few months later, in May the same year, he joined First Division team F.C. Cape Town for the 2008/2009 season. While in Cape Town, Emmanuel was initially kept at the reserve squad and didn't feature much. But fortune subsequently smiled on him and by the end of the season, he made appearances in 16 matches and recorded a goal.
Karabükspor (2009-2011)
Emmanuel Emenike caught the eye of a Turkish sports club, Karabükspor, in 2009 and they signed him for a one-year loan deal. He went on to score 16 goals, leading the club to the title and automatic promotion. Emenike recorded the most successful season in his playing career during his stay at Karabükspor wherein he made 51 appearances and scored 30 goals. At the end of the 2009/2010 season, he won the 1. Lig Best Foreign Player award, extending his contract by three years for €300.000.
Spartak Moscow (2011-2013)
For an undisclosed fee believed to be around 9 million Euros, Emmanuel Emenike joined Fenerbahçe on 25 May 2011. However, on 28 July 2011, he was sold to Spartak Moscow for €10 million as a result of a match-fixing scandal. During this time in Spartak, he made a total of 42 appearances and netted 21 goals. After the season in 2013, he moved back to his former club Fenerbahçe for a fee recorded to be around €13m.
Emenike was once fined about US$17,000 for an offensive gesture to Dynamo Moscow fans, who racially abused him during a match between Spartak and Dynamo. During the 2012–13 season, he broke a record by scoring the fastest goal in the history of the Russian League, within 10 seconds of kick-off in a 2–1 win over Alania Vladikavkaz on the opening game of the season.
Fenerbahçe (2013-2017)
From 2013, after signing to return to Fenerbahce, the striker played a significant role in the Nigerian national football team. In 2013, he became part of the third Nigerian team to win the African Cup of Nations – Nigeria's first continental victory since 1994. He also received the Pepsi Tournament Top Scorer award, with four goals. He shared the trophy with Ghana's Wakaso Mubarak.
For two years, Emenike remained with the Turkish side but found it hard replicating the success he had enjoyed elsewhere. In 2015, he was signed for Al Ain on a season-long loan. The following year, he moved to England to play for West Ham for one year. He notably scored 2 goals in a 5-1 FA Cup trouncing of Blackburn Rovers. After the loan deal was completed, the Nigerian returned to his parent club but his deal was subsequently terminated.
Olympiakos (2017-2018)
In 2017, Emmanuel Emenike decided to join Greek champions Olympiacos for a fee of €3.8 million. His time with the club was not as successful as he would have hoped but he marked his debut by scoring a last-minute goal that helped his club to a 3–1 win against FK Partizan. He spent about a year with the team before both parties agreed to mutually terminate his contract.
Westerlo (2019)
In 2019, Emmanuel Emmenike signed a contract with the Belgian 2nd division team, Westerlo. He played five games for the team before he was released.
Emmanuel Emenike's Decorated International Career
In 2013, Emmanuel Emenike was called up to Nigeria's 23-man squad for the Africa Cup of Nations. He scored in Nigeria's opening AFCON match against Burkina Faso in a 1–1 draw. He also scored the first goal in the quarter-final match between Nigeria and Côte d'Ivoire. The goal was a 30-yard free-kick that helped Nigeria beat Côte d'Ivoire 2-1. This gave him the opportunity to become part of the third Nigerian team to win the African Cup of Nations. His impressive performance throughout the tournament proved very essential to Nigeria's progress and so he was named to the African Cup of Nations Team of the Tournament.
Emenike's subsequent appearances with the Nigerian National team were hampered by injuries. As a result, the only other major tournament he played in was the 2014 FIFA World Cup. He was slated to appear in the 2013 FIFA Confederations Cup but was not included in the squad as a result of the injury. On the 20th of October 2015, the Super Eagles striker announced his retirement from the national team.
Recap of All The Clubs Emmanuel Emenike Played For
Delta Force (2007- 2008)
Mpumalanga Black Aces (2008)
Cape Town (2008- 2009)
Karabükspor (2009- 2011)
Fenerbahçe (2011, 2013- 2017)
Spartak Moscow (2011- 2013)
Al-Ain (loan, 2015- 2016)
West Ham United (loan, 2016)
Olympiacos (2017- 2018)
Las Palmas (loan, 2018)
Westerlo (2019)
Emmanuel Emenike and Iheoma Started Dating in 2016
In 2016, Emmanuel Emenike responded to dating rumors by confirming that he is dating Iheoma Amanda Nnadi, a Nigerian beauty pageant titleholder. His confirmation of the dating rumors sparked quite the interest since he had been all along linked with some famous Nigerian celebrities but had never acknowledged any.
The two started dating in May 2016 and got engaged in September same year. Details of where and how they met are not in the public arena. However, it is known that the couple welcomed a baby girl in August 2017, almost a year after their engagement. Following the arrival of their baby girl, the two lovebirds decided to take the relationship to the next level.
Iheoma Amanda Nnadi is a Nigerian model famous for being the winner of the Nigerian beauty pageant "Most Beautiful Girl in Nigeria" held in Bayelsa State in 2014. Born on the 15th May 1995, Iheoma is a native of Owerri, Imo State in the southeastern part of Nigeria. After her secondary education in Nigeria, she moved to South Africa and graduated from the University of Johannesburg.
From a young age, Iheoma had a passion for modeling and immediately she graduated from the university, took off her modeling career, modeling for several brands in Nigeria and beyond. She is still very active and relevant in the entertainment industry.
They Tied the Knot in 2018 After Two Years of Dating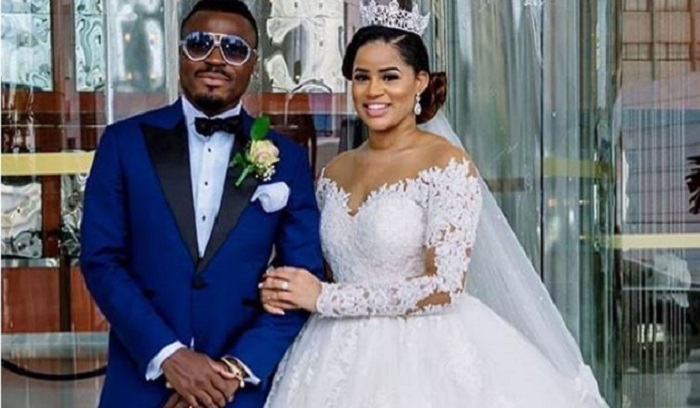 The former Super Eagles striker and his girlfriend Iheoma walked down the aisle in a lavish white wedding ceremony in Lekki, Lagos State on the 26th of May 2018. The bride looked ravishing in her two elegant dresses with a touch of illusion on the neck and sleeves, and a sequence gorgeous gown decorated with a befringed gold number by Magnetic Elegance.
The ceremony was attended by the couple's family, some of Emmanuel's Super Eagles teammates, and some other celebrities. The reception saw performances by some prominent Nigerian musicians in the likes of Phyno, Bracket, and others who lit the environment and got the entire guests on their feet as they banged out hits upon hits. The couple welcomed their second child in March 2020.
Rumors and Controversies Surrounding their Marriage
A cheap rumor began trending in August 2018, shortly after their wedding, that the striker had been married before to a woman recognized as Anna Banner who won the 2013 Most Beautiful Girl in Nigeria. This fake news was grossly bored by Nigerian singer Reekado Banks where he made an Instagram post saying that Emmanuel divorced the beauty queen to marry Iheoma Nnadi. The football player reacted to this by taking to his Instagram page to warn Banks to delete the post. In his words, he said: "Reekado you have disrespected me and my family, …this joke is going around the world now. Boy, I just want to tell you that I don't bark, I give you today to delete it and mind what you post next time."
Again, the couple sparked divorce rumors just less than a year after they got married. It was found out that Emmanuel Emenike and his wife Iheoma Nnadi in April 2019 unfollowed each other on Instagram and deleted all the photos they had together which also led to Emmanuel setting his IG profile on private. This approach simply indicated that there was trouble in paradise and it got tongues wagging over what the issue could be. However, the couple reacted to the rumor a few weeks after, by celebrating their one-year wedding anniversary with loved-up pictures of each other. Apparently, they are now following each other on Instagram and have resumed liking and posting each other's photos. They celebrated their 3 years wedding anniversary on 26th May 2021.
Meanwhile, Emmanuel and his wife had been leading a very quiet life and are barely in the news. The last time Iheoma Nnadi made headlines was when she shared an experience she had with the famous American singer R. Kelly in Johannesburg, South Africa. The music superstar who had been severally accused by many women of sexual scandals and domestic assault met with the former beauty queen at the young age of 16 and showed interest in her. This also helped in breeding rumors of their divorce with the claims that Iheoma was having an affair with the American singer.
Quick Facts 
Emmanuel Emenike has had to endure quite a lot in life. He has been shot at by a terrorist gunman and accused of having a fake passport. As a homeless man, he slept on a restaurant floor. He has been targeted by racists and had to deal with the trauma of a horrific car crash.
Following a slight controversy about his religion, Emenike in an interview with football.com said he is a Christian and a Catholic. This was to debunk reports by some sources that he is a Muslim.
The talented footballer was given a national award in 2013 by then President Goodluck Ebele Jonathan.