Mallam Nasir Ahmad El-Rufai (born 16 February 1960, Age: 63 Years Old) is a Nigerian politician who is the Governor of Kaduna State, in office since 2015 and member of the All Progressive Congress (APC) party.
The politician became the governor of Kaduna State after his election in 2015. Previously, El-Rufai held the positions of Director General of The Bureau of Public Enterprises, and the Minister of the Federal Capital Territory, Abuja.
Largely described as one of the most fearless public office holders in Nigeria, El-Rufai is also one public office holder who has faced huge criticism from the public. He has received backlash for his drastic and intentional actions on sensitive matters. However, amid his growing traducers, this politician appears undeterred on his political purpose which according to him, centers on growing a wholistic Nigeria.
Nasir El-Rufai Profile Summary
Name in Full: Nasir Ahmad El-Rufai
Date of Birth: February 16, 1960
Age: 63 Years Old
Place of Birth: Daudawa, Northern Region, British Nigeria
Political Party: All Progressives Congress
Education: Barewa College, Ahmadu Bello University, Harvard University, Georgetown University, University of London
Nationality: Nigerian
Profession: Surveyor, Politician
Active Years: 1998 – Present
Mallam Nasir El-Rufai Was Born Into A Fulani Family In Katsina State
Nasir Ahmad El-Rufai was born on February 16, 1960, in Daudawa, Faskari Local Government Area of Katsina State, Nigeria. He was raised by his father until his death when he was 8 years old. This led to him moving to Kaduna State to live with an uncle who sponsored all of his education. As a result of this, El-Rufai now sites his state of origin as Kaduna State.
There have been arguments about Nasir El-Rufai's ancestry with many describing him as being a descendant of Ebira people in what is now Kogi State. Others, however, are of the opinion that his paternal ancestors are Malian Fulani, not Ebira. Amidst all arguments, however, we know for a fact that El-Rufai is Fulani and his parents are Fulanis.
El-Rufai is not an only child of his father, he has sisters and brothers one of which is retired Air Vice Marshall Aliyu Ahmad Rufai. His elder brother passed away in January 2019. The deceased was born on November 10, 1948, in Zaria, Kaduna State, and was commissioned into the Nigerian Air Force in 1972. He retired in 2002 at the rank of Air Vice Marshall. Alhaji Bashir Ahmad El-Rufai is another brother of Nasir El-Rufai that is a public figure as his brother. Bashir is the chairman of IHS Nigeria Ltd – a telecom infrastructure service provider that offers telecommunications infrastructure to customers worldwide.
He Has A Degree in Quantity Surveying
Nasir El-Rufai got his secondary school education at the prestigious Barewa College, Zaria, Kaduna State, where he graduated top of the class, winning the coveted "Barewa Old Boys' Association Academic Achievement" Trophy in 1976. A notable attendee of Barewa College during the time he was there was the former late President of Nigeria, Umaru Musa Yar'adua, who was the House Captain of Mallam Smith House, Nasir's dormitory as a junior.
El-Rufai continued his education at Ahmadu Bello University, Zaria, earning a Bachelor's degree with First Class Honors in Quantity Surveying. Since the completion of his undergraduate degree, he has attended post-graduate programs at Harvard Business School and Georgetown University. He also added an LL.B degree with Second Class Honors, Upper Division, from the University of London, and a Master's Degree in Public Administration from the John F. Kennedy School of Government, Harvard University.
Schools Nasir El-Rufai Attended
Barewa College, Zaria, Kaduna State
Ahmadu Bello University, Zaria,
Harvard Business School, Boston, Massachusetts
Georgetown University, Washington, D.C, USA
University of London, London, England, United Kingdom,
John F. Kennedy School of Government, Harvard University, Cambridge, Massachusetts
El-Rufai Began His Professional Career in 1982 At The Age of 22
A young Nasir El-Rufai began to practice his profession shortly after graduating from the university. He founded El-Rufai & Partners – a quantity surveying consulting firm that he started with three partners. The firm was said to have received several contracts during the military juntas of 1983–1998, and the construction of Abuja, Nigeria's federal capital. While busy with contracts, El-Rufai also held management positions with two international telecommunications companies, AT&T Network Systems International BV and Motorola Inc. His construction firm along with other private businesses he was into made him become one of the young notable multi-millionaires in his state.
El-Rufai's first stint with the government began in 1998, under the transition government of General Abdulsalami Abubakar, where he served as an economic adviser. His office availed him the opportunity to work with top personalities from the World Bank and International Monetary Fund.
Following the 1999 elections that ushered in Olusegun Obasanjo as the president of the federal republic of Nigeria, he was appointed Director-General of The Bureau of Public Enterprises, Nigeria's head privatization agency. He was also the Secretary of the National Council of Privatization. Between 1999 and 2003, he spearheaded the successful privatization of many government-owned companies.
El-Rufai went on to serve as Minister of the Federal Capital Territory, Abuja from July 2003 to May 2007. During his tenure, he was nicknamed Mr. Demolition for destroying illegal buildings in the capital city, one of which included the house of the Chairman of the ruling party in Nigeria at the time.
In 2007, the newly elected President of Nigeria, Umaru Yar'adua, appointed El Rufai to the National Energy Council, due to the belief that he could contribute positively to the under-achieving power sector of the country. He held the position until June 2008 when he resigned. During his tenure, he chaired several high-profile cabinet committees that led to the establishment of a mortgage system, National ID card system, Electric Power Supply Improvement, and the sale of Federal Government real estate in Abuja.
All through his years in the public service, Mallam Nasir El-Rufai maintained a legacy of a serious-minded and committed person who believes in the transformative power of technology. Although his actions were mostly hit with huge criticism, he still chose to create a picture of himself as someone who has a vision in the public sector space in Nigeria, not a bigot as many would assume. Describing himself as an accidental public servant, Nasir said his vision is to work for a truly united Nigeria where tribe and religion don't matter but merit does.
A Look At Nasir El-Rufai's Political Career
In 2015, Nasir El-Rufai successfully campaigned for the Office of the Governor of Kaduna State and was elected in a landslide victory, beating the incumbent governor and candidate of the People's Democratic Party, Mukhtar Ramalan Yero. His first four years in office as the governor of the former political capital of Northern Nigeria has seen him introduce state-wide reforms that are aimed at cutting the cost of governance and achieving efficiency in public service. To achieve it, he first slashed his and his deputy's salary and allowances by 50%. He also termed down the number of his ministers and commissioners from 19 to 14, and from 24 to 15. This, according to the governor, was to free up resources used in running the government for public goods. This singular action saw the amount spent on public servants reducing from N2.7 billion monthly to N2.2 billion.
One other strategic decision that El-Rufai took during his first tenure in office was his implementation of the Treasury Single Account. This saw various Kaduna State ministries use the state's TSA at the Central Bank. When all the banks submitted evidence of closure of government accounts, the government was surprised that there were 470 accounts from which N24.5bn were remitted to the state's TSA. Other achievements by the Kaduna State governor include:
Transparent Public Procurement
Adoption of Zero Based Budgeting
Created new agencies for essential services. These agencies include: Geographic Information Service (KADGIS), The Kaduna Internal Revenue Service (KADIRS), The Kaduna State Traffic Law Enforcement Authority (KASTELEA), etc
Adoption of International Public-Sector Accounting Standards (IPSAS) aimed at improving transparency and accountability in public finance management and reporting.
His open Governance Partnership (OGP) that permits citizen participation in governance and to run open and transparent governance.
Introduction of E-voting: On 12th May 2018, Kaduna State made history when the people chose new leaders for our local government councils using electronic voting.
In 2018, El-Rufai emerged as the APC's governorship candidate and in March 2019, he was re-elected, defeating his closest rival by over 200,000 votes.
Nasir El-Rufai Career Highlight
Founded and managed El-Rufai & Partners (1982-1998)
Was Economic Advisor (1998)
Was Director of the Bureau of Public Enterprises, and secretary of the National Council of Privatisation (1999-2003)
Minister of the Federal Capital Territory (2003-2007)
2-term Executive governor of Kaduna State (2015-2023)
The Family Life of El-Rufai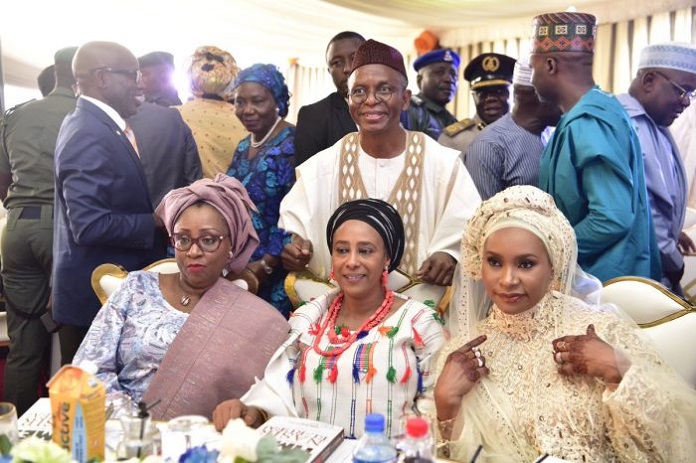 Malam Nasir El-Rufai is a polygamist, as is permitted by his faith. He has three wives; Hadiza, Asia, and Ummi. His large family also includes his children of both male and female gender, born to him by his wives.
1. Hadiza El-Rufai
Hadiza is Nasir El-Rufai's first wife and a known Nigerian writer (novelist). Her full name is Hadiza Isma El-Rufai and she was born on June 21, 1960, which means that her husband is older than her by just a few months. No wonder why he describes her as his best friend for over 30 years.
Hadiza was born in Kano, Nigeria, to her parents; Mohammed Musa Isma and Amina Iya Isma. Hadiza also attended Ahmadu Bello University, Zaria, where she bagged her BSc and MSc in Architecture in 1983. She also went on to receive an MBA from the University in 1992. She then traveled to the United Kingdom where she bagged a Masters in Creative Writing (2012) from Bath Spa University.
Returning to Nigeria, she worked at Kaduna Polytechnic as a lecturer at the Department of Architecture. She also worked for some years at the National Electric Power Authority, before working in private practice. Hadiza is currently serving as the First Lady of Kaduna State. She previously served as the First Lady of FCT during her husband's four-year tenure as Minister. She first met Nasir El-Rufai at ABU Zaria, starting as friends until they got married in 1985. As his first wife, she has been part of his success stories in the public service. Apart from being fluent in Hausa and English, she also speaks French.
2. Asia Ahmad El-Rufai
Asia is El-Rufai's second wife. She is a lawyer and has worked with the Federal Capital Development Authority. She also worked with Nigerian Investment Promotion Commission before moving to work for 9 years with the Debt Management Office.
Asia go married to El-Rufai in 1999 and although not much is known about how and when they first met. It is interesting how the pair have lived together for over two decades.
3. Ummi Garba El-Rufai
Ummi Garba El-Rufai is the third wife of Kaduna State governor. She is an interior decorator born in Kano State although her parents are from Jigawa. Ummi is educated just like her co-wives. She attended five schools to complete her primary and secondary education. Her last primary school was Alfred International School, Ibadan, where she graduated in 1991.
Ummi started her career as a Pension Fund Administrator. She worked there till she was the manager of customer relations after which she left to take up a job with the presidency in the Border Communities Development Agency. She later decided to stop working and concentrate on her marital life.
Meet All of Nasir El-Rufai's Children
The former FCT minister was blessed with seven children – 5 boys namely Hamza, Mustapha, Ahmed, Bashir, and Bello; and three daughters – Yasmin, Rukaiya, and Bilkisu. Unfortunately, he lost two of them (Hamza and Yasmin) who have passed away. The former minister's children are not so much involved with the media and so not much is known about them except for a few of them. Here are facts you should know about the children of the former Minister.
1. Hamza El-Rufai
Hamza is El-Rufai's son who passed away in an auto crash in Jul 2014. Hamza died in Abuja and was buried at Gudu Cemetery in the nation's capital. He was the second of El-Rufai's children that passed away. While there are no further details about the young deceased, information on his Facebook page says he attended the University of Virginia and the United World College of the Atlantic.
2. Yasmin El-Rufai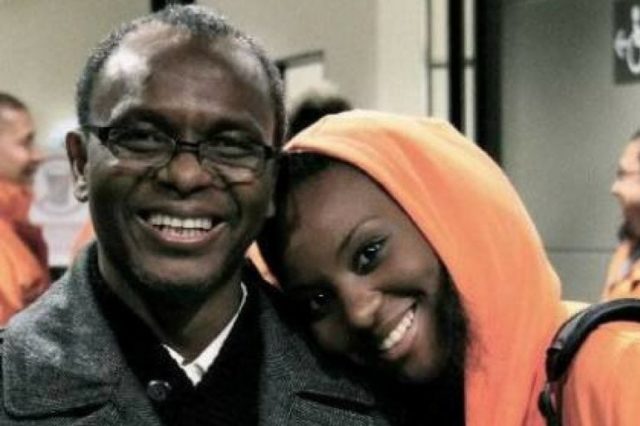 Yasmin is El-Rufai's daughter with his first wife Hadiza. She died in her London flat in 2011 while undergoing a law conversion course. In her honor, her parents established the Yasmin El-Rufai Foundation which will focus on creative writing and women literacy programs that will improve the literacy skills among women and children.
Yasmin, the first daughter of the Kaduna State governor, died at the age of 25 and according to her family, she held a bachelor's degree in Economics from the University of Bath in the United Kingdom and a master's degree from the London School of Economics (LSE). She also had a law degree from the University of London.
3. Bilkisu El-Rufai
Bilikisu is El-Rufai's daughter with his second wife, Asia. Although it is not known what number she occupies on the list of the governor's children, Bilkisu became popular when in 2018, she scored nine A plus in her Cambridge exam as a student of The Regent Secondary School in Abuja.
4. Rukaiya El-Rufai
Rukaiya is one of El-Rufai's daughters. Not much is known about her birth and the number she occupies in the list of the governor's children but reports about her says she made history when she became the first female from Northern Nigeria to be named a partner of Price water house coopers Nigeria.
Rukaiya is an alumnus of Amadu Bello University where she bagged a Bachelor's degree in Accounting. She is also certified by the UK-based Financial Training Company and holds a Masters Degree in Public Administration from the London School of Economics and Political Science.