DStv has six packages to suit customers' needs anytime. The highest on the list is DStv Premium, followed by DStv Compact Plus, DStv Compact, DStv Confam, DStv Yanga, and DStv Padi. Most of those using DStv do so because of the different channels and packages it has. It is good for the old and the young and covers channels from around the world.
DStv Padi has many channels for Nollywood dramas and movies, wildlife documentaries, international telenovelas, sports highlights, international news, kiddies shows, etc. This package is the most affordable among the six DStv packages. It is the cheapest and offers a lot of channels for its subscribers.
What Kind of User Does DStv Padi Suit?
From what we have on the DStv packages, DStv Padi suits those subscribers who can afford to pay N1,850 monthly for its subscription. Most people go for this relatively cheaper package because it has many channels to suit both old and young. Even if you cannot subscribe for the month, there are some free channels for you.
Regular subscribers of this package include businesses, hotels, hospitals, and private and public enterprises that wish to provide entertainment for their customers. They go for the most affordable package to avoid spending more money on monthly subscriptions. Families with limited sources of income also go for the DStv Padi package.
DStv Padi Has Been Available Since 2019
DStv Padi came into existence and was made available towards the end of 2019. This does not mean that the channels contained in the package have not been in existence. Instead, the channels have existed under other DStv packages and are still there.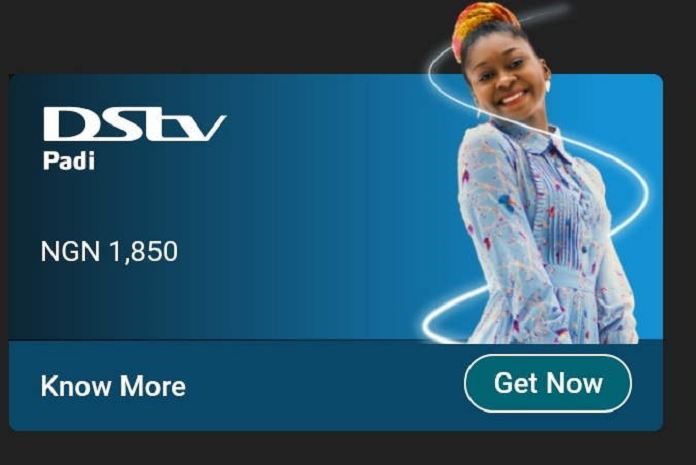 List of Channels in the DStv Padi Package
DStv Padi has over 40 video channels and 11 audio channels. Below is a list of channels contained in the DStv Padi package.
Channel 118 – Telemundo
Channel 156 – Africa Magic Hausa
Channel 157 – Africa Magic Yoruba
Channel 159 – Africa Magic Igbo
Channel 182 – NatGeo Wild
Channel 190 – Spice TV
Channel 194 – Televista
Channel 195 – Trybe
Channel 220 – SuperSport Blitz
Channel 250 – eTV Africa
Channel 251 – NTA I
Channel 252 Silverbird
Channel 253 – AIT
Channel 254 – Channels
Channel 255 – MiTV
Channel 256 – LAGOS TV
Channel 257 – ONMAX
Channel 258 – Galaxy TV
Channel 259 – Wazobia Max
Channel 260 – OGtv
Channel 261 – Arewa 24
Channel 262 – WAP TV
Channel 275 – K24
Channel 280 – Adom TV
Channel 310 – Jim Jam
Channel 319 – Mindset
Channel 325 – Trace Naija
Channel 326 – AFRO Music English
Channel 328 – Urban TV
Channel 329 – Fiesta TV
Channel 341 – FAITH
Channel 342 – Day Star
Channel 343 – TBN
Channel 345 – SBN
Channel 347 – Islam Channel
Channel 348 – Eternal Word Television Network
Channel 349 – Dove TV
Channel 350 – Lumen Christi
Channel 351 – Sunna TV
Channel 369 – NTA 2
Channel 379 – NTA parliament
Channel 390 – Emmanuel TV
Channel 400 – BBC World News
Channel 415 – CNC World
Channel 416 – Arise News
Channel 418 – TVC News Nigeria
Channel 419 – NTA News 24
Channel 421 Joy News
Channel 451 – B4U Movies
Channel 680 – TV Mundial (P)
List of Audio Channels 
Channel 850 – BBC World Service English
Channel 851 – BBC World Radio 2
Channel 852 – BBC African Languages
Channel 853 – Voice of America
Channel 854 – World Radio Network
Channel 865 – Channel Islam Internationale
Channel 866 – Radio France Internationale
Channel 868 – RAYFM (868)
Channel 869 – Star
Channel 870 – Rhythm (870)
Channel 872 – TransAfrica Radio
How to Make Payments for the DStv Padi Package
The subscription of DStv Padi is done monthly. Failure to pay the subscription fee will result in the subscriber being cut off from viewing the channels. Payments and subscriptions of the DStv packages can be made in several ways.
It can be done at the Multichoice offices.
Subscribers can renew their subscriptions with their phones over the internet with internet banking services.
It can be done in the bank.
Also, the subscription can be done with MyDStv App and other mobile apps that support the payment.
You can also pay through the USSD code.
Payment can also be carried out through POS and ATM.
How to Pay for Your DStv Padi Subscription at the Multichoice Office or Other Vendors
Visit any MultiChoice office near you
Go with your Smart card number and phone number
Pay for the DStv Padi bouquet and activate or renew the subscription
The subscription is done and will reflect within a short period of time.
How to Subscribe Through the Internet
Sign in to your account by filling the spaces provided

input your surname or mobile
enter your smartcard number
Click sign in

Then you can follow the instructions and carry out your payment.
There are other sites online that you can make your payments with. Here is one of them.
Visit www.vtpass.com/dstv
Select the bouquet or package you need
Enter your DStv smartcard number
Input your phone number
Enter your email address
Enter the price of the package
How to Subscribe With the MyDStv Mobile App
The MyDStv App is a mobile app that makes it easy for subscribers to access their DStv account, carry out several transactions, and make payments. For you to pay for your DStv subscription with the App, you have to download and sign up on it first. For payments;
Open the MyDStv app and click on View/Pay
Select a payment method
Choose your package
Enter the amount, and follow the prompt till the payment is successful
How to Pay with USSD Code
With the USSD code payment, you can either pay through eTransact Mobile code or Stanbic Mobile. Other banks have their codes for the DStv payment, but these two are available on the DStv website. The eTransact option allows you to pay for your DStv subscription from your bank account through your mobile phone. If you wish to pay with this, dial *389*9*smartcardnumber# and follow the prompt. Choose the DStv Padi package and pay the correct amount.
In the same way, if you wish to pay with Stanbic Mobile Wallet.
Dail *909#
Select the fourth option and send by pressing Register
Fill out the customer information required, choose the right package, and send
Or you can pay by dialing *909*60#
You can also pay with Stanbic online

Sign in to your account
Choose the Mobile Money option
Enter your number and click Register
Fill in the customer details
Then you will be directed to the DStv page to make your payments
How to Make Payments at the Bank
All the banks in Nigeria accept payments for the DStv subscription. With the banks, you can either pay instantly or set up a direct debit order. The direct debit order will automatically renew your subscription monthly or annually, as the case may be. With this, you mustn't visit the bank always. They collect the money from your account and renew your subscription for you.
For instant payments at the bank:
Go to the bank with your smartcard number
Pay for the DStv Padi package and collect the evidence of payment.