DStv Confam Channels list includes Kids and Teens, Sports, Movies, Lifestyle and Culture, Documentary, European and Asian channels, Indian Channels, Local channels, music channels, Audio channels, News and Commerce, and General Entertainment. DStv Confam subscription costs N6,200 per month and N68,200 per year.
It is quite interesting that DStv has shown its determination towards carrying everyone along with different subscription packages for high, average, and low-income subscribers. Subscribing to the service can be pretty expensive. However, the company has a few affordable packages that give the maximum, from captivating shows to the latest entertainment from across the globe, for you and your entire family's viewing pleasure. One particular package that does this is DStv Confam.
The Multichoice-owned South African Communication giant, DStv, which began operations on October 6, 1995, has dedicated itself towards putting smiles on the faces of millions of its viewers across Africa while strengthening family bonds with its unending entertainment and information.
DStv

Confam Price
DStv Confam costs N6,200 per month and N68,200 per year in Nigeria. Payment for this package can be made through the different platforms provided by DStv for easy purchase.
When you subscribe to any of these packages, you will be able to view your channels on up to 3 decoders and two streaming devices.
You can subscribe to the Confam bouquet through several subscription options made handy for you at any time in your comfort zone. All you need to do is to figure out which option best suits your convenience, at any given time you wish to subscribe.
While you can walk into any of the DStv offices or dealers to make your payment, you can also make cashless payments. Some of the payment methods include:
Online Payment – using Quickteller, VTpass, Paga, and other online platforms
Bank Mobile App
DStv Mobile App (MyDStv App)
Payment with ATM
Payment at POS Outlets
You can also make payment by placing a standing order in your bank account. It is important that you ensure your DStv decoder is switched on before you make your subscription. It is also important to note that the Confam package is among the affordable DSTV subscriptions at N6200 monthly.
However, the cheapest subscription package one can get is the DSTV Padi which goes for as low as N2500 monthly and offers you over 48 channels with 11 audio channels.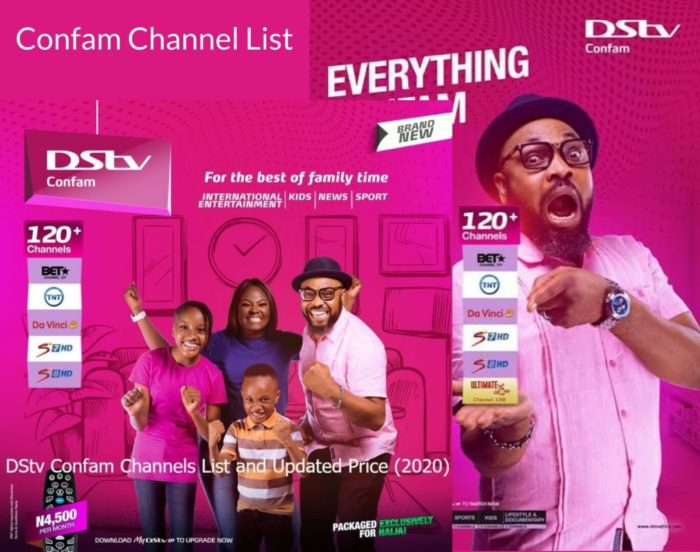 DStv Confam Was Designed For The Average Family
DStv Confam is family and pocket-friendly. Most programmes that come with the package are designed to foster family bonding and meet the needs of homes in Nigeria.
DStv Confam comes third in the ascending order of DStv's packages, standing below the Compact, Compact-plus, and Premium packages; and above Yanga and Padi packages. This means that it is neither meant for the poor nor the rich but for the average Nigerian.
At an affordable monthly subscription, the Dstv Confam package offers you a wide variety of all your favorite local and foreign TV channels, ranging from news to movies, family drama, reality, music, comedy, fashion, documentaries/discoveries, sports/football, lifestyle, children/cartoons, religion channels, and lots more all in one amazing package.
With this package, family ties can never be more fun; you can bet you'll surely be glued to your TV screen as there will be no dull moment at home.
By continuously splitting its content into different affordable packages, the notable pay-tv company has been perceived as the foremost cable television network which has earned a top spot in the core of the Nigerian information and entertainment landscape.
How Many Channels D

oes

DStv

Confam

Have?
The DStv Confam package has more than 110 channels and 11 audio channels including news, local stations, sports, entertainment, music, lifestyle, children, religion, documentaries, and extra channels, all at your fingertips for viewing pleasure.
Below is the complete list of all the Confam Channels.
DStv Confam Channels List 2023
Here is a comprehensive list of all channels of DStv Confam in 2023.
DStv Confam News Channels List
​369 NTA 2
​370 NTA PARLIAMENT
​400 BBC WORLD NEWS
​401 CNN
​404 SABC NEWS
​405 NEWZROOM AFRIKA HD
​406 ALJAZEERA
​409 CGTN NEWS
​413 NDTV 24X7
​414 EURO NEWS
​416 ARISE NEWS
​418 TVC NEWS NIGERIA
​419 NTA NEWS 24
L

ocal Stations Channels List
​250 ETV AFRICA
​251 NTA I
​252 SILVERBIRD
​253 AIT
​254 CHANNELS TV
​255 MITV
​256 LTV
​257 ONTV MAX
​258 GALAXY TV
​259 WAZOBIA MAX
​260 OGTV
​261 AREWA 24
​262 WAP TV
​275 K24
​280 ADOM TV
​294 CLOUDS PLUS
​296 WASAFI TV
DStv Confam 

Sports Channels List
​220 SUPERSPORT BLITZ
​227 SUPERSPORT 7
​228 SUPERSPORT 8
​229 SUPERSPORT 9
​230 SUPERSPORT 10
DStv Confam 

E

ntertainment Channels List
​115 M-NET CITY
​117 UNIVERSAL CHANNEL
​118 TELEMUNDO
​124 E! ENTERTAINMENT
​125 FOX
​126 FOX LIFE
​129 BET
​132 CBS REALITY
​136 DISCOVERY FAMILY
​137 TNT AFRICA
​139 M-NET ZONE
​141 EVA
​142 EVA+
​152 AFRICA MAGIC EPIC
​154 AFRICA MAGIC FAMILY
​155 REAL-TIME
​156 AFRICA MAGIC HAUSA
​157 AFRICA MAGIC YORUBA
​158 MAISHA MAGIC EAST
​159 AFRICA MAGIC IGBO
​160 MAISHA MAGIC BONGO
​164 ROK 3
​165 EBONY LIFE
​166 ZEE WORLD
​167 STAR LITE
​169 ROK 2
​189 POP CENTRAL
​194 TELEVISTA
​195 TRYBE
DStv Confam 

Music Channels List
​322 MTV BASE
​324 HIP TV
​325 TRACE NAIJA
​326 AFRO MUSIC POP
​327 SOUND CITY
​328 URBAN TV
​329 FIESTA TV
​332 TRACE GOSPEL
Lifestyle Channels List
​174 BBC LIFESTYLE
​175 FOOD NETWORK
​178 FASHION ONE
​190 SPICE TV
C

hildren Channels List
​305 CARTOON NETWORK
​302 BOOMERANG
​305 NICKELODEON
​306 CBEEBIES
​309 DISNEY JUNIOR
​310 JIMJAM
​313 PBS KIDS
​318 DA VINCI
​319 MINDSET LEARN
Religious Channels List
​341 FAITH
​342 DAYSTAR
​343 TBN AFRICA
​345 SBN
​346 IQRAA
​347 ISLAM CHANNEL
​348 EWTN
​349 DOVE TV
​350 LUMEN CHRISTI
​364 DOMINION TV
​390 EMMANUEL TV
Documentary Channels List
E

xtra Channels
​

415 CNC WORLD

​

421 JOY NEWS

​

430 RAI INTERNATIONAL

​

437 TV5 MONDE

​

446 DEUTSCHE WELLE

​

447 CCTV 4

​

448 CGTN 9 DOCUMENTARY

​

449 CGTN FRENCH

​

451 B4U MOVIES

​

480 CCTV ENTERTAINMENT

​

481 CHINA MOVIE

​

482 DRAGON TV

​

483 HUNAN TV

​

484 JIANGSU TV

​

485 PHOENIX ENTERTAINMENT

​

525 RTP INTL

​

680 TV MUNDIAL
Audio C

hannel List
BBC AFRICAN LANGUAGES

BBC WORLD RADIO 2

BBC WORLD SERVICE ENGLISH

CHANEL ISLAM INTERNATIONALE

RADIO FRANCE INTERNATIONALE

RAYFM

RHYTHM

STAR

TRANS AFRICA RADIO

VOICE OF AMERICA

WORLD RADIO NETWORK
These are all the exciting channels you would have access to once you subscribe to the DStv Confam package. As mentioned earlier, this package is for an average family as it has all the necessary channels that gratify any member of a family.
Changes on the channels list can be made in the future as that is always the case with DStv but be sure to get all the details from us.
Is There A Difference Between DStv Confam and DStv Family?
The DStv Confam bouquet is a replacement for the defunct DStv Family bouquet. It was launched in 2019. In essence, it is just like the Yanga package that came in to replace the former DStv Access package.
Many subscribers seem to be confused as to whether the DStv Family is the same as the Confam package. But now, the answer is clear. Again, this is a clear indication that the DStv Family and Access packages are no longer in existence.
Frequently Asked Questions
How Much is DStv Confam Package?
DStv Confam package costs N6,200 per month and N68,200 per year. Subscription to the package, whether monthly or annually, gives subscribers access to live TV and on-demand content online.
Subscribers can also download shows to their smartphones and can be watched on two streaming devices.
Does DStv Confam Show the Premier League?
Yes. DStv Confam shows the Premier League. Not only that, subscribers can view LaLiga and Serie A action, some of the Africa Magic channels, dramas, movies, reality, documentary shows, news & kids' channels.
Is Channel 198 on DStv Confam?
Channel 198 is available to DStv Confam subscribers as well as subscribers on DStv Premium, DStv Compact Plus and DStv Compact.